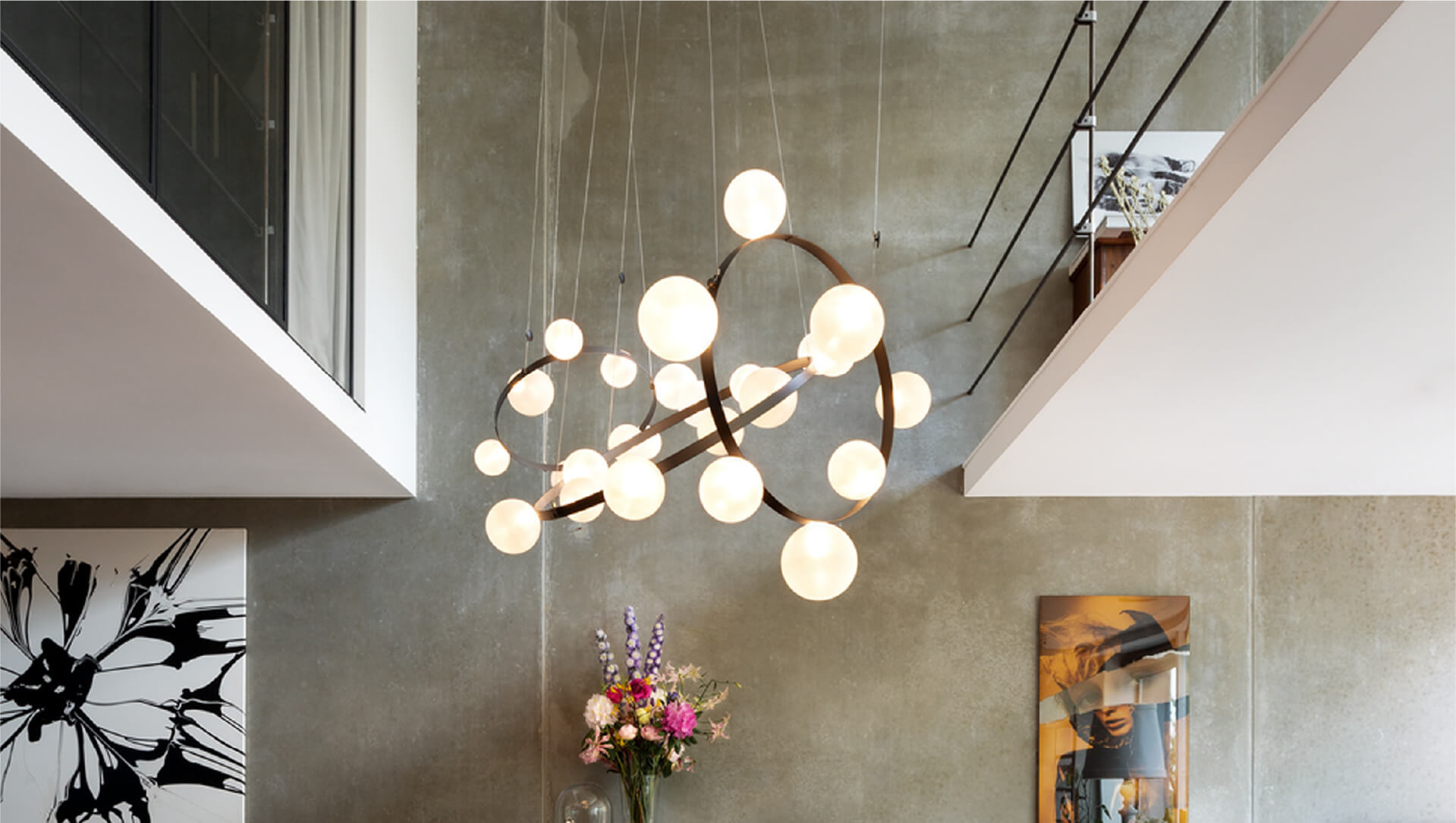 Combining cutting edge technology with glass spheres, Moooi presents the beautiful new lighting composition Hubble Bubble.
We all know that bubbles are simply air caught inside a film of soap. Yet for children, a bubble is an object of magic and fascination. They are fleeting and urge us to chase them. With this feeling in mind, Hubble Bubble was designed.
Why Hubble Bubble? To create a lighting design inspired by the childhood pleasures of blowing bubbles
This lighting reminds us to take a moment to once again be curious and enjoy the small details in life.
The minds behind Hubble Bubble – Marcel Wanders Studio and Moooi
Marcel Wanders established his design studio in Amsterdam in 1996. It is a leading interior and product design studio which has now grown to a team of 52, led by Marcel Wanders and Creative Director Gabriele Chiave. The studio is fiercely creative in its vision, and has built close connections with the city of Amsterdam and enjoys finding ways of contributing to the city.
Marcel Wanders studio has an impressive client list. They have created premium projects for such brands as Alessi, Baccarat, KLM, Hyatt Hotels Corporation, and Louis Vuitton.
Wanders also co-founded Moooi in 2001 and also has roles as a creative director and designer. Moooi seeks out and collaborates with unconventional designers to release unique and daring designs. Marcel Wanders studio has been behind many products for Moooi. The range of Delft vases in striking contemporary shapes with traditional blue pattern stands out.
Both Moooi and Marcel Wanders are widely recognized and awarded for their quality designs. In 2014 the Dutch Stedelijk Museum held a retrospective of Wander's work as a designer and creative director.
Curious to know more about Marcel Wanders? Don't miss Design Icons – Marcel Wanders.
Materials & Techniques – Glass and slimline metal
The fine metal frame that powers Hubble Bubble lights features Moooi's Electrosandwich® technology by Marcel Wanders. The thin metal frame is manufactured with precise specifications to allow conductivity to pass through without conventional wiring. The proprietary technology enables multiple lights to be powered in a way that seems invisible.
Hubble Bubble comes in two suspension configurations: Hubble Bubble 7 and Hubble Bubble 11. The smaller Hubble Bubble is about 70cm across, whilst the larger is 100cm. Each bubble light on the frame is created from hand-blown glass. The light source is dimmable LEDs.
Style & Aesthetics – Playful and elegant
Clean, simple, and elemental, this design is composed of only circular shapes. The spheres, like bubbles, cling to the thin metal ring. Just as you wish the bubbles you blew as a child would always land somewhere and not float away.
The cluster of bubbles sits perfectly positioned for overall balance and unity. The blown glass comes in either an iridescent oil or soft frosted finish.
The precise hanging position of the Hubble Bubble lights is not set. Play around and suspend it in a variety of orientations. Horizontal, vertical, or any angle in between. Unique compositions can be created by hanging multiple Hubble Bubble lights together.
The Button of authenticity
Moooi includes its digital proof of authenticity with every Hubble Bubble lamp. The Button assures customers they are investing in an original and authentic design. Used in conjunction with a phone app, the button utilizes NFC to confirm the unique digital identity of each piece.
Design memento – Design for conversation
Moooi presents designs that grab attention and are conversation pieces. Taking childhood memories and experiences as inspiration, this piece has a story woven in. The technology and execution effectively communicate the feeling of lightness and delight of bubbles.
The writer's comment – Organic and iconic
The use of simple platonic shapes gives this design a wonderful eternal feeling. It is classic and iconic. Beyond bubbles, Hubble Bubble echoes the organic shapes of our cells or a system of satellite planets. It could easily be a feature complemented by bright, fun, and warm décor, or as a stunning glowing constellation set against a dark and moody palette.
If you want to know more about playful lighting designs, don't miss Revolutionizing the light bulb with BEEM.