Home appliances
The new Icon air purifier designed with internationally renowned life care science company Coway
It aims to improve human health, as both the short and long-term effects of poor air quality on public health are of major global concern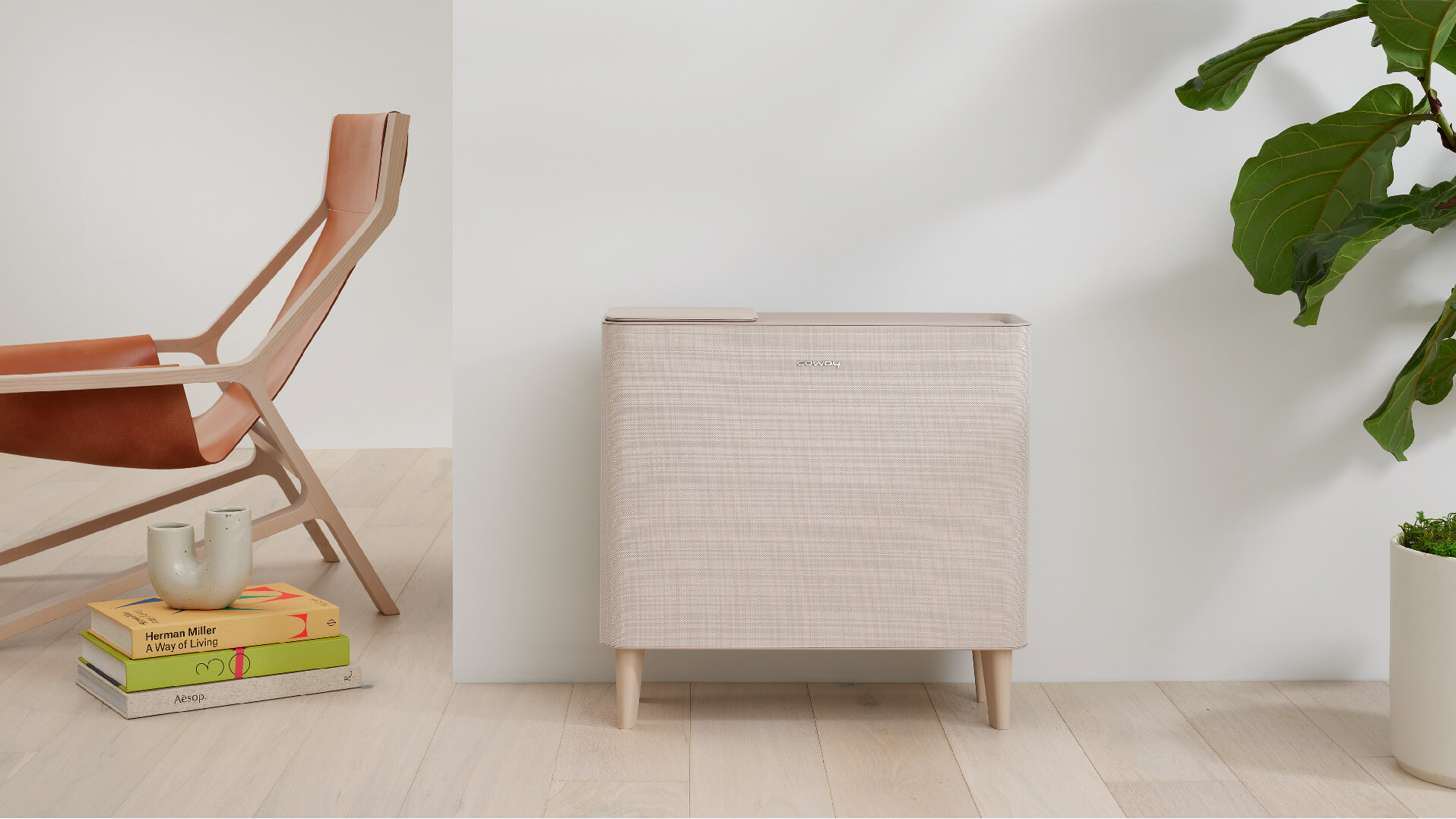 The Icon air purifier's design ethos centers around improving health while serving as a beautiful and practical object in the home.
Pollutants from the outdoors; tobacco smoke and cooking; gases from cleaning products and building materials; and dust, mites, mold, and pet dander all impact indoor air quality. Coway's air-purifiers have consistently been recognized as best in class, capturing a remarkable 99.9% of ultra-fine dust and odors and taking top spot in reviews from The New York Times tech review site Wirecutter multiple times.
The positive response from consumers and technical success of its predecessors informed fuseproject's approach to refining the air purifier's design and integration into the home, performance, and user experience.
In contrast to the utilitarian and plastic category, the design fits in a room discreetly and elegantly while delivering top performance that is both powerful and quiet.
The Icon follows Coway's previous models—both of which fuseproject designed: the Airmega 400 and Captain. Rather than imposing a boxy or round plastic object that stands out as utilitarian technology, the Icon uses new geometry that allows the air purifier to sit along a wall, further blending smart technology into the home environment.
We worked with Coway to develop a smaller and flatter form factor that gives the air purifier a much lower profile and flexibility in room placement. The rectangular configuration minimizes the size impact, while appearing as a small commode or side table at first glance.
To create an even more seamless integration into the living space, the Icon's design features include invisible LED lights, neutral color palette options, and dual functionality like wireless charging. The refined materials and wood finish, neutral color palette textiles, furniture feet, and simple details add beauty to any home or workplace.
[ Curious about furniture design? Check out Olli is a flexible workstation for the ever-evolving office ]
Analyzing consumer feedback from the Airmega 400 model, the design team arrived at several guiding principles for the Icon edition:
Transparency: Clear communication to the user is key. The air purifier's UX status was designed through straight-forward messaging that lights up to the touch through the top surface, and then disappears shortly after.
We designed the subtle touch surface to display a lightweight font and data as a magical way to understand the air purifier's benefits and efficacy. Additionally, night lighting can be set with different mood colors.
Intuitive Intelligence: Changing out the filters needed to be an easier process, and consumers wanted more advanced controls that could be operated remotely and/or via Wi-Fi.
Expressing the air purifier's functionality through emotionally intelligent details, mechanical connections and simple snaps echoes the legacy of both Coway's and fuseproject's ethos.
Lifestyle Oriented: The design is balanced and elevated on elegant legs, which complements any space, large or small, and even adds a note of modern interest.
People with specific medical needs, as well as health-conscious users, can feature this device proudly and stylistically in their homes. In addition, the Icon's top surface functions as a built-in wireless charging area for phones and other devices, which makes it a practical addition to any room.
Designed in two palettes of soft, neutral gray and pink tones, the Icon raises the standard for products typically designed for utilitarian purposes. Its thoughtfully chosen, quality materials and finish make this device suitable for almost any environment, including office spaces and residential homes, as well as hospitality venues.
The Icon air purifier's additional features include Wi-Fi connectivity, and a smartphone app to control the device's settings from anywhere. The app gives users a status report on the current indoor and outdoor air quality based on the Icon's location, so they can make adjustments before returning home.
Moreover, the app can also update users on the current state of the Icon's filters, its percentage of the remaining lifecycle, and when cleaning or replacement is required.
[ See more technology projects for the home: Meet Stretch, an automated robot that promises to do your chores one day ]