Technology
Furniture, prototyping, landscaping: how is Giulio Masotti combining the digital and the physical realms?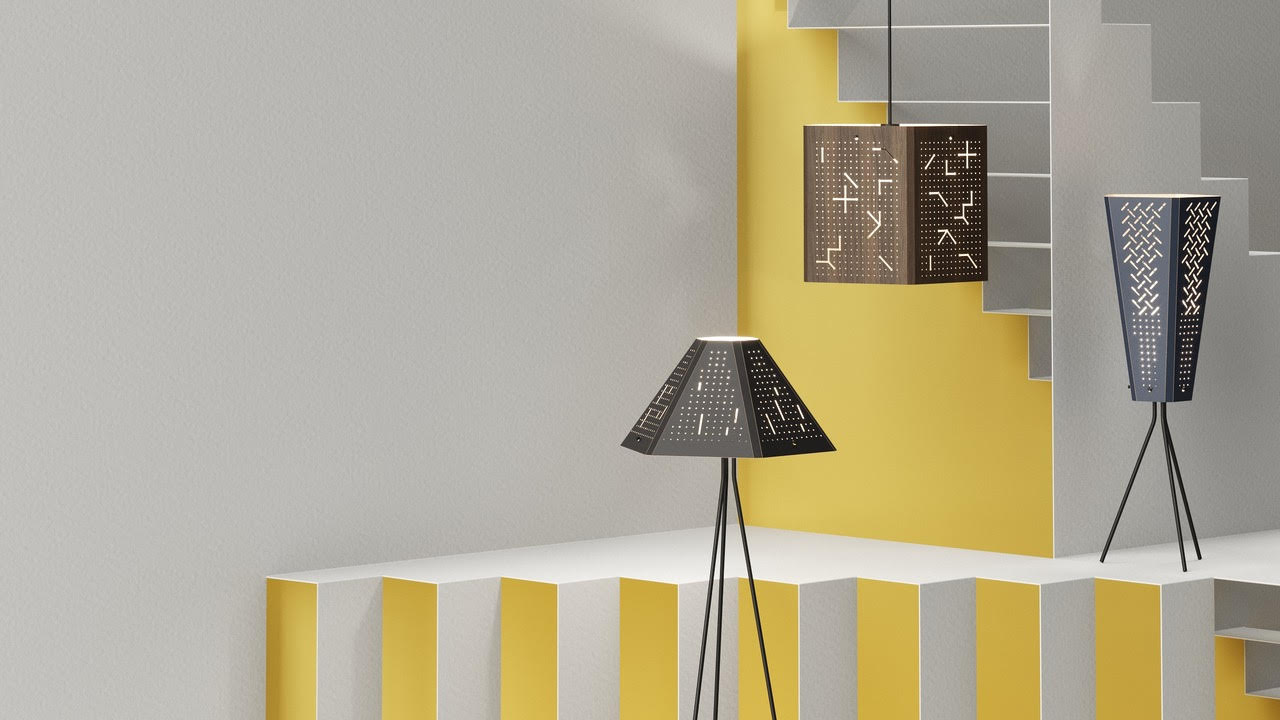 After Wood-Skin, Giulio Masotti co-launches FOLIO and Materea, two new ventures that are bridging the gap between the design field and the world of business and innovation.
An architect by training, Giulio Masotti is the co-founder and CEO of Wood-Skin, a Milan based start-up that combines composite materials with digital fabrication. He also founded Mammafotogramma, a studio that is reshaping the conventional methods of video, animation, illustration and design, by exploring new technologies.
Most recently, Giulio has launched Materea, a digital factory for non-standard fabrication and FOLIO, a soon-to-be-launched foldable furniture brand with complete customization options for each product through online configurators. Curious to know more about his design entrepreneurial journey, DesignWanted had the opportunity to interview Giulio Masotti.
Ciao Giulio, nice to have you with us. Can you tell me how did your journey in design begin?
Giulio Masotti: "My pleasure. I believe I was always very interested in objects and the way we interact with them. Shapes, fabrication methods and representation techniques are some of my most genuine passions. I always wanted to be an architect, no astronaut, no fireman, just an architect. I then found out that being an architect, especially in Italy, doesn't necessarily involve designing buildings.
Turns out, you can do anything you like. This became clear during high school I suppose, wooden floors, Pantone markers, radiographs and coloured plastic hatches made me definitely fall in love with the drawing-prototyping-building equation, except for cardboard model making, I have always hated that.
Everything after still feels like it happened naturally, the architectural faculty, Mammafotogramma Studio, WOOD-SKIN. Most importantly I have been lucky to join forces with great people and friends who are today creatives and entrepreneurs at Mammafotogramma, Wood-Skin and the most recent ventures, making it possible to grow and set the bar always higher."
Curious to know more about Wood-Skin's innovative work? Don't miss Wood-skin presents Foldable Office: the first origami workstation.
You recently started a new chapter for customizable design products: what is FOLIO all about?
Giulio Masotti: "At FOLIO we design and produce furniture collections that are highly customisable. We are making available powerful online configurators that allow you to actively change the shape of our collections to adapt it to size and aesthetic needs, lamps at first, then bookshelves and more.
This simple, yet revolutionary concept just became possible thanks to advanced digital fabrication technologies and new programming languages, we are taking advantage of the WOOD-SKIN® patented process to create something entirely different and unique, making it available to everyone through the web.
FOLIO is the result of many years of careful analysis at the way we design, build and dream of the world around us. FOLIO belongs to the next generation of furniture making companies, aiming to let anybody intervene in the design process, creating hyper-functional objects that feel personal and beautiful."
Your company Wood-Skin is built on maximum customisation, enabling creative freedom for interior designers & architects. How do you expect the consumer market to react to the customisation options provided by FOLIO?
Giulio Masotti: "We are tirelessly testing the platform and working with professionals, collecting feedback and perfecting the experience. I have to say, architects and interior designers are enthusiastic, FOLIO is launching for the B2B, market and professionals are in desperate need of this type of tool.
The problem is that there is not such a thing on the market due to enormous technological barriers. With FOLIO we were able to set up a type of business model that for most would be simply impossible, we are designing new collections of furniture by following new design grammars based on parametric design – advanced materials and digital manufacturing.
If you are an interior designer, the case might be that you spend weeks browsing catalogues of pre-made objects trying to squeeze them into your projects, of course, books and shops are full of beautiful objects but what was meaningful 30 and more years ago might not be today.
In a world where sustainability in a broader sense is fortunately increasingly central, and overproduction and consumerism are coming to an end (see the fashion industry), the designer who approaches a new project sees things differently. Originality comes from different factors but one thing is for sure, bespoke unique pieces made in Italy are still a dream for most. Sadly this is often not possible due to high costs and long unpredictable lead times to name a few.
With FOLIO, it becomes possible and accessible by having the designer taking part in the "made in Italy" design process, letting you design and finalise every piece of the collection to make it fit your vision and your space."
Is the time for the production-stocking-shipping chain over?
Giulio Masotti: "We are not there yet, although, the economics of this pandemic scenario and the increasing awareness about climate change are speeding up the process. How our actions as human beings actually impact the delicate balances governing our planet are finally slowing down the forced mass production-consumerism model.
Large first world economies need to lead the way toward a much more sustainable made on-demand model, where sustainability at every level needs to be a primary goal. While we speak, the fashion industry is being taken by storm, major brands are quitting the forced season based structure, fashion weeks are being deserted, wholesales stores shutting down permanently.
Historically, the design industry will follow. We are now empowered with the possibility of producing good quality personalised products that, because of this, will last longer and work better. What will we do? Will we continue to fill football fields of products with products based on "investors-first" strategies? Or, will we take advantage of the contemporary tools to create flexible products, with quick go to market strategies that can then be ordered, produced and delivered in a matter of a few weeks?"
What are the next steps planned for FOLIO?
Giulio Masotti: "Well, FOLIO is literally going to market and prepare to launch as we speak so, first, stay tuned, we will be announcing the launching date in the next few weeks. The next steps are all about spreading the word throughout the professional community of architects, designers and decorators.
We already conducted a period of beta testing of the technology with early adopters and ambassadors. Seeing the first projects coming out now I have to say we are very pleased with the results and so are our clients.
We already have many steps ahead planned, something I can tell you for sure is that we are finalising the next piece of furniture to add to our offer in addition to laps, Bookcases.
The FOLIO Bookcases will be, of course, highly customisable, flat and foldable as per every design we develop. Therefore light and easy to install. What we love about the Bookcases and shelves, is the change of scale and presence in the space that an object like this can offer. We selected materials that give to the object different aesthetics, easily adapting to an office or the home.
The objects come from the same technology and rationale, they are meant to dialogue well together, enhancing that sense of technological elegance given by the use of the Wood-Skin® process and composite materials with wood. The result is a surprising lightness in the surfaces and masses."
In the meantime, you have also launched an innovative design hub for manufacturing & experimentation: how did Materea come to life? How was this space born?
Giulio Masotti: "Yes, MATEREA. Materea is a dream place for me, a space I have long dreamt about since I was working at Mammafotogramma and we were thinking of more technological and digital production possibilities since I have started to wander around fab labs and especially after the visit at the Autodesk Pier 9 in San Francisco.
Materea is a Factory for non-standard fabrication, an R&D lab for Wood-Skin as much as a Hub for Process development and rapid prototyping for a wide range of clients. From the construction company to fashion brands, car manufacturers, and fit-out companies.
Materea counts on years of experience about complex projects carried with Wood-Skin and the genius of Francesco Perego, a friend and computational designer that runs the factory with his team. It is situated in Sulbiate, a gem in the furniture district of Brianza, inside a former textile mill with a pitched roof, parquet floor, high windows, and the fields all around."
What kind of support can Materea provide? And for what kind of companies?
Giulio Masotti: "Advanced CNC machines and robotic arms for small series and prototyping, computational designers and circuit boards all share the same floor with the intent of creating a space for open innovation. Industries and businesses can find a partner that steps up their production processes, develops and engineers prototypes, brings computational design into their products and production methods.
We are working on a variety of different projects; it is very exciting to see how clients are reacting to the possibilities we offer. We aim to solve a big problem that is currently present in the industry, very few people know how to design a product with the latest parametric practices and software, define the process to manufacture it and prototype such a product in order to get to a production-ready item."
Giulio Masotti: "Additionally, MATEREA can run a small production batch to test the market and the product extensively, at a lower cost. All of this can be done in house, with our obsession for details, hi this is MATEREA.
Most of our projects are covered by NDA's but, to give you a couple of examples, we are working on moving luggage, subtractive and additive software and hardware implementation for machine manufacturers, parametric design and prototyping of furniture, web configurators for interior products and complex wooden joints for an innovative and sustainable interior cladding system."
No budget constraints: what dream-project do you launch at Materea? Who do you involve? What do you create?
Giulio Masotti: "Wow, it's gonna be hard to keep it short but here it is: I would love to create a bridge project between digital and the physical world (another one). A software with the potential of reaching millions of people out there, as it works today for social networks, but not necessarily being one.
A platform with the main focus on stunning and materic-looking visuals and the aim of pushing people to be as much as possible outside. This being either nature or the city, to create a creative and productive balance in your life. The link with the fiscal world lies in the fact that the graphic interface will not be much digital but rather a mix of 3D and real, materic, clay-motion-like landscapes."
Giulio Masotti: "The result is a software that's linked to the physical creation of a landscape that actually exists, grows and contracts depending on your habits, reflecting the way you would want to live your life in a "perfect" balance between dreams and passions. A digital place that also exists in the real world and not just in the shape of servers.
I have recently rediscovered all the astonishing "making of" footage of Disney World and Star Wars. I was astonished by the design efforts and the environment behind the scenes, an approach that is mostly lost today. It reminded me, on a much smaller scale, of our work at Mammafotogramma when preparing stop motion animation. Tons of models, character studies, and special effects.
Every business I got involved in paving the way for the next ideas and MAMMAFOTOGRAMMA is a great incubator for developing and testing ideas, there is no better place to dream big."
Find out more about companies using digital fabrication technologies to create sustainable designs, head to Caracol: when disposable becomes sustainable.