Design
"Open a design history book, almost all the famous designers are white men" – A talk with Jessica Walsh
Joining the .1% of creative agencies founded by women, &Walsh was launched in NYC in 2019 to bring a tangible change within a design industry made of inequalities.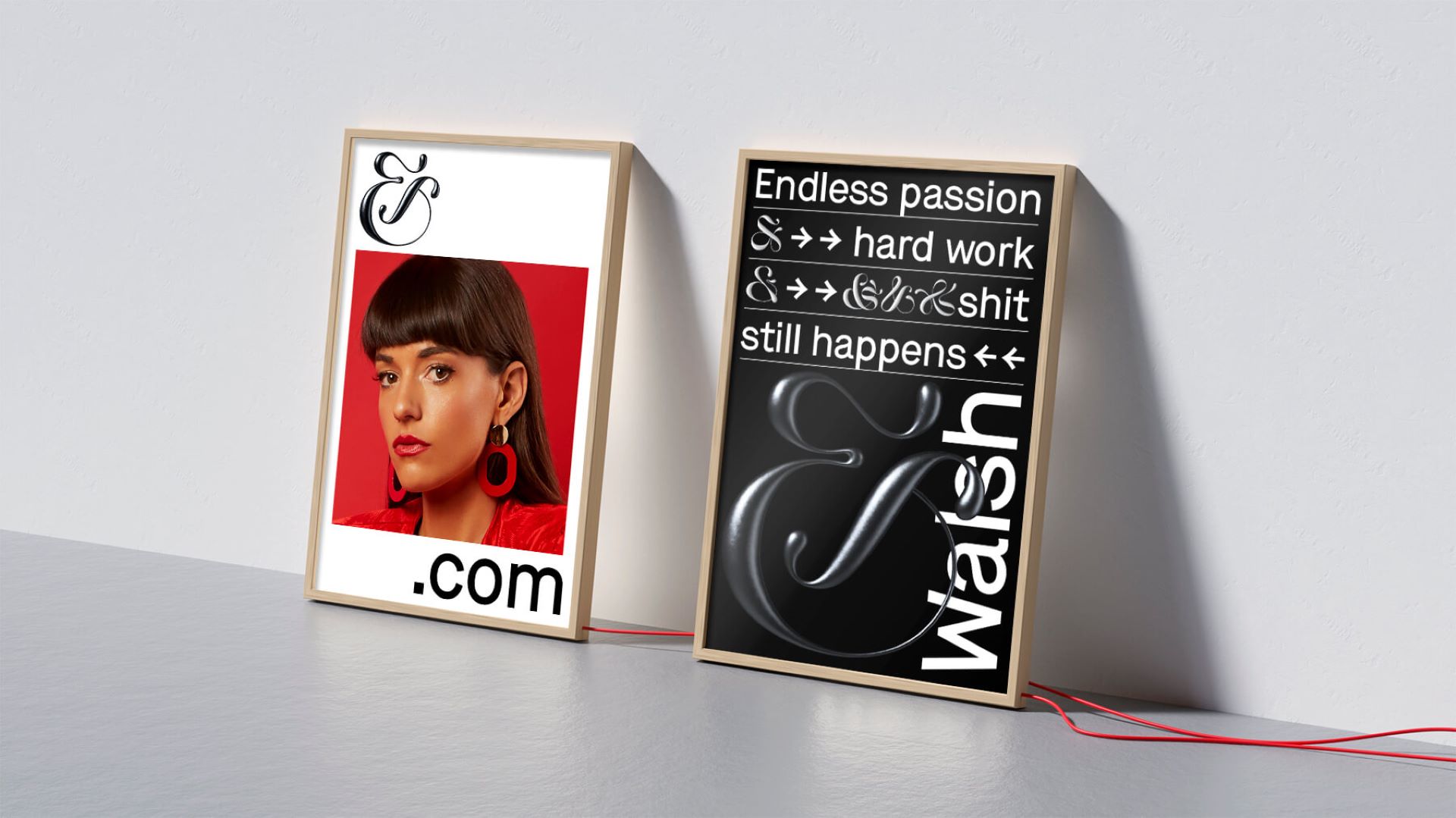 As the Founder, CEO and Creative Director, Jessica Walsh takes action through self-initiated projects enhancing diversity.
Based in New York, &Walsh is a creative agency specializing in branding & advertising launched in 2019 as a reaction to the countless inequalities within the industry, removing a brick to the lack of representation in leadership & the pay gap for women and non-binary people.
After suffering from depression, anxiety and eating disorders, and undertaking a journey of self reconstruction, today Founder, CEO and Creative Director Jessica Walsh proudly shares her excitement "to build an agency that provides equal opportunity for all to learn and grow creatively and climb the ranks towards leadership".
Aa a design professional and activist, she is the litmus test for overflowing creativity born out of personal difficulties, turned into a learning path and self-initiated projects, such as the renowned Ladies, Wine & Design and Let's talk about mental health.
In this interview, Jessica Walsh explains to us how diversity can be a spring of energy for design, instead of sticking to inner biases and standard rules.
Who is Jessica Walsh? How did your creative journey begin and how did it lead you to establish the realities of &Walsh, Ladies, Wine & Design and Let's talk about mental health?
Jessica Walsh: "When I was young, I struggled with depression, anxiety, and eating disorders. I've written about this more at length here and here.
Creativity was my mental escape from pain and source of joy in the world, but I was not sure if it was something I could do as a career.
When I was 11 I taught myself how to code and design websites, and I created an HTML help site that taught other kids how to make websites.
A few years in, Google ads launched and I tried putting one of their banners on my website and I started making a lot of money from it.
This is what gave me the confidence to think that I could make a career out of this, and go to art school. 
During/after college, I worked at various design studios and agencies for many years before landing a job as an art director at Print magazine.
I started working there in 2008 when the economy crashed and the magazine's budgets were slashed for illustration and photography.
I turned the budget limitations into an opportunity, teaching myself photography and set design on nights and weekends.
I started creating the cover and interior artwork for the magazine myself, and I developed my colorful handcraft set design style.
I experimented with techniques that I had not seen done before in the design world like body painting or 3D sets where I'd paint objects, typography and people to create illustrations.
I started to be recognized for this colorful & surreal set design style and was hired by all kinds of freelance clients and was featured in the design press.
After many years of doing this, the colorful photo illustration style caught on and started to become very popular.
I didn't want to just be pigeonholed into doing this one kind of illustration style, especially as it no longer felt fresh & unique."
I decided I wanted to run a design/branding studio in order to have varied clients and challenges.
The last 10 years have been a whirlwind learning how to run & grow a branding/advertising studio.
There were lots of late nights & weekend work, risks, fear & tears, but also a lot of joy, and incredible experiences. Over the last 10 years, we grew from a team of 2 people to a team of 25+.
At &Walsh, we now take on very large projects with multiple touchpoints including brand strategy, brand identities, ad campaigns, TV commercials, social strategies, influencer programs, and more.
We also have a photo studio and create content for brands in-house.
We've had the pleasure & privilege of working with really big clients such as Apple, Converse, Snapchat, Netflix, and Twitch.
We also work with a ton of cool startups like Bombas and Baboon. Along this journey of growing a studio, about 8 years ago, I decided I wanted to dedicate a significant portion of time to self-generated projects.
Some of them touch on some of the struggles I faced throughout my life.
One example is Lets Talk About Mental Health, which is a website and social media account aimed to help end the stigma of mental illness.
At the time of creating it, I had just released my own story of mental illness and wanted to provide a place for others to share their own.
Another example is Ladies, Wine & Design, a global non-profit initiative that was born out of personal experiences I had with sexism in the advertising/design industry.
The community offers women & non-binary people free mentorship circles, portfolio reviews and events. We're now in over 300 cities worldwide!"
"As designers, we have more power than we think." Discover how Max Masure is using their voice and their expertise to advocate for trans rights and create more inclusive systems.
Concerning the lack of representation in leadership & the pay gap for women and non-binary people: where do we stand on these issues within the design field?
Jessica Walsh: "The numbers say it all: 70% of design students are women, but when you look at the top, the numbers are shockingly small: only 5% of CEOs are women.
Approximately 11% of creative director positions are held by women. Only .1% of creative agencies are women-owned. How does this make any sense when women drive about 80% of consumer purchasing?
The numbers are even smaller for BIPOC women & non-binary people.
There are many reasons for the lack of representation across gender and race:
Sexism in the workplace: There are studies that show that companies are often consciously or unconsciously biased in favor of candidates who are men, which leads to more men being hired, getting raises and higher wages, and receiving promotions. 
A lack of diversity in mentors or idols historically: Open a design history book, and you'll see that almost all the famous designers mentioned are white men. The design industry used to be a boys club at the top, lacking diversity across both gender and race. With a lack of representation among their role models, underrepresented people can be deterred from pursuing creative positions. 
The responsibility of childbearing: Many people start families and have children around the time they'd be considered for career advancement. Historically, most cisgender men continued working and did not hold child-bearing responsibilities, leading to a gender imbalance in terms of career success. Many call this the "motherhood tax," referring to the financial burdens and sacrifices involved in motherhood.
The lack of representation at the top was my inspiration for starting our non-profit initiative Ladies, Wine & Design.
We offer free mentorship circles, talks, and networking events in over 300 cities worldwide.
We have events on topics such as Creative Leadership, Design & Business, Diversity in Design, and more.
These social initiatives will be a driving force of &Walsh.
I also want to implement these principles within our studio.
I'm excited to build an agency that provides equal opportunity for all to learn and grow creatively and climb the ranks towards leadership."
How are &Walsh and the initiatives you launched differently serving the mission to see more diversity in the creative industry, especially within leadership roles?
Jessica Walsh: "I think it's important for creatives who are just starting out in their career to see diverse representation at the top of the industry.
When I was in school and I'd open a design history book, it was almost entirely older white men. I remember this was quite disappointing to me as a young designer.
I wanted to see other women at the top to feel as though I could make it one day too.
There has always been an incredible number of talented women/non-binary & BIPOC designers making incredible work in this world, the problem has been seeing in terms of recognition in magazines, books, blogs, or design events.
I remember the first conferences I spoke at, for a long while, I was the only woman speaker at the event.
One of my goals with starting LW&D back in the day was to constantly interview/feature/pass the mic to all the amazing and diverse creatives out there that deserve to be heard and be in the spotlight.
Things are changing so fast from the time I started, and various progressive movements in the last years have sped up change and representation quite rapidly, which has been amazing to see. 
At &Walsh, we always make sure to hire a talented team of diverse people, both in-house as well as outside freelance talent.
Even when we're looking to partner with outside companies to help produce a TVC or photoshoot, for example, we're always looking to make sure we have representation with women & nonbinary people & BIPOC talent.
It's important to not only hire diverse talent but also make sure they show up in every part of the creative process from ideation through to the final production of work.
Simply hiring diverse people to hit a quota but not really involving them in the creative process, does nothing for anyone."
Creating a community committed to inclusivity is a way to deliver bottom-up social change. Which were the hardest challenges you encountered while giving life to a diversified community? And which are the ones you are still facing?
Jessica Walsh: "LW&D is our global organization dedicated to seeing more diversity in the design industry through free events and mentorships.
The community grew organically on its own. It's never been difficult finding diverse & talented people around the world to feature on our page for interviews or takeovers.
The biggest challenge we face is finding funding to keep the organization running.
I had written a big article about it, but shortly after we published this when we were about to start looking for sponsors, the pandemic happened.
Funding LW&D was obviously not a top priority in the world with everything going on this past year, so we put a pause on fundraising efforts.
We're now focused on digital events and amplifying diverse creative voices through Instagram takeover series.
We'll have to figure out the funding part eventually if we want to keep the organization going long term, but focusing on digital events and activations has helped curb some of the larger expenses for now."
As compared to the "real" world, what is the impact of social media on your work and on the relationships within the community you created?
Jessica Walsh: "I actually stopped participating as much in social media this past year, outside of posting stories amplifying other artist/activist voices on social/political causes that I feel are important.
The pandemic was difficult, and I had to prioritize our &Walsh team, our client work, and my mental health over social media.
I've been surprised that it's had little to no impact on getting new business or new clients.
I was very worried that when I stopped posting on social media, we'd stop getting work, but my fears did not turn out to be true.
I've realized that about 99% of jobs come from past clients who loved working with us, and who recommended us to other friends with startups or those who lead other businesses.
I think one of the best ways to promote yourself is just by doing great work & fostering strong relationships with the clients you do have vs. spending time selling yourself or chasing down new clients. Doing good work leads to more good work."
How do you foresee the design sector dealing with inclusivity in the near future? What piece of advice would you give to designers eager to express an inclusive mindset through their practice?
Jessica Walsh: "As an individual, I find it important to constantly educate myself to keep learning & unlearning, and confront my own internalized biases.
I like to follow diverse artists/activists/creatives and read lots of books or social media posts to understand different points of view and opinions on a wide variety of topics.
Society, language, and culture are always shifting, there are always ways to better myself and learn how to work towards a more inclusive future.
If you're running a studio or company, hiring a diverse team and involving them at every stage of the process, is a great way to help your work be inclusive."
What is the next step for Jessica Walsh?
Jessica Walsh: "We are working on launching a big project we've been on for a while, probably later this year or next year. Stay tuned!"
Has Barbie become an icon of diversity? Find out more about the archetypal doll, now becoming, at the very least, a little more diverse and inclusive…