Lighting design
Jörg Hugo's bubble-like lighting tests the boundaries of hand-blown glass
"Lightbodies" is a formal investigation into the viscous behaviour of hand-blown glass.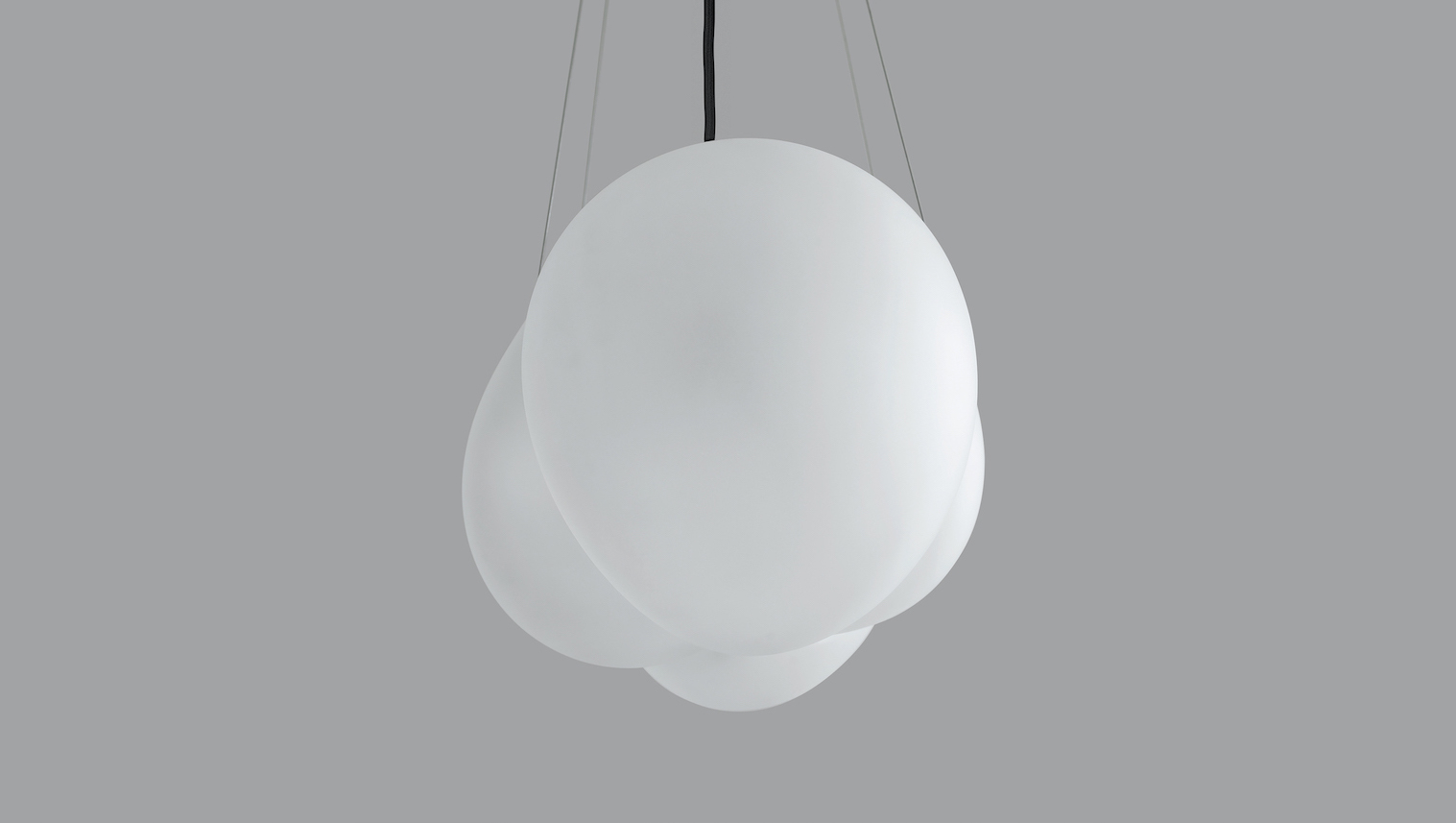 A recent boom in creative glassmaking has sparked a trend in unique, statement lighting like Jörg Hugo's "Lightbodies" series, a collection of sculptural pendants that challenge the materiality of glass. 
German Designer Jörg Hugo's vision of hand-blown glass morphing around a lighting element comes to life in GLASS BODY 04, an amorphous pendant light with a bubble-like appearance.
To create it, Hugo employed a free-blowing method, which involves the blowing of air into a molten portion of glass called a "gather" which is spooled at one end of the blowpipe.
This has the effect of forming an elastic skin on the interior of the glass blob, which the glassworker can quickly inflate into a coherent blob and work into a desired shape.
Then, Hugo suspends the lamp in the form of a thin, continuous steel cable, which is placed around the body in a geometric tension field of tensile force, overpressure and gravity.
"The individual elements of the GLASS BODY 04 reflect an asymmetrical balance of compressive and tensile forces," says Hugo.
"This asymmetry of forces is the subject of my work, over numerous geometrical investigations of different materiality."
GLASS BODY 04 started as an experiment, in which Hugo began to investigate a pendant luminaire as a design typology.
It forms part of a series of hand-blown lights created by Hugo that rely on the viscous behaviour of the material during the manufacturing process.
The shape of the glass in combination with a diffuse surface makes it possible to multiply the inner light source, while the frosted surface of the glass guarantees a sufficient dispersion of light.
"By choosing suitable materials in combination with an unexpected, compositional arrangement of the elements, I try to question habitual appearances of established typologies in design and architecture," Hugo explains.
LEDs are stealing the spotlight thanks to Dutch design studio Vantot, their nature-inspired lamps are low-voltage and high-style.
The art of glass is booming
New ideas surrounding glassmaking have also encouraged glass artists and brands to consider environmentally-friendly manufacturing methods—we recently published an article on recycled glass tiles by Norwegian practice Snøhetta and an article on Studio Peipei's sustainable glass vases.
This is because of a recent boom when it comes to creative glassmaking.
Craftspeople today are often looking beyond formal concerns and taking a more conceptual approach to this artisanal practice, which Hugo represents with his Lightbodies series. 
Snøhetta has collaborated with Belgian designers Studio Plastique on Common Sands, a project suggesting new uses for waste glass.