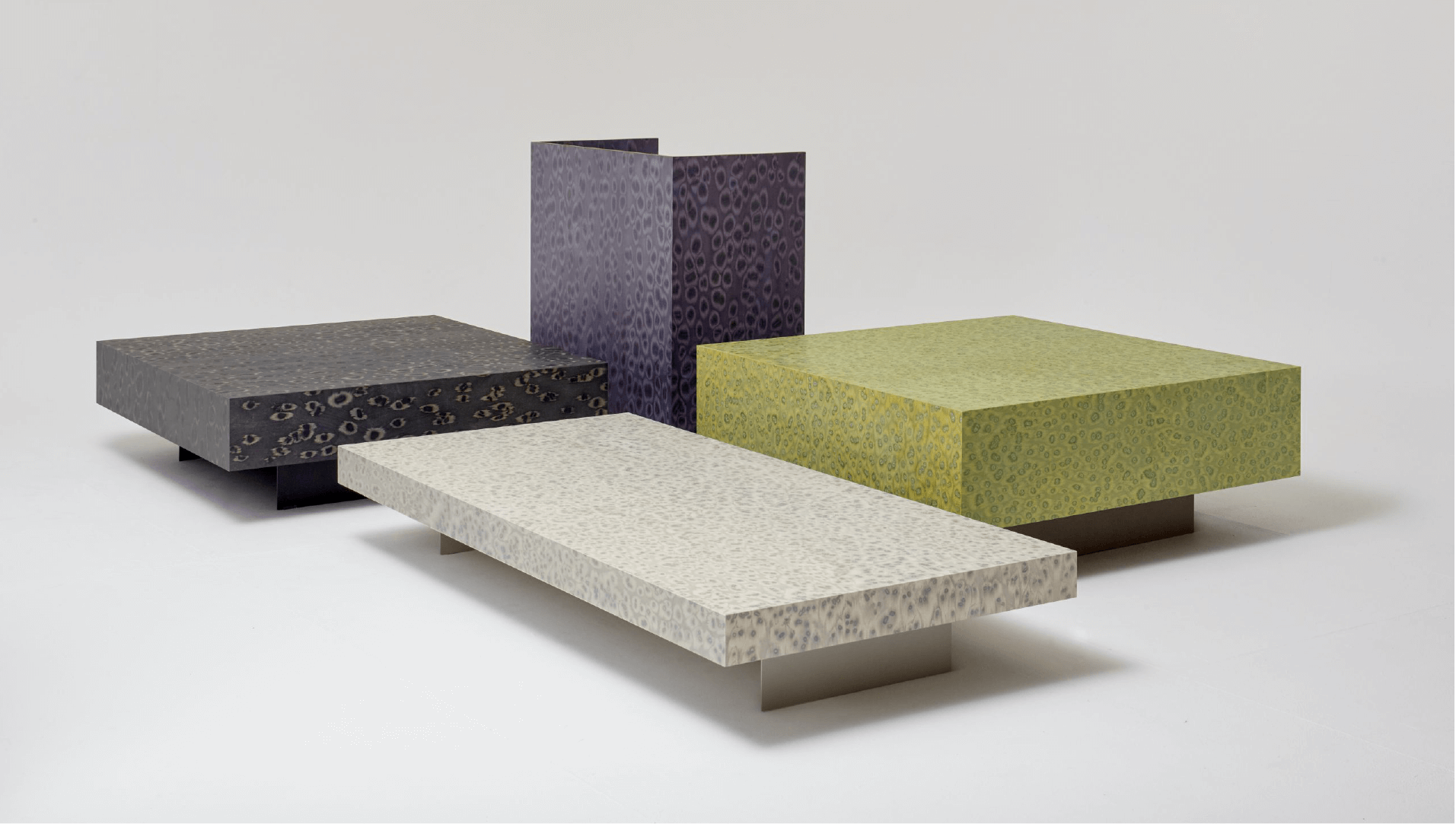 "Often playful and always visionary" is a description that perfectly suits a brand founded by two friends in the back of a taxi some 14 years ago: that's how Llot Llov was born.
Jump forward to today and Llot Llov works conceptually across interior and product design with a set of unique collections featuring both serial products and individual pieces. The two friends who founded the brand are Ania Bauer and Jacob Brinck, two Berlin-based designers recognised internationally for their distinct style merging traditional arts with contemporary design. It's an approach that earned them a spot at Alcova and no doubt had something to do with it being the most talked-about show of the Fuorisalone attracting a record 55,000 visitors.
During the event, the brand unveiled additions to its Osis series, a collection of tables and desks that encapsulate its decorative design aesthetic. The collection features a unique, kaleidoscopic surface pattern achieved by scattering sea or stone salts onto the painted surface of birchwood boards. As it dries, the salt soaks up some of the liquid in the paint, leaving a slightly blurred but rich gradient behind.
"The results are affected by the kind of salt used, humidity and length of reaction time," explain the designers. "When combined with spruce wood, the salt draws the pigment into the natural flow of the grain, emphasizing the unique features of the original material."
At Alcova, Llot Llov exhibited two new collections: the Osis Block Edition, which pieces together various rectangular blocks to form a set of three coffee tables and a desk, and a family of round tables with a veneer edge and matching frame colour in Panther, Pea or Bordeaux. The latter comes in three different sizes (high, mid and low) and feature open compartments under the tabletop for extra storage space.
Bauer and Brinck also expanded on its Fran lamps, a distinct series thanks to their bulky silhouettes and rustling fringes. Composed of strips of fabric attached to a wire ring, the hand-made design is reminiscent of a pinata. It helps that the collection comes in four bold block colours: beige, red, green, and black.
To produce the lamp, they worked with a production partner called Dobbins and Daughters, a Latvian-based social enterprise that recruits stay-at-home mothers — who otherwise wouldn't have access to income — to craft projects from home. The fringes are made of rayon raffia, a sustainable and hard-wearing material also known as Japanese grass. The cellulose fibre is obtained from plants and is therefore biodegradable and recyclable.
Find out more about the exhibitions during Milan Design Week, don't miss Five designs to see at "Masterly — The Dutch" as it returns to Fuorisalone 2021.
The last collection we discovered at Alcova was Llot Llov's Raw series including additional planters and vases in brushed aluminium. It's a collection that also has its roots in the craft. Sculptural shapes featuring striking geometries are made possible thanks to a metal processing technique involving hand-turning and hand-brushing the aluminium to achieve the polished finish.
"Different shaped spinning chucks are used to shape the sheet metal blank in rotation for the metal spinning process," the studio explains. "The metal surface dully reflects the colours and light of the room, easily blending in with its surroundings. As the surface is not lacquered, the material ages in a beautifully natural way, but is resistant to corrosion."
The surface treatment is the real treat here, creating a beautiful contrast to the fresh green leaves or colourful flowers. It's proof of Llot Llov's ability to fuse craft and design, monitoring the process to turn raw materials into great and fascinating things.
Discover other exhibitions displayed at Alcova during Milan Design Week, don't miss Alcova presents a design evolution in Milan.