Furniture design
Roadie – a curved, lightweight and stackable sofa for outdoor environments
Massproductions reflects the founders' idea of using industrial production to create responsible and sustainable high-quality furniture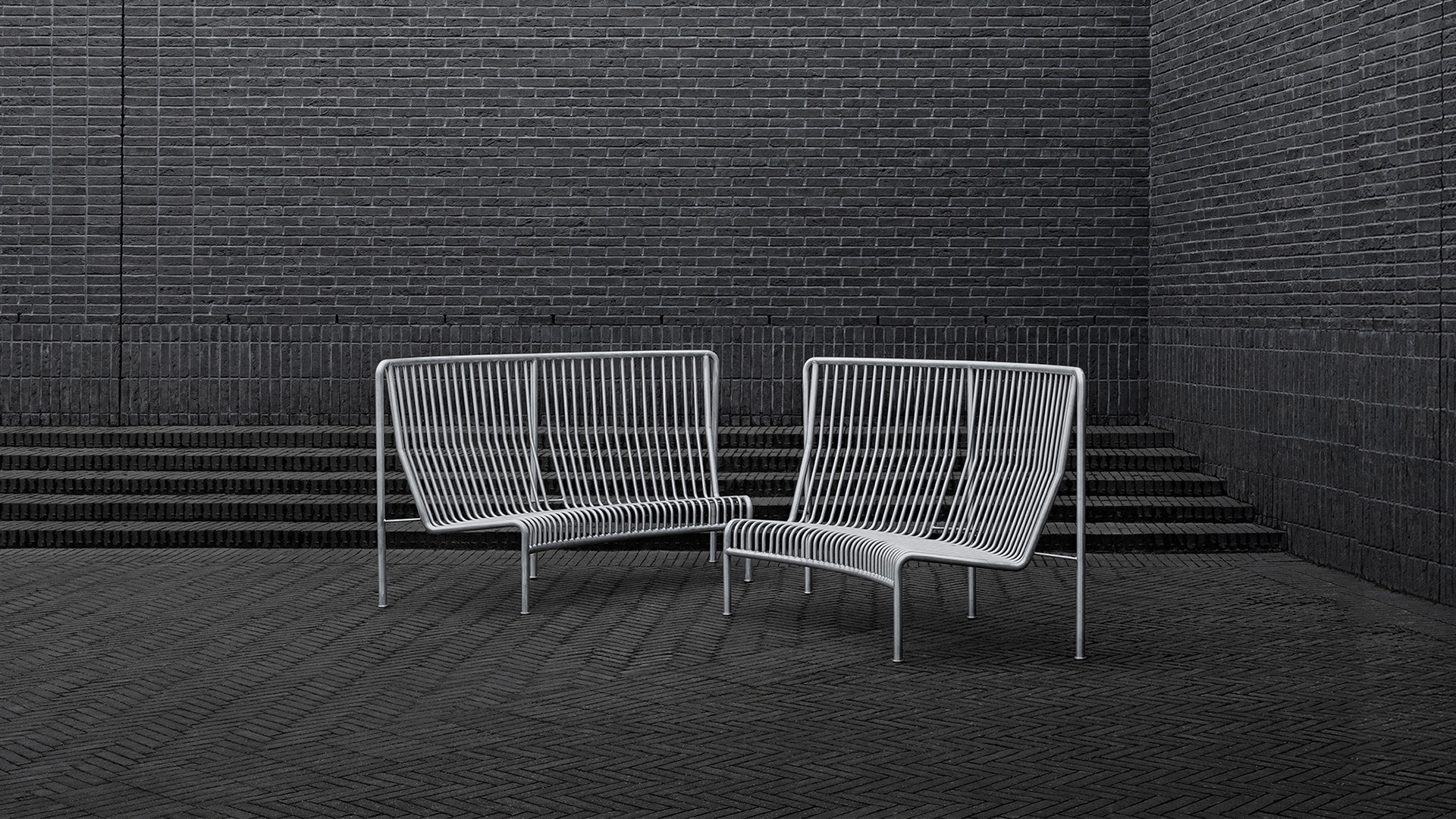 The international furniture company Massproductions was founded in 2009 by the Swedish designer Magnus Elebäck, and the British designer Chris Martin. Massproductions produces and designs according to the "form follows function" philosophy, with the focus always being on the design process.
Both in 2016 and 2017 the company has been granted a prestigious award like Designer- and Producer of the Year by different magazines. Today the company has its office and studio in Hammarby Sjöstad, Stockholm.
On the first day of Stockholm Design Week, 2020 Massproductions presented Roadie – a curved, lightweight and stackable sofa for outdoor environments. The product is partly inspired by welded steel crowd control barriers and aluminum lighting rigging, which can be seen being assembled by "roadies" at concerts and events.
In the spring of 2019, Stockholm City presented a design competition with the aim of designing new seating furniture for one of UNESCO's world heritage sites, Skogskyrkogården in Stockholm, by architects Gunnar Asplund and Sigurd Lewerentz.
The site has been a regularly visited excursion destination and a source of inspiration for Massproduction's founders Magnus Elebäck and Chris Martin, who promptly registered for the competition. But rejection came quickly, Massproductions were not approved to participate and were never allowed to present an idea to the jury.
"We were incredibly disappointed, we had an idea we believed in. We decided to respond by implementing the idea ourselves" says Chris Martin, designer of Roadie.
The competition brief was added to a number of different requirements considered suitable by Chris Martin. Not necessarily qualities that belong together, but pieces that would enhance both function and form, and which would then be analyzed and solved like a puzzle.
"I wanted it to have a high back, a character trait that gave it a sense of being a mobile barrier, part of the architecture of the place – a wall you can lift up. I also wanted to make it a light object, I liked the idea that a single person could easily move a large three-seater sofa. And then I wanted it to be stackable.
These qualities made an easily manageable piece of furniture that we would be able to transport in a van, in the middle of the night and to place at Skogskyrkogården" says Chris Martin with a grin.
Another puzzle piece that fell into place was Roadie's shape, which is related to Massproductions' popular Dandy sofa. Here, the curved form becomes a sophisticated contrast to the raw metal surface, whilst being beautiful to furnish with, alone or in groups, as it creates new patterns of movement in an outdoor (or indoor) environment.
When it's time to gather friends around the barbecue on a sunny day, the lightweight Roadie can be easily lifted forward and combined for larger formations. Like Dandy, it encourages conversation and interaction between its users.
"I got the idea from nice bicycle frames, they always have a nameplate that is proudly placed on the steel frame. I found a company that makes nameplates for bikes, so we did a Massproductions plate and placed it on Roadie's frame, with pride" Chris Martin concludes.
The company introduced Roadie in Stockholm Design Week 2020 and as part of the release show, the studio created the experience "I'm slow"- a simple tent with the Roadie bench around a lump of dirt topped with long wax candles.
The installation hopes to encourage visitors to slow down and think twice before acting on their first "I want this" instinct, as well as making potential clients think carefully about the way we view and consume design.