Furniture design
Mlle Jo: a fashion-infused journey into sustainable furniture design
In a world increasingly defined by mass production and global outsourcing, the preservation of local craftsmanship and sustainable practices emerges as a beacon of innovation.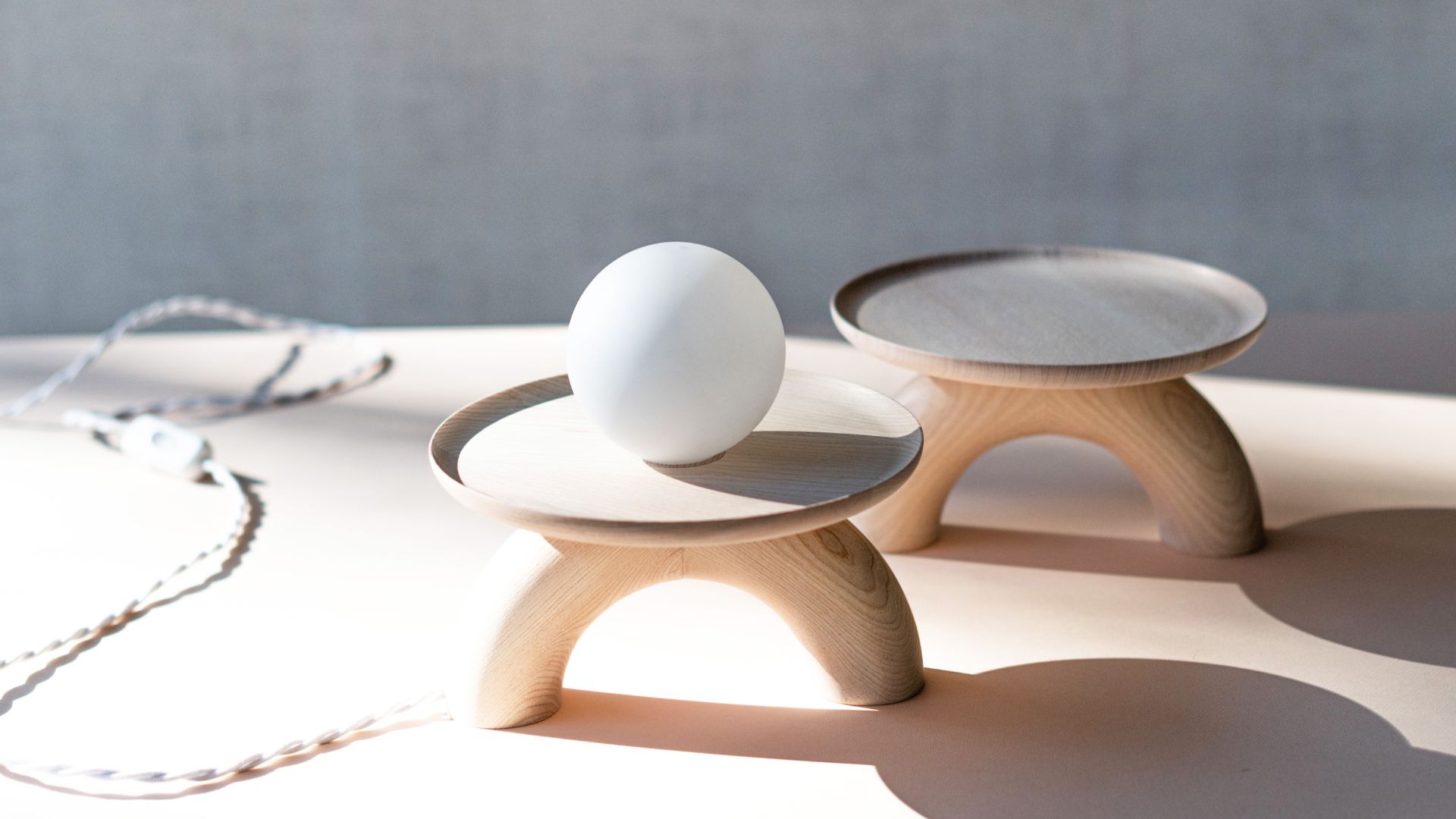 This commitment to tradition and ecological responsibility is at the heart of the Mademoiselle Jo furniture design journey. Founded by a seasoned professional from the fashion industry, Joan Bebronne, Mlle Jo stands as a testament to the enduring importance of artisanal expertise and ethical production methods.
Mademoiselle Jo's core objective is to present a diverse range of objects that harmoniously blend heritage and cutting-edge technology. Crafted with meticulous care in Belgium and various European locales using sustainable materials, Mlle Jo's creations feature a medley of wood, steel, brass, and leather, showcasing the designer's preferred materials.
Produced in small series, each piece is designed for versatility, longevity, and the cherished tradition of passing them down through generations.
In a one-on-one interview, Joan Bebronne shares the backstory of her brand and the guiding forces behind her (exquisite) creations.
What's your background? How did you come to create the Mademoiselle Jo project? 
Joan Bebronne:
"Born from a fashion-focused background, I embarked on a unique journey a few years back when I launched my own furniture design studio, known as Mlle Jo. My prior experience entailed a 25-year tenure as the artistic director of a lingerie line, situated within one of Europe's largest textile manufacturing companies.
Throughout those years, I nurtured an unwavering passion for precision and attention to detail – qualities that I was determined to infuse into entirely different creative endeavors. While the avenue of jewelry beckoned, my heart gravitated toward furniture design, where I could craft items imbued with practical functionality, objects that play an integral role in our everyday lives rather than serving merely as ornamental pieces."
What design philosophy guides you in the development of your products? 
Joan Bebronne:
"My initial trio of creations – a hanging console reminiscent of a spinning top, a round separable table inspired by origami, and stools adorned with brass inlays – set the foundation right from the start: a commitment to natural, enduring materials, sleek and intelligent design, and an unwavering focus on intricate details. All of Mademoiselle Jo's creations are steeped in the principles of purity and minimalism.
The concept for the Toupy collection, the signature of the Mlle Jo studio, took root during a trip to Slovenia. It was in a wooden toy store where I found myself captivated by spinning tops while with my son. Shortly after, I chanced upon a bird perched on a hanging feeder, and when these two images converged, the concept for Toupy was born.
Subsequently, the real journey begins – the design and development process. My approach involves direct, hands-on work. After creating a quick sketch, often decipherable only by me, I craft a model from cardboard or papier-mâché. This serves as a foundation for technical considerations before transitioning to the actual prototype stage.
For the Toupy collection, we opted for turned wood to achieve its distinctive curved appearance. However, creating the entire piece from a single block proved impractical. Primarily because the wood would tend to warp, and secondly, we needed to accommodate the suspension bar. Consequently, we devised an assembly of components, carefully glued together according to the wood grain, ensuring stability and preserving the natural material's clean aesthetic."
What materials and techniques do you use for manufacturing your designs? Can you mention some examples from your collections?
Joan Bebronne:
"Mademoiselle Jo's Belgian design and production combine vanishing skills such as marquetry and wood, stone and metal-turning, modern processes such as liquid metal patina, laser cutting and rotary multi-axis CNC sculptures. From the cardboard model to the final result, Mlle Jo's furniture goes through various stages of production, combining craftsmanship and technology.
The Youmy side-tables, for example, are made from sheet metal that is cut and bent, then covered with various coatings, handmade color gradient with car-body paint. But it's on the range of inlaid stools that the meeting of modern and ancient is most striking.
We use an ancestral marquetry technique as well as laser cutting. The wood is roughed out – hollowing out the shape into which the marquetry element will fit – using a milling cutter. This is the only way to maintain an even surface in a wood like ash, whose density varies enormously. Traditionally, we used wood species or mother-of-pearl for marquetry, but we preferred brass, which we cut by laser before inserting it into the bores. To ensure the precision of both cuts, we use a computer program that controls the milling machine arm and the laser.
The simplest things are often the most difficult to achieve. When you refocus on the essentials, when you prune away to get to the heart of the original idea, you lay yourself bare. And when you're stripped bare, the flaws are immediately obvious because you can't hide them behind unnecessary frills. It's a risk we take, and that's the whole spirit of our studio. Purity demands flawless perfection and high standards at all times. I hope that in the near future we'll be able to offer larger pieces of furniture, and we'll keep the same philosophy.
My favorite materials are all type of metal, wood, stone, glass and leather. The materials we use are solid natural and minimally transformed. For example, real brass can be kept forever unlike brass painting that will be damaged after years of use. In the same way, solid wood can always be repaired. All the materials used lasts over time and won't be weakened by long-term use."
How do you interpret the sustainability of your products? How do you research and implement it? 
Joan Bebronne:
"Over my years within the fashion industry, I've observed the gradual decline of local production in favor of widespread outsourcing. I've witnessed the closure of workshops and the fading of traditional trades. When I conceived the Mlle Jo project, I made a deliberate choice to collaborate predominantly with Belgian craftsmen.
This decision doesn't imply that Asian products lack quality, but rather stems from a belief in the vital preservation of our diverse range of craftsmanship. Opting for local manufacturing – though we do have a few European suppliers, specifically for Slovenian black ash and Italian glass collections – significantly reduces transportation needs and, subsequently, the carbon footprint associated with all our creations.
Furthermore, it affords us the opportunity to work in smaller quantities and cultivate unique relationships with artisans. I place great emphasis on the finishing touches, and thus, each piece of furniture undergoes a thorough inspection in our studio before shipment. Additionally, some of the finishing details, like the leather edging on the shelves, are meticulously executed by our own hands."
In an industry crowded with numerous furniture brands, both established and emerging, what do you believe is essential to genuinely set oneself apart?
Joan Bebronne:
"As an emerging design studio, it's important that Mademoiselle Jo proposes objects that are truly different from the ones that already exist on the market. Our collections aim to let our clients' imagination and creativity run wild, everyone can use and place our objects in a different and personal way. Our objects are versatile and opened to personal compositions.
For example, with our new wall hooks GLOWY, each consumer can bring its wall to life in an artistic and graphic way. The different elements can whether be part of a set or used separately. At a time when space is a luxury and is shrinking drastically in big cities, Mademoiselle Jo wants to offer objects that are poetic, decorative and functional."
What is the ideal customer for Mademoiselle Jo's products and why?
Joan Bebronne:
"Mademoiselle Jo's ideal client is in love with beauty and is looking for a both functional and poetic piece of furniture. We believe our customers like to differentiate their choices without being extravagant or provocative, but by arousing astonishment and admiration. 
Our customer is someone who knows what he/she likes, who will keep the objects that build the identity of his/her home, and then pass them on to other generations.
One of our dreams is to be involved in a hotel project. We've been lucky enough to place some of our objects in boutique hotels, bed and breakfasts or private mansions, but we'd be delighted to be able to take part in a larger-scale project."