Materials & Surfaces
Broken glass that makes perfect shine: a versatile material from industrial waste
For over ten years a German stone distributor has been transforming industrial waste into fully recyclable crystal-like panels for exterior, interior and product size applications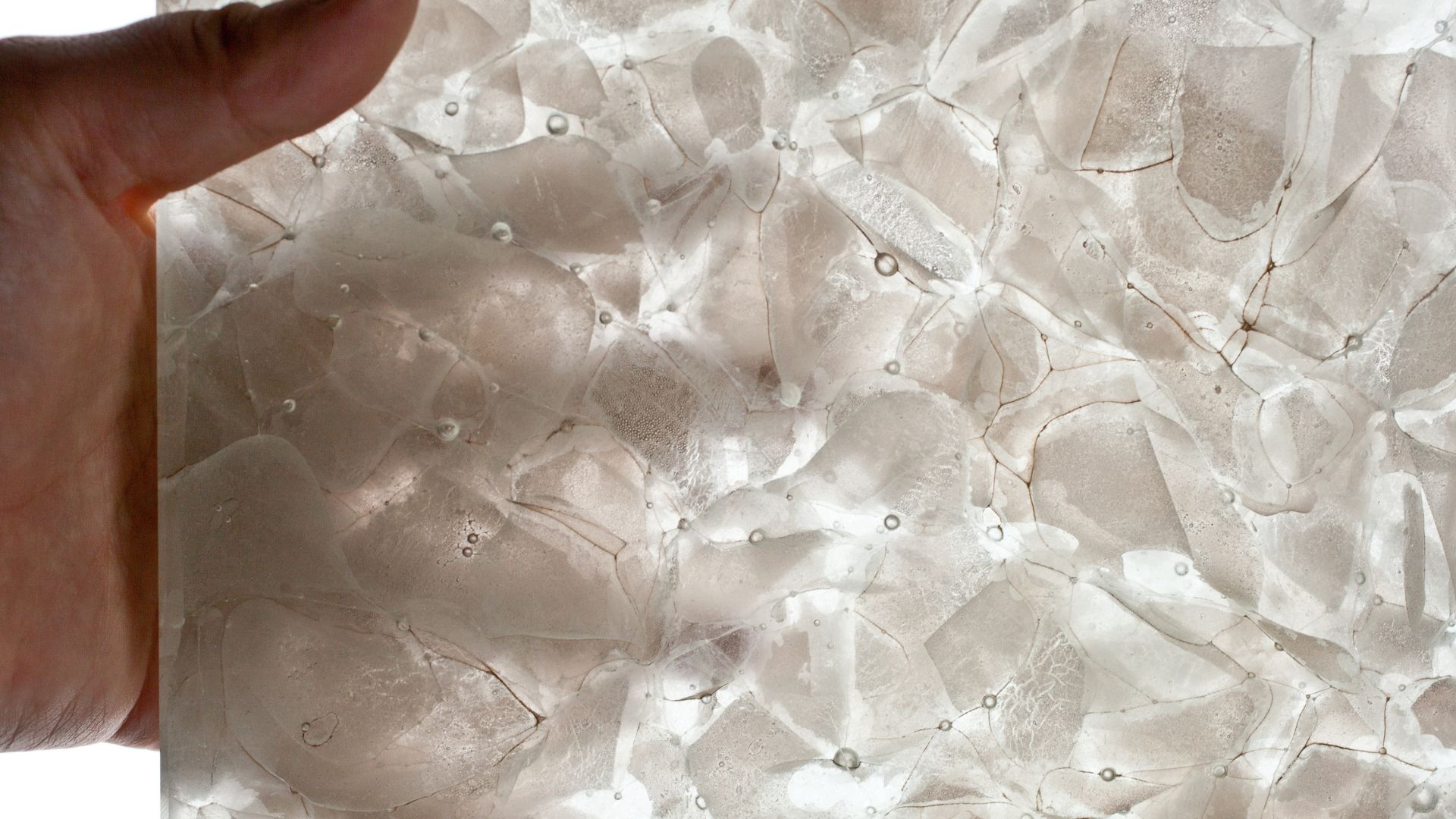 Glass is a wonderful and ancient material, intuitively desirable also for its recyclability. However, it is not easy to find thoroughly recycled glass that is suitable for design-minded productions. Customization and flexibility in terms of size and finishes make Magna Glaskeramik® a sought-after material.
MAGNA Glaskeramik®: history and features
The material was developed by MAGNA Naturstein, a stone distributor and fabricator based in Madgeburg, Germany, when reasoning about the potential use of the 5% waste typically associated with production of flat, solar, colored or bottle glass due to rejects, faulty production, and excess quantities. This industrial waste represents the raw material source of MAGNA Glaskeramik®.
The glass waste is first broken into shards in a controlled manner and then undergoes a complex sintering process: binders and pressure are avoided, only temperature and time make the work. The sintered sheets are then cooled in cooling hoods and finally the raw plates are calibrated, polished if desired, and cut to their final size. As a result, each glass ceramic plate is unique and has unique details. Its translucent properties, which come into their own when backlit, make the product particularly attractive.
The material obtained is fully recyclable. Its production also follows an environmentally conscious process in which a large part of the energy requirement is generated from solar plant and the water used in the manufacturing process is also recycled and reused several times. This is evidenced by EPD certification and Cradle to Cradle certificates, which provide points in LEED and BREEAM certified buildings.
What are its applications?
The manufacturing process allows for the transformation of recycled glass into different innovative glass products. Magna Glaskeramik being very resistant to high temperatures and scratches finds its ideal application in kitchens and bathrooms for countertops, vanities, and shower enclosures as an example.
The material is also suitable for exterior cladding – making it an excellent façade cladding solution thanks to its fire protection class A1 (non-flammable) – and is frost-resistant. Since no epoxy resins and adhesives are used during production, the surface remains glass-like and thus insensitive to external influences such as acid rain. It is also UV-resistant, ensuring a permanently consistent coloring over the lifetime of the facade.
Lighting and furniture can make good use of this material too, while further decorative and design-centered applications are just up for grabbing for creative minds specifically looking to shape a well-known material enhanced by not so common sustainability features. Bending, engraving and safety glass laminations are only some of the applicable processes, which as a further example make this material suitable for decorative interior designs – i.e. for retail and hospitality environments – as well as architectural staircases.
Available standard finishes range from patinated – characterized by a texture and high relief whilst offering low glare reflectivity and low scratch-ability; to polished – providing perfect reflection to colored panels and pristine visibility of the material crystalline structure; to matt – an absolute flat finish, extremely resistant, silky and smooth, perfect for business applications.
MAGNA Glaskeramik® is available in standard colors ranging from whites to jade and green, from blues to champagne brown and black. Adding color pigments to fine grain and semi liquid production phase, custom colors as well as patterns can be obtained, making the material a replacement for Onyx, Alabaster and Quartz in exterior applications starting from a small MOQ.
Pros and cons of the material
MAGNA Glaskeramik® is offered in raw panels – with a maximum dimension of 2800 x 1250 mm (up to 3500 x 1500 mm on request) and a standard thickness of 20 mm (15-40 mm available on request) – as well as specially cut panels for any type of object, be it interior design or facades. It can be worked with CNC and water jet cutters, allowing for custom designs and integration of other materials or technical components that may be needed in specific projects.
As described in the paragraphs above, the range of applications offered by the company is quite wide and make it a particularly interesting material rich in recycled content and suitable both for custom product and space design solutions.
The shape and nature of the material do of course restrict its possible use. It is not a blowable glass, nor suitable for items or designs that need significant thinness. However, the serious approach to certification and traceability of the value chain makes this material extremely interesting when a low carbon approach with high technical and visual performance is sought.