Architecture
The modular school prototype for Africa by Valentino Gareri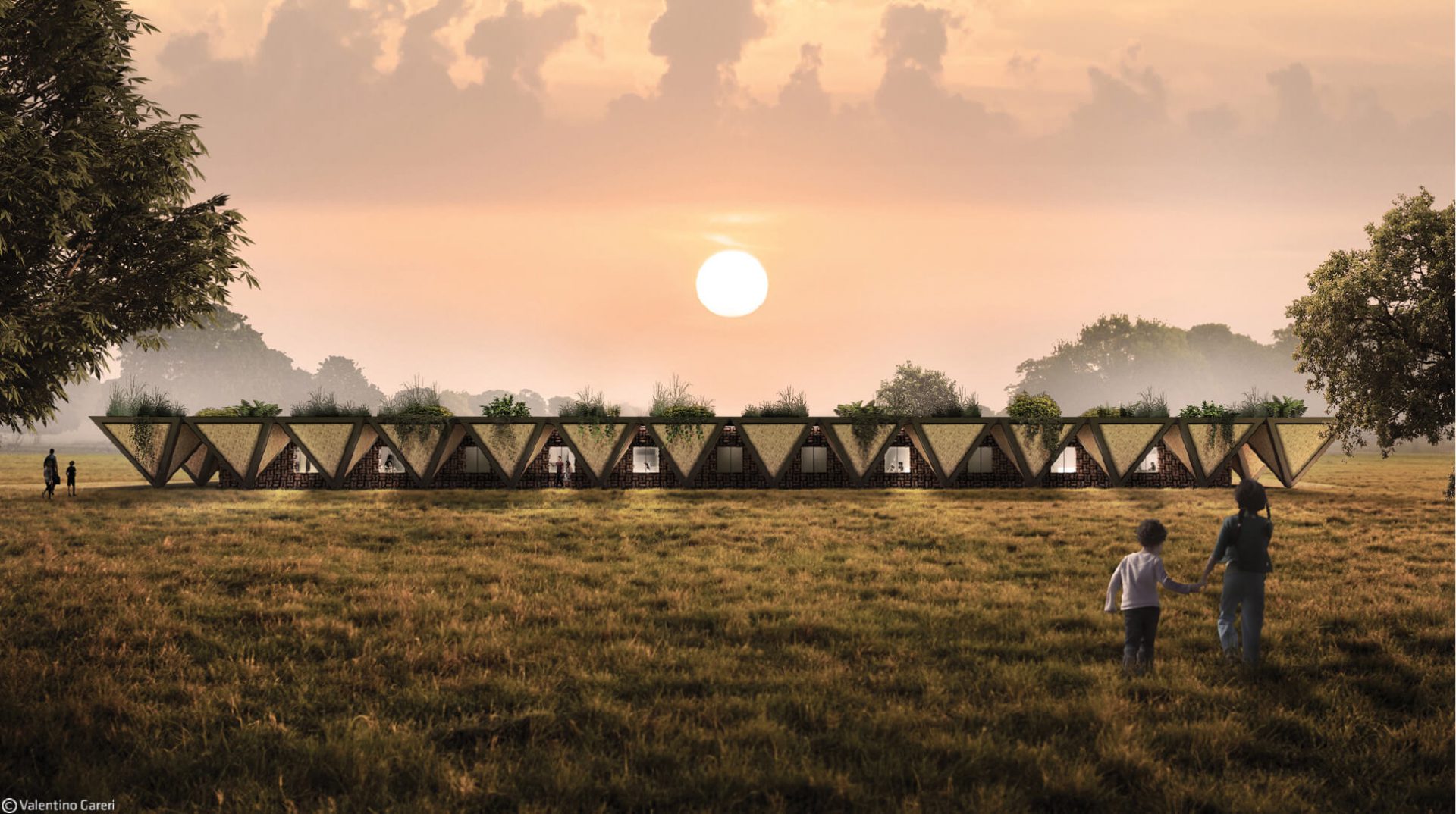 Valentino Gareri designed a sustainable prototype modular school for African regions.
The prototype of a modular school for African regions provides a sustainable, modular and flexible school, easy to build, with low costs of construction and made by local materials which perfectly adapts with the context and surrounding. The modules are made of local materials and construction techniques.
The classrooms are modules of 44m2 and contain storage to allow a flexible use of the space, replacing desks with beds or providing an empty room for flexible activities. Corridors are flexible spaces that can be used for extra activities, and the internal courtyard can be used as an extension of the didactic spaces.
Designed by Valentino Gareri, the school is surrounded by modular elements with a triangular geometry. They have a structural function and provide support for the roof. Each element contains a planter-box where vegetation can grow and, through wires trellis, spread out on top of the roof providing a sustainable sunshade and reducing the building heating. Photovoltaic and solar panels can be installed on top of each triangular module. These elements work also as rain-water collectors. Under each planter-box, there is a 1m3 water tank (traditional local tanks can be used).
The rain-water can be re-used for the vegetation irrigation and for the pre-school needs (toilets and kitchen).
If you want to know more about architectural design in the field of education, don't miss Rane Vidyalaya CBSE school is a naturally lit and ventilated school built in rural South India.
The triangular shape is the best to provide these functions and sunshade protection still allowing daylight to come into the classrooms. It also draws inspiration from the local art patterns and vernacular architectures.
The modular nature of the proposal allows for future school extensions by adding one or more modules. Moreover, each module is a prototype of sustainable and self-energy efficient component which can be adopted also for different functions, such as medical centers, workshops, and temporary accommodations for teachers and doctors.
If you are curious to know more about sustainable architecture, don't miss Casa Ojalá by architect Beatrice Bonzanigo.