Design
Motorskins' motor-free soft exoskeletons function as external muscles
A bio-inspired, passively actuated system uses each of the user's steps to power the next one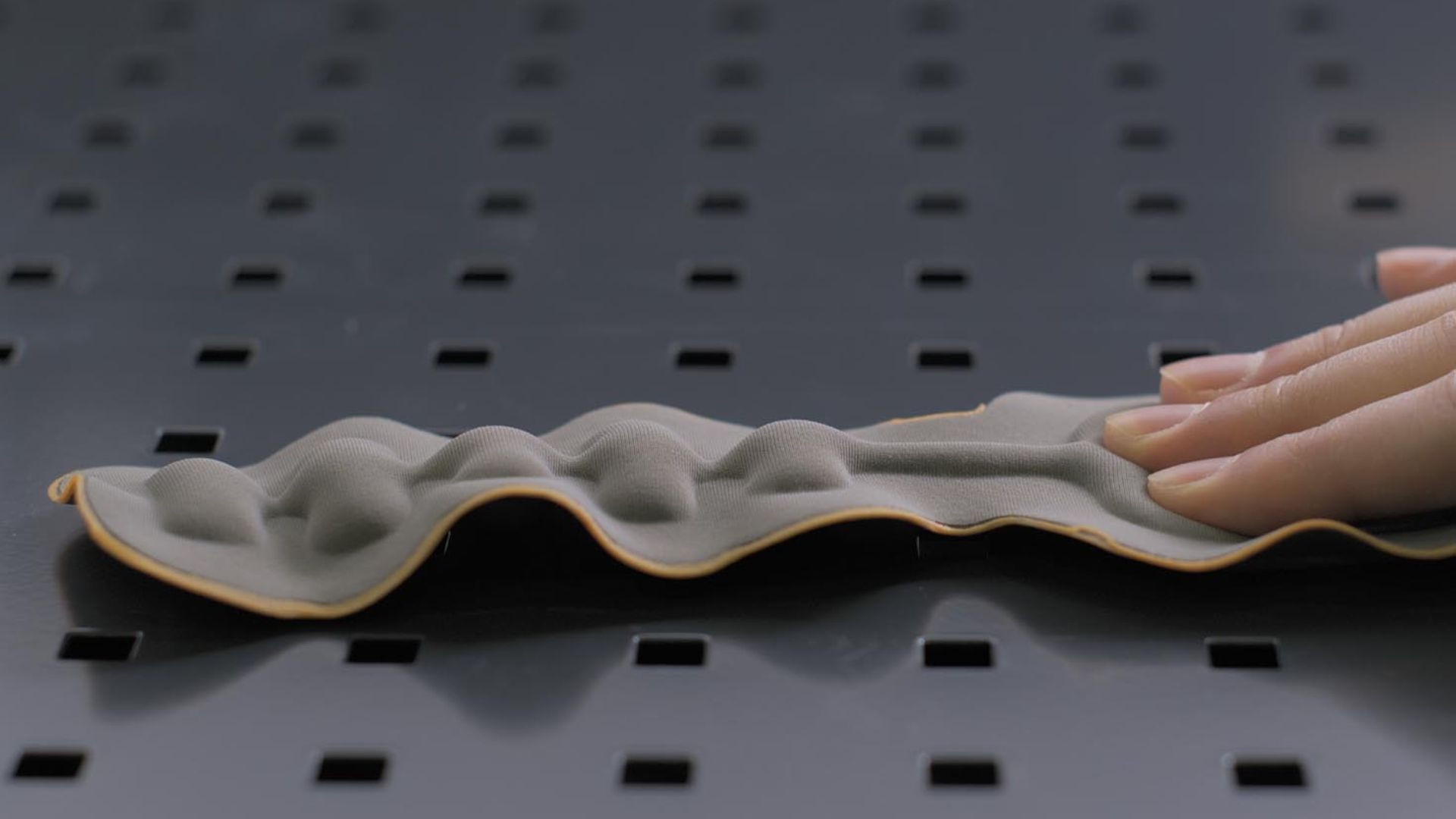 The prototypes were presented at Dutch Design Week as part of the Only Good News exhibition by Isola Design District. Drawing inspiration from the hygroscopic movement of plants, Motorskins has developed a prototype exoskeleton that applies "artificial muscles" to the user's joints to help people walk more easily.
"The first key aspect was to break away from traditional hard-frame powered exoskeletons by using soft robotics," explains Motorskins, the Berlin-based company whose innovative wearables are a world away from the bulky prototypes and existing exoskeletons currently on the market.
Designed to assist regular movement, compensate for medical conditions or muscle weakness, it uses digital fabrication techniques, which have been employed to create multi-layered fabrics with embedded pneumatic and hydraulic systems.
[ Read also Lunit medical products come without the stereotypical medical aesthetic ]
In doing so, the company has developed a library of different geometries for exoskeletons, which can perform movements such as pull, push, bend, or stiffen.
They work by transmitting force through tension or by transforming swelling and inflation into movement, and can be applied to the body to perform specific functions such as assisting or preventing the bending of a joint.
It recently unveiled a hydrodynamic compression garment focusing on the calf, which uses a passively actuated system comprising shape-changing textiles to harvest the potential energy in a person's gait, using each step to power the next one.
It uses chambers filled with fluid, which are located below the foot of the user. With each step, the fluid is transferred to a bioinspired hydraulic circuit to power it with each step.
The result is a lightweight self-powered garment without batteries and motors that does away with necessary pumps featured in state-of-the-art fluid-driven robots.
According to a recent report, the global Assistive Robotics Market size is expected to reach USD 25.16 billion by 2028, so the potential of exoskeletons like this is huge.
In the future, the majority of people engaged in production will most likely use exoskeletons to remedy or prevent injury and enhance their capability.
Meanwhile, Motorskins is looking to develop its prototype further before entering the market with an assistive product aimed at sports players or those it describes as having "lazy legs".
[ Read also Seven exoskeletons bringing the world closer to superhuman powers ]