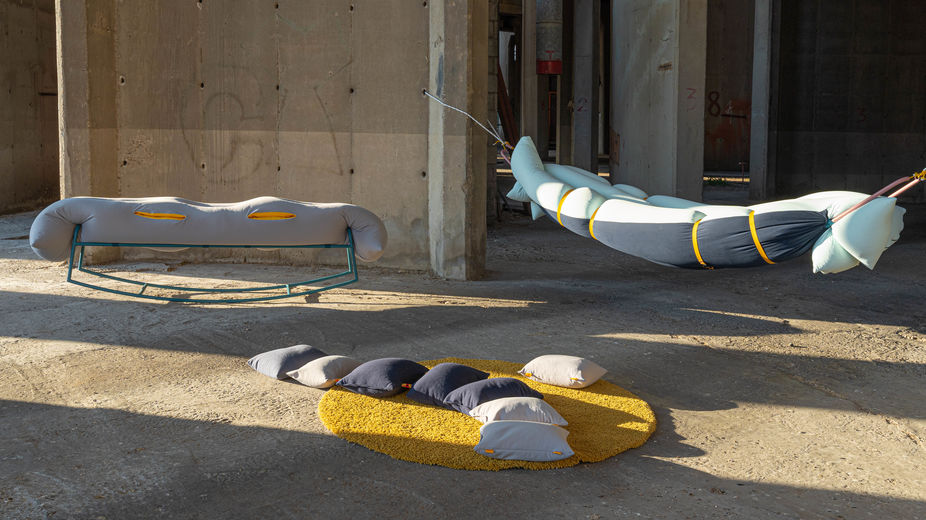 Design student Yali Paz has created a collection of bean bags and accessories that allow the user to cuddle, relax and disconnect, feeling like a baby once again.
A hug really is the best medicine—there's even science to prove it. When someone hugs you, the pressure is detected by receptors, which sends a signal of safety to the autonomic nervous system. This in turn activates the sympathetic nerve, otherwise known as the fight or flight response, which has a calming effect by turning down the anxiety we feel.
We're not telling you this for no reason. It's because it explains the reasoning behind design student Yali Paz's series of bean bag chairs. Dubbed "My Second Childhood", the collection was inspired by the natural contours of a parent's arms when cradling an infant.
It includes a range of furniture and accessories that allow the user to "self-hold" and personalize their cuddling experience. Paz has used a combination of soft cushions and adjustable straps with buckles that can combine to create different configurations for wrapping around the body like a weighted blanket.
The collection has an industrial aesthetic and a neutral palette of blue-coloured hues in contrast to yellow accents that we love. It elevates a concept, which could be associated with something like pregnancy pillows or young children, and makes it feel young and contemporary.
Discover another product that will awaken the childhood in you –Blowing Chairs: Seungjin Yang creates balloon sculptures resembling furniture.
Also included is a divan-like rocker with a divot for the head and pockets for the user to place their arms on either side and a hammock, which combines several voluminous cushions that can be secured together at various points.
Paz, who is a former student at Bezalel Academy Design, embarked on the project as part of her graduate collection which, knowing how stressful that time can be, makes the idea of wanting to be hugged by your parents make total sense.
Interested in trends in furniture design? Take a look at Post-pandemic furniture and hybrid design prove popular at the SIT Furniture Design Award 2020