Furniture design
From fun to timelessness: Project 213A explores sustainability and craftsmanship
With the excitement to create something meaningful, Project 213A presents a collection of sustainable objects made by a group of creatives in collaboration with talented craftsmen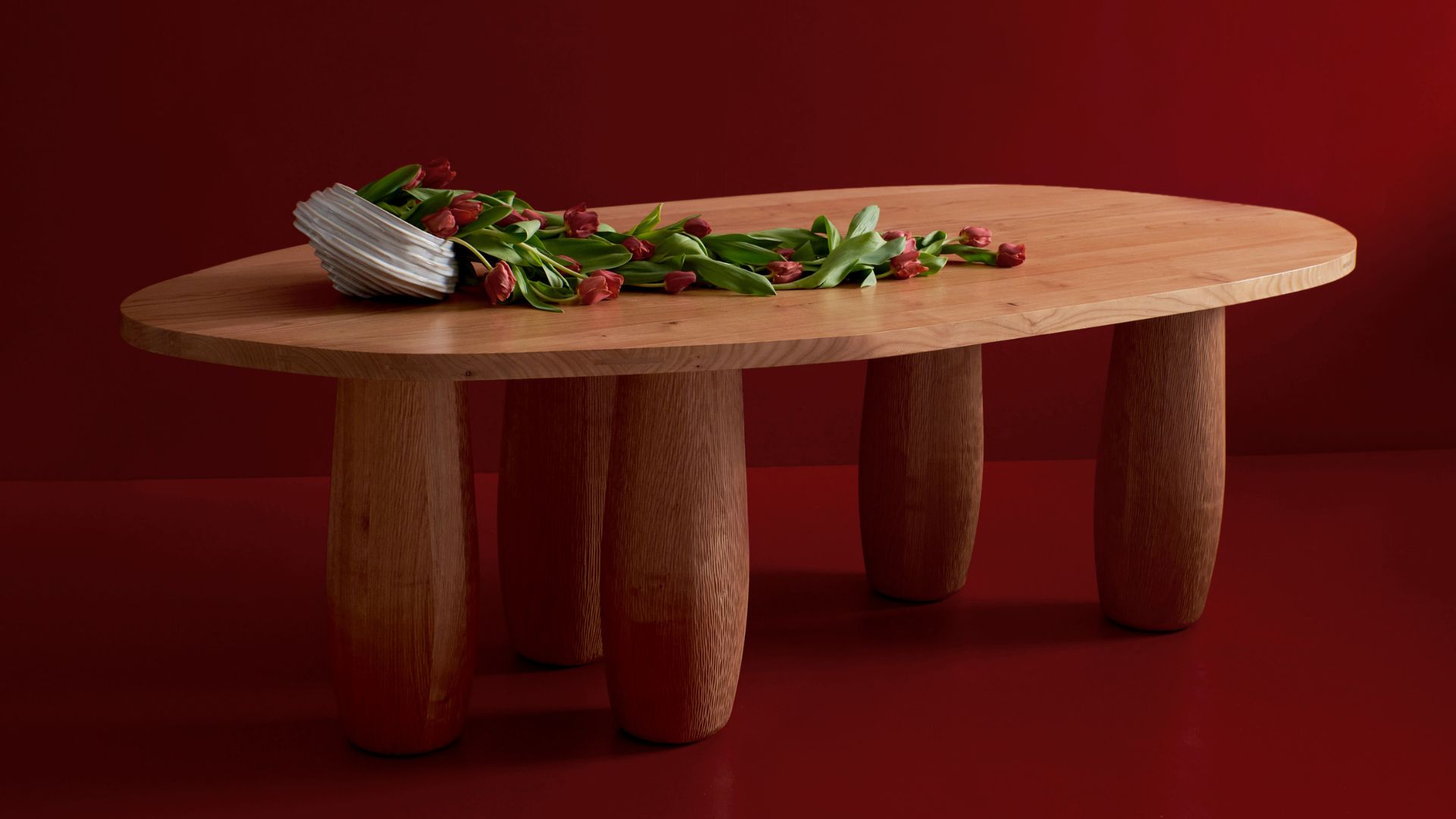 When a design studio describes itself as 'timeless and playful', that's when you know their designs are ones to have. This is the case with the products of Project 213A, a design house founded by a diverse group of creatives who now present an increasing collection of sustainable designs.
From stools to vases and mirrors, each element of the collection shows a personality of its own, while still maintaining a cohesive timeless aesthetic that is true to the brand.
Thriving to perfect all aspects of creating an exceptional product, and with awareness of sustainability through slow production, Project 213A sources materials locally and works with small, established Portuguese family businesses of talented craftsmen who make the impossible possible with their knowledge of materials and manufacturing skills.
Purchasing a product from Project 213A implies that it has been made by people who value its origin, as well as all the economic and social responsibilities, and the livelihood of the manufacturers. Their carefully curated selections of home decor can be found across Europe such as the concept store Macondo in Italy, galleries LAK in the UK & Philia in Switzerland, as well as internationally like Beam in New York, the Poem in China and at their main office located near Porto in Portugal.
What is Project 213A? How did the journey for a unique design house begin?
Project 213A:
"2020 brought COVID and the first quarantine, like many people, this period made us think, question and step out of our comfort zone. Our zoom calls started to turn from "apéro time" to "brainstorming hours", we began to reflect on the space around us and envision our homes without limitations. Our diverse professional backgrounds in fashion design, photography and finance, exposed us to an exciting challenge of harmonising our aesthetics.
The one thing that we can always recall that connected us was the house we all lived in at some point in London, where we turned from flatmates and neighbours to friends with house number 213A. The logo captures the building with the two separated flats and also stands for the value Project 213A has – to create a fun environment in a unique home.
The excitement of creating something meaningful brought us together, producing pieces that can endure the test of time while working in a more sustainable way."
Why Project 213A, why focus on creating unique, sustainable furniture and home accessories?
Project 213A:
"We think a lot about what would define us and two key words come up most often: timeless and playful. We want our products to last and exist in all contexts but there is not a single meeting where the founders don't laugh about life. We want this feeling to be perceptible in our creations.
Of course, we are a company and this implies all the economic and social responsibilities towards our stakeholders such as our employees, suppliers, customers, etc. With each of them, we try to establish a close relationship in order to balance our needs with theirs. For example, we would like to produce the minimum quantities in order to have the lowest inventory possible and to minimise waste, but still consider the livelihood of the manufacturers.
We thrive to perfect all aspects that come with creating an exceptional product and sustainability is a recurring topic as we want our customers to purchase with clear conscience a product that fits their visual taste while also knowing that it has been made by people who value its origin."
Your products have a way of capturing the essence of the craft that makes them come to life. We were wondering if you could explain to us some of the key characteristics of how the products of the brand are produced.
Project 213A:
"We are young people meeting small, established Portuguese family businesses, we have to be very careful in how we approach them. Our designs are unconventional and gaining trust to follow our concepts is challenging at times. As an example, we were invited to a small workshop of a traditional craftsman covered in the most beautiful and intricate ornaments for church organs.
He raised his brows in disbelief when we showed him our design for the footstool. But now we meet him weekly, walking across his yard where chickens are running free being greeted by his wife and trying to figure out how we can make our newest wonky idea become reality.
The selection of materials is a long and evolving process, we have often started to work with wood for example and had to find another supplier because the drying process was wrong or because it turned out to be not the final colour shape we had in mind.
As a matter of common sense, this process has to be as sustainable as possible. We try to use raw materials from Portugal located around our studio. Luckily many of the suppliers and craftsmen are located in the same area.
We are very proud to be able to offer our stoneware pieces such as our Maria Vessel or Alfonso Vase, as we can hold a few in stock. We have wonderful craftsmen that believe in our ideas and are wonderful to collaborate with.
For the furniture, we only work on-demand and we have noticed that clients (business partners or direct consumers) really understand that they have to wait for it, they understand that it is a process; from sourcing sustainable material to hand carving the wood.
Each of our product categories has its own specifics and we are always trying to strike a delicate balance between the demand for our products and the people creating the pieces."
A diverse colour palette and unique use of materials and shapes come together to create your collection of products. How would you define the identity of the brand?
Project 213A:
"Designing is a thrilling process, the energy which we aim to infuse throughout our brand.
We relish the unexpected and always challenge ourselves to push the boundaries while still maintaining a timeless aesthetic.
We have been asked if we have guest designers involved as our collection is quite eclectic.
As a team of four individuals, each with our own unique perspectives and inspirations, we are constantly exploring new ideas and materials. Going back and forth with each one of us shaping the design until it's just right.
Like an inverted paper mock-up pushed aside to hoover, and we all agreed – it just looks so much better that way. Or, our Roger's coffee table features a naturally preserved shape of travertine.
We always keep an open mind for the little things and refine our pieces until they satisfy the rigorous scrutiny of the four of us. This makes Project 213A what it is."
Project 213A creates awareness of slow production which is noticeably reflected in the unique identity of each of the stoneware pieces that are part of the collection. Can the stoneware pieces be personalised to fit the client's space?
Project 213A:
"Our collection includes stoneware items crafted using moulds, and hand built artisanal ceramics which follow the same design but always have a unique touch.
We love when people see our designs and are inspired to add a personal touch to them.
Our artisanal ceramic pieces offer the flexibility of customising the colour options and even potentially the size, to ensure a one-of-a-kind piece that is truly special and tailor-made for them.
Our commitment to craftsmanship and attention to detail ensures that every piece we create is of the highest quality and will be cherished for years to come. Whether you prefer the timeless elegance of our stoneware items or the unique charm of our artisanal ceramics."
We noticed that we can find some of the Project 213A products being used in the By Far Flagship Store in Los Angeles. Are there other spaces where we can see and experience some of the brand products?
Project 213A:
"Our main office is located near Porto in Portugal and we warmly welcome visitors to come and see our collection in person. Carefully curated selections of our home decor can be found across Europe such as the concept store Macondo in Italy, galleries LAK in the UK & Philia in Switzerland, as well as internationally like Beam in New York and the Poem in China.
Interior fairs are also a great way for our audience to view the bigger and more extraordinary pieces."
Having participated in Edit Napoli 2022 with a successful exhibition, what should we expect to see next from Project 213A?
Project 213A:
"When we were first approached by Edit Napoli, everybody was thrilled about the opportunity to present our designs. It was also really fun to see how curious people were to sit on the mirror lounge chair and to see how they gained confidence in the fact that it is a useful and not just a decorative item.
The experience was wonderful, further reinforcing our belief in the importance of fostering a direct connection with our clients, and we are excited to continue building these relationships in Alcova this year. It is an honour for us to have been selected and to exhibit alongside other well-known and respected designers.
We are in the middle of planning our exhibition space to give the visitors the best insight into what Project 213A is. Though we cannot reveal too much at this time, we can assure you that we are working hard to create an unforgettable experience for all visitors."