Furniture design
NFT designer Romulo Temigue on his dreamy digital furniture
Self-described "internet kid", architect and designer Romulo Temigue brings his dreamy furniture designs to life (online).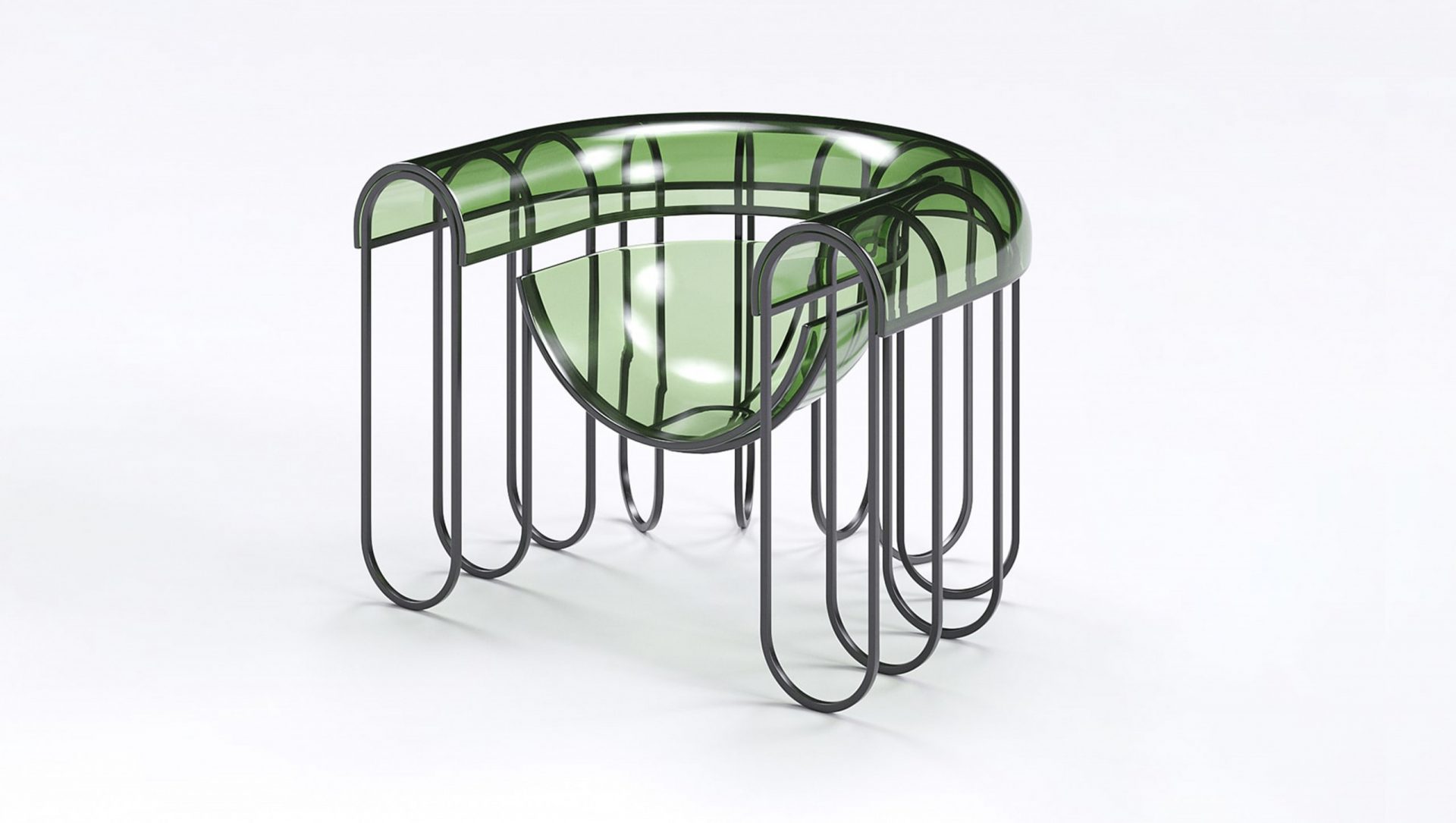 As a child growing up in Brazil in the 1990s, designer Romulo Temigue recalls scouring the internet for inspiration, discovering different kinds of art, architecture, interiors, and design, which he would save as files onto his computer so he could go back and look at them later.
Now based in São Paulo, he does a similar thing with his NFTs—non-fungible tokens, or unique, collectible digital designs, except these ones aren't copies of things he's found online. These are original, totally unique, furniture pieces, they just don't exist in real life. 
"Basically, it is a digital file that can be bought with real money by using another type of online currency," explains Temigue. "The authenticity and ownership of each item is verified via a non-fungible token (NFT), which is individually identified on a blockchain much like a cryptocurrency transaction."
Like most designers, Temigue discovered the importance of CGI coming out of design school. He graduated in architecture at The Architecture and Urbanism College in São Paulo in 2014 but always had an interest in furniture design, which he focused on in the years that followed. Fast forward to today, and Temigue has amassed quite a following on Instagram for someone who just recently started publishing his work—surreal furniture that looks straight out of a video game.
"These files are encrypted online and can be recognized as the original, with details of who sold it, who bought it, how much it cost, and all other aspects of the transaction," he says. "When the file is sold, the artist or creator receives royalties."
These striking, digitally rendered objects are both hyperreal and unreal; strange hybrids that have captivated the world of design. Earlier this year, a line of "virtual furniture" by Argentinian designer Andrés Reisinger earned its creator nearly half a million dollars on Nifty Gateway, one of several online auction sites for blockchain-backed digital assets.
The furniture, as it was described in several articles that reported on the news, was dreamy and surreal, an aesthetic that could only really be created virtually.
"That's why NFTs are so great because there is a possibility to make colorful ideas with any material without thinking about the manufacturing process," says Temigue. "If that isn't complete creative freedom for a designer, I don't know what is."
Temigue experiments with different colours and textures, often incorporating a plexiglass-like material to create transparent surfaces.
Some of his designs look impossible, and that is their charm, but with brands like Kartell, Moooi and Vitra in his sights, not all of his designs are difficult to work out. Armchairs, sofas and table lamps all feature familiar functions as well as a dreamy aesthetic, which his followers can't get enough of…
3D Animation has taken social media by storm in particular, filling people's feeds with hypnotic visuals and photorealistic designs. What do you think is behind this recent fascination?
Rômulo Temigue: "Humans always want more. We have all these gadgets to do the same stuff, clothes, shoes, computers, different types of food, cars, art, religions—there are so many things. I say this not as an insult, but as a compliment.
A couple of months ago, a famous Instagram influencer reposted one of my pieces on her Instagram stories. I had 2,000 and in 3 days I was at 6,000. 3D art is punching us in the face. The power to create anything you want from the void of a software in the comfort of your home using a computer, it's another level."
NFT's have exploded in both the art and fashion world, but the design world is taking a little longer to catch on. Why do you think that is?
Rômulo Temigue: "Maybe it's just the beginning and people are still getting to grips with it. From what I see in the furniture/lighting niche, it is very much physical. People want to touch the object and have the "thing" at their homes.
Photoshop paintings and 3D artworks have a more previous digital story for a while now. So, the design world has to catch up and make their own.
Probably the most effective way to Industrial Design hit the NFT platforms is by making more and more. Not only physically, but also think more digitally and expand the tools and ways to generate ideas and income."
As a designer focusing on NFT's in furniture design, is there something in particular that you find challenging?
Rômulo Temigue: "The real obstacle for me as a designer right now is to find people who believe in my work and ideas.
Here in Brazil, we have a "style" in furniture that doesn't fit my style that much, and I'm really trying to change it by bringing some different design ideas into the furniture community here. This is the hardest part for me."
What impact do you think working primarily in the digital realm has had on your work as a designer?
Rômulo Temigue: "In the real world, there are limited tools to make a special cut on the wood, or another machine to polish the corner and so on. When I create digitally, I have more freedom and don't have to think about these physical restrictions."
Discover how Product Design meets with CGI: let's go behind the scenes of Tom Dixon's Fat chair 3D film by Jonathan Formento
Tell us, how do you realise your designs?
Rômulo Temigue: "I use Autodesk 3DS Max, a 3D computer graphics program for making 3D animations, models, games and images, and render each piece using Corona renderer, which delivers high quality, physically-based shading in production rendering.
All its features are tightly integrated into Autodesk 3DS Max. Then, I use Photoshop to edit the final render."
What advice would you give to designers wanting to understand this area and consider it in their practice?
Rômulo Temigue: "If I would give any advice to newcomers it would be to become part of the NFT community online. People are getting together and trying new things every day. Twitter is the lead on that, which is where I connect with people in my niche."
Evocative 3D artwork can showcase the beautiful and endless possibilities of architecture, art and design in the most non-traditional way.