Technology
Nike's latest hands-free GO FlyEase sneaker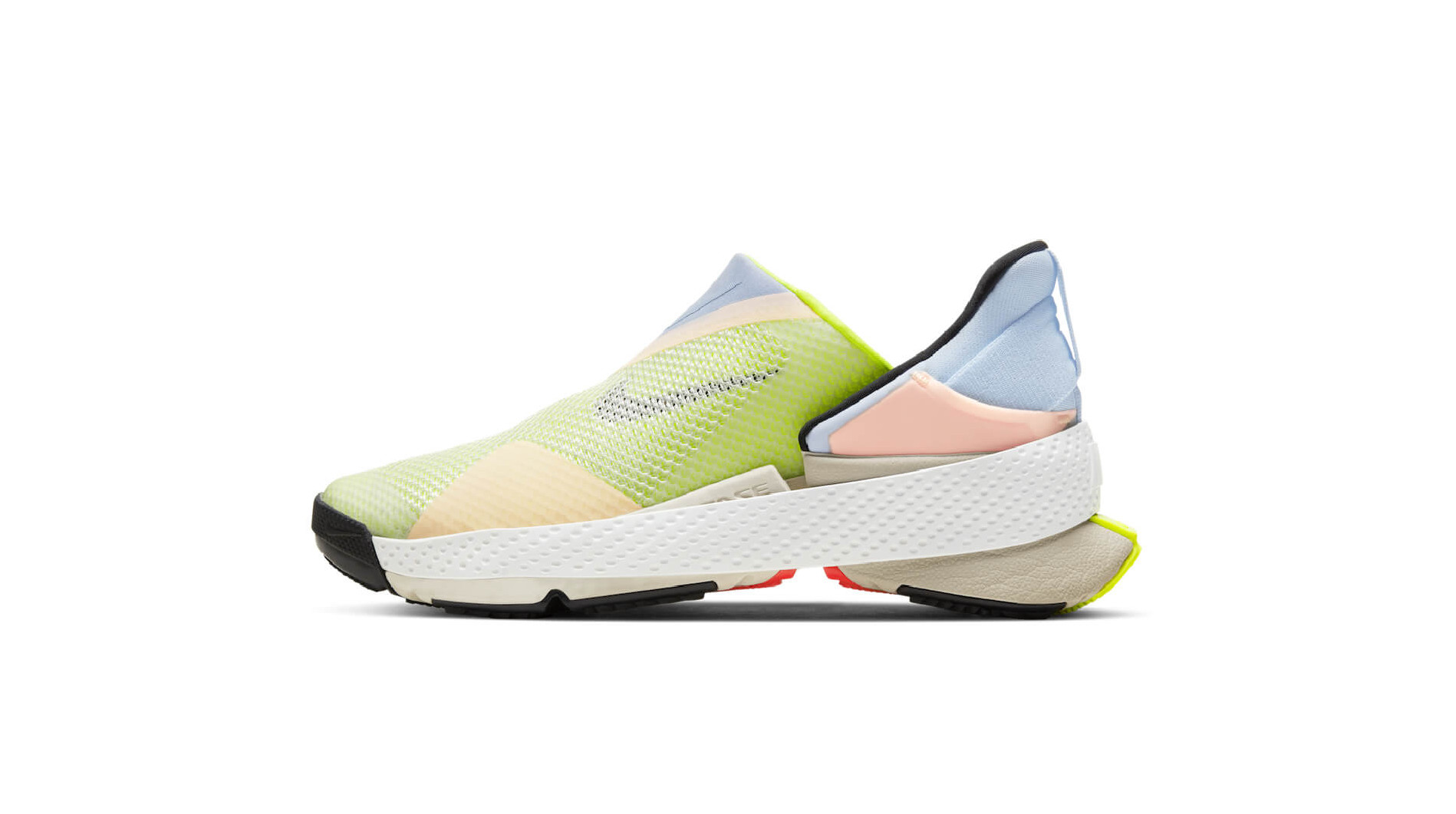 Nike's latest iteration of the step-in style designed changes the way we put on shoes.
Nike has developed the latest in a line of hands-free shoes that reinvent the way athletes can get in and out of their trainers. The laceless GO FlyEase offers an easy slip-in way to put on the shoes, while still providing ample ankle support.
The GO FlyEase is the latest in Nike's FlyEase portfolio, a collection of shoes that are easy to get on and off. The collection was originally inspired by Matthew Walzer, a teenager with cerebral palsy who was preparing to enter his junior year of high school in 2012. According to Nike, he was scared about going off to college without being able to tie his shoes on his own, so it created a model that was intuitive in the way it slips on and off.
Since its debut, FlyEase technologies have been employed in more than 20 footwear styles across basketball, running, and sportswear. Now, after years of development and various iterations including last year's Air Max FlyEase designed with laces that only had to be tied once, Nike has pushed the boundaries even further.
Working closely with athletes, the GO FlyEase is the product of everyday observations, mainly those of sportspeople taking off their shoes. According to Nike, it was also inspired by a recent consciousness due to COVID-19 of people not wanting to touch dirty surfaces. It throws in that friends and relatives conquering the final trimester of pregnancy were also in their minds.
Combining several features in a patent-pending, straightforward design, the GO FlyEase features a bi-stable hinge that splits the shoe into two parts. As the wearer slides their foot in, the "kickstand heel" snaps into place, also mimicking the action many intuitively perform to kick off their shoes.
In lieu of regular laces that are tied and fastened over the tongue of the shoe, the GO FlyEase features a tension strap and a 'diving board' at the sole that maintains a continuous foot-bed and a snug fit. All of these actions can be completed without hands, allowing athletes of varying abilities to put the shoe on with ease.
With the GO FlyEase ready to see the light of day, we connected with Nike and had an opportunity to talk about their FlyEase technologies, the implementation of it in their designs, and their latest hands-free sneaker.
How did the involvement and testing with real athletes affect the design of the following versions of the Nike GO FlyEase?
Nike: "Nike always starts with listening to the voice of the athlete. We've had tremendous feedback and won lots of awards for our FlyEase offerings, but we've also heard from athletes* about how we can do even better. The first Nike FlyEase shoe was designed to work well with just one hand of limited mobility, but what about no hands? Last year's Air Max FlyEase was designed with laces that only had to be tied once, but could we improve upon that to go from once to never? These are the kinds of challenges we love at Nike and why we say that better is temporary.
Our design team was inspired by everyday observations around convenience and how people instinctively kick off their shoes by using the opposite foot. The team was also inspired by our teammates in Asia and the commonplace courtesy of removing shoes frequently throughout the day in Japan. More recently, as we've all been more aware of keeping our hands clean in the age of Covid, we realize that going hands-free with shoes makes for one less surface touched. And of course, our friends and relatives conquering the final trimester of pregnancy inspired us as well."
From a design and materials perspective, what were the main challenges encountered in developing the Nike GO FlyEase?
Nike: "We're very proud of designing a product that seems so simple and intuitive to the wearer, but yes it was wonderfully challenging to make that possible. Nike GO FlyEase actually began as a rough prototype that was submitted in an internal design challenge, as split Roshe with a hinge and a rudimentary band.
It took years of collaboration and refinement inclusive of incredible engineering and design talent before arriving at the final design. Nike GO FlyEase is mechanically complicated, but designed to be elegantly simple, intuitively operational sans instruction. The purpose of that particular design challenge was to develop a hands-free shoe and we do have these competitions for our design team regularly attacking a variety of different challenges, but that particular one was a hands-free challenge."
In terms of sustainability, what factors were taken into consideration when designing the Nike GO FlyEase?
Nike: "Everything on this shoe is pulled from our current stable of footwear materials, even new components like the hinge/tensioner are made from existing materials, in an effort to ensure the shoe can ultimately be integrated into Nike Grind at the end of its wear cycle."