Design
Making great sounds sound great: an interview with Nocs Design
Head of Nocs Design, Daniel Alm founded this small Swedish studio that offers locally and European-produced and assembled audio products that blend streamlined aesthetics and top performance for music lovers and industry professionals.
"Like an artist chiseling away at a marble sculpture, we're just revealing the true sound that was there all along". With this vision and approach, Nocs Design studio creates a tall order for the production of audio products.
That's because this small but mighty Sweden-based design studio founded by Daniel Alm in 2003 has a wholly unique process of creating its range of products that includes earphones, headphones, and speakers.
For Alm and CTO Zoltan Michis, music and sound are deserving of exceptionally crafted products that allow them to be enjoyed to their fullest by those who care about music as an art form.
This means that they've spent two decades rubbing shoulders with, speaking to, and gleaning insights from professional DJs, musicians, and audiophiles to understand what they want and need, transforming these desires and requests into superbly crafted designs with limited runs that ensure impeccable quality and design.
This approach has worked brilliantly, with the Nocs Monolith speaker – which has won the Red Dot Award and the Good Design Award – and the Nocs Mini speaker – the latest speaker from the studio – being met with great enthusiasm from artists and music aficionados alike.
What is more, despite the studio's production being located in China in its early years, Nocs later made the decision to bring production back home to Europe to embrace more local, sustainable, and circular methods, with each speaker now being hand made in Sweden. And to ensure upgradability over time, each part of a Nocs speaker can be replaced.
We sat down with Alm to learn more about Nocs' approach.
Can you tell us about your background and the origin of your interest in design, especially in electronics and the music industry?
Daniel Alm:
"The music interest has sort of always been there; I think it's a childhood thing since I was surrounded by music and musicians. Growing up in the eighties, I was marked by Bowie, Sade, Tears for fears, Queen & Frankie goes to Hollywood. I realized early how music brought people together and that's probably a reason why it's always been part of what I do.
When it comes to the interest of design I have always been fascinated by objects and how some are just there while others really catch your eyes; it could be the construction of a table or a bracelet with special surface treatment. It's more like an obsession really how different materials can serve multiple purposes and also how components merge and deliver an extraordinary function and expression. To me, the journey that these extraordinary, eye-catching objects share is fascinating: from a vision that is sketched down and altered a million times to reach perfection and to become a purposeful object in someone's life.
The first product I worked on in close collaboration with the music industry was a DJ Headphone (NS900). We let Albin Myers try the first prototype on various stages, later also Stefan from Dada Life gave input on the tuning. Michael Mayer from Kompakt did a great job putting it to the test. Later Diplo started to use them which sort of proved we were doing well in the space."
What makes the Nocs Mini design process unique, from conception to production?
Daniel Alm:
"The Mini started simply as a mission to create an ultra-compact speaker for smaller spaces. Based on a clear vision we start with the key components that make the cut when it comes to performance, like the drivers, and then move on to the volume needed to reach optimal sound performance. The shape was the easiest part especially since it has a connection to the Monolith.
In this particular design we did a rather big change late in the development phase moving away from backfiring drivers since after several prototype runs we realized it would not perform as we expected. One of our core strengths as a small company is that we can make fast decisions and improve during the development phase. We can change direction from one week to another. It's just Zoltan Michis (CTO of Nocs) and I who work on these projects.
At the sketch board, we found an optimized subwoofer module (front firing) we could use, all thanks to Zoltan's previous research and learnings from other projects. After testing it in combination with the Scan Speak drivers we found it to work out nicely. It was a couple of tough weeks to get that working properly though.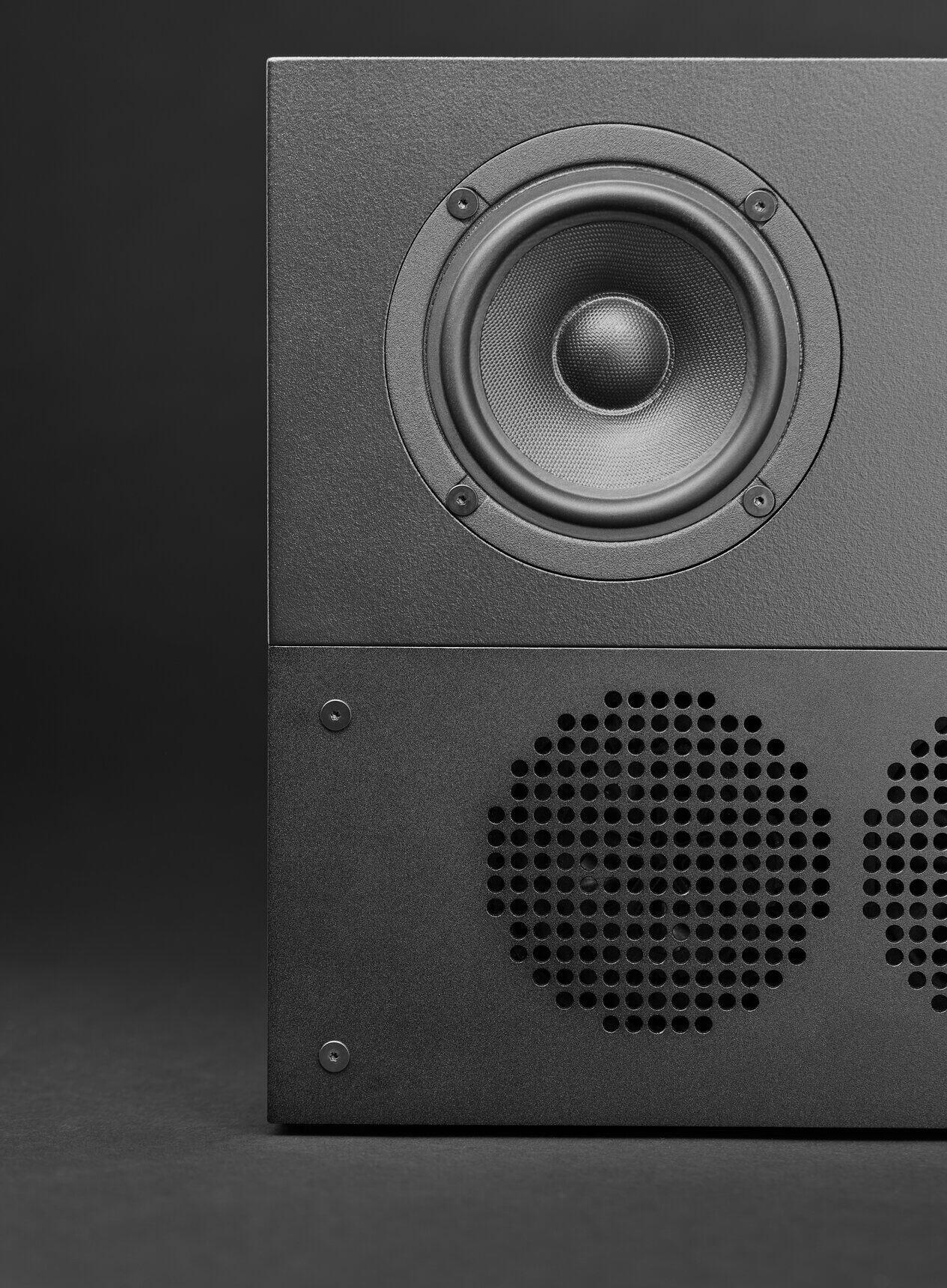 I came up with the pixel pattern because I wanted to show more of the internal component and tell a story, in this case the shape of the drivers. I got quite many questions from people pointing out it's not symmetric, and I take that as a good thing because we then have presented something unexpected based on our previous design DNA. To me, such a deviating detail in something that is expected to be symmetric makes it interesting, especially when there is a reason behind it."
What distinguishes Nocs Design from Nocs Atelier, and are the related products designed and created in a similar manner?
Daniel Alm:
"The Atelier line allows me to design everything else but audio. Simply put, I needed another creative outlet. The first object was the Seconds watch, which is still close to my heart.
The concept behind the Seconds watch I designed was to explore the essence of time by muting everything else but the seconds hand.
In a world filled with constant distractions and information overload, I wanted to create a timepiece that encourages a deeper connection with the passage of seconds. By isolating this element, the watch serves as a reminder to appreciate the fleeting moments that often go unnoticed in our busy lives. It's a reflection of my passion for minimalism and the exploration of unique ways to engage with time itself."
You define the Nocs Mini as an "upgradable" stereo. What inspired this concept, and how does it work exactly?
Daniel Alm:
"All the parts can be replaced and we are transparent when it comes to which drivers and components we are using. We chose to work with Scan Speak, a company that has been making drivers since the 1970s. It is a way for us to futureproof the Monolith & Mini so it's always possible to find replacement drivers if needed. If the electronics break down, we can just swap the PCB [printed circuit-board].
The inspiration for the design is that it is a sturdy, almost military-like radio. I find a lot of inspiration in older, straightforward designs, where you can see how the object is constructed and assembled. I see no meaning in hiding screws for example or going with glue. I love that you still see screws on the MacBooks 2023."
What do you believe are the most pressing issues surrounding sustainability and circularity in the electronics world, and what is Nocs doing to address them?
Daniel Alm:
"When it comes to European manufacturing, we have a big challenge in terms of PCB and components as well as metal suppliers. Some of the supply chain doesn't work well for smaller brands like us.
Another big concern is how the raw material is being produced. For example, Hydro is doing a great job in explaining how they are producing aluminum from an energy perspective. We need more of these suppliers in China, for example, as well where they care about what energy source is being used.
Right now, we can manage limited runs with Monolith & Mini but it's not an easy job and requires a lot of planning and the costs are still a huge challenge. I really hope we can unite a couple of brands to make sure we can have greater manufacturing capabilities in Europe that makes sense from a cost and supply chain perspective.
The least we can do as a brand/manufacturer is to use recycled material and make sure the products can be repaired to ensure a longer life cycle. We still have a lot to learn and we can always improve. Our mission is to make a minimal impact on the environment while securing world-class quality. We are improving every year and will keep doing so, which is also a beauty of what we do.
The majority of the consumer electronics are made in China and we know from experience that with that setup, it can be very difficult to secure sustainable processes and ways of working that live up to our standards, being a small player. The bottom line is that the end user needs to choose wisely when buying electronics and also push for more transparency from the brands that they like. European manufacturing means better control and quality insurance for us but this will show on the price tag."
In what ways can the design world serve the music industry in particular?
Daniel Alm:
"We can serve them with products that are made with recycled materials. Products that can be used over a long period of time & be repairable. Musicians know how their music should be reproduced or heard and we want to deliver sound as it was intended to be perceived.
The music industry also serves as a great support for us when testing new tunings. This type of input is invaluable for us in order to succeed."
Can you offer a preview on upcoming plans or projects from Nocs?
Daniel Alm:
"We are now working on a speaker solution for commercial spaces or more specifically; Architectural Sound Integration. The versatility of current offerings are just not there: it's all plastics/glue and difficult to refurbish or repair. Also, the design level is quite poor, to be frank.
The Nocs x 360 is our most challenging project so far. Our plan is to use ocean plastics for the plastics parts & recycled aluminum for the outer shell. I got contacted by Zehao at Solaris and I really hope we can find a way of commercializing the Nocs x 360 with the support from their community. I love what they are doing."