Design events
The Slow Hand Design Exhibition brings Thai Design to an International Market
We spoke to Mr. Phusit Ratanakul Sereroengrit, Director-General of The Department of International Trade Promotion, the unique body behind the upcoming exhibition during Milan Design Week
Thailand's Slow Hand Design Exhibition returns once again during Milan Design Week. Entitled Not A Virgin, the focal point of the exhibition is to reflect on the future of global natural environments within the design industries.
That said, the exhibition is not only a call to action when it comes to sustainability efforts. It's also a unique platform for up and coming designers in Thailand to reach an international market.
That's where Mr. Phusit Ratanakul Sereroengrit comes in, Director-General of the Department of International Trade Promotion, the governmental board that helped to realise this platform during one of the world's biggest design events. 
"For a decade, Milan Design Week has given us a great opportunity to showcase Thailand's creative potential and proactive movements," says Mr. Sereroengrit. "Once again, this year, we are also delighted to unveil 33 finely selected designers and entrepreneurs. Not only in Milan, we expect to expand this movement across the globe, including London Design Festival, Dutch Design Week, Maison & Objet Paris, and FIND DESIGN FAIR ASIA trade show in Singapore."
The Department of International Trade Promotion is a government organisation that functions as part of the Ministry of Commerce of Thailand. Since 1952, it has performed a very special role as the main promoter of Thai exports, helping to foster Thailand's international trade whilst preparing Thai industries for an ever-changing global environment.
"The Royal Thai Government has introduced the BIO, CIRCULAR and GREEN economy model or "BCG Model" as its national strategy for sustainable development. We, the Department of International Trade Promotion, are at the forefront of championing the efforts to adopt the BCG economy model."
"Within the design sectors, we would like to ensure the delivery of high-quality creative products to the global market. By following the BCG economy model, trade competitiveness can be built through the utilisation of technology and innovation, creating more efficient production by using more natural assets, with least impact on the environment."
Currently, the DITP and its overseas marketing arms, including Thai Trade Centers and Trade Representative Offices in more than 60 major cities around the world, work actively with an aim to position Thailand's trade competitiveness among the top 5 countries in Asia by 2027. This overarching objective includes several activities, from promoting trade channels to enhancing the potential of Thai exporters in the global market by working on their brand image.
"One of the DITP's missions is to promote sustainable value creation for Thai products and services, delivered internationally as well as to continuously ensure excellence in service for all stakeholders," he adds.
The Slow Hand Design Exhibition is just one extension of this complex mission, which under the curatorship of Eggarat Wongcharit, introduces 33 of Thailand's upcoming talents to an international audience during Milan Design Week. Year on year, designers are chosen for their projects that feature time-honoured techniques and skills that are unique to the region.
"Under the concept of "Non-Virgin Materials", this year's Thailand's Slow Hand Design Exhibition is very special and meaningful," explains Mr. Sereroengrit. "Our exhibition aims to inspire visitors with sustainable value creation through a variety of possibilities and realistic solutions. As Thailand was among the UN Member countries that adopted the 2030 Agenda for Sustainable Development, we introduced the BioCircular-Green Economy (BCG) model as a strategy for our national development. Therefore, in the international arena, we would like to communicate our national progress as well as successes regarding these sustainability issues."
"The landscape of Thailand's design industry now revolves around societal needs. As our nation possesses several strengths in terms of wealth of natural resources and cultures, these are opportunities for us to thrive," he adds.
"Since today's consumers look for quality products and services that meet sustainable standards, the Slow Hand Design Exhibition finely selects lifestyle products and innovative materials that can capitalise based on our richness of resources and traditional wisdoms, indicating that design professions as one of the key drivers of Thailand's economic growth and urban development."
More recently, designers have also been chosen for their projects that feature sustainable design practices. Why? Because the work of these Thai creative businesses align with the Thai Government's Bio-Circular-Green (BCG) model, a model that aims to transform Thailand into a value-based and innovation-driven economy by making the most of the country's strengths in biological diversity and cultural richness, as well as technology and innovation.
For Thailand, the resolution to sustain its local economy is to shift its industrial manufacturing toward the creative economic direction of its sustainability goals. The government has made it a standard practice for all related bureaucracies wishing to turn Thailand into the centre of a circular economy.
During the past pandemic, local Thai manufacturers have realised the pros of owning medium and small product manufacturing enterprises and the advantages of being able to move faster and more independently during the lockdowns by experimenting with wastes from their craft-industrial production.
Last year, the Slow Hand Design 2022 showcased a range of upcycled products from industrial and organic waste. For 2023, DITP has recruited products that extend the same intention and into various home interior materials to maintain the same spirit of product variation.
"Today's companies across every industry are moving forward in tackling climate change and sustainability strategies," says Mr. Ratanakul Sereroengrit. "In the global design industry, designers will encounter new risks and opportunities to be managed. For these designers, opportunities are boundless in Thailand. Since our nation has a variety of materials and resources, designers can use their abilities and skills to find new creative approaches that are purposeful for the global environment to achieve the Sustainable Development Goals."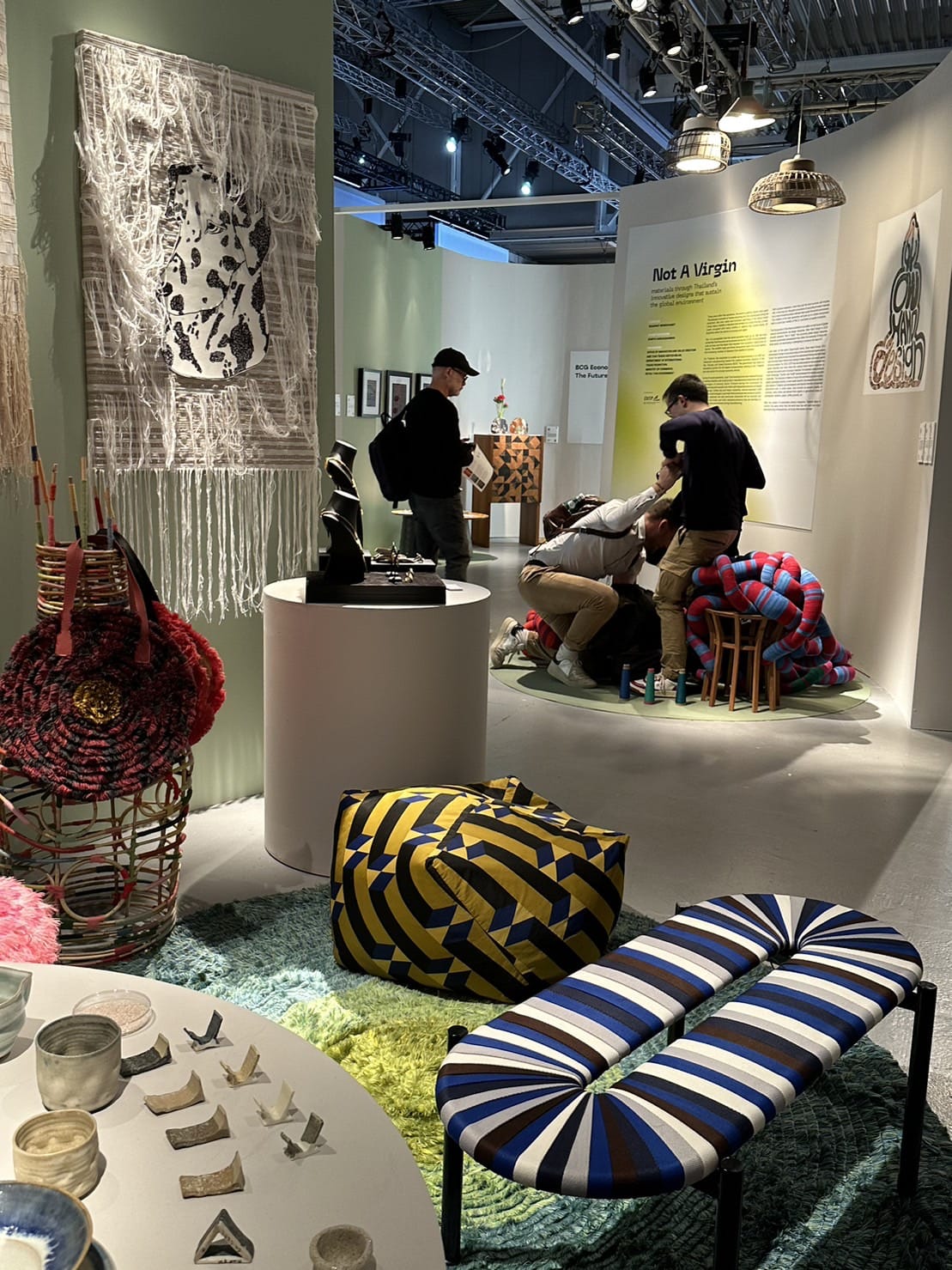 VISIT THE SLOW HAND DESIGN EXHIBITION FROM 18-23 APRIL 2023 AT SUPERSTUDIO PIÙ (VIA TORTONA 27, 20144, MILAN / ITALY)