Furniture design
Mother of Pearl: a sustainable case study by Plasticiet
Founders Marten and Joost focus mainly on repurposing discarded plastic waste into sheet material for designers and makers as well as making furniture pieces themselves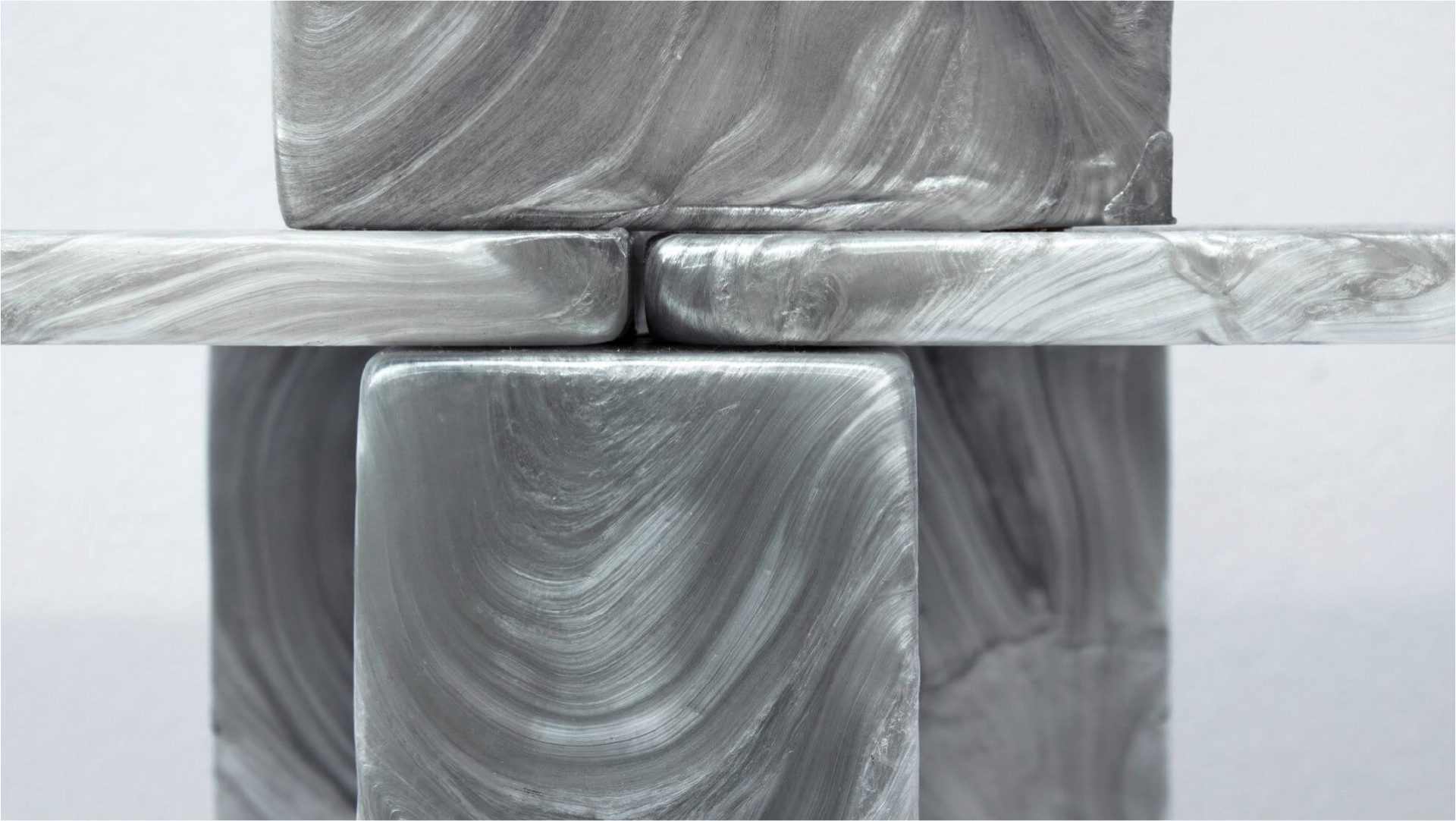 Plasticiet is based in a self-built workshop in Rotterdam entirely made from stranded shipping containers.
While Plasticiet originated from an idea that was formed during a field trip in India where we saw the various micro-economies popping up based on local demographic waste streams such as cotton rags, plastic bottles and metal scraps that each individual uniquely translated into something functional and valuable for the local industry, Mother of Pearl surpasses that first idea based on some years of experience.
At first, when we were trying to find solutions for people's and industry's disposed of plastics we knew that at that moment the outcome of our product should be a half fabricate.
Always inspired by the primal beauty and longevity of natural stone we aspired to create a sheet material that in some ways resemble these natural materials and would inspire other creators to make objects themselves that are able to last for a long time.
For the past two years, we have faced major challenges working with recycled plastics coming from a background in which we had zero to none experience in working with thermoplastics.
To give you a perspective; plastic is an umbrella term for many oil or plant-derived polymers.
Each of them has different properties and melting temperatures. Within the same subcategories, there are different melting properties as well; one stays rubber-like while the other turns almost into thick molasses.
Often when acquiring recycled plastics we don't know which of the melting properties they will have so we need to test them intensively before we are able to resell it as sheet material.
This hands-on approach allows for quite a bit of experimentation which results in us each time broadening our knowledge.
Did you know that "non-recyclable" plastic waste can become a valuable material? Supernovas' furniture pieces are the perfect example.
The Mother of Pearl collection actually started as a way of stretching the boundaries of our know-how, changing the way we perceive our current way of working with the versatile material it is.
We were out to find a way of showing that crafting with a highly standardised and industrialised material could stand out to high-end materials.
Given that our key inspiration always has come from natural stone and rock formations it was only logical for us to find inspiration in the Neolithic – the last part of the Stone Age – where our predecessors used more primitive means to come about.
We also needed to look at more contemporary approaches to work with a material that has only existed for a few hundred years.
I have trouble sleeping, not afraid to admit it. I can lie wide awake until 3 am days on end easily.
A couple of years ago when I found myself in this kind of state I started watching pottery videos where the calmness and the rotation of the clay would slowly ease me to sleep.
This opened a window for me and helped quite well for a while until I saw them several times and ran out of pottery videos.
I started watching different production videos with techniques that had a sense of sincereness about them and I came about taffy pulling, a technique used by candy makers.
This was exactly the hands-on approach we were looking for.
Wearing thick mittens to which plastic doesn't stick – a challenge to find, but we found them – we take a weighed amount of molten plastic and start kneading it when it's still warm.
Stretch it on a hook, fold it, and repeat. It's almost like making a liquid Damascus.
The material is aerated each time it's folded, and these new air bubbles stretch out within the material, and at a certain point, there is this perfect interaction between the air inside the polycarbonate and the material itself.
Light that goes in is scattered within the material, diffracting off of each side of the air bubble and creating a beautiful effect. When we don't fold it enough it stays dull and transparent, if we do it too often we lose the glimmer and gleam.
Every part of the Mother of Pearl collection is therefore individually pulled, moulded and finally joined together. It's been almost a year now since we released the collection and in the meantime, we have of course gotten better at the technique.
We can make larger 'blobs' – as we call them – than we could before due to experience, and the possibilities seem the be endless.
By playing with the composition of every single part and sizes we aspire to create more caveman-like structures, think about dolmen, but more refined work as well.
I hope that a collection like this changes the game within the collectible design – which is generally the avant-garde of where other designers find their inspiration – so that sustainability, ecology, recyclability, and all the other similar words will find a more prominent playing field within the current narrative.
Lastly, we are working on expanding the collection with two more pieces, I of course cannot say what they are yet but from my point of view, it will be epic!
Have you ever dreamed about an e-commerce entirely dedicated to sustainable products? It exists: meet the newly born Holy Space.