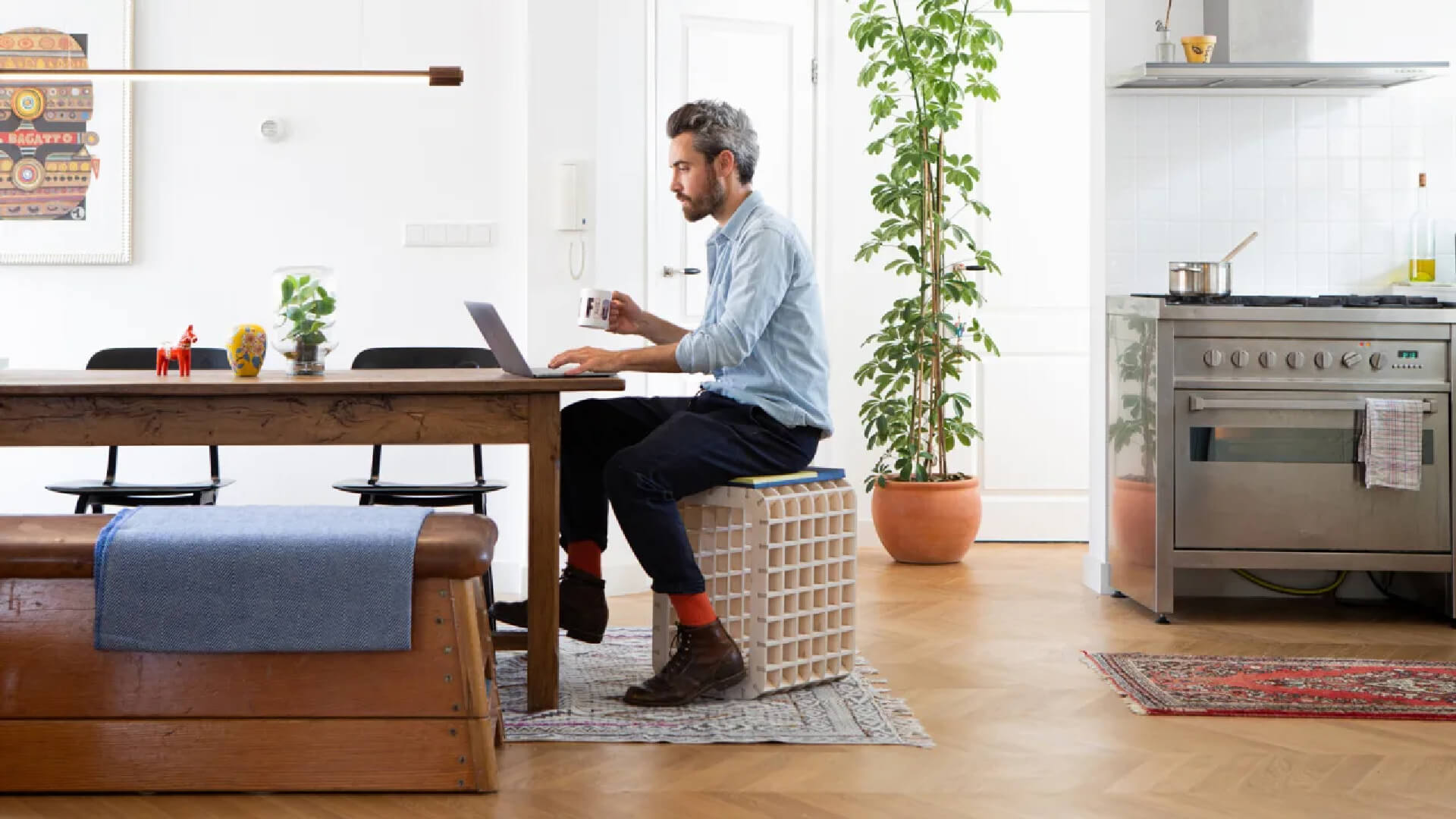 Dutch design studio Waarmakers has created Ingrid, a tailor-made furniture piece designed to stimulate posture change and ease the strain of #WFH.
Remote working has become the norm in an era of the coronavirus pandemic, a new way of living that has tested productivity, patience, but most importantly, posture. It's a new setup that has inspired many to come up with new ways of making our domestic spaces more flexible and comfortable, more adaptable, and appropriate for 2020's imposed routines. One such way is choosing a personalised tool and one such sustainable solution is Ingrid, a custom-built stool meant to make your work-from-home space an easier place to bare.
Why Ingrid? To ease the pain and strain of those working from home (#WFH)
The Ingrid "chair" is a custom-made piece of furniture creating both the perfect sitting and standing height all in one.
The minds behind Ingrid – Waarmakers Studio
Waarmakers is an Amsterdam-based product design studio founded by Simon Akkaya and Maarten Heijltjes, who met and developed their ideas on design while studying Industrial Design at the Technical University Delft. Driven by curiosity, their designs are manifestations of a belief that everything can be reimagined and redesigned for a more sustainable future, and that experiences can become objects.
Waarmakers studio offers industrial & product design, app & graphic design services. As well as Ingrid, other recent projects by the Dutch designers include sustainable rubbish sacks and a prototype electric scooter with a body made from compressed plants.
Find out more about studios creating comfortable, ergonomic and sustainable furniture, don't miss noho is fighting against waste through beautiful design.
Materials & Techniques – Laser-cut Birch Plywood
Ingrid is tailor-made to the user's body size and table height, resulting in the perfect standing position when placed on your kitchen table, and the optimal sitting height when set on the floor.
The piece is crafted using laser-cut birch plywood, which is formed into a grid to enhance the structural integrity of the piece. It's also lightweight making it super easy to pick it up and change space, position or posture.
Style & Aesthetics – Clean and Versatile
Ingrid was designed with post-pandemic life in mind, where normal working routines might resume and for some, home office furniture becomes obsolete. The chair's versatile design was very much intentional, a simple and flexible form that can double as a step stool, toybox, coffee table, or shelving unit.
Customizable, open-source and locally producible
For convenience, the chair is available both fully assembled or flatpack. Waarmakers just need a few details such as elbow height seated and standing up, along with the height of your table to precut the appropriate pieces for you to assemble.
More impressive, however, is the option to download the free, open-source blueprint, which includes the necessary cutting plans for those who would prefer to produce the chair locally themselves. It's an interesting option that cuts potential emissions caused by any unnecessary and extensive delivery traffic.
Design memento – An Ergonomic Evolution
Ingrid is a natural evolution of the Waarmakers' interest in ergonomic office furniture, an area where the studio was focusing a lot of its efforts pre-COVID-19. Before being forced to stay at home, Heijltjes and Akkaya were very interested in ways they could encourage people to work in a healthy way, so they came up with Ingrid as a simple and effective way of improving the user's posture.
As well as measuring Ingrid to the user's elbow height, Waarmakers purposely left out a backrest, encouraging sitters to listen to their body. Without a backrest, a user might start to slouch and at this point, they should stand. The idea is that Ingrid helps you to work healthier from home by offering the simplest way to change your posture and stay active.
The writer's comment – Simple and Sustainable
As someone currently using yoga blocks to elevate their legs and remedy the pain of sitting on an annoyingly 'designy' chair that's totally inappropriate for remote working, just the thought of this is a tonic.
Ingrid speaks to the increased demand for ways to make the at-home office more comfortable, while also catering to those who want simple, economic solutions with the opportunity to be sustainable where possible.
Curious to know more about versatile sustainable furniture? Don't miss Hoek Home sustainable furniture clicks together in seconds.