Furniture design
VGnewtrend's leaf-shaped Fenice Table unites the brand's striking collection—take a look
The unique Leaf Table is just one of the luxury furniture brand's nature-inspired designs made from the finest materials and shaped into an architectural form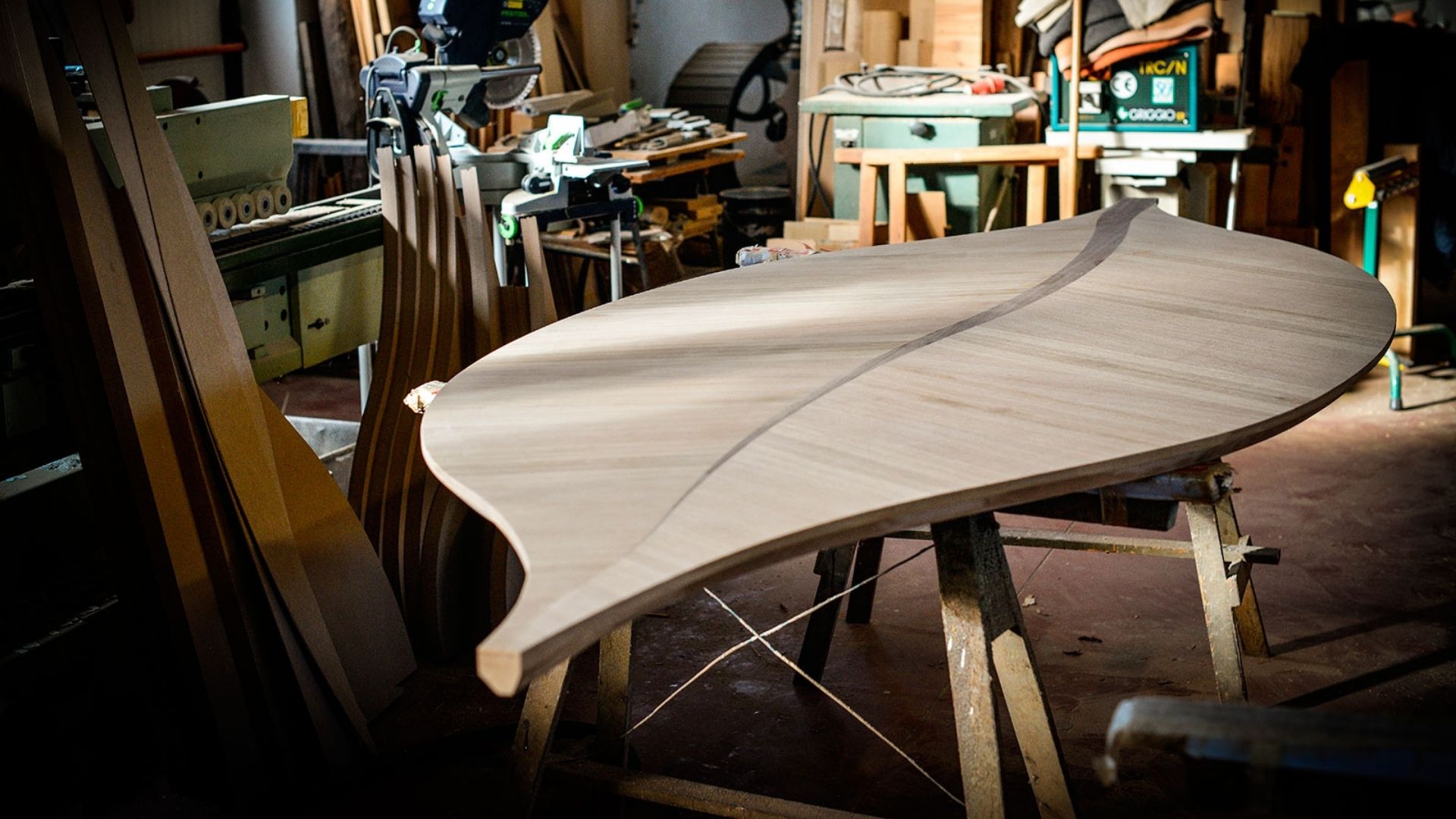 Always different and never conformist, since 1991 VGnewtrend has been guided by luxury, which has seen its design and handcraft collections of authentic and unique furniture pieces.
They are the result of continuous research on stylishly decorative design, which it conducts from its Treviso headquarters where the brand was founded in 1991. Since then, it has gone on to become a go-to for interior designers that want to imbue hospitality and private residences with a unique sensibility.
It helps that VG's love for eclectic materials and unusual shapes shines through every piece, an artful approach brought to life in the Fenice table. Designed with the intention of bringing the outdoors in, the Fenice table illustrates VG's creative take on biophilic design, which instead of mimicking the look and feel of nature, transforms its motifs into fantastical objects.
The leaf-inspired table brings together oak and Canaletto walnut that have been hand carved to create a herringbone tabletop that resembles a slender leaf, a striking motif that would make a unique addition to a contemporary dining room or entrance hall.
Beneath the Fenice's standout tabletop is a weathered steel structure made of several rods that ebb and flow to evoke an organic matter.
It marks a continuation of the brand's "nature-centric" collection of tables and forms part of VG's objective to create multi-sensory experiences through design, borrowing elements from nature and finding ways to translate them through artisanal craftsmanship.
Intrigued by the unique style that characterises Fenice, we're taking a look at some other inviting table designs included in VGnewtrend's extensive collection, starting with the other members in the brand's family of Leaf Tables.
Leaf Tables
The Leaf Marble might echo the Fenice in shape but its tabletop is entirely different. Swapping out the natural vein of wood is the elegant and sophisticated texture of marble.
Calacatta and Eramosa come together to form the tabletop, which rests upon a burnished brass base—an industrial component that accentuates its contemporary allure.
In beautiful contrast to the table's contemporary accents is a base in burnished brass-finished metal with a statement asymmetric shape that would suit any contemporary home.
Meanwhile, VG honours the city of Venice with Leaf Venezia, a design that offers any space a stunning conversation piece featuring layers of briccola oak wood sourced from vintage piles used to mark the navigable channels through the city's lagoon.
They are sandwiched between two glass layers (a nod to the transparency of water) alongside a unique midrib decoration made of Canaletto walnut.
Venezia Tables
VG's use of briccola has actually inspired a series of tables titled Venezia. It includes a dining table and console whose striking glass structures enclose layers of the material, blending the allure of wood tempered by time and nature with glass.
Each briccola, at the end of its lifespan, is replaced and VG chose to honour them by using retired poles to make furniture that is unique for its beauty and the magic of this city.
The collection features the rectangular Venezia table with two glass legs combined by an oak plank as well as smaller, square and circular models with curved legs bolted together by a combination of perfectly finished oak bolts and nuts.
Portofino Tables
The same bolt-shaped wooden beam can be seen in VG's Portofino Square, whose olivewood panels seem to combine effortlessly with the glass tabletop.
Its smooth and glossy finish emerges, impossibly, from the precisely cut glass. The effect is almost artistic as the natural vein of the wood's texture combines to create fluid, painterly shapes.
This collection illustrates VG's effortless approach to construction, transforming archetypal designs with a beautiful combination of natural materials and glass that looks as though it were folded by hand.
The Portofino Square table is a great example, combining the angular shapes of glass legs with centuries-old oak evocative of the beautiful hues and aromas of the Ligurian landscape.
Looking for contemporary? Discover VGnewtrend's other styles
VG has a vast collection of tables with a contemporary style that is modern but with an understated aesthetic that makes them suitable for high-end residential spaces.
It's unlikely that the rich and glossy textures of olive and oak won't look brilliant too, but when interiors call for more subtle protagonists, the brand's brushed oak and stainless steel is the perfect pairing.
It's a combination highlighted in the New Twin and Miami console tables, designed to sit close against the wall in an entry as a way to create a fresh and clean first impression on any guest.
Both are designed to be visually lightweight and minimal, their strength is created by the positioning of the linear frames, which allows them to be as thin as possible.
Last but not least is the Redept dining table, which channels industrial design with its angular steel frame and solid oak top. Comfortably seating up to 8 diners, it's directly inspired by old industrial furniture with its sober and resolutely on-trend lines.