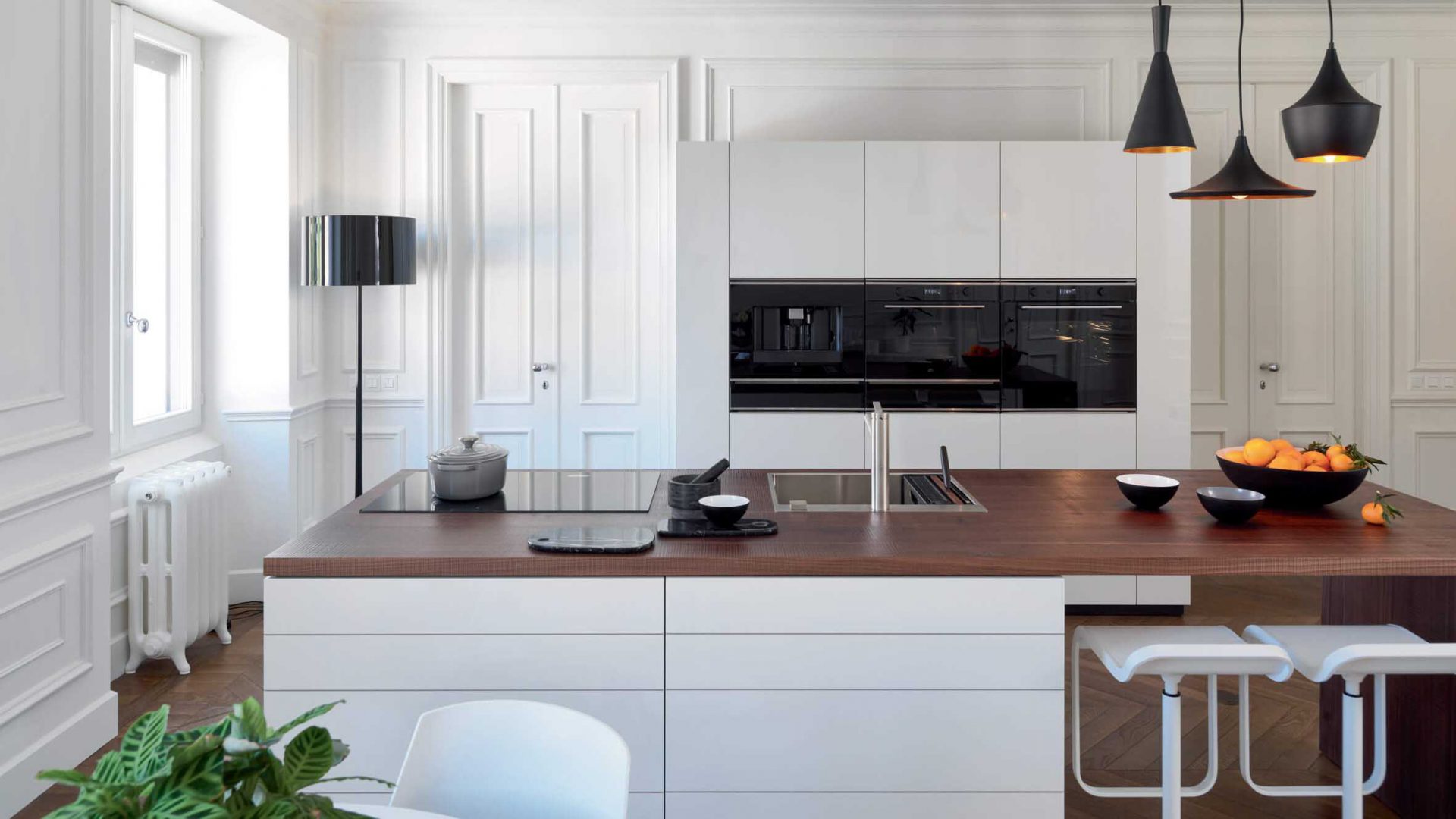 With over 100 years in the industry, Franke understands that a kitchen should be as unique and intuitive as you.
How does a brand go from humble beginnings in smalltown Switzerland, to a permanent fixture in the global sink market? Championing innovation and making sure everything it does is unique is just half the story.
Welcome to the wonderful kitchen world of Franke
Since the beginning, Franke's success has been based on innovative engineering, unique design, and outstanding Swiss quality. It all started in 1911, when Hermann Franke founded his own sheet metal business in the small Swiss town of Rorschach. In less than thirty years, what started out as a craftsman's workshop evolved to become a stainless steel industrial pioneer.
Later on, this manufacturing expertise would lead to the first stainless steel sinks, which quickly became popular all over the world. By 1938, the company was mass-producing them, and a year later the business was inherited by Hermann's son, Walter Franke.
What happened then was a steady evolution. Franke became widely recognised as one of the fathers of modern-day kitchen technology and a purveyor of good and tasteful design. But good taste was just the beginning…
Lifestyles, along with cooking routines have become increasingly flexible… Discover how to hang up your stovetop with Ordine!
The Swiss Army Knife of kitchens
Today, Franke understands the importance of intelligent design because designing products that are more intuitive gives them the edge in a highly competitive market. That's why you'll find smart features in nearly everything but especially the kitchen sink. Amazing new technology transforms kitchen faucets into hands-free sensored taps, whilst storage solutions transform countertops into state-of-the-art workstations.
On a mission to give the sink a rethink, Franke puts the user at the heart of its products. One of its latest innovations is the Culinary Center, featuring a double sink and packed with built-in features placing everyday tools at hand. Everything is smarter and faster – think of it as the Swiss Army knife of kitchens.
Form follows function
For over a century, Franke has thrived on innovative engineering and outstanding design. Franke has always been a leader in design, following the natural evolution of the kitchen sector by adding hobs, ovens, hoods, mixer and boiling water taps, refrigerators and dishwashers. It also offers tailor-made solutions, wanting to make the kitchen as functional and as beautiful as possible.
At the core of the business is an avant-garde DNA that responds to different aesthetic and functional needs: Mythos, dedicated to those who prefer solutions that mix refined design, exclusive style and maximum precision; Maris, to give form to a highly organised and functional kitchen for the whole family; and Smart, with proposals in the name of simplicity of use.
Sustainable in every detail
Franke wants to be ahead in terms of sustainability, making it a main focus of the company. As well as using stainless steel, which is endlessly recyclable, Franke's goal is to use as few resources as possible to protect the environment. It's also committed to reducing its CO2 emissions, which for the past decade is a commitment they've fulfilled year on year.
Another way Franke tries to mitigate its environmental impact is with products designed to both manage and minimise wastage. After all, many people want to make their kitchens more eco-friendly, efficient and cost-effective to run. Touch-free taps like the Franke Atlas Neo Sensor can cut water wastage by up to 50% as they have an automatic 30-second dispense, which is ideal for handwashing or filling pans. You can also pre-set the water temperature on the touch-free activation to cut down on utility costs.
From humble beginnings to a global brand
Since Walter Franke initiated the company's expansion in 1938, the company has grown to become a global powerhouse. Over a hundred years later, the Franke group comprises 70 companies worldwide in 40 countries. Franke group has over 9,000 employees across 5 continents.
Today, the Franke group consists of Franke Kitchen Systems, Faber Hoods & Cooking Systems, Franke Foodservice Systems, Franke Water Systems. Its latest division is Franke Home Solutions, which is dedicated to optimising the know-how acquired in food preparation in home cooking, dedicated to making the kitchen a wonderful place to be.
Eager to get inspired by the kitchen world? Don't miss Very Simple Kitchen to take with you from lease to lease!