Furniture design
Polish brand Artu hits the nail once again with a new collaboration with Moritz Putzier
The news is out: Artu, the one-of-a-kind furniture design brand, is developing a new collection in collaboration with Moritz Putzier to be presented this year
With a successful trajectory and only four years in the market, the Poland-based brand Artu, has paved its way to the home interior and hospitality market with an identifiable style that can be defined as refined, minimalistic and aesthetically pleasing.
Artu's collections of furniture are identifiable through the quality of fabrication and materials, resulting in long lasting, functional pieces that stand out to the trained eye by their simple yet well-thought design.
The brand's curated approach to design features a range of collections that come to life through collaborations with international designers. DesignWanted had the opportunity to interview the mind behind this brand, Dmitry Rym, founder and CEO of Artu. 
Also, in this particular interview we had a sneak peek into the upcoming collection with Moritz Putzier, the award-winning German designer known for designing products "with a little twist", using natural materials and a hidden aesthetic that defines itself through a playful attention to detail.
Dmitry Rym (Artu founder & CEO)
1. What is Artu? How did the journey for a brand of products begin?
Dmitry Rym:
"The brand Artu was created 4 years ago. Its appearance became a natural consequence of the development of trade and production company that existed in the Eastern Europe market from 2000. The company had been successfully producing and supplying furniture for the contract-related segment and within 17 years it had reached a leading position in its region.
Using the experience and received knowledge about market demands, it was decided by the management of the company to create a brand with its own furniture design line, which was missing in the market at the time.
From the very beginning, creating new models of chairs and armchairs proved to be the right thing to do. Meeting with one of the most well-known Ukrainian designers Pavel Vetrov, and the first implementation of projects, gave us an unexpectedly rapid commercial success.
During the first years of the brand, the collaborations were mainly with designers from Eastern Europe, and then we began to receive proposals from product designers from other countries. A year ago, Artu started to position itself as a European brand, located and produced in Poland, with a world market orientation."
2. Why Artu, why focusing on creating a unique platform for designers' collections?
Dmitry Rym:
"The European design market has pushed Artu to choose the style of its own furniture collections. Fine and concise design became the most successful, not only for the hospitality market but for home interiors as well.
The complexity of the production of chairs, tables, and sofas in this style and narrow competitive field had become a challenge, which gave the main direction for the brand's style: natural materials (wood and metal) and minimalistic shapes – this is Artu's style.
In 2020, the WOX chair, which is one of our first designs, and by the way consists of 7 pieces only, received the prestigious Red Dot International Award. This design immediately paved its way into the hospitality market and exceeded the quantity of 2500 pieces sold during the first year of launching."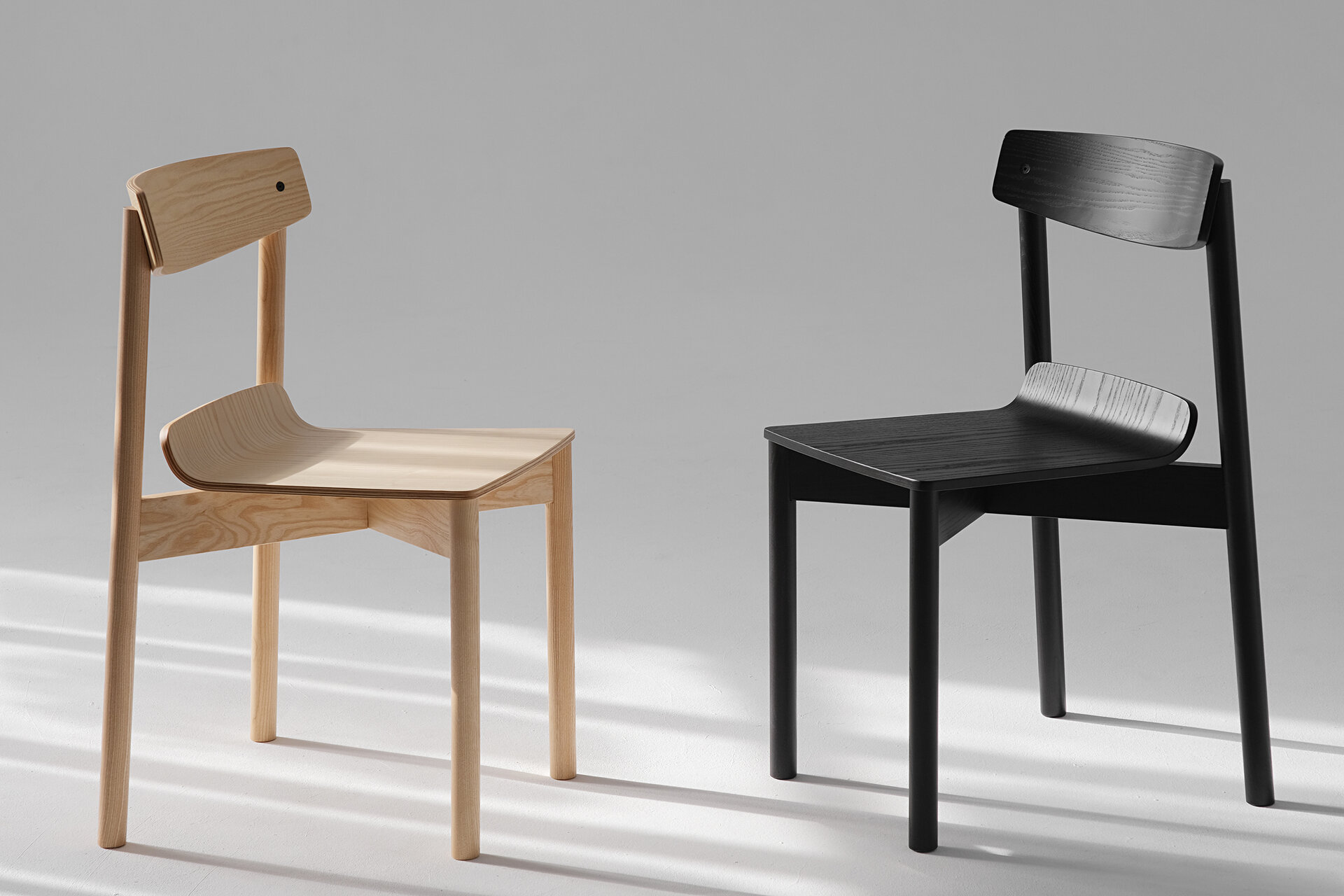 3. The Artu Collections are joint achievements with international designers. How do design collaborations go from sketch to market?
Dmitry Rym:
"Today Artu has a range of 20 furniture collections created by designers from different European countries. The company aims to offer at least 3-4 new collections every year.
All the collections undergo a strict selection by our full-time designers, engineers, and technologists. According to the statistics, the company selects only 1 project out of 25-30 offers, that then is further put into production.
The period from the designer's draft to production takes from 4 months to 2 years.
Many projects turn out to be "for the desk drawer", not just because of inconsistency to the brand's style, but because in reality, they are impossible to produce.
Chairs are the most complicated pieces of furniture, as they should combine the perfect balance between design, ergonomics, and construction. There is no other piece of furniture that takes such a meticulous engineering approach to construction. Hence, we are always looking for new ideas, solutions, and collaborations with product designers that propose to us their projects."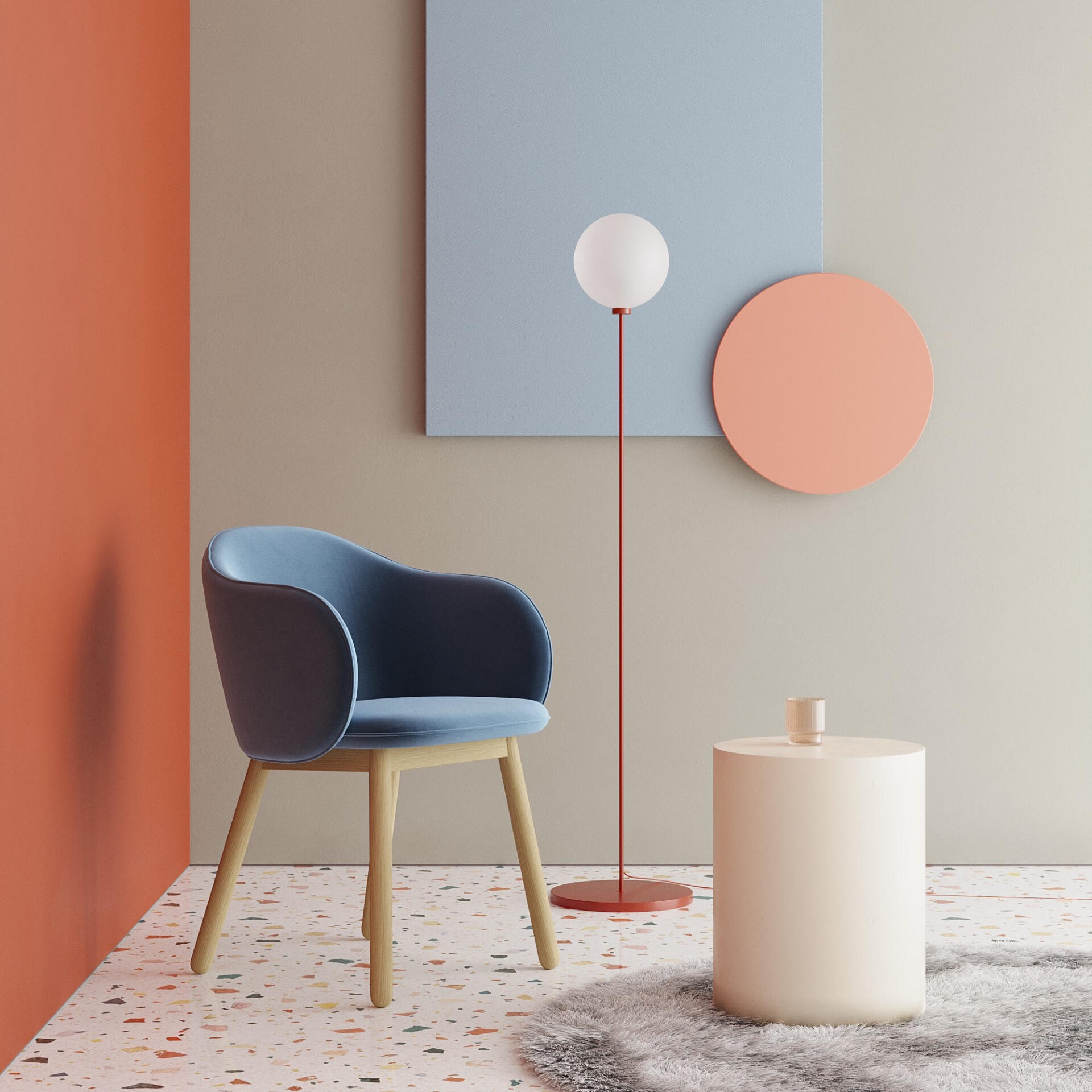 4. We got an insight that there is a new collection coming soon together with Moritz Putzier. What should we look forward to from this collection?
Dmitry Rym:
"The collection of chairs created by Moritz Putzier is a unique design that fits the style of Artu perfectly. Taptap series is produced from solid ash wood without any plywood element and that makes it highly tactile and aesthetically complete.
The chair looks simple and concise, and due to its unbelievably harmonious proportions of the elements and unusual legs design we are certain of the commercial success of this model.
Moritz is the first designer to propose to us not only the drafts but a prototype of the product. This shortened the period for seeking a balance between ergonomics and design. There is only a bit of improvement in construction left so that it can be used in the contract segment.
This year we are going to present another collection of chairs, collaborated with Moritz."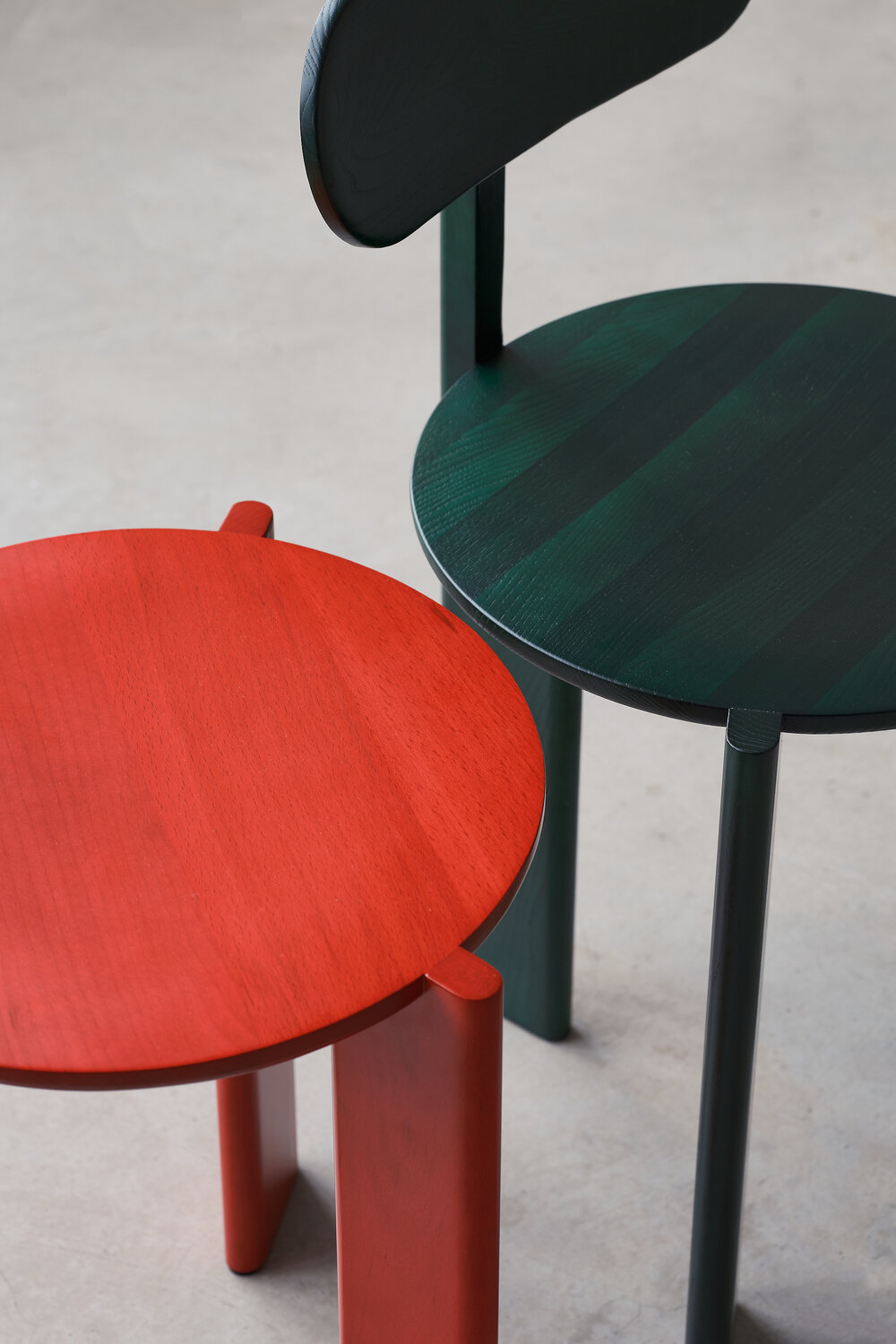 Moritz Putzier (Taptap collection designer)
1. Hi Moritz, can you tell us more about the Taptap Collection? We saw there is already a fully designed chair, what is the design inspiration behind it?
Moritz Putzier:
"With the Taptap collection I am questioning the conventional appearance of a chair without losing sight of functionality. It is an approach to express my design attitude and to create something ordinary but surprising at the same time.
For the chair, for example, I focused on the unusually low backrest which supports a comfortable sitting and allows different seating positions. It is a furniture piece in between a chair and a stool for everyday use. Implementing this idea of flexible seating in a minimal but friendly manner was the driving inspiration for the collection."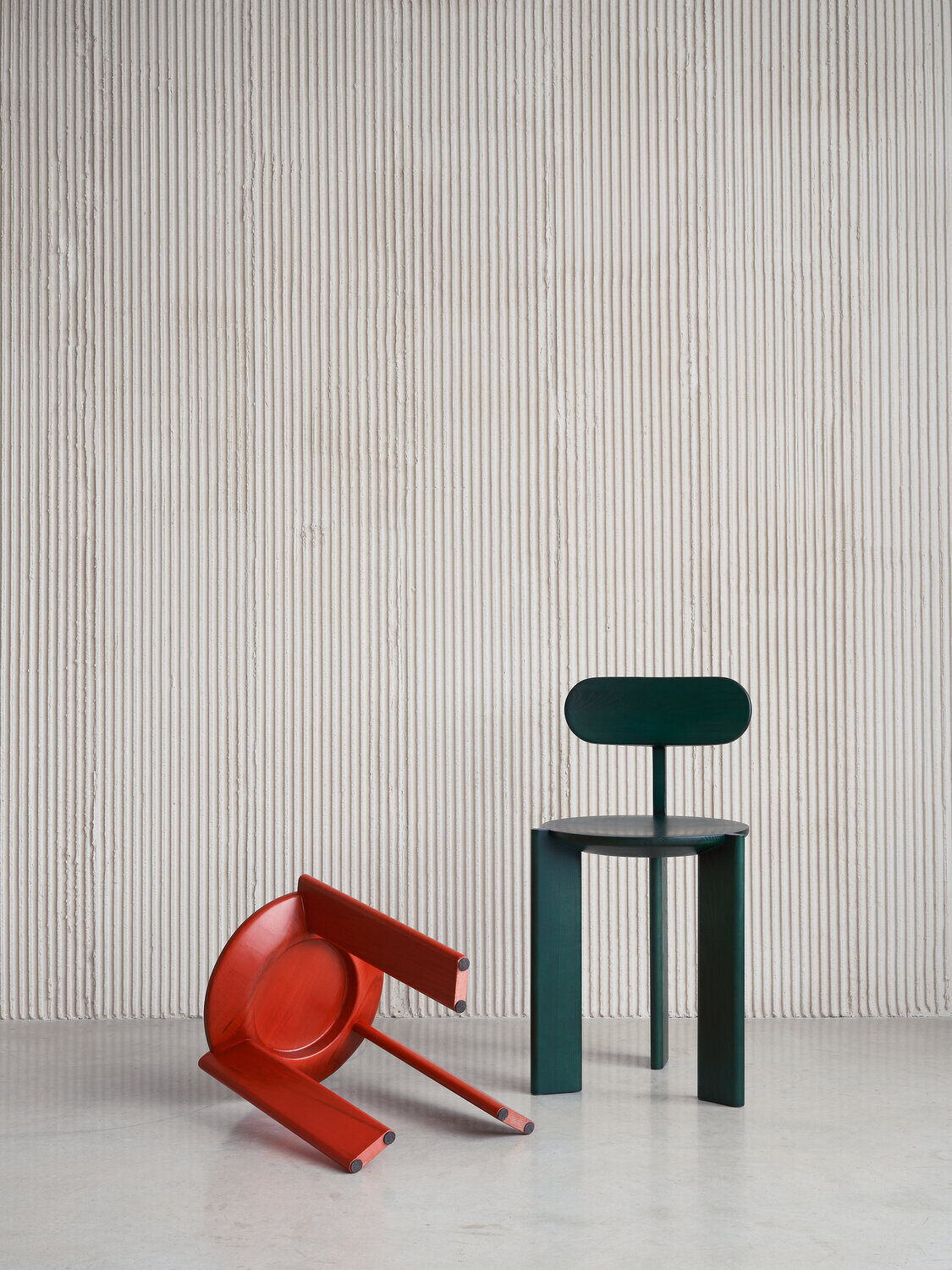 2. We love the name Taptap for this collection, does it refer to anything specific?
Moritz Putzier:
"Well, the name Taptap came to mind when trying to translate the gesture of the chair into a wording.
Ultimately, I think it was the aesthetic of the chair's strikingly wide feet and their position towards each other that gave me the name – visually it felt like the chair was coming towards me and making a sound like "taptaptap"."
3. If you could describe the Taptap collection in three words, what would they be and why?
Moritz Putzier:
"The three words would be:
Surprising – because Taptap has refined details and offers a flexible way of use
Pure – because Taptap follows simple geometric shapes
Friendly – because Taptap comes colourful with a sympathetic appearance
The Taptap collection is planned to be presented in 2023. This new Artu collection will feature a series of chairs, all made in collaboration with Moritz Putzier."