Furniture design
Revolutionizing workspaces with the rise of pods and booths
Pods and booths seem like an essential addition to all the offices of the future – redefining workplace privacy, comfort, boosting productivity and reducing stress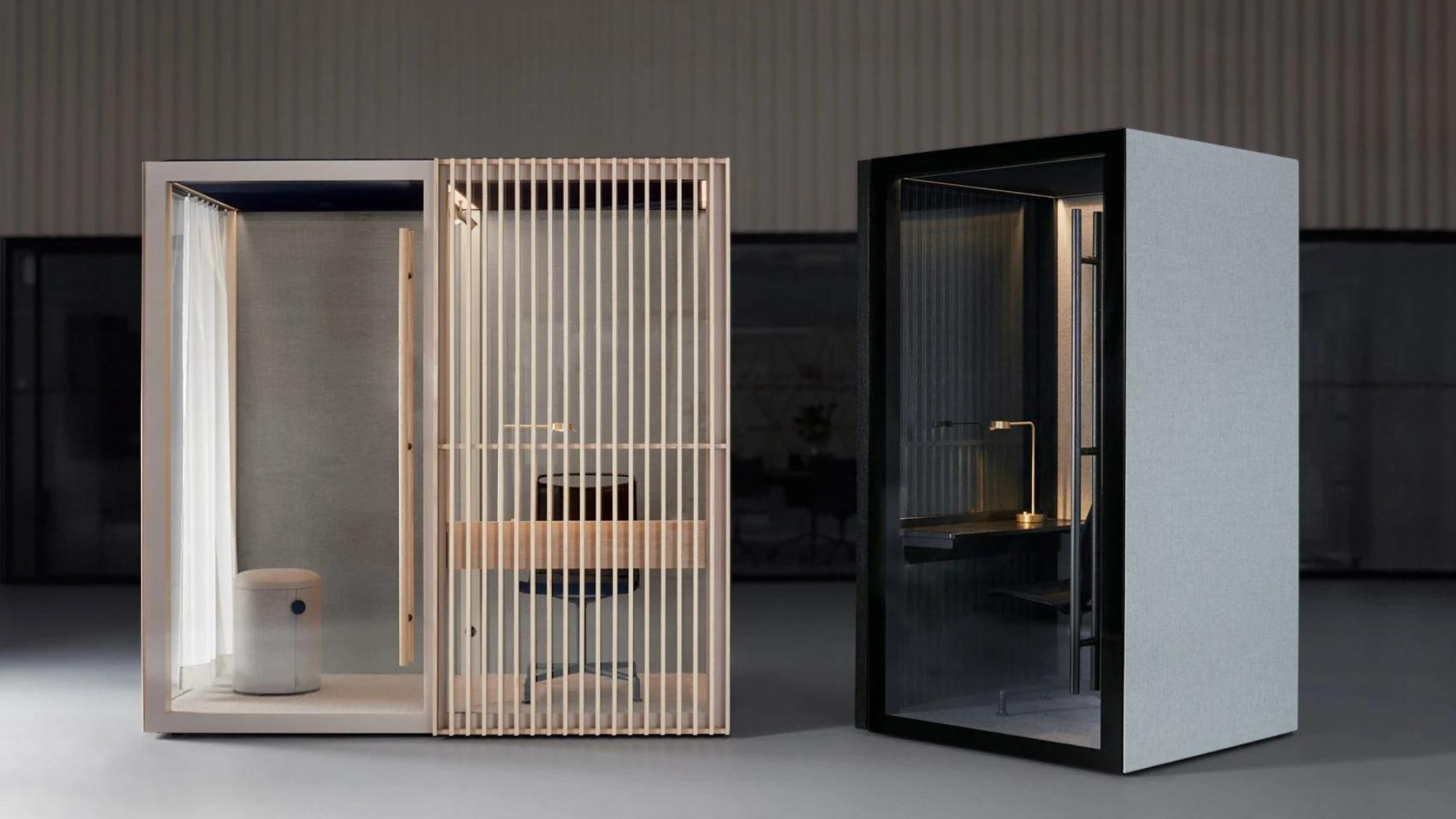 From Chatpod 700 to Zen Pod, Arche, Kameleon Office Booth and Mono – today pods and booths are an innovative response to contemporary offices which are ever-changing and require flexible workspace solutions.
So, what are pods and booths?
Cost-effective, versatile, contemporary and offering the best of all worlds in a post-pandemic workspace – pods and booths are flexible, compact and soundproof modular structures placed within shared-spaces of open-plan dynamic offices to help facilitate both individual and group working.
According to a recent study conducted by the International Journal of Environmental Research & Public Health – prolonged exposure to noise in the office workplace results in a 27% increase in stress-related health issues.
With noise-canceling technology, these eclectic versatile spaces guarantee privacy and comfort while boosting efficiency, productivity and reducing stress.
They offer dedicated areas for focused work, meetings as well as calls without disturbing co-workers.
There's a reason why designers and brands today across the globe are constantly coming up with creative solutions and uses for pods and booths to appeal to this booming market – according to Statista there will be around 41,975 coworking spaces worldwide by the end of 2024 for which these are ideal. Don't you think so?
Come step inside the future of workplaces and discover these pods and booths further!
1. Chatpod 700 by Jeffrey Ibañez for Impact Acoustic
If you're looking for an eco-friendly solution for your office – Impact Acoustic's Chatpod 700 booth by Jeffrey Ibañez provides the perfect quiet space for phone calls and team meetings.
The most sustainable office booth on the market – it's crafted in Switzerland utilizing recycled materials from PET bottles to post-consumer cardboard, sawdust and rubber.
It's a medium-sized model with space for up to four people and either – a high table configuration for standing meetings or a bench seating configuration along with the option of a whiteboard or screen holder.
Chatpod 700's interior and exterior are beautifully clad in Archisonic material creating a soundproof environment inside and further dampening surrounding noise outside.
Additionally – the material is available in a palette of 28 colors and the frame in 10 alluring hues.
"It comes largely pre-assembled and can be completed on-site in 90 minutes.
To adapt it to changing needs – the product can also be reconfigured and extra modules can be added at a later stage!" explains Jeffrey Ibañez.
2. Zen Pod by Staffan Holm for Abstracta
In order to make Sweden-based Abstracta's Zen Pod office booth an appealing space to spend time in – Staffan Holm took inspiration from Japanese interiors.
It's skillfully designed to provide an acoustic oasis for busy places such as offices and universities – so that people can hold small meetings, take video calls or conduct focused work.
With an aim not to completely block out the world beyond – it prioritizes aesthetics with an elegant, Japanese-inspired look that's sparse and harmonious.
"Completely silent rooms can be quite uncomfortable – Zen Pod allows you to sense the surrounding environment without being disturbed by it. The room is quiet; not isolating!" shares Holm.
It's made of tactile materials from wood to wool, glass and metal and can be further accessorized with a slatted oak panel that fits over the glass outer walls to improve privacy and further enhance it.
Easy to assemble, the Zen Pod additionally comes in two styles – Essential (black) and Advanced (beige) – as well as three sizes and there is a choice of furniture packages to tailor the booth for meetings or focused work.
3. Arche by Leet Design
French workplace furniture brand Leet Design launches Arche – a high-tech, soundproof work booth in collaboration with in-house designer Marouane Sadki.
It comes in two formats – a two-seater meeting pod and a single-person phone box style booth, which share distinctively rounded exterior silhouettes fabricated from recycled steel.
Both the sizes embody glass panels on either sides and smart ventilation technology maintains steady air flow inside the spaces to avoid them becoming stuffy.
Additionally other smart features include – adjustable lighting, a thermal presence detector, a decibel sensor, an LED vacancy indicator and a 'confidentiality threshold' installed in order to notify users when noise levels inside the pod become too loud.
All technologically-controlled features can be adjusted via a digital dashboard allowing for convenient calibration based on users' individual preferences as well as remote updates that maintain the performance of the booth.
With an emphasis on utilizing sustainable materials – the booths are brilliantly developed and manufactured in France and can be taken apart and reassembled for maintenance purposes, lengthening the product's lifespan.
"With its innovative features, adaptability as well as emphasis on sustainability – the interiors can be customized with a range of upholstery and coloured finishes to integrate into existing offices!" says Leet Design.
4. Kameleon Office Booth by Askia Furniture
Created to adapt to suit different workspaces "like a chameleon does in nature" – the Kameleon Office Booth is a pod by Romanian brand Askia Furniture.
"Office booths have become very useful products in the office space but due to their predefined shape and finishes – they can't be so easily integrated in the design of the office and architects tend to frequently neglect them.
We wanted to change that and offer them a product which can fuse seamlessly just about anywhere!" shares Dragos Motica, Chief Designer.
It comes in different sizes and is customized with a panel-based system – where different coloured elements are attached to and removed from the structural frame over time.
Similarly, the interior of the pod is lined with sound-proof felt panels that are attached using magnets and can be effortlessly replaced.
"The 'chameleonic capability' is obtained due to our patented system of changing the exterior panels, very quick and without tools.
This allows us to obtain different visual looks on the same structural frame – from a sober, minimalistic look to a more joyful or colorful look!" Motica adds.
Almost all of the Kameleon Office Booth structure is recyclable – with its main structure made from wood and chipboard and the glass frames from aluminum and steel.
Additionally, the structure is further shipped flat-packed and designed to be quickly and easily assembled in less than 40 minutes – with only two people using four Allen keys.
5. Mono by Philip Bogaerts and René Vullings for Bogaerts
Providing a sound-dampened workspace that can be folded away – Netherlands-based office furniture brand Bogaerts launches the Mono study pod crafted by designers Philip Bogaerts and René Vullings.
Flexible and mobile with a design that folds down in three steps – it embodies a high back that comprises the workspace and is available with a single or double-sized seat built into the back wall.
Additionally, it further encompasses a fold-out table and also comes with optional wheels for easy transportation.
It's made from plywood and recycled PET felt that provides sound absorption – individual pods can be linked together for a unified workspace configuration.
"Mono is ideal for usage in spaces where temporary extra working settings are needed or it can be installed permanently.
By utilizing the integrated linking system – they can be placed facing the front or front and back to create a more individual setting!" explains Bogaerts.