Mobility design
Shooting for the stars? PriestmanGoode unveils Neptune Spaceship for tourists trips into space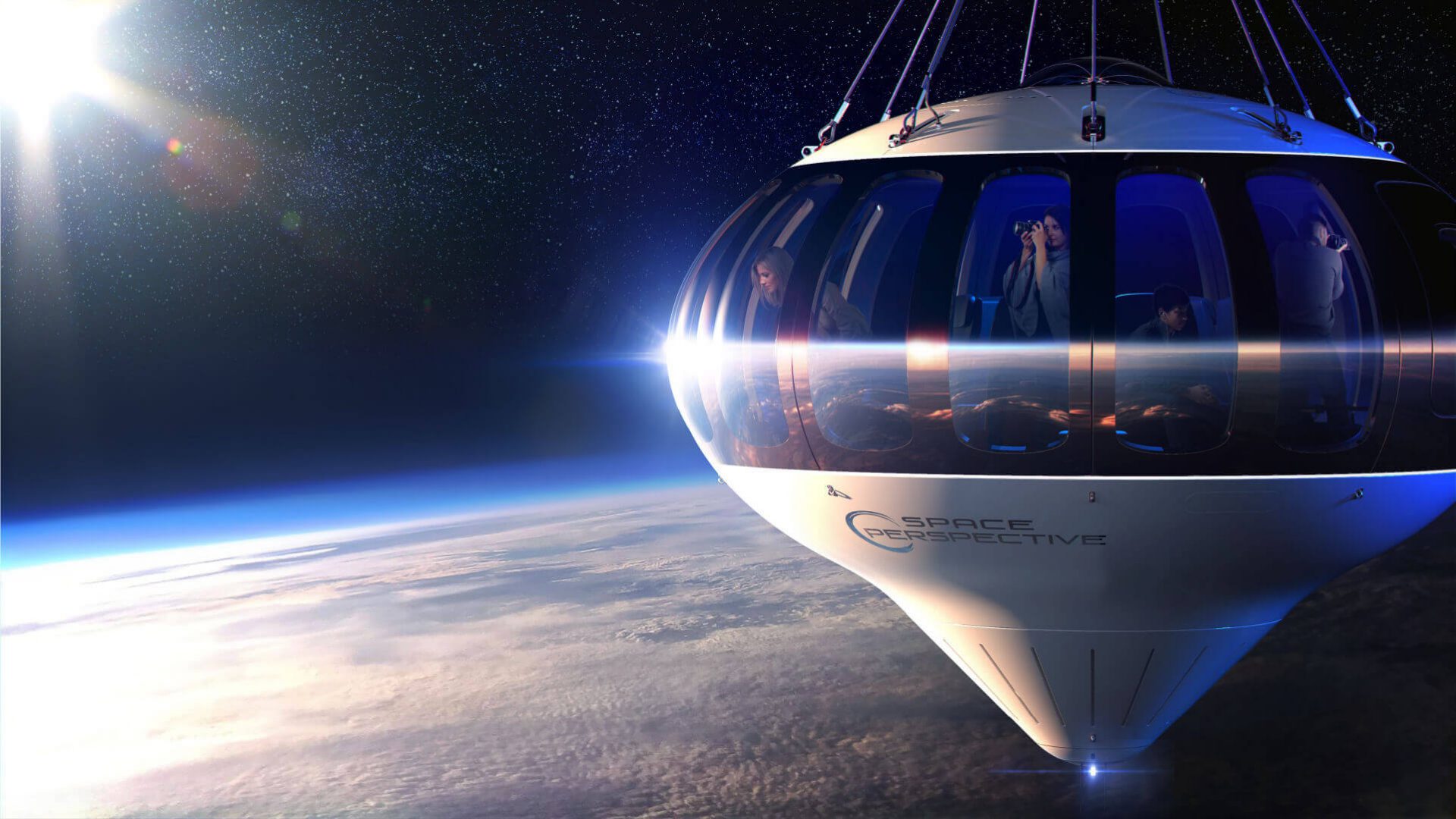 PriestmanGoode has developed a concept for a high-performance balloon for tourism startup Space Perspective to fly passengers to the edge of space.
As transport links across the world start to open up again, it might be time to take a trip a little further afield. Would you ever consider a journey in outer space?
Why Spaceship Neptune? To offer an accessible experience of the stratosphere that paves the way for the future of commercial space travel
Space Neptune might be a compelling alternative to the more ambitious offerings from Virgin Atlantic and Jeff Bezos' Blue Origin.
The minds behind Space Neptune – PriestmanGoode
PriestmanGoode is a transport design company and consultancy with bases in the UK and China. It was founded by Paul Priestman and Nigel Goode in 1989 after they graduated from their respective degrees in Industrial and Product Design. The company is multidisciplinary and works across interior design, visualization, and branding. It specializes in large scale projects including space-saving aircraft interiors for Airbus, and high-speed train concepts for China, Saudi Arabia, Argentina, and Britain's HS2.
Materials & Techniques – Spacious interiors and space-saving design
Described as a high-performance balloon and pressurized capsule, Spaceship Neptune can accommodate up to eight adventurers in addition to unspecified research payloads inside a capsule that is five meters tall and four meters wide.
Designed with the human experience at its core, it boasts floor-to-ceiling windows that offer passengers 360-degree unobstructed views of space. Meanwhile inside, spacious interiors let explorers move freely, making the most of an on-board minibar and a hidden lavatory – fulfilling PriestmanGoode's intention to make the journey as comfortable as it is memorable.
Curious to know more about designers that look beyond earth and focus on the future in space? Don't miss Shaping the future of life in space with SAGA Space Architects.
Style & Aesthetics – A compact space shuttle and a futuristic hot air balloon
According to Nigel Goode, the spaceship was designed from the inside out with the shape of the final capsule guided by a need to minimize weight and create a highly functional environment for the pilot.
The two-part spaceship has an unusual silhouette comprising a pressurized crew compartment shaped like a spinning top attached to a giant high-altitude balloon. Pumped full of hydrogen, this lift gas allows Neptune to float on top of the Earth's atmosphere.
The journey towards space tourism. Starts with a two-hour trip?
Spaceship Neptune will take passengers on a two-hour gentle ascent above 99% of the Earth's atmosphere. This equates to 100,000 feet which is around 30,000 metres. Whilst in flight, it will cruise above the earth for up to two hours. Whilst in space, passengers will be able to share their experience via social media.
Space Perspective has scheduled Neptune's first test flight to take place in early 2021. Whilst it won't be available to tourists, the initial flight will carry a group of research payloads onboard. This uncrewed test flight will take off from the iconic Shuttle Landing Facility at NASA's Kennedy Space Center (KSC) in Florida, USA.
The craft will then descend before landing in the Atlantic ocean, where a ship will collect passengers and transport them back to land.
This isn't the first time PriestmanGoode has worked in close partnership with the team at Space Perspective. Spaceship Neptune is the result of a long term collaboration, which in 2013 resulted in a similar initiative to take passengers into space on a balloon-shaped vessel. Called 'World Perspective', this initiative remained a concept and never came to fruition.
Design memento – Making space a place for everyone
According to Space Perspective, Spaceship Neptune is part of its aim to democratise space tourism. It helps then that alongside PriestmanGoode they've centered the experience on features such as panoramic views and social media – features that speak to the everyday traveler. According to its website, the process will be as simple as boarding an airplane. Meanwhile, pressurized capsules will offer a shirt-sleeves environment where no special clothing will be required.
The writer's comment – Space concepts have a tendency to shoot for the stars
It's a little too early to predict the popularity of space tourism, especially as it's an industry that's only just starting to build some foundations.
That being said, in the future a concept like Spaceship Neptune could change the way people have access to space, benefiting life on earth by changing the way we connect with our planet.
A little short on details right now, if such a project is really possible, with stringent health and safety measures and a price per person that isn't too daunting – it has the potential to be extremely popular! Only time will tell…
If you want to know more about designs destined for space, don't miss This is your new 3D-printed house on Mars: AI SpaceFactory presents Marsha.