Architecture
Safdie Architects breathe new life into the historic Chaotian Gate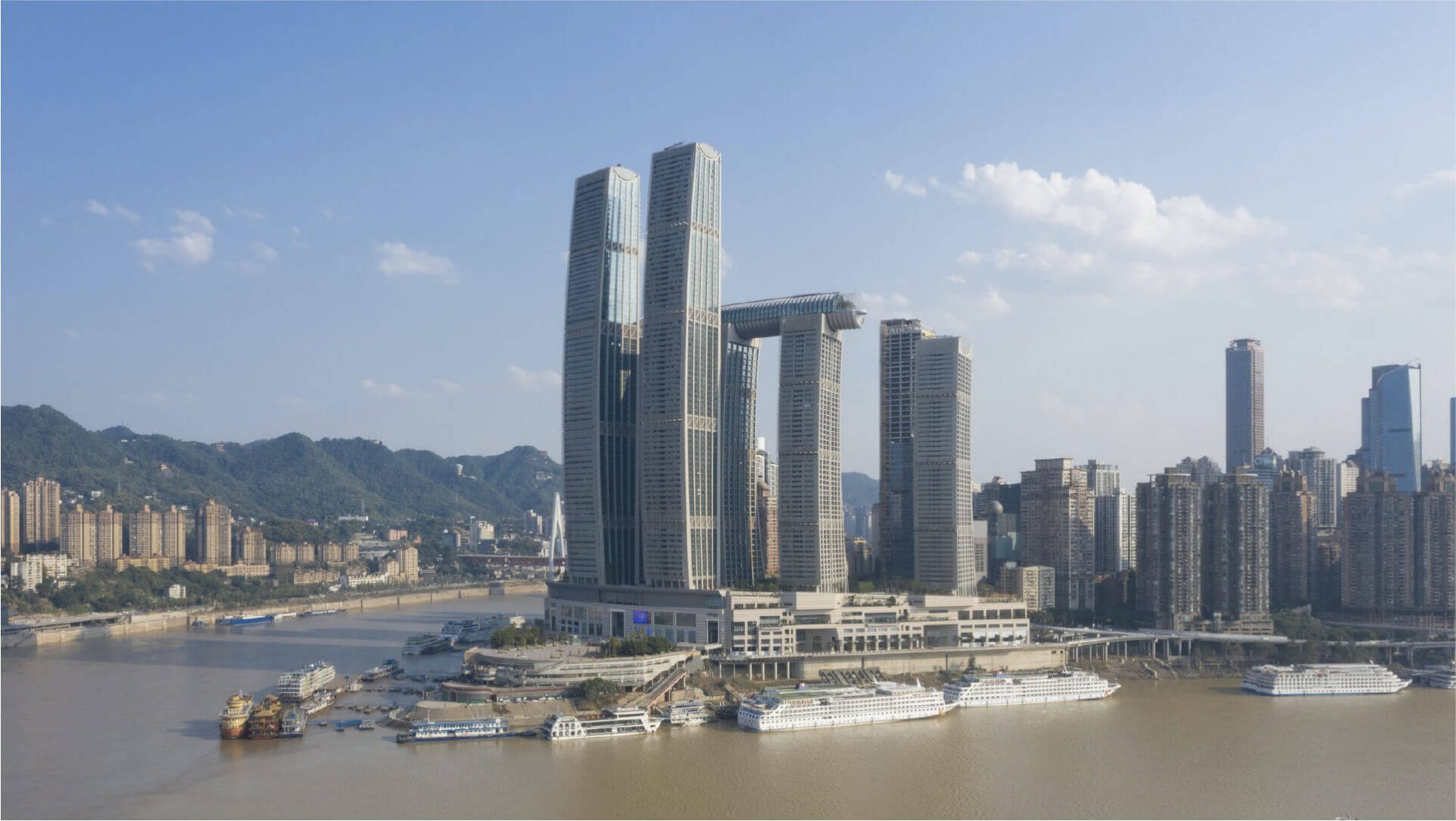 Exploring a new urban design concept, Safdie Architects have created a monumental construction that covers over 1 million square metres and consists of 8 towers and a horizontal skyscraper at Raffles City Chongqing.
Embedded within the densely populated Yuzhong district in China, Raffles City Chongqing comprises 8 futuristic towers with a vertical skyscraper "floating" on top – built to withstand earthquake movement.
Why Raffles City Chongqing? To create a vertical city designed to address the requirements of the dense population while providing new public spaces at sky level
The development enhances the densely populated area by creating additional living spaces, leisure facilities, retail facilities, and dining experiences.
The minds behind Raffles City Chongqing – Safdie Architects
Safdie Architects are an architecture and urban design studio with offices across the world, including Boston, Israel, Singapore, and Shanghai. This project is the practices 4th collaboration with CapitaLand, who is one of Asia's largest real estate developers.
Raffles City Chongqing is built over 1 million square metres, which makes this project one of Safdie Architects largest projects to date. The Crystal element of this project is an evolution of Safdie Architects' "SkyPark" development for Marina Bay Sands in Singapore. It develops the exploration of this practice where the connection of buildings becomes a way of expanding available public space in dense, urban environments.
Safdie Architects are experts on architecture and urban design, find out what founder Moshe Safdie thinks in what is the future of apartment living according to archi-masters Moshe Safdie and Tommy Schwarzkopf?
Materials & Techniques – Glass and height
Raffles City Chongqing is a complex of offices, a hotel, retail facilities, residential developments, and recreational spaces across a 22.7-acre plot. The phased opening of the development began in September 2019 when a 220,000sqm 5-story retail galleria was opened, followed by the opening of The Crystal, a 300m long horizontal skyscraper perched at 250m on top of the development's 8 towers.
Safdie Architects are known for designing vertical neighbourhoods that thoughtfully connect architecture to natural environments. Priority is given to maximising access to daylight, air, green space, and views. To achieve this vertical neighbourhood, the development is dispersed across eight towers. Entrance to the towers can be found at various levels to account for the hilly terrain that Raffles City Chongqing is located upon.
The development consists of The Crystal, the Retail Galleria and Roof Park, and The Towers. The Crystal spans across 4 towers at the length of 300 metres, it houses 15,000 sqm of facilities, including gardens, dining spaces, a bar and event space, a residential clubhouse, infinity pool, and a hotel lobby. A public glass observatory, complete with a glass floor open-air viewing deck, offers unobstructed views of the Yangtze and Jialing Rivers.
Style & Aesthetics – A response to the city's character
Raffles City Chongqing was designed to respond to the city's character as well as the surrounding mountainous landscape and extreme climate. Safdie Architects wanted the project to address the issues of population density, community connectivity, and urban renewal within the highly developed city center.
Safdie Architects are known for creating public spaces within modern developments, especially at sky level. The public park created within this development sits adjacent to each of the residential tower's private gardens, which results in a network of green and open space across the vertical city. Public artwork within the park includes major sculptures by artists such as Zheng Lu and Jiao Xing Tao.
The site is located on a historically significant site, the Chaotian Gate
Raffles City Chongqing is located on a plot of land where the Yangtze and Jialing rivers meet, which was the city's most important gateway and the imperial entrance to the city – called the Chaotian Gate. This riverfront trading post was the source for driving development in this inland city, providing the catalyst for Chongqing's phenomenal growth. It's now regarded as one of the fastest-growing and densest cities with a population of over 30 million people.
Design memento – Built to accommodate movement
Located in an earthquake zone, Raffles City Chongquing has been designed in preparation for movement. The horizontal skyscraper, The Crystal, "floats" on large scale bearings on the towers it sits upon which accommodates for any necessary movement during an earthquake.
The writer's comment – Connecting modern architecture with nature
It's incredibly important in these modern times to consider the relationship between nature and architecture. Safdie Architects achieved this beautifully with Raffles City Chongqing by introducing a public garden at sky level, impressive natural light ingress, carefully considering how the movement from this high earthquake risk area can be handled to reduce damage and open-air rooftop spaces.
I think this development adds a ground-breaking concept whereby the luxury development isn't just for the residents and staff, it's also been designed for public use.
Raffles City Chongqing is a project that considers the relationship between nature, architecture, and its surroundings, find out about other innovative projects, don't miss Net City: a giant 'city of the future' to redefine Smart City Construction.