Design
The age of generatively designing your own furniture yourSELF
Meet Self – Chicago-based brand and parametric design tool by Marvell Lahens that allows anyone to create their own furniture. Intrigued?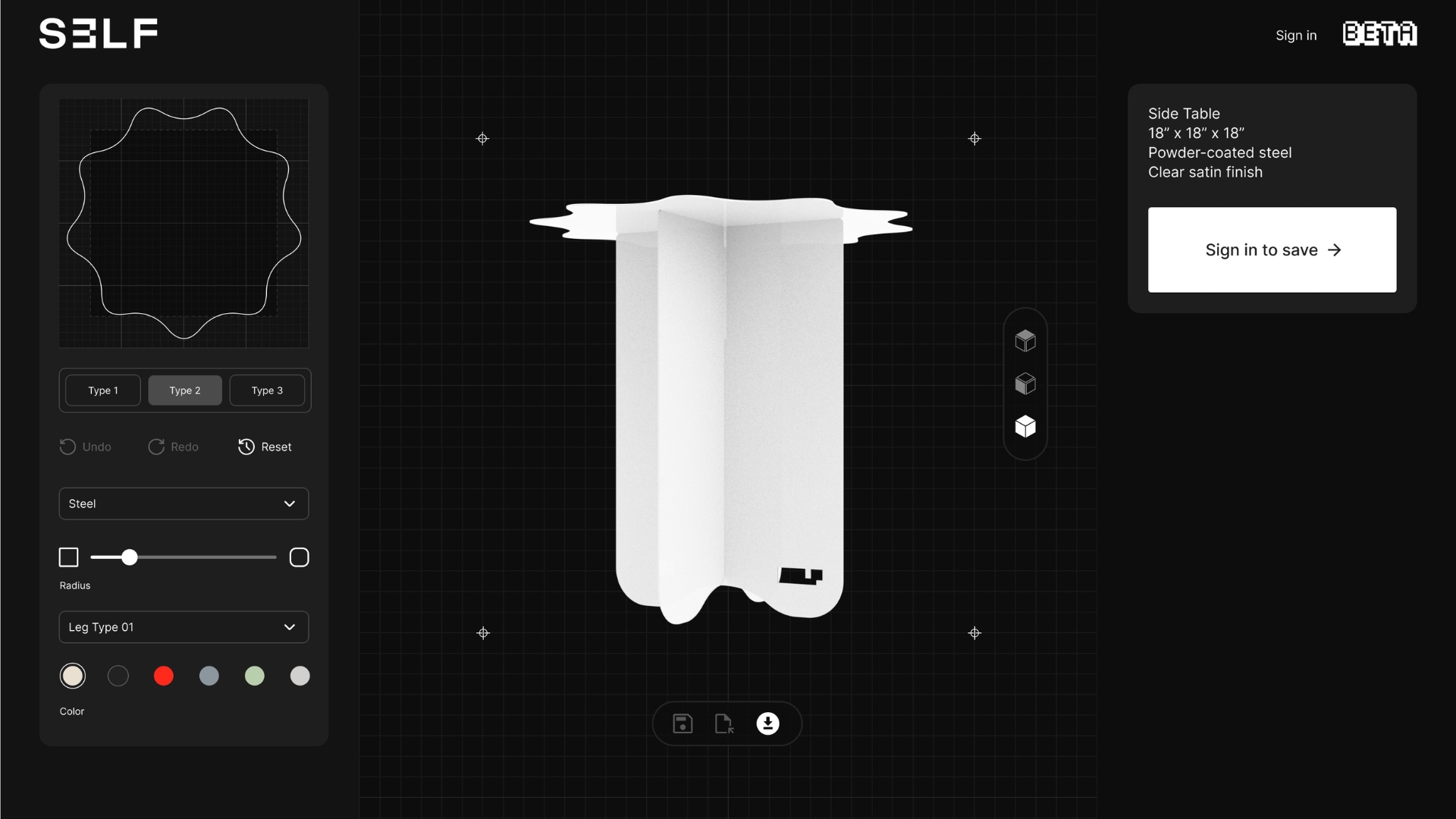 Inviting and enabling everyday people with no professional training to create their own piece of furniture and have it produced and shipped to them within three weeks – Self by Chicago-based designer Marvell Lahens is a custom, made-to-order furniture line whose products are generatively designed by the consumer. 
A radical experiment in empowering users now launched in its beta version – this refreshingly new groundbreaking brand offers one a more accessible approach to design.
Focused on the materialization of the digital into the physical realm, Lahens is particularly interested in the capacity of technology, and specifically, generative design, to invite end-users to partake in the design process.
As a parametric design tool – Self innovatively allows one to manipulate a 3D model before sending it off to be digitally manufactured using a CNC mill. 
"Self was conceived as an experiment in co-creation between brand and end-user – inviting, enabling and empowering people to design the everyday objects they use and surround themselves with.
This project was inspired by the book Shape Grammars by Jannis Maroscheck – an exploration of algorithmically defined shape paradigms and the resulting permutations!" shares Lahens.
For New York Design Week 2023 – Self invited visitors to experiment with the possibilities of generative furniture design in an interactive workshop experience and explore work by designers Norman Teague and Max Davis, who were there to test the tool's functionality.
Guests could effortlessly design an 18 by 18 inches coffee table, defining the table-top shape, material and color as well choose between sets of pre-defined leg types.
The launch featured the table top that could be shaped through a vector polyline or by utilizing two predefined shapes (organic or geometric) and adjusting parameters such as points and radius.
"Even within the algorithmically defined constraints – the shape possibilities are innumerable and as more grammars are added, a customer will have a wider range of starting points and possibilities on Self" Lahens adds.
Additionally further customization included – the material with a choice of plywood or steel, six powder-coated colors for the steel version as well as four different leg configurations.
Visitors were welcomed to purchase their design which would then be made in Chicago by local makers and shipped.
"Self is a completely new way of thinking about furniture design and signifies a shift in the relationship we have with the things we surround ourselves with.
I'm excited to invite and empower people (not just designers) and enable them through generative design to actively engage in the design process!" concludes Lahens.