Technology
Forget the white cane: Sense Five uses ultrasonic and haptic technology to help the visually impaired
Sense Five by WertelOberfell communicates the environment to visually impaired users through a parametrically designed responsive handle.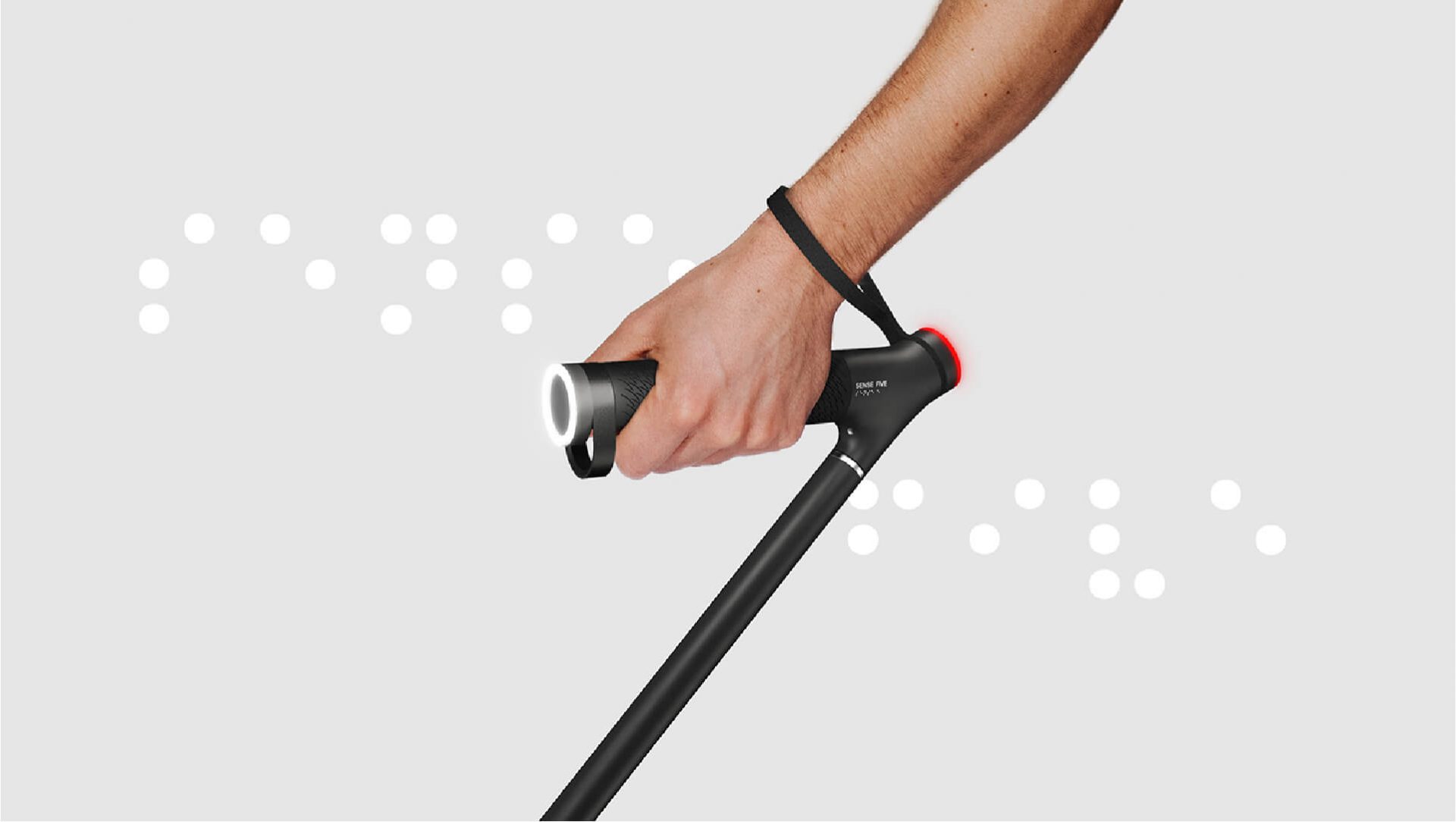 Sense Five utilizes parametric design techniques to create a white cane that adds new levels of haptic feedback for users.
Along with guide dogs, the white cane is the most widely used mobility aid for the visually impaired.
Levels of visual impairment vary and many white cane users are not completely blind.
What all users have in common is that the white cane increases their freedom of mobility and provides a greater degree of independence.
Sense Five is an intelligent white cane that communicates additional environmental data haptically through a responsive handle
Sense Five also demonstrates how changes in materiality and surface texture can be another means for communicating data, beyond the typical sight and sound.
The minds behind Sense Five – WertelOberfell
WertelOberfell was founded in 2007 by two Industrial Design graduates, Gernot Oberfell and Jan Wertel. They both studied at the State Academy of Arts Stuttgart.
The studio, based in Berlin and Munich, designs furniture, lighting and industrial products, as well as conducts experimental design research.
Jan and Gernot were attracted early to computer-aided design techniques, and regularly use a mix of organic and digital forms and pattern work in their projects.
WertelOberfell conduct experiments which aim to optimize and push the boundaries of 3D printing.
They have re-envisaged Stucco by 3D printing with ceramics, used filaments from recycled plastic, and printed directly onto paper and textiles.
The knowledge from their many experimental and self-initiated projects informs and feeds into their commercial work.
Commercial products have been designed for Gillette, Panasonic, Braun, and IKER amongst others.
Their work has also been widely recognized with awards and exhibited frequently.
It has made it into several permanent collections including The Metropolitan Museum of Art, New York and the Victoria & Albert Museum, London.
Materials and techniques – Responsive handle surface
Sense Five uses an ultrasonic sensor to detect objects within a 5-meter distance.
It targets objects which are waist-high, and also fast-moving objects like cars. Both of these are often difficult to be detected with a conventional cane.
Information from the environment is collected and processed in real-time. Changes in the surface of the handle pass this on to the user.
A variety of rhythms and intensities make the communication pleasant and differentiated.
The round, responsive handle grip is activated to go from smooth to rough by a simple rotation mechanism.
It is 3D printed from a durable polyamide using Selective Laser Sintering (SLS).
Other designers are also working to innovate the white cane: WeWALK: finally a smart-cane for blind people with Uber and Google Maps integration
So that users can immediately tell when the device is on, the cane can only be positioned ergonomically in hand when switched on.
The switch can easily be moved up or down to turn it on or off.
The battery life status is also communicated at regular intervals to the user through a specific surface feel.
It can be charged at home via a dedicated wall mount, or via a USB-C port when out and about.
Style & aesthetics – A new cane handle designed for ergonomics
This cane is sleek and functional.
The handle has been redesigned compared to a traditional cane, and Sense Five can be held with the hand in a more natural position.
Its cylindrical shape is ergonomic and integral to the haptic functionality.
Two LED lights in the handle turn on automatically in the dark.
This increases the safety of the user, by increasing visibility for other road users and pedestrians.
History of the white cane
Despite being black, this prototype is referred to as a white cane. Or, long cane in places.
Canes have been used by the visually impaired for centuries, but the instantly recognisable white cane has its origins in the early Twentieth Century.
With traffic appearing in roads it became critical for the visually impaired people to be visible, canes were painted white for this purpose.
In some places, the white cane has been written into law. There are locations where those visually impaired people using the white cane are afforded special rights of way.
Red bands on the white cane indicate that the user is deaf blind, and a solid red low portion can indicate low vision.
There are other colors and variations in different countries, and not all users adhere to using a cane which indicates details of their impairment.
Sense Five – Iterative design using parametrics
WertelOberfell used an iterative design process.
Utilising parametric design tools, a variety of materials, structures and flexibility options were tested.
Materials were cut, perforated and 3D printed using Fused Filament 3D Fabrication.
Paper models were used to interrogate the success of various specific geometries.
Rapid prototyping allowed successful options to be further tested, then improved.
The iterative design process means that a large number of options could be explored, and experience gained from prototypes fed back into further rounds of design and refinement.
It is hard to beat the traditional white cane
There have been numerous attempts to integrate technology into the white cane to improve its functionality.
Yet the classic white cane endures.
WeWalk is another white cane that takes a different approach.
It taps into Google map data to provide rich additional information about the user's surroundings, such as types of shops nearby.
I can appreciate Sense Five as an exploration in materiality and haptic feedback options.
I would like to see the visually impaired involved directly in further iterative design processes.
This, along with extensive user testing, may bring opportunities for further refinements. 
Cane users are typically taught to consider the cane as though it is an extension of their index finger, and I wonder about the true effectiveness of the new handle position.
The white cane has a very specific dynamic and being lightweight is key.
Many visually impaired also use sound cues to navigate.
The traditional white cane also comes at a very low price, and many users opt for folding varieties for convenience.
A more expensive electronic cane needs to deliver quite a degree of improvement to be adopted.
Design aiding the physically impaired: The Centaur robotic wheelchair lets users have eye-to-eye conversations