Furniture design
This year's Slow Hand Design exhibition proves why raw materials are so last century!
Thailand's Slow Hand Design Exhibition returns during Milan Design Week 2023. Here, a sneak preview of the long-running show's exhibitors and their sustainable innovations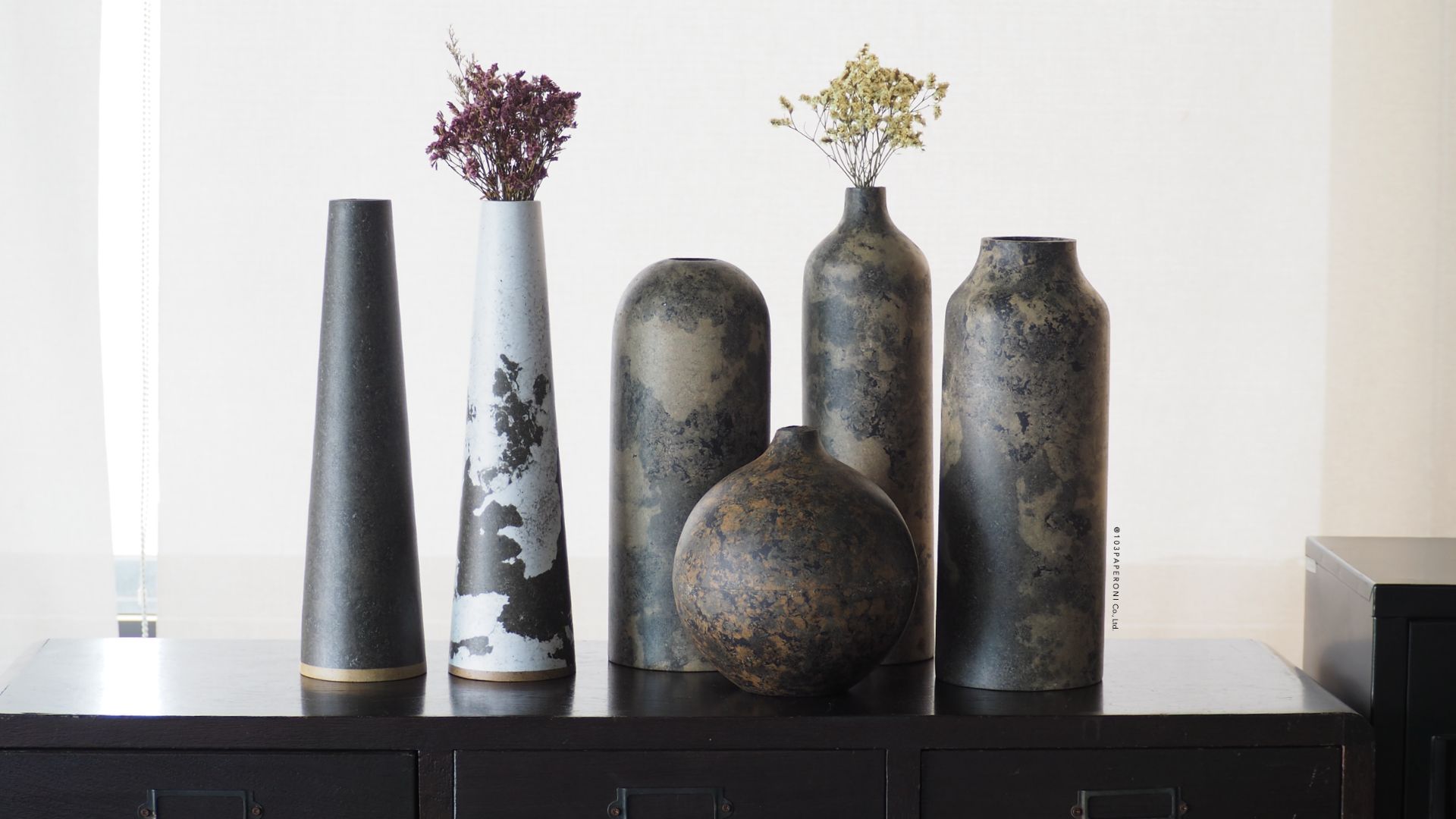 The Slow Hand Design Exhibition is back, this time highlighting the future of upcycling in Thailand during Milan Design Week 2023. As part of its presentation, which introduces upcoming talent from the region to an international audience, the DEmark show will give a platform to 33 designers and design studios whose innovative ideas make use of recycled and/or upcycled materials.
In the first of three round-ups, here is your first exclusive preview of what to expect at the exhibition…
103 Paper
Creative studio 103 Paper is turning recycled paper into "paper clay" to make decorative objects in a creative exploration called A Next Life. Made from several different kinds, including A4 paper used in offices, cardboard, and poster paper, founders Wittaya Chaimongkol and Atchara Tannee combine the materials with a secret ingredient that makes the "paper clay" more durable when formed into vases and other vessels.
"Every vase 103 Paper is handcrafted one by one and characterised by a design based on natural features such as curves, earth tone, or even a design that looks like a river rock," explains the studio. Due to the nature of production, each vase is only suitable for dry flowers and should be cleaned with a damp cloth. The studio's conceptual approach to design means that every single piece is custom made to order and takes 14-21 days to manufacture.
Apisek Studio
Apisek Studio's unique crating techniques focus on the stories of special relationships, spiritual power, jewellery for hope, health and happiness. Using scrap materials from community junkyards found in the Samut Songkhram province of the Amphawa District, the design brand has developed Benjarong, a collection of wares including cuff links, earrings, rings and necklaces.
The purpose of the collection is to bring damaged, chipped, broken and/or incomplete products into the production process. He saw the importance of the concept to create sustainability for the environment and community in the future.
[ In case you missed it, read also Thai Design shined at the Slow Hand Design Exhibition during Milan Design Week 2022 ]
Baan Boon Brooms
Baan Boon's expertise in handcrafted sorghum brooms and brushes spans 35 years of dedication to the production process. Designed to be on show and meticulously made by at least 8 workers, each broom is made by bundling up a collection of sorghum grass stalks grown by local farmers in a bid to support the local economy.
"We aim to showcase Thai people's craftsmanship in creating exceptional high-quality products," explains Baan Boon Studio. For them, the process of manufacturing is just as important as the finished products—the intricate details of how the artisan crafted each piece is simply an art in itself. "What makes our products unique from others are quality and design, which we realise by following the concept of "best for use, good for decor."
Brave Shoes
Brave Shoes upcycled leather made from banana and lime peels in its latest footwear collection, UPCYDE, which aims to support local employment and support circular business in Thailand. Combined with recycled plastic heels and recycled rubber soles, the collection finds new use for unique materials and is the result of a process that is both environmentally friendly and socially responsible.
"Our aim is to influence the Thai fashion industry by demonstrating the value of sustainable products," says Brave Shoes. "We want to alter the perception of Thai consumers to show that sustainable fashion can be both more creative and enjoyable."
UPCYDE is designed in Copenhagen and produced in Thailand, with each pair inspired by different geometric sculptures and made from up to 2KG of waste fruit peel.
Carpenter
Eco brand Carpenter specialises in lifestyle products made from recycled waste wood left over from the manufacturing of wooden frames, doors and windows. The zero-waste concept involves never using new wood but instead raising awareness of the value of natural resources that already exist.
Working out of a small wood factory located in Chiang Mai in Northern Thailand, the family-run business produces a diverse collection including stationery, notebooks, toys and sometimes limited furniture.
"We would never use new wood. A tree takes can take many decades to grow and when its life ends, we should make the most of every bit and piece that remains," says the studio. "We combine creativity with the charm of carpentry and craftsmanship," says Carpenter, "Beyond the zero-waste concept, we want to raise awareness of the value of natural resources".
Chaan
On a mission to create healing furniture that offers therapy through its materials, Chaan Studio has created a series of carpets to connect body and soul. Each carpet is made from recycled jute fibres, a common waste material across Thailand, which are handwoven to create winding pathways that surround natural stones. The result is a textural surface intended to create a massaging effect under the feet.
The inspiration came from Bangkok being known as the Venice of the East because a river and numerous canals flow through the city despite being partly replaced by numerous buildings. "Our concept design is 'The Relaxology' (relax+philosophy) that symbolises the image of river flow," says Chaan Studio. "We wish to connect people with nature even when they are in urban areas or when they are at home with no sign of green space."
Deesawat
The Nami partition is a collaborative project between Bangkok-based wood specialists Deesawat and AUSARA, a boutique surface and textile company.
It combines teakwood and brass whilst employing a traditional woven technique to make the latter look like fabric blowing in the breeze.
Held inside a beautiful teakwood frame, brass threads have been woven together to create billowing sheets that catch the light and cast a striking shadow within its interior.
Glisten
Industrial designer Apirat Rueng-Udom has created a pillow whose cushioned surface is made from recycled plastic wrap. The product is part of a collection known as GLISTEN, which develops replacement materials from the automotive industry into beautiful, durable and fully functional products. By mixing different plastics Rueng-Udom has been able to create a multicoloured collection as well as several different patterned effects across pillows, stools and handbags.
"We cooperate with artisans to incorporate their craftsmanship into the production process," says Ruen-Udom. "We want to help the environment and ultimately promote and elevate Thai handicrafts to an international level. Our meticulous processes result in detailed, refined products, and we select materials that are durable, strong and environmentally friendly."
Kanz by Thaitor
Working with local artisans, Kanz by Thaitor has developed special techniques for its handcrafted batiks including free-hand painting designs from custom made tools. Batik is a technique of hand-dyeing fabrics by using wax as a dye repellent to cover parts of a design, dyeing the uncovered fabric with a colour or colours, and dissolving the wax in boiling water.
Each decorated batik is handcrafted with the support of local artisans and made from organic materials. "We use batiks that have been passed down through generations from parents to their children," explains the brand, which has created several clothing collections "A simple silhouette, abstract art on high quality fabrics – all this makes our fashion wearable for all ages, for all genders and that for every day!"
"To give our patterns even more dimension, we use a patchwork technique: We are currently working with artisan partners from the village of Rongsor. They are characterised by their interest in always discovering new things and techniques."
Lasunya
Founded in 1982 by Surasak Charungchainanon under the mission of making meaningful and high quality sofas, Lasunya has more than 40 years of experience manufacturing furniture. The brand has represented the three principles of care, craft and comfort through the delicate design of Thai craftsmanship, which is perhaps best represented by its Embroidery collection.
The collection, which comprises a loveseat, armchair, coffee table, and side table, employs a technique called smocking, which causes the fabric of the backrest to provide a gentle comfort to the user whilst also creating a detailed impression. The piece also contrasts with the reduced form and smooth leather interior while presenting the combination of the light wooden legs that portrays a modern style.
Melt District
Founded in 2021 Melt District is on a mission to create an alternative to raw materials and plastic waste. Located in Chiang Mai, Thailand, the upcycling design studio melts down waste plastic to create various interior design elements including table tops, kitchen counters, shelving, chairs and signage.
The result is a beautiful almost celestial effect, which highlights the various plastic sources that have been combined in fantastical colour.
Melt District creates each piece using a CNC machine, a pre-programmed computer software that dictates the cutting process to form every component. The studio also designs souvenirs or other made-to-order requests for its customers — think coasters, trays, meetings, jewellery, clocks and more.
VISIT THE SLOW HAND DESIGN EXHIBITION FROM 18-23 APRIL 2023 AT SUPERSTUDIO PIÙ (VIA TORTONA 27, 20144, MILAN / ITALY)