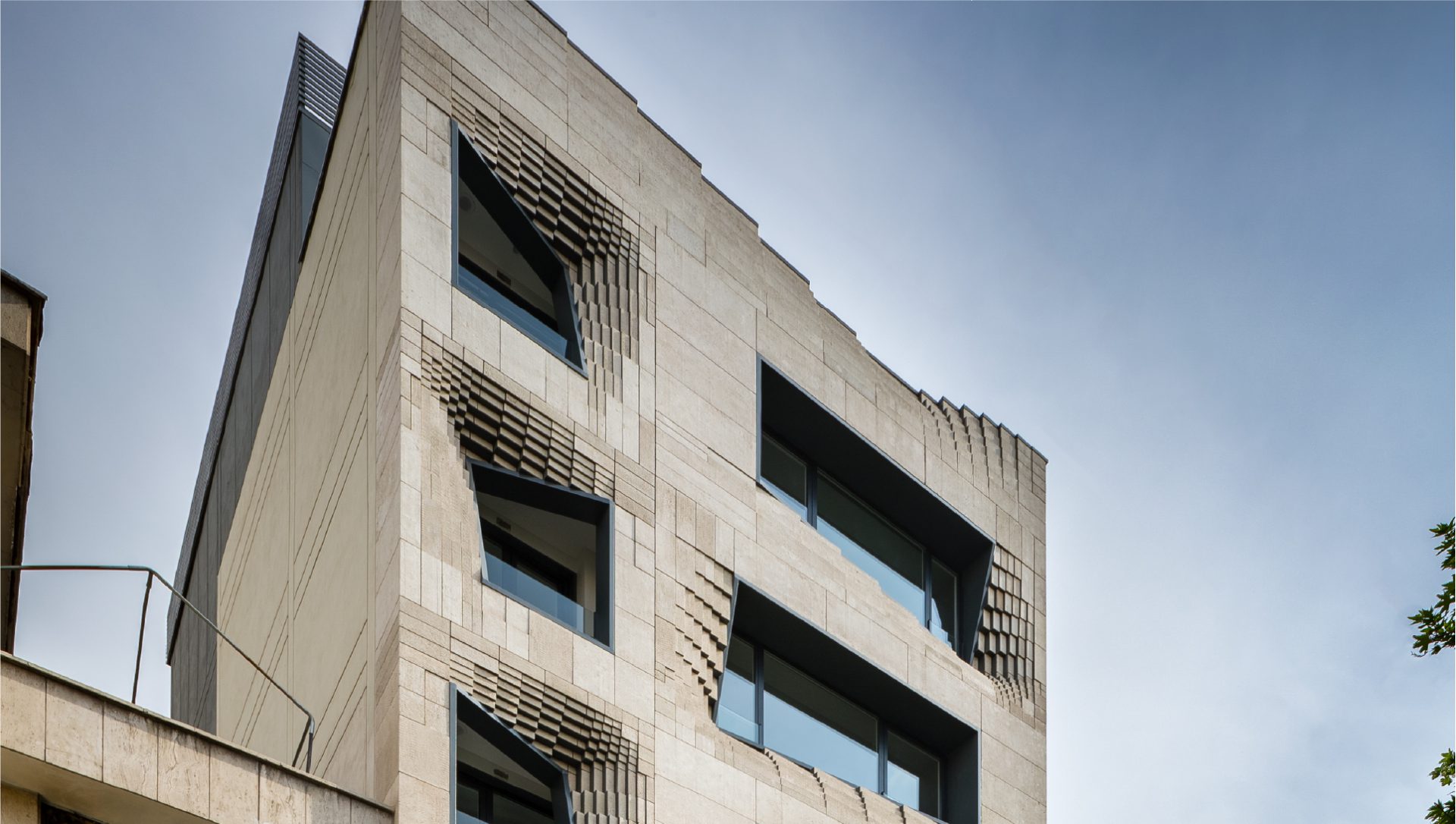 Softstone is a mid-rise building located in the city center of Tehran, Iran.
Urban densification and land-use changes are resulting in proximities of existing low-rise residential blocks with mid to high-rise offices or commercials. Within this context, Softstone introduces an alternative architectural solution for a mid-rise office project built with local stone.
The monolithic volume is constructed of pre-crafted slabs of varying sizes that are supported with pre-fabricated folded metal plates, which then together are dry-assembled on-site. Soft transitions from small to large components create curved surfaces out of the hard stone. The focal points of these gradients define the entrances and openings, morph the building skin, adjust the skyline, and connect the backyard landscape to the staircase all the way to the rooftop.
The threshold of the building was blurred by the designers to orient the views up toward the sky and the mountain chains of Tehran in balconies or iwans, and down toward the street behind the panoramic windows of the multi-purpose working spaces. The backside of the project was also activated by connecting it to the rooftop on one side and dissolving it softly to an animated carpet-like landscape that embraces the only existing tree and it integrates new plants.
The architects decided to design the given building block as a volume rather than separated two-dimensional facades. This integration is done through the three-dimensional extension of the east and west surfaces to the front and back, as well as the roof as the fifth elevation and the back yard carpet.
During the building process, the assembly tolerance is controlled by compensating the minor deviations in the hand-cut stones with higher accuracy in the production of the folded exposed metal plates. The leftover materials were minimized by discretizing the continuous surfaces into elements with varying sizes ranging from 60mm or extra-small to 1430mm or extra-large.