Architecture
Anticipating new ways of living, working and learning with Skidmore, Owings & Merrill (SOM)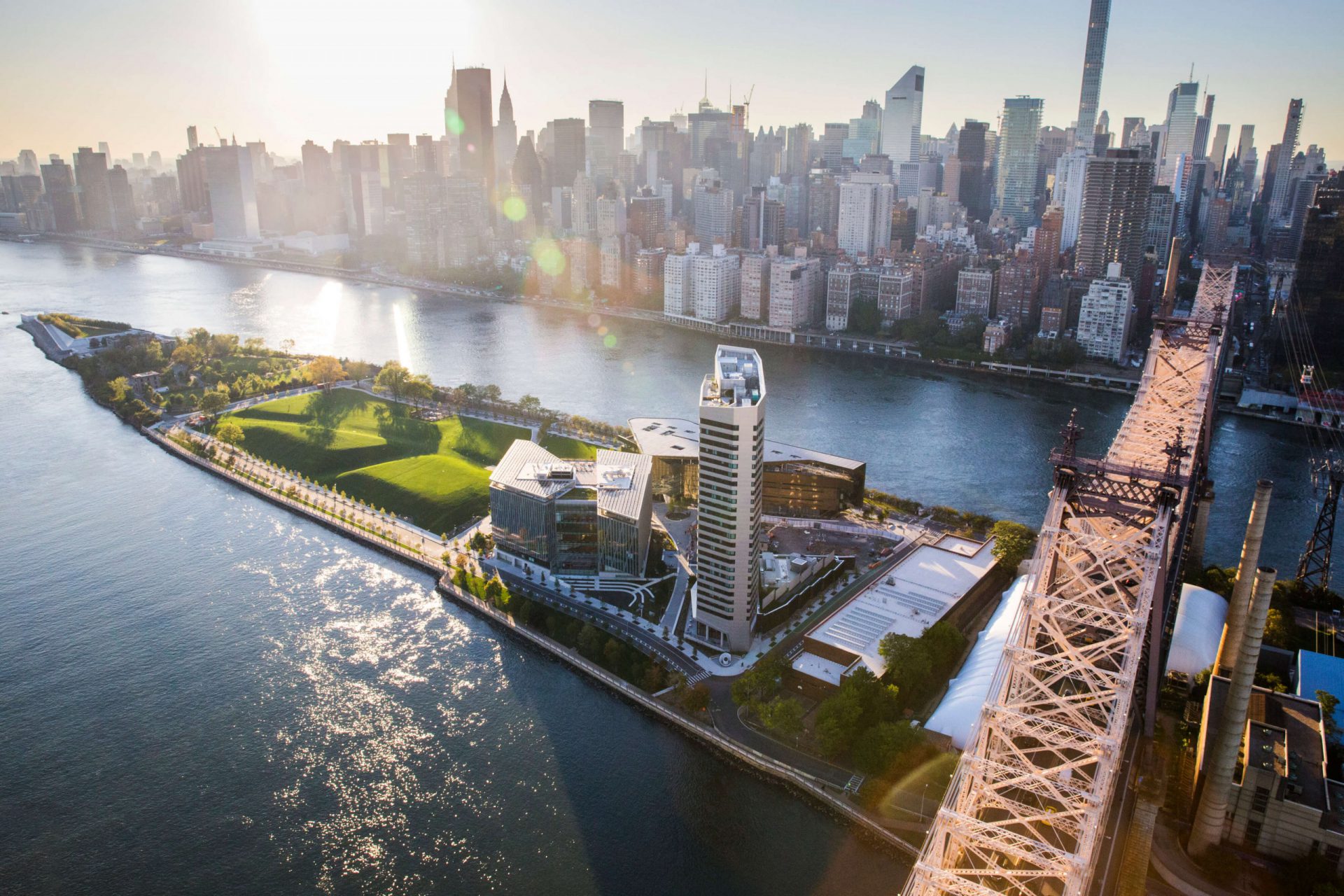 In a conversation with Adam Semel, Managing Partner at the Chicago office of global architecture firm SOM, we talk about changes in workspace design and what it means to create architecture that resonates locally in terms of climate, place and culture.
Skidmore, Owings & Merrill (SOM) is a collective of architects, designers, engineers and planners, responsible for some of the world's most technically and environmentally advanced buildings and significant public spaces.
With a highly collaborative approach and an international team, SOM aims to change the way people experience the world by applying emergent technologies to design buildings, anticipating new ways of living, working and learning.
DesignWanted had the opportunity to interview Adam Semel, Managing Partner in SOM's Chicago office. He has extensive experience working with a variety of project types and scales in Chicago and around the world.
He focuses on fostering a flexible, people-focused approach to each client and project, and is experienced in navigating complex public agency approvals, zoning regulations, and leading community engagement.
Semel is passionate about collaborating with clients of all kinds and their stakeholders to make a difference in the built environment.
Who is Adam Semel? How did your journey at Skidmore, Owings & Merrill (SOM) begin?
Adam Semel: "What first drew me to SOM weren't the tall towers or large-scale master plans, but actually the smaller education projects, each one very different from the one that came before. The idea of working on smaller-scale, bespoke projects within the context of a knowledge base found at a place like SOM was very appealing to me.
So I cut my teeth on the education projects, each one a very distinctive statement. As time went on, what kept me at SOM over the years was the variety of experiences and challenges, from the wide range of project types to the constant drive to innovate and embrace new technology on every project.
Over time, I discovered how much I enjoy connecting with our clients and helping to guide projects toward a kind of holistic success, one that starts with the client's priorities and vision, then expands, taking into account its users, larger communities, the health of our planet.
Now, I'm a Managing Partner in SOM's Chicago office, where about eight years ago, I shifted from New York to our Chicago office, where I work on all kinds of projects locally and around the world: Asia, Australia, North America.
I'm focused on people, outcomes and innovation – my job is to help our clients and our interdisciplinary teams navigate the design process, engage with our communities and drive the most impact and value with every project.
I'm passionate about collaborating with clients of all kinds and their stakeholders, to make a difference in the built environment."
About SOM, could you tell us about the firm's ultimate aim and what it means for you to work for one of the largest and most influential architecture firms in the world?
Adam Semel: "At SOM, our aim is simple: we are a collective of architects, designers, engineers and planners working together to build a better world. Working together as a collective is key for us.
We gather people of diverse talents to tackle some of the world's biggest design challenges, from addressing climate change in our buildings and cities to creating vibrant public spaces and iconic structures. I feel both incredibly lucky and inspired by my talented and dedicated colleagues.
More than ever before, we know what challenges we must face, from reducing our carbon footprint to creating more just and equitable cities.
We believe deeply in the power of design to transform our world—this is what binds us together, and the rest of our creative culture flows from this shared belief."
Having a highly collaborative, interdisciplinary team, how has the transition to working from home been for SOM?
Adam Semel: "So far, the transition has gone quite well given how rapidly we transitioned to working from home. Collaboration is already at the heart of what we do at SOM, and working remotely is just another tool in our toolkit.
Today we're more networked than ever, with seamless digital collaboration between our teams all over the world. Our network of people and technology enabled us to quickly transition our global studios to remote working without interrupting our work.
From my perspective, working from home has also given us the opportunity to reassess priorities, both personal and professional. We all miss the casual interactions of working together, the pleasure of working through problems face-to-face, and hanging out.
At the same time, working remotely has given us a chance to bring a bit more of our personal lives into the professional sphere. We check in with each other more, to make sure everyone is doing ok, and we try to be accommodating of everyone's needs as they balance home and work.
The purpose of the office is changing before our eyes. Going forward, the workplace will need to compete for your attention and offer a strong reason to come to work, to be among your colleagues.
Critically, the workplace will need to integrate technology seamlessly, allowing you to work back and forth between the physical and the virtual. The future is hybrid, and we're not going back."
Interested in flexible workplaces? Have a look at Workspaces designed with empathy and flexibility are the COVID response we need
While the architecture, design, and engineering industry has seen great disruption over this period, most workplaces are seeing change nowadays to create a truly equitable and diverse culture. Could you tell us more about the action plan SOM has developed to bring meaningful change in its profession?
Adam Semel: "SOM opened its doors 85 years ago in Chicago and the world has changed significantly since then. While the architecture, design, and engineering industry has seen great disruption over this period, most workplaces and practices, including our own, haven't seen enough change.
Over the last few months, we listened and learned, reflected on our priorities, design practices, and internal policies. Through a grassroots effort with SOM members of NOMA and many other passionate colleagues, we collectively developed an action plan to bring meaningful change to our profession, starting with our own culture and practices.
We want to make a difference beyond our own workplace and have committed to using our influence to create a more just, transparent, and inclusive industry by addressing the root causes of the lack of diversity in AEC—steering away from one-off initiatives and instead focusing on sustainable, long-term change.
We're focused on driving positive impact through the work we do, and we also support our people being involved in their own communities outside SOM."
Having worked in projects across the world, could you tell us about the differences you have encountered when designing workspaces in different parts of the globe? How do local cultures affect the design of offices and the experience for the people who live in them?
Adam Semel: "Working globally is a constant learning experience. It's incumbent upon us as designers to open ourselves up to learning about cultures, engage with a strong local team and listen very carefully.
Our clients on nearly every content ask us for our design expertise and creativity, and we need to approach our work abroad as a collaborative effort to develop a design that will resonate locally in terms of climate, place and culture.
I remember the first time I worked on a project in Asia, early in my time with SOM. We were designing a new campus of residential colleges for the National University of Singapore, allowing for entirely new ways of teaching and learning through living.
The design responded both to trends and drivers we were seeing at other campuses around the world, but was also characteristically Singaporean and a place students could feel at home. To achieve this, we had to learn how to live through their eyes, and design accordingly."
As architects, engineers, and planners, you are focused on accelerating the transition to a zero-carbon economy. There is an ongoing conversation about revisiting the value proposition of the workplace and the shift of it becoming a more integral part of the community. In your opinion, what would be the ideal future of office buildings?
Adam Semel: "We're working hard to address the defining challenge of our time—to mitigate the impacts of climate change and support the transition to a zero-carbon economy.
To do this, we're channelling the collective expertise of our architects, engineers, and designers to lead essential research and apply our discoveries to building projects, as we did with our early research into using timber in large-scale buildings, which we put into practice at the Billie Jean King Main Library in Long Beach, California—which opened late last year, built 80% of timber.
We assess every project against strict sustainability targets—in New York City, we built the Kathleen Grimm School for Leadership and Sustainability, the city's first net-zero energy school, which now serves as a benchmark for sustainable design in the region.
In Chicago, we designed the Wild Mile, a 17-acre urban ecopark that will restore nature and create a living lab along a former industrial riverfront in the heart of the city.
We're also passionate about repurposing and adapting existing buildings — reuse not only offers us a sustainable path forward but also enhances the character of a community. In Chicago, we just completed the restoration and conversion of the historic Beaux-Arts Cook County Hospital as a new hotel and workplace."
Would you like to know more about sustainable workplaces? You might like BIG designs 'world's most sustainable furniture factory' for Vestre in Norway
SOM recently partnered with researchers and universities to analyze how robotics and digital fabrication are changing architecture and construction. In your opinion, can humans and robots working together find more efficient and sustainable ways to build?
Adam Semel: "Research into emerging technologies and ideas plays a huge role in the way we design. Earlier this year, my colleagues in London teamed up with Princeton University's School of Architecture, Form Finding Lab, TU Delft, Universidad de Alcalá, the Timbrel Vault Workshop, Global Robots, and Poesia Glass to create a digitally fabricated glass vault, as a part of our exploration whether humans and robots can work together to find more efficient and sustainable ways to build.
Here in Chicago, we built an experimental prototype of a research concept we're calling Stereoform Slab—a single-story concrete bay typically found in high-rise buildings—poured using digitally-mastered formwork moulds carved by Odico's robots in Denmark, which enabled us to turn concrete into a structural element, in turn reducing the use of concrete by 20%.
When you imagine using this concept in commercial and residential buildings on a global scale, the possibility of a more carbon-neutral future is suddenly within reach.
Prototypes like these show how essential it is to begin integrating emerging technology into the design process to build an adaptive and more sustainable world."
Working from a network of creative studios across the globe, what is the next step for SOM?
Adam Semel: "As we speak, the world is changing quickly around us. More than ever before, it's crucial that the design community lead on the pressing issues of our time—equity, social justice, health, climate change, and more.
For our team at SOM, this means taking meaningful, measurable action, knowing that these challenges are interrelated and that our communities are impacted differently.
Design-wise, we're encouraged by the big ideas and unconventional thinking spurred by our clients and our teams despite turbulent times—just last month, we unveiled Central Place Sydney, the largest development in the city in a decade and an experiment in designing the workplace of the post-COVID future, created with the world's most innovative and fastest-growing tech and startup companies in mind.
These are especially difficult times. I'm confident that it is the power of design at the intersection of science and technology that will lead us to solutions that will address the challenges facing people and our planet."