Home decor
Home interiors come to life through wallpapers
Italian wallpapers design company Tecnografica guides us through the use of wallpapers in home environments from their powerful decorative impact to their technical qualities.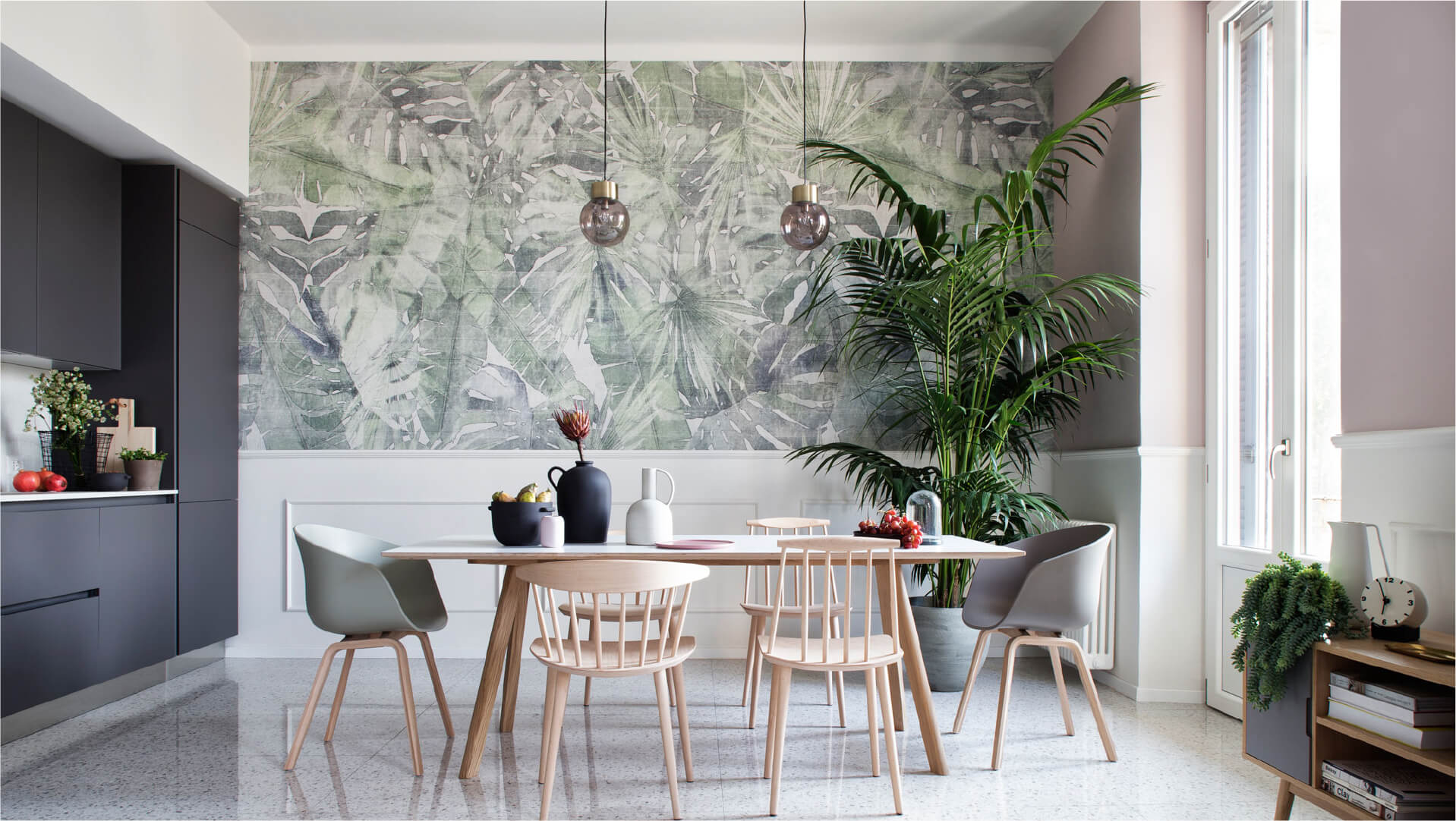 Professional designers at Tecnografica create wallpaper collections, new graphics, and themes while performing constant research of visual and interior design trends as well as constantly monitoring the design market and its ever-evolving directions in order to continuously update current collections and integrate them with new themes and visuals.
The use of wallpaper can characterize a room without compromising on space, like furniture or home accessories would do, but simply using one or more walls to confer a mood to an environment and highlight it or differentiate it from the rest of the house.
Playing along with the wall colours, either following the same palette or playing with contrasting colours, a wallpaper can become the center of attention in a room, transforming a vertical surface into an artwork while shaping the atmosphere of the interior.
The team of designers at Tecnografica is also ready to provide a completely customized solution according to the customer's or designer's requests, either editing a detail of an already existing graphic (such as changing the color scheme, removing or adding a graphic element it) or even creating a wallpaper design from scratch, starting from an image suggested and then adapted to become a piece of wall art.
Want to know more about Tecnografica? Don't miss What is a wallpaper company all about? Meet Italian wall decor brand Tecnografica.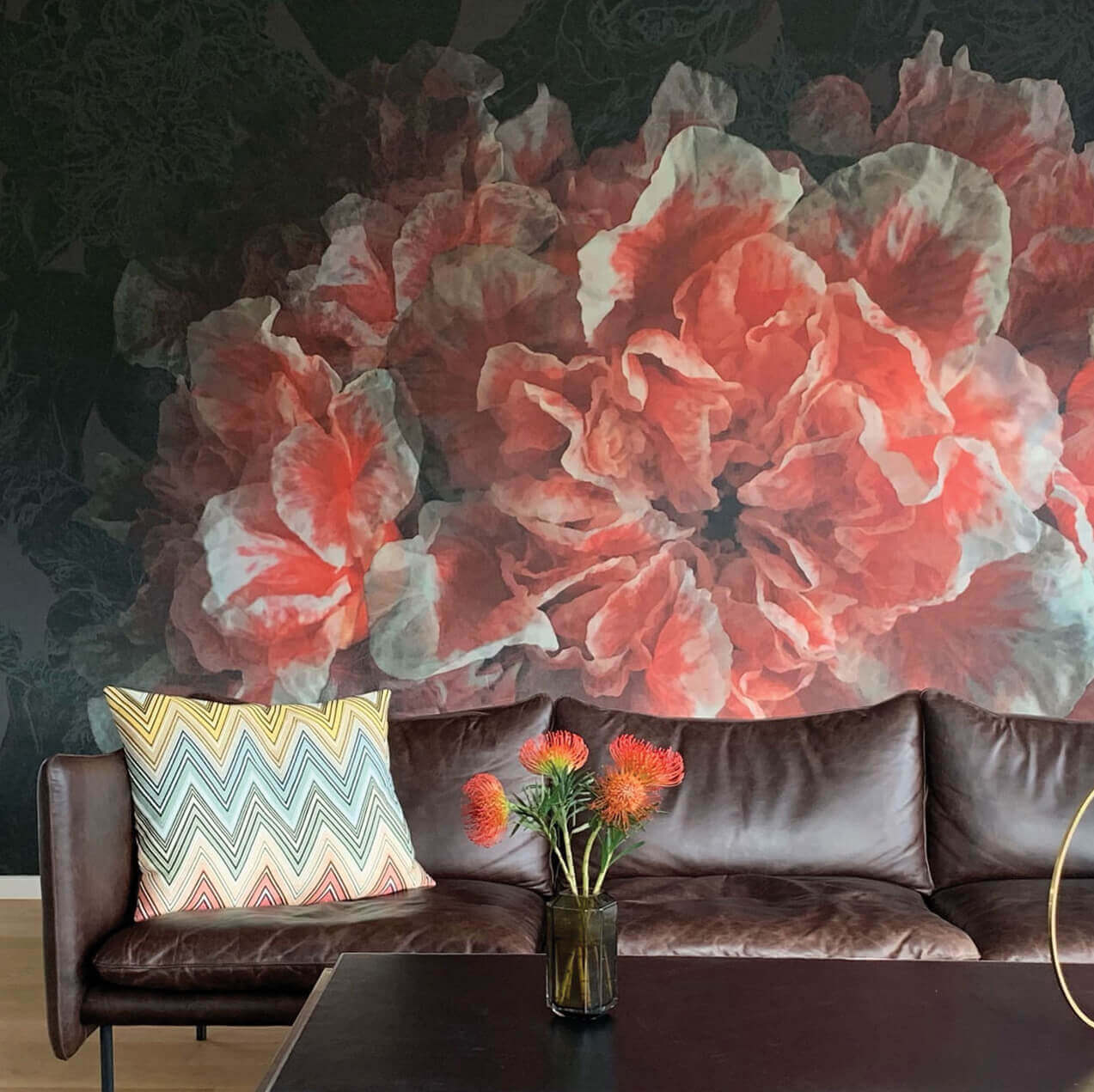 Tecnografica performs in-depth market research when choosing materials carefully for its wallpapers. For residential interiors, soundproof materials ensure acoustic standards especially relevant for home apartments in buildings where thin walls separate different households.
Keeping sustainability at heart, Tecnografica also provides the Natural finish, a 100% cellulose fiber-based wallpaper with no use of PVC or chemicals, ensuring a non-toxic home environment. Furthermore, the H20 Wallpapers use fiberglass to create a completely waterproof surface for highly humid interiors such as bathrooms, allowing to use this wall covering even in showers.
With customization as a key element for Tecnografica, every combination of materials and graphics is possible, for maximum freedom of expression while allowing the use of the best material for a specific room and related purpose.
If you are curious to know more about the application of Tecnografica's wallpapers in commercial spaces, don't miss Wallpapers shaping the experience offered by restaurants & bars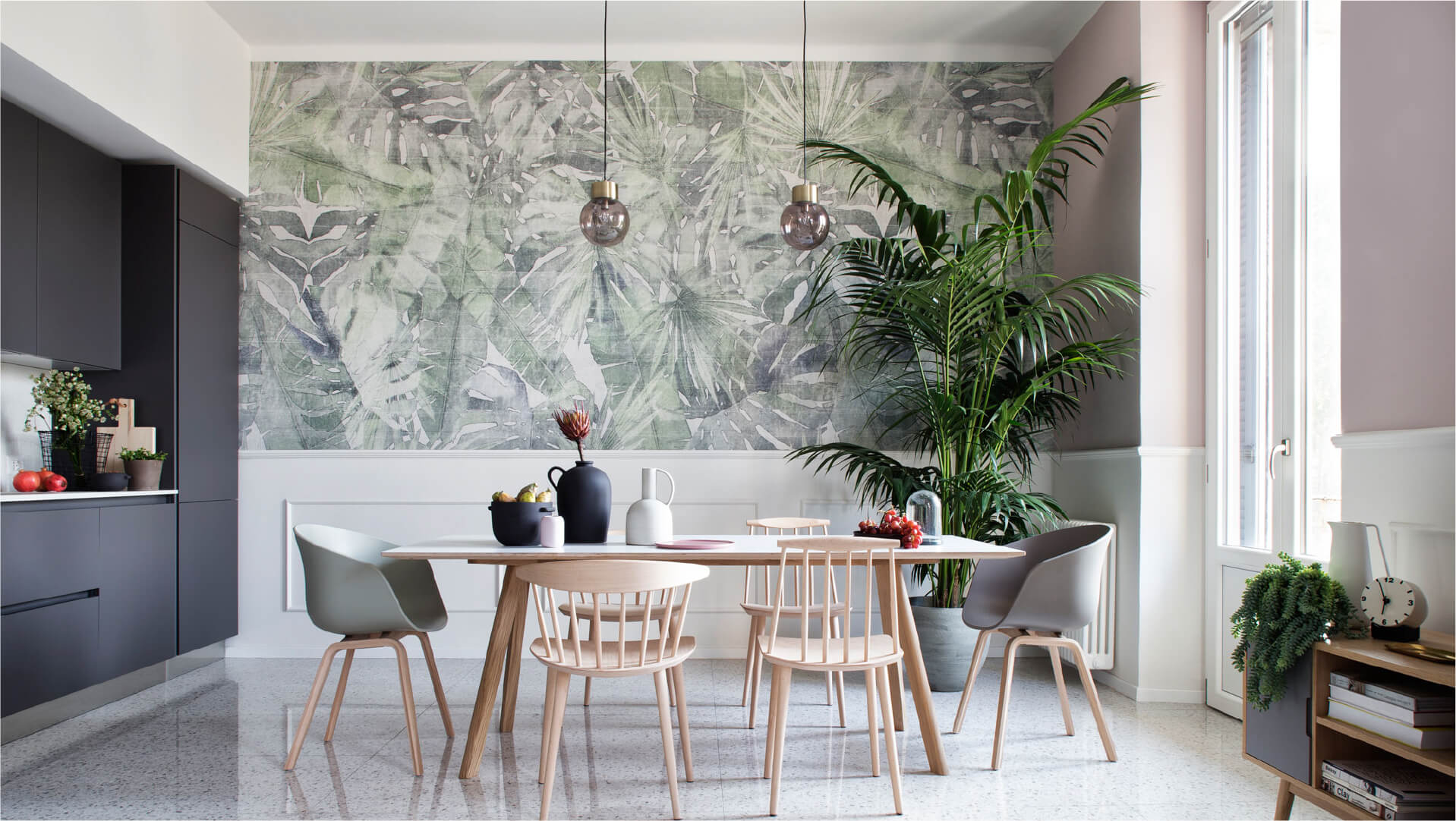 Fitzcarraldo by Marco Fontana
In order to symbolize energy and personality, Studio Tenca & Associati chose Tecnografica's Fitzcarraldo for their private house project in Milan, Italy. The tropical graphics mixed with a personalized and adapted color palette bring a sense of uniqueness to the space that plays off of the greenery present and highlights the visual details of the wallpaper. By choosing Tecnografica's TNT finish for the wallpaper, the space is given another level of visual dimension due to its structured spatulated effect increasing its lively identity.
Indian Carpet
Creating a luxurious and opulent feel, Betsy Shiverick Interiors utilized Tecnografica's Indian Carpet wallpaper in the living room of a lavish Palm Beach residence in Florida. The vivid color and the combination of detailed patterns in the wallpaper not only enhance the lush feel of the space but match perfectly with the elegant furniture in place unifying the overall aesthetics.
Emotion by Giorgia Beltrami
Transforming a space and giving it an emotive and expressive style is no easy task. LivingPlus Interiors managed to achieve just that when using Tecnografica's Emotion wallpaper in a beautiful Danish residence. Taking advantage of the visual quality of the Emotion wallpaper and in order to create a focal point, only one wall of the living room was covered. By doing so, not only the design of the wallpaper is highlighted and brought to life, but also the space itself.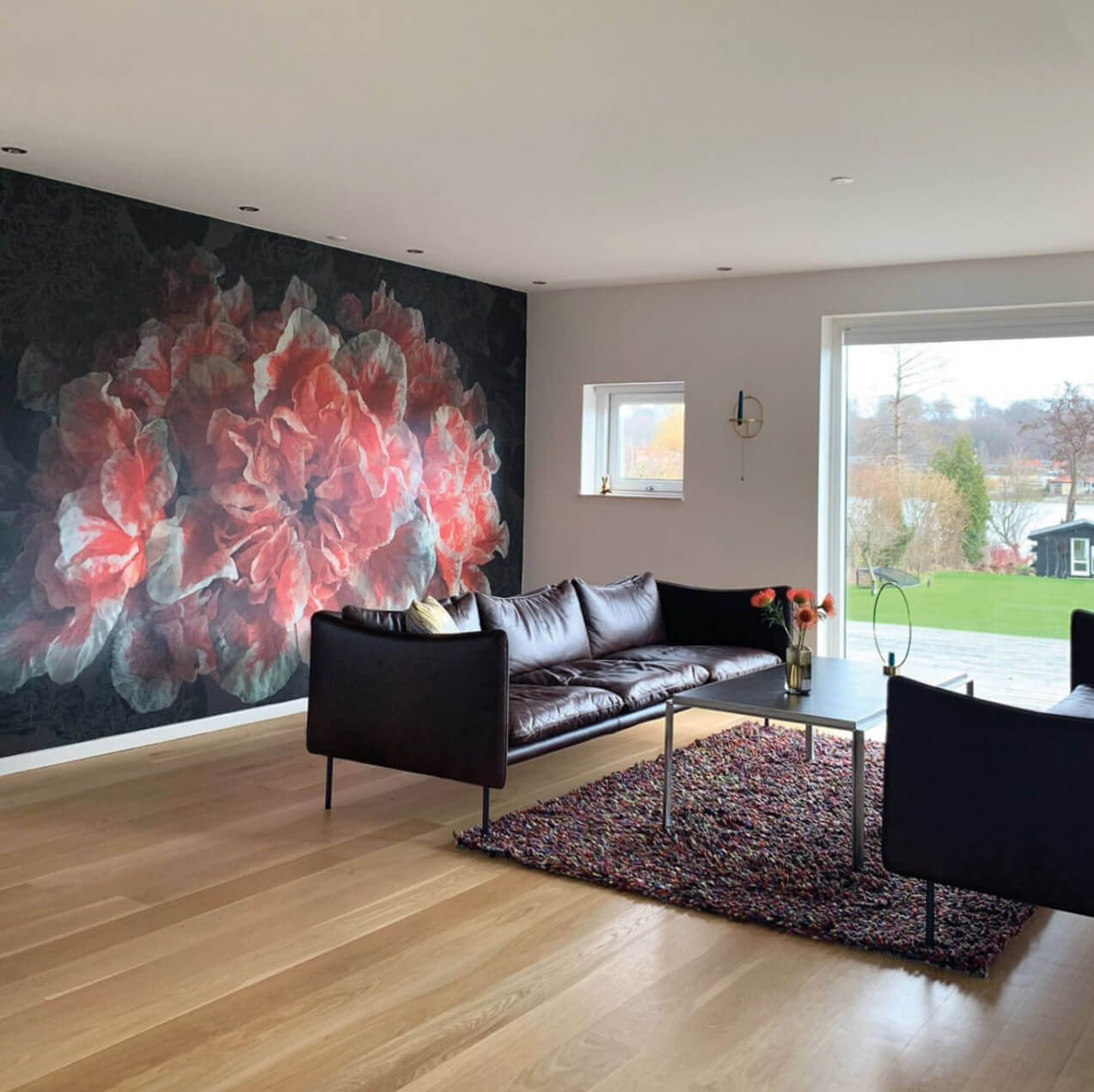 Koi by The Sisters
When it comes to the interior design of bathrooms, options to create a truly unique space are quite limiting. With the use of Tecnografica's fiberglass waterproof wallpaper finish, H2O, and the incredible design of the Koi wallpaper, a luxurious and special atmosphere was created in the bathroom of an Austrian residence. The graphic elements, cultural details, and textures brought together by the design provide a visual delight that highlights the space and the unique characteristics of the wallpaper.
Livingroom Design by Alessia Damiano
Soft tones, neat lines, a limited palette, and basic shapes: all very much in vogue, out of question. But while accommodating the current definition of "modern design", absolute minimalism can result in being plain, cold, and lacking personality. In this interior by Alessia Damiano, the Livingstone wallpaper by Tecnografica follows the palette of the furniture silently, while introducing a bold juxtaposition of colonial and tropical figures that warm up the space and confer a memorable feature to the modern living room design.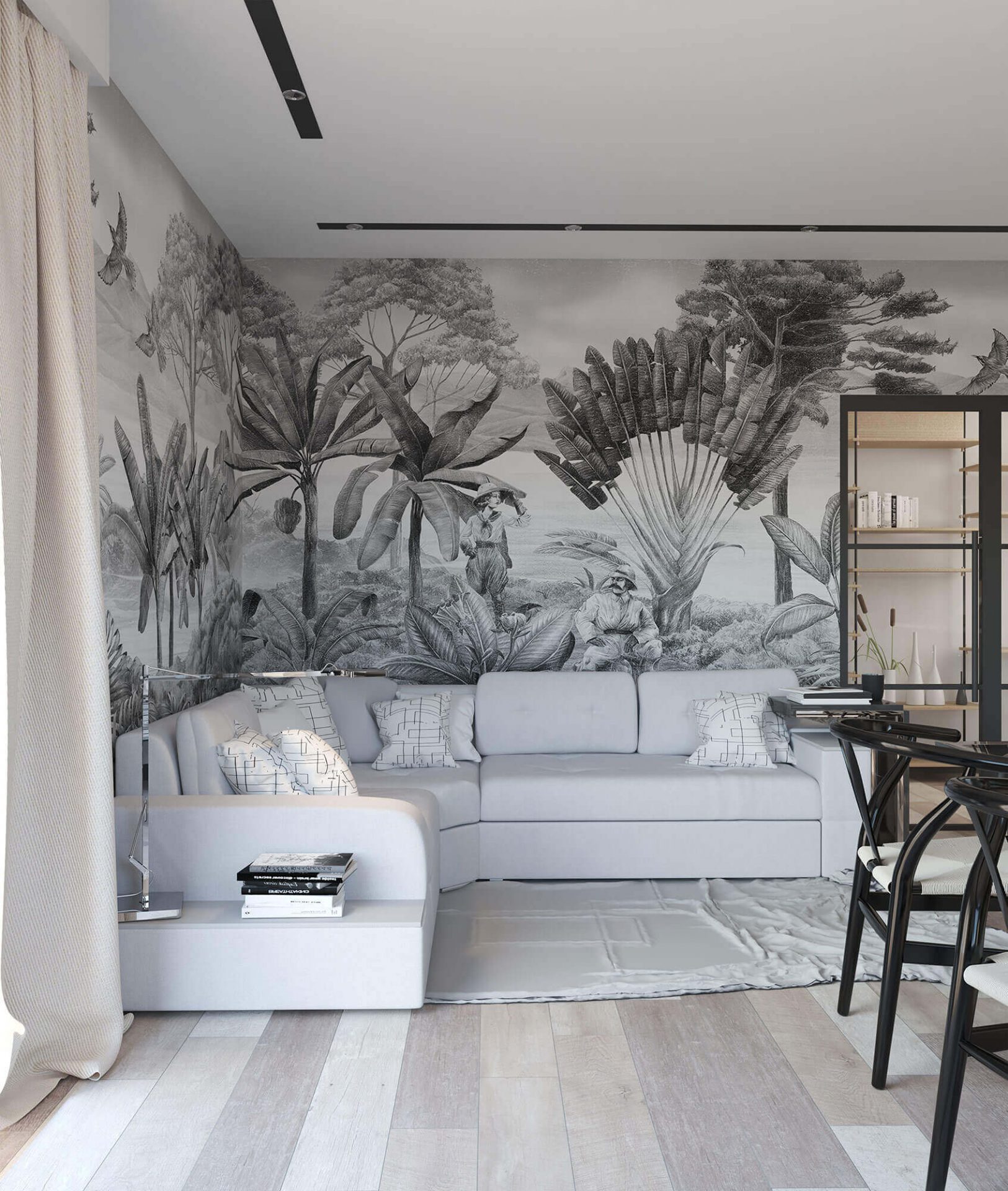 Bedroom and bathroom design by Arc Studio Innovations
Egyptian designers from Arc Studio Innovations implied the impactful effect of wallpapers to build upon their strong and showy style: a combination of warm colors, contrasting patterns, and charismatic materials like marble, dark wood, velvet, silk. Featuring a glamorous woman's face, the Elenoire wallpaper fills up the bedroom artistically. In the toilet, the jungle-inspired wallpaper integrates with the golden finishes and connects with the natural stone covering the floor and the lower part of the walls.