Architecture
The Future of Amenities: the center of our committees and the extension of our homes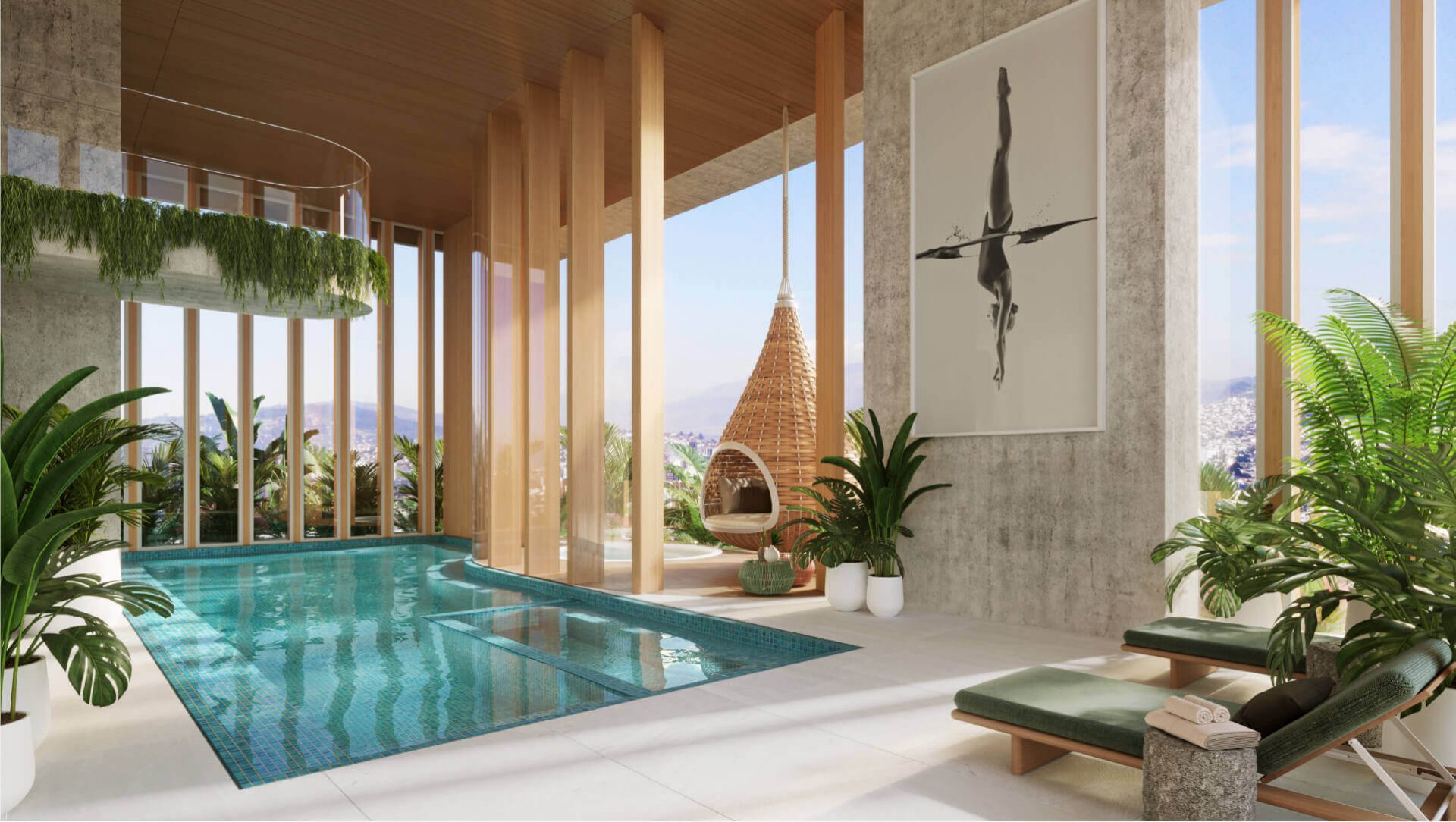 Previously thought of as a "nice to have", amenities today are crucial for the design of new projects.
Over the past decade, amenities in multi-residence apartment buildings have taken on an entirely new role for real estate developers and residents alike. Previously thought of as a "nice to have", amenities today are crucial for the design of new projects.
As communities are developed with the aim of improving the quality of life of residents, many prospective buyers and renters increasingly aspire to have spaces for activities and hobbies inside their communities, both for convenience and the time it saves. Amenities provide luxury, but they also save time, the one asset we can't buy or get back.
Today in Quito, the first question prospective buyers ask about a new building is amenities, and it is increasingly difficult to sell apartments in a building that does not have ample communal space — they feel outdated, and not designed for the future of how we live.
This has led me and my team at Uribe Schwarzkopf to go beyond what is established and required regarding communal areas and begin to truly innovate, and build spaces to foster exciting, diverse communities. Our philosophy has been to understand resident needs in order to satisfy and upgrade their aspirations, planning for their present, and their future.
We design the buildings thinking about who will inhabit them, how the building will facilitate the life of its resident, how the building is an investment for its owners, and how the apartments can be easily rented with a good return on capital well into the future.
Curious to know more about Uribe Schwarzkopf and their view on the future? Don't miss Quito's Uribe Schwarzkopf imagines the future of architecture and mobility.
As mobility and public health become increasingly crucial aspects of urban design in the post-COVID era, practical accessibility solutions and the public spaces surrounding buildings become an important area of amenities.
The interconnectedness of a community in a building and the larger city has the potential to impact and revolutionize the lives of residents — a consideration that should be a global one. We are no longer in an era in which the public spaces of a building can be an afterthought in urban areas, which 68% of the global population will consider home by 2050, according to UN projections.
At the same time that the public and private communal spaces have been growing in importance, very large apartment areas have become unnecessary. The average apartment size in urban residential projects has shrunk considerably over recent years.
As people seek to spend more and more time outside of their apartments, this in turn allows us to offer better amenities, which provide a much more luxurious living situation for all residents, while also reducing cleaning and maintenance needs and costs for individual families.
Aquarela, a project we are developing designed by Jean Nouvel, is a prime example of this concept realized at a grand and striking scale.
Aquarela offers amenities that exceed those of most country clubs, with close to 10,000 square meters of recreation areas including pools, gyms, spas, a bowling alley, an ice skating rink, barbershops, business centers, party rooms, a pet spa, game rooms, a virtual golf room, squash and racquet courts, screening rooms, music rooms and a park for residents that spans between the towers of the project.
This type of community offers the advantages of a private club inside your home at a much lower cost — in Aquarela, get a haircut, go to the spa, relax by the pool, attend a yoga class, and go bowling with your friends all in one day, without leaving home.
Post-COVID, much about the way that we live, work, and come together will be changed, and there are some changes that we believe are here to stay already. Open areas and green rooftops will be more appreciated inside urban zones and dense cities.
Even though I do not believe work from home or remote work will be sustainable for the future, the need for flexibility will be one of the advantages we learned from this period, and as such, new developments should consider business-oriented amenities inside their community these provide a great alternative for residents to work outside of their apartment without leaving their home, hold meetings in the business centers, or project presentations at the screening rooms, all without leaving their apartment complex.
Providing a diversity of potential experiences and environments within a single building will also be more and more critical for mental health, should there be subsequent periods of quarantine and caution.
Many buildings that we are designing in urban areas — Qorner with Moshe Safdie, Iqon with BIG, and Qanvas — maximize the use of terraces and rooftops to adopt spaces for amenities like pools, party rooms, and lounge areas, as well as spaces for vegetation and gardens. It will increasingly be an expectation that indoor/outdoor space are part of any apartment building and a central necessity for how people will live and use their home spaces into the future.
EPIQ, a project designed by BIG, presents a series of common outdoor spaces throughout the building, instead of a single terrace or one single rooftop. These outdoor and indoor communal areas have swimming pools, children's play spaces, a squash court, a bowling alley, and a movie theater, to name just a few features.
These amenities create space for community life and interaction between residents. At the ground level, there are also public squares and businesses that will provide services for those who reside in the building and others in the community, creating a lively environment of restaurants and recreation at the base of the building, with public art and local flavors.
Office buildings, in my opinion, should have this same type of amenity offering as well; good design and good development should not only focus on the spaces people live but also where people work and spend many hours a day.
Following the same logic, employees in office buildings need spaces for their activities or to relax and take a break — efficiency and productivity gets better when people are happy in the space they work. We have designed office buildings with auditoriums, coworking spaces, and sports facilities that have changed the way people interact inside these urban towers, and how they feel about coming to work every day.
At Uribe Schwarzkopf, we're strategizing every day to consider how to innovate in the amenities we offer, and anticipate what our residents will want, need, and aspire to into the future.
The amenities need to cover what we need in our lives: spaces for community, entertainment and excitement, relaxation and wellness, workspaces and technology and, above all, they must prioritize health and well-being for people of different ages, for example, the elderly, who today have seen their mobility possibilities limited. We want to continue creating architectural reference points, with the human being as the center point of our design.
If you want to know more about Uribe Schwarzkopf's Qanvas project, don't miss Diez + Muller Architects and Uribe Schwarzkopf Unveil Plans for Residential Tower in Quito, Ecuador.