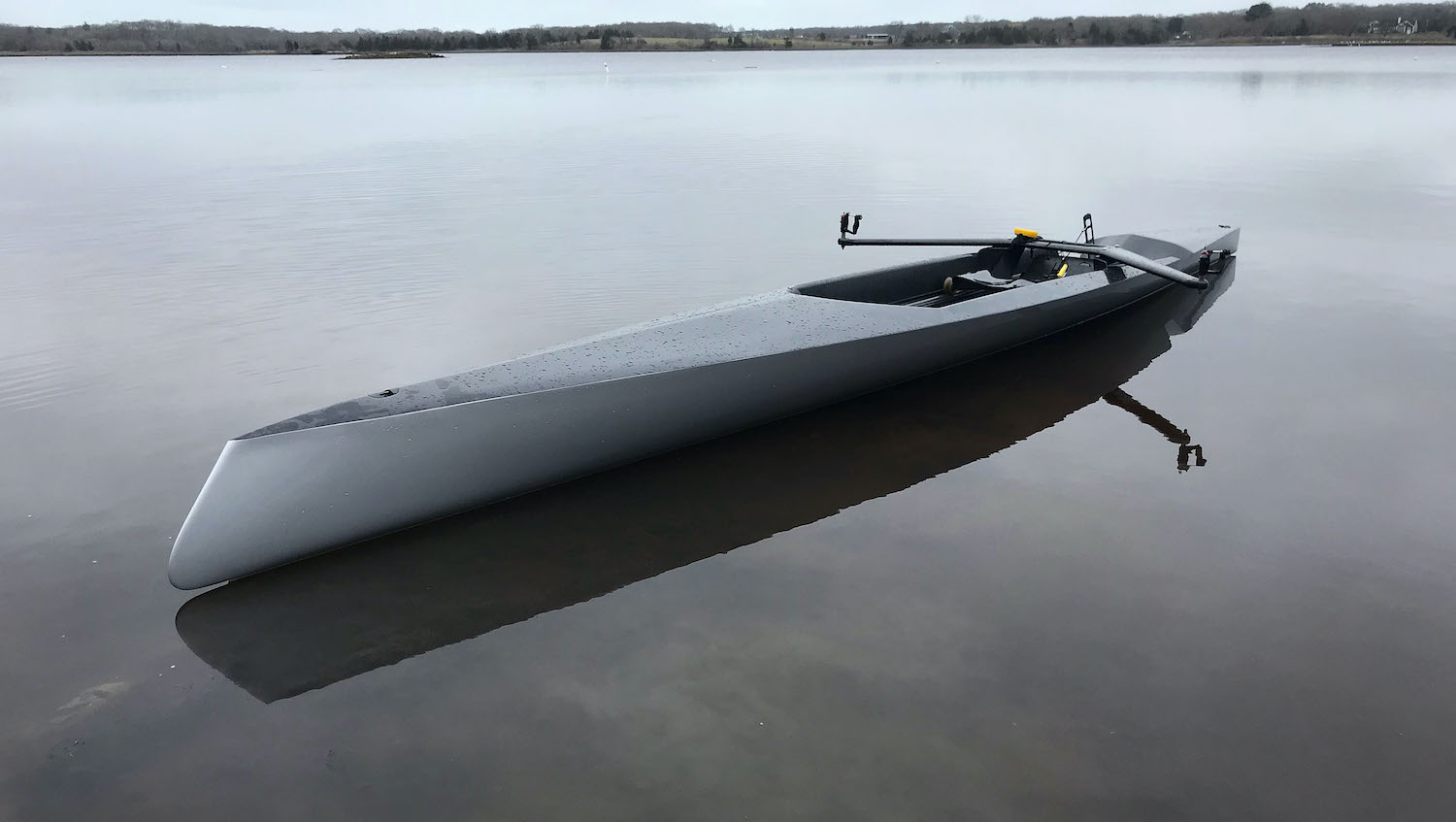 Bristol-based Next Boatworks unveils the C1X rowboat combining 3D-printed carbon with innovative components.
For over a decade, carbon fiber in boat building has resulted in lighter, stronger and more fuel-efficient products. Equipped with this knowledge and 3D-printing technology, Next Boatworks set out to create a brand new carbon rowboat.
Every design consideration has been made with comfort and stability in mind, from the wide-track seat to the full foredeck, which balances out the reverse bow to offer ample buoyancy, prevent the bow from diving and maintain surfing speed. Meanwhile, reserve stability in rough waters is maintained thanks to a wider deck that narrows sharply as it approaches the waterline.
The design team has opted for a very rounded hull with smooth curves and no hard chines, or sharp changes in angle in the cross-section. This thinking also informs the narrow, tapered stern to minimise the wetted surface area and frictional drag for maximum speed potential.
The highlight of the design, however, is the material construction, most of which is 3D-printed. The C1X is made primarily of carbon, with complex weaves to increase integrity across the body without sacrificing weight. The C1X weighs in at an impressive 39lbs, excluding rigger and parts totaling 6-8lbs.
Next Boatworks describe these as "honeycomb layers" which lay between the carbon to stiffen certain sections of the boat deck, as well as more exposed parts of the hull, which are reinforced with Kevlar further stiffen certain sections of the boat deck. And more exposed parts of the hull are reinforced with Kevlar, a synthetic, lightweight fiber that delivers high tensile strength to improve protection and performance.
Discover the 3D printed sailing boat unveiled at Fuorisalone 2021 by Caracol and NextChem.
A feat in carbon fiber boat construction
Because many of the ideas for sections of the C1X didn't exist, Next Boatworks had to fabricate most of the parts in-house, as well as tooling to bring them into production.
The end result is something the design team describe as a "lean manufacturing process" with minimisation of tool movement, product waste and energy utilisation. The project proves that innovation in design does not always require more but in the end, can highlight the value of less.