Mobility design
Revolutionizing large-scale farming with KIBB by Cake
The innovative work of Swedish manufacturer Cake is changing the game for sustainable farming in more ways than one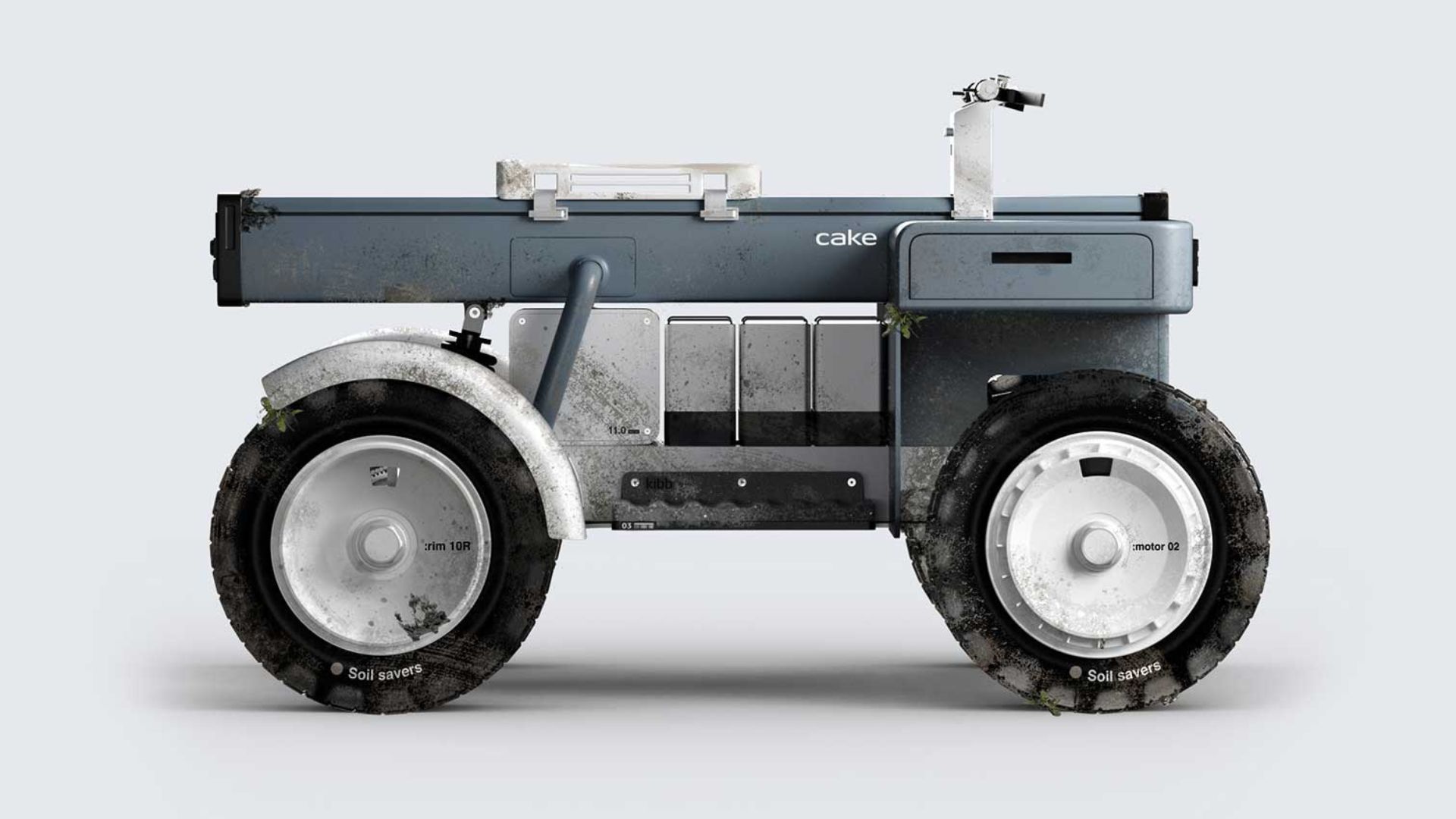 Introducing the KIBB, a revolutionary agricultural transport option developed by CAKE.
Massive machines tending to the needs of vast fields of crops aren't an uncommon sight to see. But there's a problem lurking beneath the surface. These machines are responsible for a significant chunk of greenhouse gas emissions that contribute to climate change. And as if that wasn't enough, they also disrupt the delicate ecosystems vital to healthy food cultivation.
But fear not, for there is a glimmer of hope on the horizon. This cutting-edge technology is poised to make a big impact by reducing the carbon footprint of large-scale farming and supporting the shift toward more sustainable practices. Here's a look into the groundbreaking product.
A machine that minimizes harmful impact on ecosystems
Get ready to say goodbye to traditional farming methods because CAKE, the Swedish manufacturer of sleek and lightweight electric motorcycles, is stepping up its game with the development of an electric, semi-autonomous, all-terrain four-wheeler.
This bad boy is designed to handle the unique needs of regenerative farming while minimizing the harmful impact on delicate ecosystems. The KIBB will handle light agricultural tasks autonomously, giving farmers a break and helping to decrease global greenhouse gas emissions.
Production will start no later than 2025
According to the Swedish brand, CAKE will bring this eco-friendly machine into production by 2025. Through the unique product, the company hopes to support the growing movement toward sustainable farming. Through their work, CAKE will provide a much-needed alternative to the current high-impact farming methods. In fact – the KIBB is the ultimate multitasker.
Its modular body boasts an array of attachment points for a wide range of ATV accessories, making it the Swiss Army Knife of farming vehicles. But that's not all – the KIBB doubles as a mobile power station, ready to power your equipment and keep your farm humming.
And if you need some alone time to tend to other tasks, the KIBB can perform simple duties on its own, leaving you free to focus on other farm or ranch-related endeavors. With the innovative product by your side, farming just got a whole lot easier.
End notes
It's no secret agriculture is among the leading sources of pollution in many countries. The damage done today can cause issues for generations to come.
Working towards a greener, more sustainable future is now the responsibility of every industry, including farming. KIBB by CAKE will provide an excellent solution to minimize some of the damaging effects agriculture causes.