Architecture
Space Copenhagen takes its elegant decor style in the anticipated hotel The Stratford
The Stratford is a hotel located within the ambitious new East London skyscraper pioneered by Harry Handelsman, founder of Chiltern Firehouse and the restored St Pancras Hotel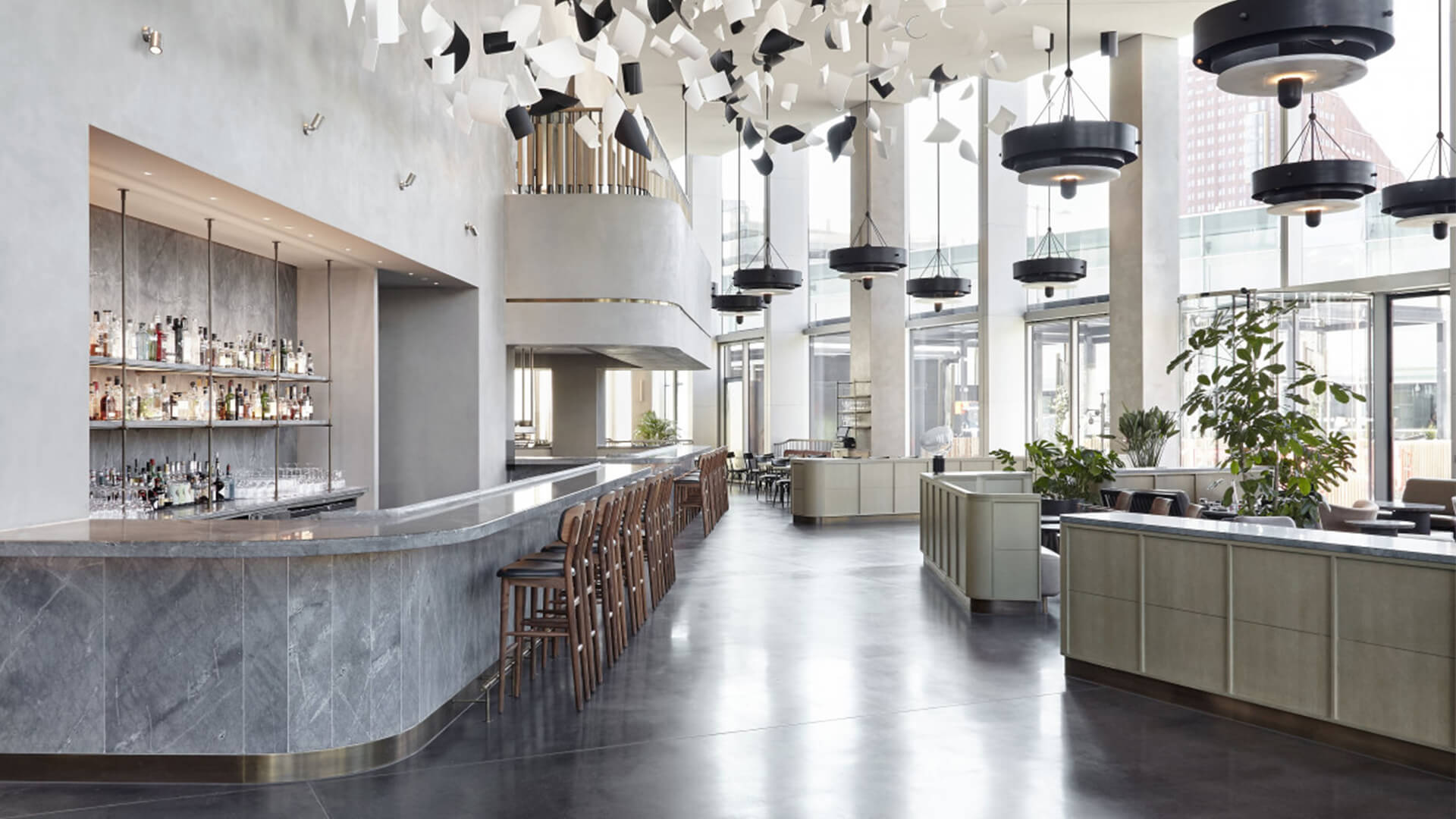 The spectacular The Stratford hotel double-cantilevered 42-story building is situated in the upcoming cultural hub of Queen Elizabeth Olympic Park, East London.
Danish design studio Space Copenhagen has created the interior design concept for Stratford's lobby, hotel guestrooms, mezzanine, the ground floor Stratford Brasserie, as well as the 7th-floor restaurant, Allegra.
Occupying the first seven stories of the building with 145 guestrooms and suites, The Stratford combines world-class design, hospitality, and culture. The concept celebrates timeless glamour, future cityscapes and the notion of long-term residents of 1950s New York's legendary Chelsea hotel.
The public areas each have distinctive design characteristics but overall seek to interweave, allowing visitors to move seamlessly between the spaces. Gently textured plastered walls, natural oak in earthy tones, warm metals and natural stones framed by a polished and dark pigmented concrete floor, serve to softly contrast the strong modern structure of the tower itself.
Upon entering the building, the architectural experience on the ground floor pivots around a large nine-meter high fireplace that anchors the triple-height lobby, providing a sophisticated and dramatic community space. Guests are then drawn towards the hand-crafted reception desk in oak with darkened brass detailing and offset by sculptural lighting.
The spacious guestrooms are modern, intimate, comfortable and well-balanced, with floor-to-ceiling windows allowing generous light. Natural woods in different hues, warm metals, and softly curved upholstered shapes complement each other. Stone-clad bathrooms with a serene ambiance, heated floors, separate bathtubs, and sculpted vanity mirrors offer supreme comfort.
In all of the rooms, Space Copenhagen has designed vanities and vanity mirrors, beds, bedside tables, and desks exclusively for The Stratford. Besides their extensive bespoke work for the property, Space Copenhagen has included key furniture pieces from within their existing design portfolio in distinct upholstery and finishes for The Stratford from the likes of Gubi, Stellar Works and Benchmark.
Allegra restaurant forms a key component of The Stratford hotel, which was conceived as a vertical community' – a multi-faceted building whose spaces facilitate and actively encourage social interaction and liveliness. Space Copenhagen has also designed the public areas and hotel rooms within The Stratford.
Allegra comprises four main spaces, each designed to flow seamlessly between one another—The Lounge & Bar Dining Counter, The Dining Room, The Bar Terrace, and The restaurant Terrace—and able to cater for up to 162 covers.
The communal atmosphere that defines The Stratford hotel is reflected in the design and layout of Allegra. Space Copenhagen looked to space itself—its location within the structure, and its position relative to the surrounding area—to inform their design narrative.
Guests are immediately greeted by natural stone flooring formed in a pattern arrangement that references historic courtyard configurations. The sense of openness of this hotel is further enhanced by the window partitions, which add layers of softness through the application of handcrafted blinds: evocative of the minimal and natural feeling that characterizes the restaurant.