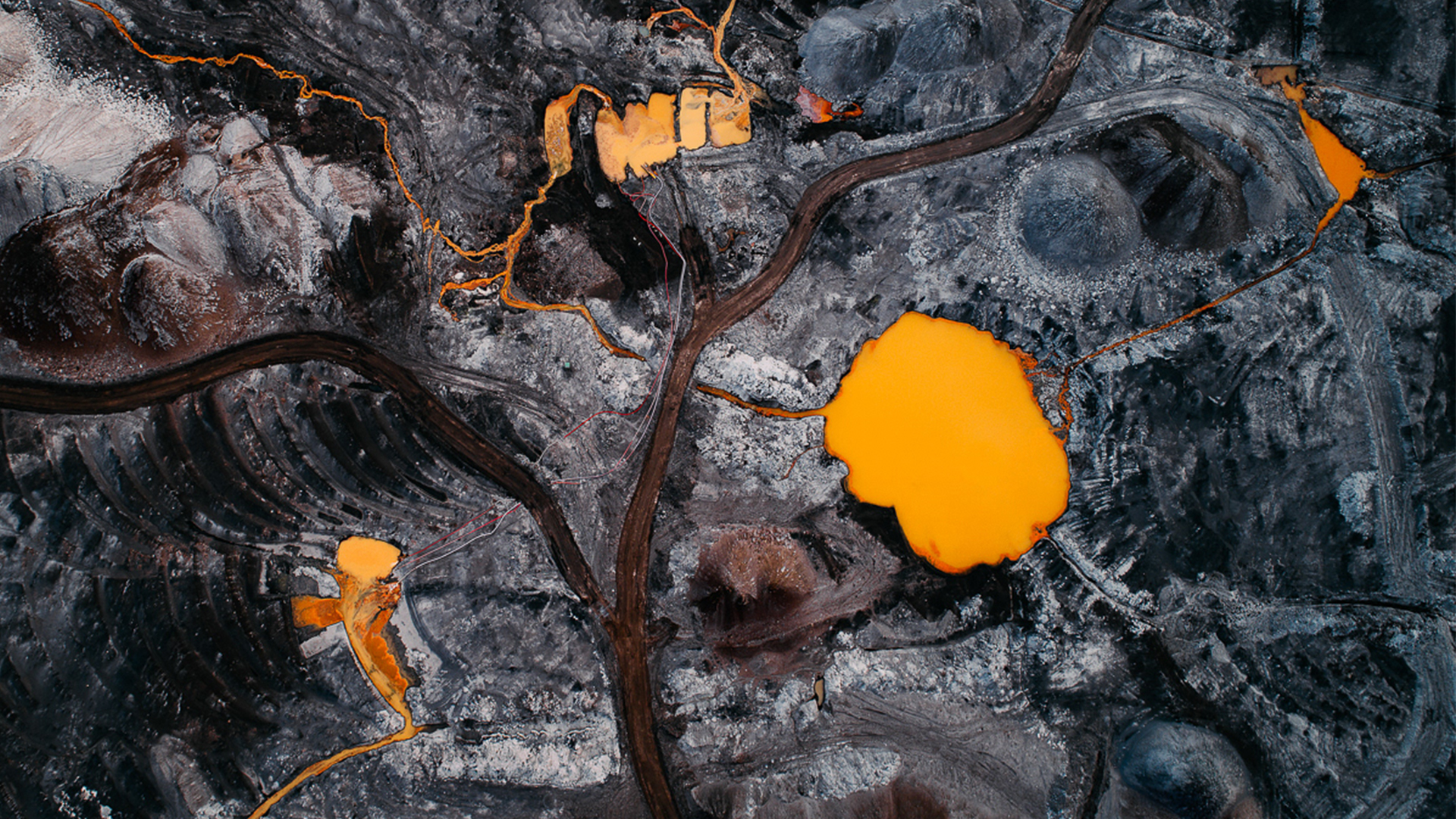 Tom Hegen is an award-winning photographer framing the impact of humans on the Earth's surface through extraordinary photographs.
With a background on graphic design, Tom Hegen takes a highly visual and graphic approach to his photographs, adapting the rules of composition and color to the photography medium.
Fascinated and shocked by the sheer impact human beings have on the land and environment, Tom Hegen explored the idea of the Anthropocene with one of his own creative language: photography.
Through aerial photography, Tom Hegen is able to obtain a new, almost abstract aesthetics in his work, inviting the viewer to decode the image and its message, the complex relationship between humans and nature.
"From the top, the often irreversible trace that we have left on our planet is even more evident. I would like to inspire people to look closer at the impact we have on our environment and ask if and how we could assume responsibility."
DesignWanted had the pleasure of interviewing Tom Hegen to find more about his work, journey, and vision. Here is what we talked about.
Tell us why you do photography. How it started and what are your goals?
Tom Hegen: "I started with classic landscape photography but soon realized that those sugarcoated shots do not represent their real environment.
I began to question the term "landscape" as known from "landscape photography". "Land" is a word of Germanic origin and the roots of the suffix "-scape", German "-schaffen" refers to the verb "shaping".
So landscape in the sense of landscaping refers to an activity that modifies the visible features of an area. As a consequence of that, I started seeing landscape photography of documenting places influenced by humans rather than landscape photography as showing pure, unspoiled nature."
What other photographers, styles or other fields outside photography you get inspired or influenced by?
Tom Hegen: "I studied graphic design and still enjoy all kinds of graphic related work. I guess people may recognize my graphic design background in my images, as a lot of my photos are based on some visual art rules like color contrast, the rule of thirds or building up patterns.
Our need to arrange everything geometrically in order to regulate and have control makes us all, in a sense, to creative designers of our environment. I see myself as a visual journalist, framing the creative output of our society."
Some of your images look abstract since they are shot from a viewpoint most of us rarely see. Was this aesthetic something you planned before you started aerial photography or was it found by chance and you decided to explore it further?
Tom Hegen: "I am fascinated by the abstraction that comes with the change of perspective; seeing something familiar from a new vantage point that you are not used to.
I use abstraction and aestheticization as a language to inspire people and also to offer the viewer a deeper involvement in the subject as they need to decode what they are looking at."
Polar ice caps are a major contributor to sustain a moderate climate that provides suitable habitats for most life forms, including humans.
The arctic summer ice has seen a 40% decrease over the last 20 years.
The melting ice creates raised sea levels and a warmer atmosphere, causing severe consequences to the world's biosphere as well as to the human geopolitics system.
What does it take to capture these images?
Tom Hegen: "My photography projects are very much research-driven. I do a lot of research on the subject before taking the actual photos. It takes a whole lot of preparation to get a project on track.
I am always planning my projects a good time before the actual production. Preparation is critical when it comes to aerial photography. It really helps with safe and successful aerial production. I basically work with a four-step-method of research, concept, execution and evaluation."
What equipment do you use for your work?
Tom Hegen: "For my projects, I use various techniques like helicopters, small planes, hot air balloons or quadrocopters to get my projects done. For me it's not really about the tool I'm using, it's mainly the story and concept behind the photos. I spend more time researching and getting photos than concerning the technique.
There is a big difference in shooting from an airplane than from a helicopter or working with a drone. While helicopters and drones can hover over one particular spot, airplanes can't."
"For some projects, I need a small airplane to cover large areas. Shooting from a plane is like photographing an animal in 500-meter distance out of an open window of a moving car with 150km/h, with a 200mm zoom lens. Sometimes, pilots think they need to show their flying-skills, which is nice by its own, but once you try to concentrate on photography, you don't want to have a pilot that is too keen on showing his flying skills!"
What do you look for in a photograph?
Tom Hegen: "I am very fussy and critic with my photos. When I shoot a series, I have a couple of hundred photos to select a series with around 12 – 18 photographs.
I take great care of composition and color. Those are the main aspects of my work. But for sure, the concept and story have to fit in the first place as well."
What have you learned about the world and our species by documenting it through photography?
Tom Hegen: "Even if I am still fairly young (28), I have seen places around the world where things are not in the right order. I think that we as a society, need to start rethinking our consumption and how we can take responsibility for our environment."
"One of the greatest challenges in the 21st century will be how the rapidly growing world population will cope with the earth's limited resources. We must ask ourselves these questions and start acting more responsibly, even if only out of pure selfishness, so as not to endanger our own livelihood."
What is your next project? And what is something or someplace that you have been wishing to photograph for a long time but haven't had the chance yet?
Tom Hegen: "Two years ago, I published my first aerial photo book "HABITAT". At the moment, I am working on my second book. It will be themed around the subject of Anthropocene and how humans affect our environment.
There are still a lot of places around the world that I would like to photograph. So in a way and unfortunately I have to say, it's a never-ending story of how we as humans interfere in natural environments."