Lighting design
The unexplored dimensions of United Visual Artists – Interview with founder Matt Clark
The combination of disciplines at United Visual Artists generates elegant and intense works of minimalism merging spatial exploration with light design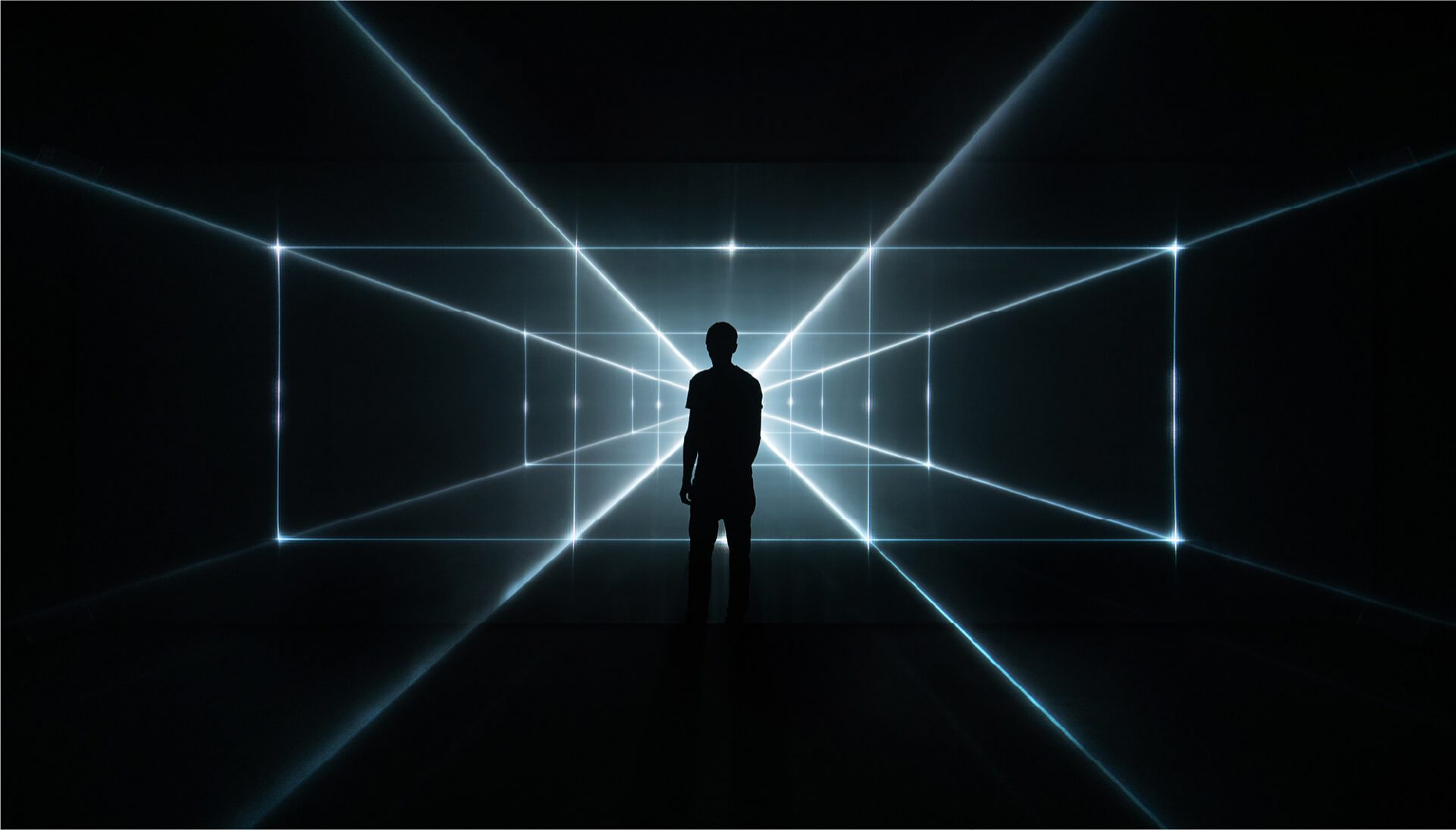 Transporting their audience in some sort of unexplored dimension, the installations and works of United Visual Artists combine different forms of expression but, above all, master the use of light as a powerful medium to create unparalleled engaging environments, redefining the notion of space.
When we think of the embryo of an artwork, the "white canvas" is the first concept that comes to mind, as scary and disorienting as it may sound. This time, the canvas is black and it expands in the three dimensions of space, disappearing in a pitch-black paradox of non-existence. That's how we start.
In a conversation with Matt Clark, founder of UVA, we explore the origin of his practice, what takes place behind the creation of new projects, and the meaning of audience participation.
Who is Matt Clark? How did it all start?
Matt Clark:
"I was born and educated in London. I did a Joint Honors degree at Camberwell College of Art where you studied both a fine art and a design subject in parallel. Half of my time was spent in the sculpture studios and the other in the graphic design department.
They discontinued the course after a few years as it was too much for the students to take in. I loved it though; it exposed me to a much broader philosophical and practical approach to the visual arts."
Why UVA (United Visual Artists)? Why focus on art and Design?
Matt Clark:
"When I was younger, I had a desire to be part of some sort of collective movement. I wanted to be a part of a band rather than be a solo artist. 
I also realised that the kind of work that I wanted to make would mean that I would need to collaborate with people. 
Our projects often involve many different disciplines that need to work together as one, and every team member has something unique to offer the creative process; our name reflects that highly collaborative approach.
Like many people who pursue a life in the visual arts, I struggled with academic subjects at school but excelled in art and design. I enjoyed the creative process and it was the only thing I was any good at so it seemed like a logical thing to follow.
For me, being creative isn't about vocation; it is something that I have to do; it comes close after breathing, eating and sleeping! I have just been fortunate enough to make a living out of it.
The recurring questions when making a new work tend to be, how will this make people feel, how will it make people behave, will the viewer reflect on or question the construct that we are exploring.
Ultimately, we want to create spaces that transcend the every day experience and create a space for contemplation."
Which are the main values, core concepts or style inclinations that, above all, will always represent UVA?
Matt Clark:
"I'm not sure if UVA has a style per se. I am aware that there's a minimal aesthetic to our work, but this comes from a rigorous process of reduction, to get to the essence of the concept that we are exploring.
Ideas and information can be communicated more effectively through a feeling, it makes it more memorable. The concepts we are interested in are usually better understood over time, where the performance of light and movement unfolds.
So there's an interest in the transitional space, and the space between things, in a way, this is more important more than the physical objects that we make."
The relationship between passive spectatorship and active participation is found and shown in United Visual Artists's projects, what is the message you want to convey through them?
Matt Clark:
"Participation is fundamental to all art and design, isn't it? All art is made, to some degree, with the viewer in mind. We have made a handful of artworks that "respond" to human activity but there has always been a fundamental reason for the interactivity. 
Our work 440hz was created in collaboration with a theoretical neurobiologist called Mark Changizi. His research was looking at the origins of music and believed that as humans have evolved to move their bodies, this may have influenced that way that we made music.
Our installation explored this idea, requiring active participation so that it can translate these human movements into a kind of musical composition using light and sound."
You work blurs the boundaries between mediums and even disciplines, can you tell us what is your creative process, from the ideation to the final release?
Matt Clark:
"We actively seek the space between disciplines, it's a good way to get outside of your comfort zone, and it can sometimes lead to new types of work.
These projects are usually collaborative and with specialists outside of our practice. Over the years, we have worked with scientists, choreographers, musicians, and filmmakers. Collaborating with someone who is at the top of their respective field can be an incredibly informative experience, especially if you are bring something equally as important to the partnership.
Collaboration doesn't necessarily mean compromise, but you do have to work with people that resonate with your practice, otherwise, it can very quickly lead to frustration.
UVA's non-collaborative projects are more organic and iterative, one project or artwork often informs the next, even if the outcome is visually very different, there's always a link of some sort."
We see light plays an important and central role in most of your work, why is it your medium of choice? 
Matt Clark:
"When I started out working with light, it was mainly in the context of live performance, most of that involved negotiating many light sources on a stage to create layered compositions. For our first art commission at the V&A in 2004, Monolith, we created a sculpture that sat at the very centre of the John Madjeski Garden.
It consisted of a singular, yet very powerful, light source emanating from the centre of the garden. What amazed me was the power of light in its most minimal form. There's something very primal about our attraction to light; there's a very seductive quality to it that's hard to explain scientifically.
Other works like Vanishing Point evolved out of a series which explored spatial intervention and how we perceive space. 
This coalesced into what we refer to as light architecture. Light can be a difficult medium to work with; it's not tangible like other materials, so you have to guide it into form. And so through our work, we're considering how light manifests as form and shape, an illusion constructed from something which itself lacks physical materiality."
What are the most difficult and most exciting parts of your practice?
Matt Clark:
"The larger-scale artworks like Our Time can take many months to make, and the first time you see the work in its entirety is when it's presented to the public. You can create prototypes and visualisations but it's impossible to have a complete understanding of how the work will feel until it's finally installed in the space.
But of course, when you do eventually present the finished work, and it exceeds expectations, then that's a thrilling part of the process.
Balancing art with commerce can also be tricky at the best of times. When there are financial crashes and pandemics, things become especially tricky to navigate. People are doing far more challenging things for a living right now so you have to keep things in perspective."
What is next for United Visual Artists?
Matt Clark:
"There are several very exciting projects and exhibitions in the pipeline. Unfortunately, most of them are being postponed due to Coronavirus as they will be presented in public spaces.
So this is a good time to take a deep breath, focus on family and health, reflect on what's important and perhaps think about doing things a bit differently for when things eventually get back to normal."
If you want to find out more about visually striking installations and exhibitions, don't miss Nature-inspired / technology developed – The invisible vision of the Quiet Ensemble.