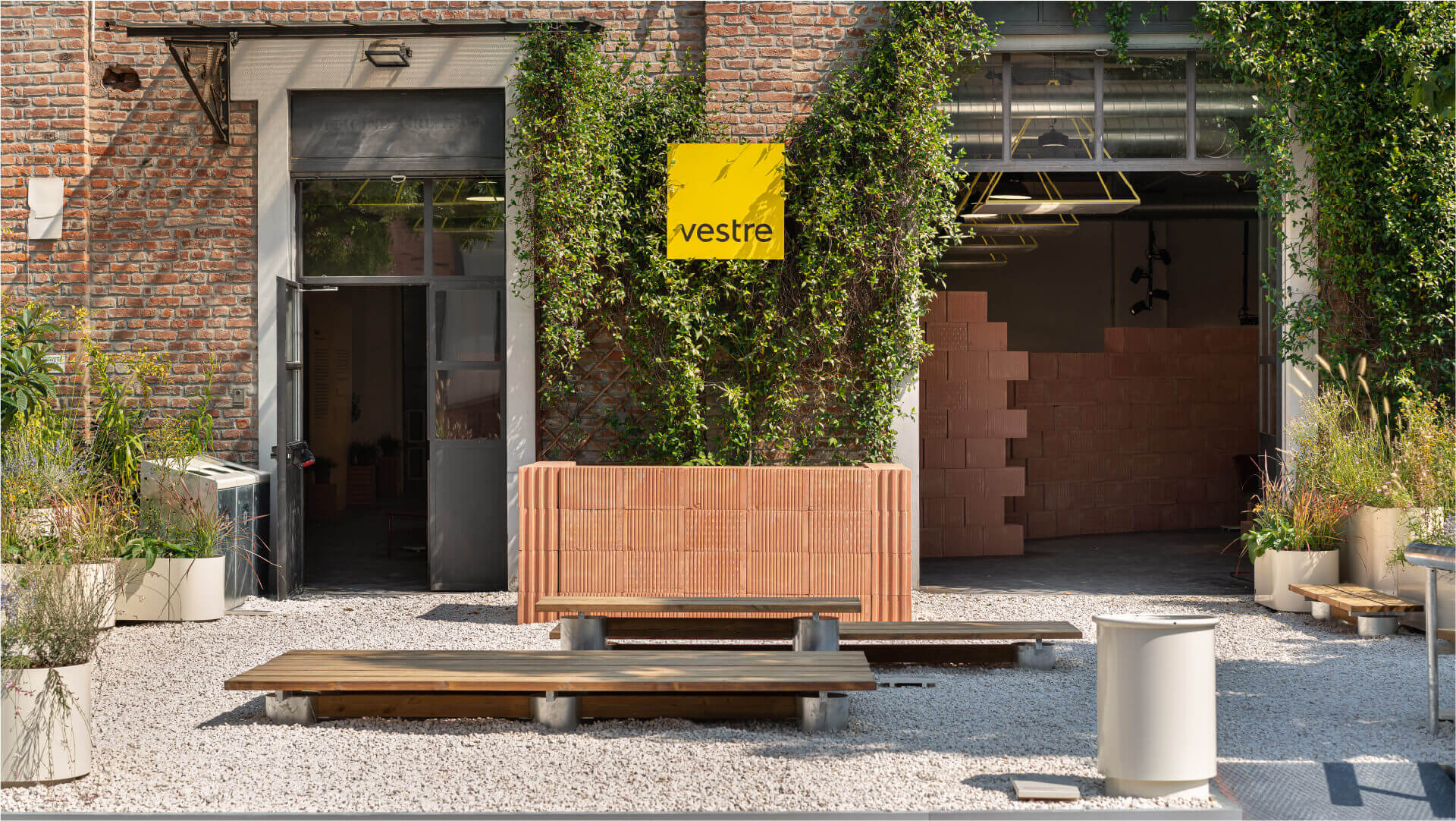 The Scandinavian furniture brand presented its latest collection Habitats through an immersive 'utopia of biodiversity'.
It's the centrepiece of the Via Tortona Show—the installation Vestre is exhibiting as part of Tortona Rocks at Milan Design Week 2021 is not a gimmick, in fact, it's the perfect way for the outdoor furniture company to present its latest collection given its eco-credentials. 
Bringing the outdoors in, an enclave of greenery interweaves the series, called "Vestre Habitats" by Arde Design Studio and Rethink Studio, into a landscape of trees, plants, and flowers. Presented in an exhibition by Stockholm-based design company Note Design Studio, it speaks to the collection's purpose of increasing biodiversity in public spaces.
The Habitats collection is designed to increase biodiversity in urban spaces through intelligent design of furniture and natural intervention in urban parks and green spaces.
For example, The Log Bench combines two benches on either side of a space intended for storing old wood. The idea was inspired by the knowledge that hollow trees are important for nesting animals as well as a habitat for insects because of naturally occurring fungi and bacteria, which provide food for things like moths, flies and beetles.
Find out more about Vestre's The Plus factory, don't miss BIG designs 'world's most sustainable furniture factory' for Vestre in Norway.
The concept and furniture design were developed in close collaboration with René Hougaard, the designer, and architect behind the Arde design studio, and Rethink Studio's design manager Alexander Qual. Both contacted Vestre independently with the idea to develop outdoor furniture that increases biodiversity in urban spaces.
The collection also features Leaf, a series of insect hotels developed to accommodate different types of insects. Available in various sizes, each leaf-shaped pillar can be placed alone or in clusters. The final part of the collection is a nesting box for birds, which recalls their traditional house-like silhouette and hole-shaped entrance.
Representative of their commitment to the environment, Vestre and Note Design Studio have reused as much material as possible from last year's exhibition including 596 porotherm bricks that made up the interior walls, the loose marble gravel, and all the sheets of acrylic and plywood used throughout.
The installation also features other Vestre collections including PLINTH designed by Note Design Studio, which consists of benches, tables, and a combined bicycle rack and leaning bar in different lengths and heights. Also on display is the company's Munch Collection with lounge and café furniture designed by Andreas Engesvik and Jonas Stokke, developed for the new Munch Museum in Oslo, which opens next month.
I was lucky enough to visit Vestre's Snøhetta-designed factory hidden in the deepest forests of Sweden's Värmland county a few years ago, so I'm familiar with the company's mission statement. Vestre has been carbon neutral for a decade, its manufacturing facility runs partially on self-generated solar power, and it has plans to make all transport emission-free.
The exhibition alludes to this part of the Vestre universe by introducing visitors to its new manufacturing facility the Plus, the world's most environmentally friendly furniture factory championing the brand's sincere dedication to sustainability. The result is an immersive expression of Vestre's ethos, which is nothing short of utopia.
Curious to know more about sustainable design at Milan Design Week? Don't miss Belgian designers highlight steel and sustainability at Milan Design Week.