Architecture
Wuhan-based Wiki World advocates the primitive spirit of architecture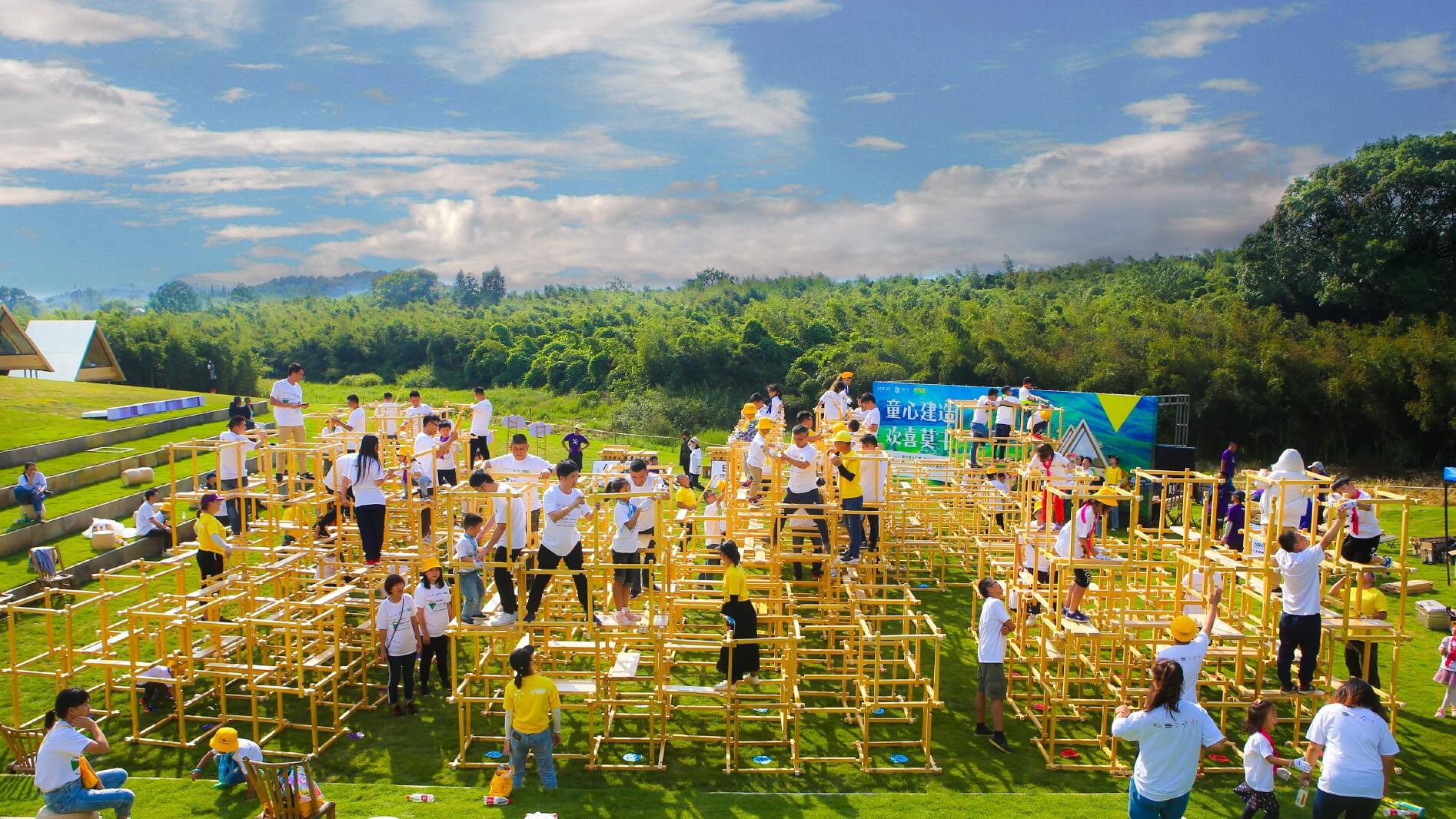 Chinese architecture office Wiki World shapes playful, hands-on building experiences to bring humans back to nature. Focusing on co-design and community-based projects, it all began with the idea of helping rural dwellers build safe housing.
Adopting co-building as an added value since its very first beginning, Wuhan-based architecture office Wiki World transform the construction process into kid's play. Children are actually involved in hands-on experiences, such as parent-child courses, in order to create an Open Source Building community.
With an architectural background of more than fifteen years, Wiki World was born on the idea of designing a system to help rural people build safe housing. Intrinsic to this aim is bringing back people to nature through architecture, perceived as a joyful practice to be done all together as in primitive times.
Curious to discover how these values are translated into real projects, DesignWanted took the opportunity to interview Wiki World, finding more about its journey, focus, inspiration, recent and future projects.
How did the journey for Wiki World begin?
Wiki World: "It started in 2005, during my 4th year at university. Xie Yingjun an architect from Taiwan, organized a rural architecture festival for 40 students, in which we had to stay in a village for a month and built three experimental prefabricated houses for locals.
It was Xie Yingjun's prototype for his future practice in China, in which he thought about how to build high-quality housing for huge rural areas in China. During the workshop, I realized that architecture is much more than cool renderings, its fundamental nature is physical and so real."
Why Wiki World? Why focus on Architecture, Culture and Education?
Wiki World: "When I returned to China to become a professor in 2010, I noticed that only 20% of new buildings in China are designed by architects. So I was thinking to develop an IKEA-like building system that can help rural people build safe housing. It was a very instinctive idea at the time, and I designed with my students some prefabricated bamboo projects.
A big change came later when I had kids and I felt the anxiety that Chinese families go through. We live in high-density cities, have busy works and our kids deal with competition at schools. We are so far from nature and we are losing ourselves."
Wiki World: "So I had a crazy idea: What if families can design and build together, to return to nature? We actually received very good responses; more than 300 families registered and we selected 36 families that we have interviewed for the project City In The Sky.
It was a weekend PBL workshop that lasted three months and had a huge success. Families reunited, kids were proud of their work and they gained confidence and friendships. We planted a seed in their minds: Nothing is difficult if we learn and solve it.
We received awards from the EU and lecture invitations, and more families wanted to join us. We suddenly realized that architecture can be a happy thing, it can be done and enjoyed by everyone, just like in primitive times."
Returning to nature through architecture is also part of Sou Fujimoto's practice, creating 'public sites available to all people'.
Which vision and purpose do you serve with your practice?
Wiki World: "We received more and more invitations to build community-based buildings in China and France, and we also founded an NGO in France with universities to spread this "kids and community architecture".
Our vision is: in the new Internet time, in many cases, architecture can be Open Source besides the towers. We believe that the future of the city is involved with the community and the citizen. Building can be played like a game, put together like Legos.
So most of our project is a bottom-up process, instead of the classic "Client, Missions or forms" process. We love to discover with local people and users. We believe in collective intelligence."
Which architectural movements are you inspired or influenced by? What other fields and inputs outside of the design world provide you inspiration?
Wiki World: "I was actually more influenced by movements in the Silicon Valley and by the history of technologies. I think that architecture is first of all part of technology and culture, it is always followed or changed by other social or technical issues. In my opinion, it is not an independent art form, I sometimes even believe that architecture is an elephant in human history.
Instead of a concrete commissioned project by a client or a developer, we always think before designing: "Why does this building need to be created?". This way allows us to unveil so many opportunities. It is not the client that is needed by the community, but the building. It is very interesting to observe this reality."
"Build small, dream big" is one of the mantras you adopt within your practice. What does it stand for?
Wiki World: "It is actually our slogan at the moment because it is not easy to share ideas, like the Open Source Building to the public. It's hard for people to understand it, so we put it in this way: let's build a small thing which can be part of your dream."
You have designed a theme park called Wiki Tribe, which was built by international families. What does co-construction represent for you?
Wiki World: "Wiki Tribe consists of 3 big festivals and it is a continuous project. We put 3 types of building games in the camp, so that every week, future families can participate to define it as a pavilion, a cafe, a reading room, or give it any function they need. They can build via our Build like LEGO products."
Some of your projects state "Back to the future". What do "back" and "future" mean in your architectural practice?
Wiki World: "We wondered what happens if we could go back to a primitive time with modern knowledge. At the time, there weren't developer tribes that could build and sell hut to other tribes, there weren't architects concerned with the form or the tribe's slogan, etc.
It was purely collective and co-building, to insure the hut was safe from wild animals, and to make fires and ceremonies. Everyone was engaged. So the "back" means going back to this community-based working methodology, and the "future" should of course recall modern quality and capacity.
I hope in a way, architecture can return to everyone's hand in a warm and soft way. I enjoy it when our participants are excited about what we have done, and when our visitors can smell the timbers."
What is next for Wiki World?
Wiki World: "We are making new tribes which are more actively engaging citizens. After the Covid crisis in China, people became more aware of respecting nature and started to connect with natural life more often. So we are making a new version of Tribe where we gather cool people to design and build altogether."
Don't miss the amazing series of 18 timber cabins clad in reflective glass designed by Wiki World in collaboration with Advanced Architecture Lab.