Furniture design
WOGG reinvents the roller shutter cabinet in the latest collection of roll-top furniture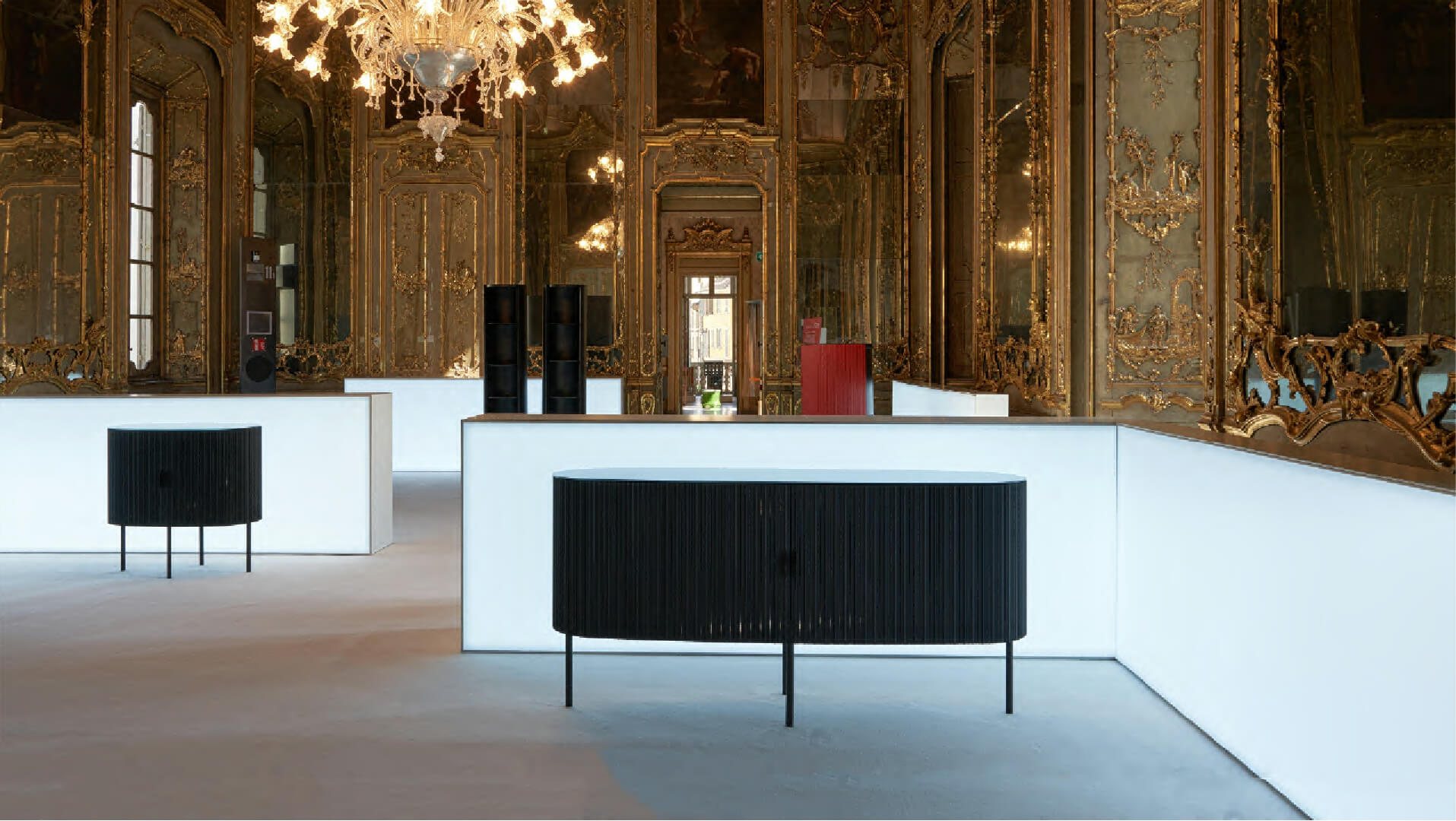 The novelty consists in the concealed door fitting technology by WOGG, which ensures that the running blades cannot be seen, even when the cabinet is open.
WOGG has unveiled a collection of roll-top furniture with an innovative mechanism that allows the interior to be seen without taking up any extra space. Each piece features tambour doors and the "WOGG 75 tambour door system", a guiding element concealed within a lightweight framework.
The system was developed over a period of 13 months in collaboration with various engineers and material specialists. A closer look at the design reveals a small injection-moulded plastic component, which houses a soft rubber tyre that can be snapped into either the top or bottom of the slats. This allows the door to glide along the upper or lower track.
The system is made up of a sliding mechanism – in this case, a cube-shaped guiding element – and aluminium profiles. A lightweight construction uses a material thickness of just one millimetre, and its shape accommodates custom dimensions, enabling both convex and concave lines.
The collection is a celebration of the ellipse, a basic shape that informs the shape of each of the five pieces but the novelty of the system lies in the hidden sliding mechanism, which has been internationally patented. 
Find out more about new collections unveiled at Milan Design Week, don't miss Salvatori's latest collections of sculptural stone.
"In our eyes, the beauty lies in the intelligence of the solution," says WOGG creative director Christophe Marchand. "The new tambour door slides silently along the track without resistance thanks to optimum weight distribution. Each of these pieces can stand alone in a room as an elegant monolith."
The collection comprises cupboards, bars and sideboards including the W79 wardrobe, which performs the same function as a typical foyer closet but is light and elegant in appearance with a striking red interior. The W81 Bigboard High has the same amount of storage but in the shape of a two-tier sideboard.
Also featuring generous proportions is the W82 Sideboard, which reinterprets the emblematic sideboard for spacious living areas. Meanwhile, the more compact dimensions of the W83 Bar makes it sustainable for smaller spaces. Inside, the height of the shelves corresponds to the height of bottles.
Finally, the W84 smallboard is a small piece of storage furniture that WOGG says has many possible uses – as a bedside table, chest of drawers or bathroom cabinet, as a place for storing scarves and gloves in the corridor or as a tall side table. It has an open base with an interior divided by a shelf.
Curious to know more about Milan Design Week? Don't miss Five designs to see at "Masterly — The Dutch" as it returns to Fuorisalone 2021.