Furniture design
400 single-use milk jugs make 1 chair – Interview with Loll Designs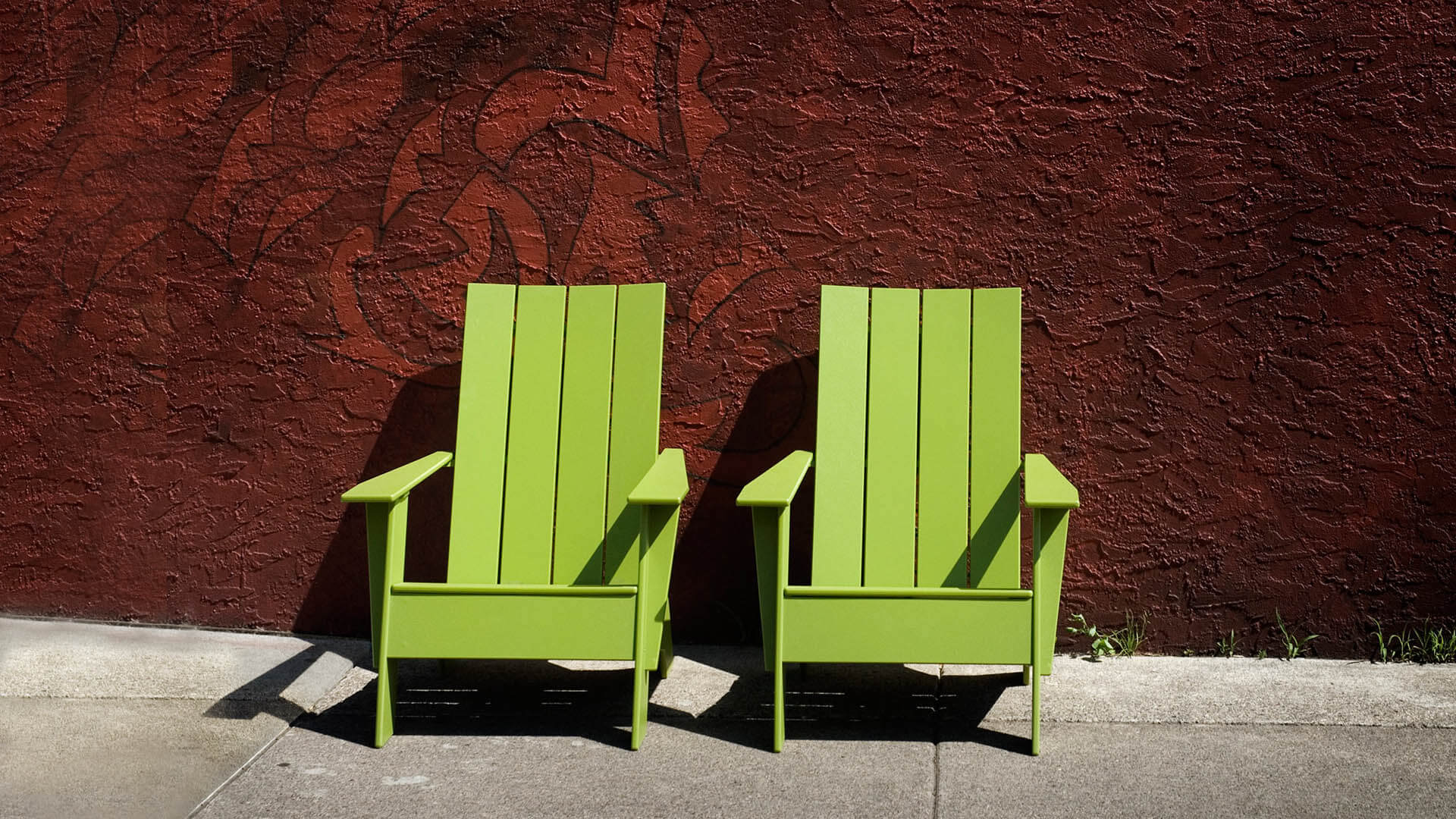 Cradle to cradle certificated outdoor furniture is proudly crafted in the USA by Loll Designs using unique recycled materials.
Loll Designs creates durable, all-weather, outdoor furniture and accessories made with recycled plastic – mostly from single­-use milk jugs. These products combine high­ quality design with an innovative, fun attitude embodied by the modern "lollygagger". The aim of the company is to inspire people to appreciate the outdoor, while fully enhancing the planet.
Loll's background belongs to TrueRide, a design and build contractor founded in 1997 and specialized in custom municipal skate parks. The leftover material recovered during the TrueRide manufacturing process was used to produce chairs. In 2007, the skate park company was sold, and this is when Loll Designs took the proper shape of the green company it is today.
Loll's philosophy aroused the curiosity of DesignWanted, who had the chance to interview them during the Sustainable Furniture Week and discover more about their journey, sustainable materials, circular solutions and further steps.
How did the journey for Loll Designs begin?
Loll Designs: "When Loll first started prototyping an outdoor chair in 2003, our parent company was a municipal skate park manufacturer, TrueRide. When a skate park was produced, there was always leftover material that was too small to be used for large public use skate parks.
The original Loll chairs were produced from these scraps, as this durable skate ramp material of high-density polyethylene (HDPE) proved to also be an ideal material for outdoor furniture. After nearly 500 skate park projects, TrueRide was sold in 2007. Loll further developed as a company sourcing recycled HDPE to create innovative, fun and high-quality products, proudly crafted in Northern Minnesota, USA."
Loll enhances people and the planet through beautiful outdoor furniture made out of recycled plastic. Why focus on it as the main material for your products?
Loll Designs: "We chose to use HDPE plastic because of its high performance in the outdoor environment. Our products can be left out year-round, weathering all the elements, and do not require seasonal maintenance. Its durability, ease to clean, and replaceable parts mean the products will stay in use for many years and not fill landfills.
Sourcing recycled plastic also felt like a sustainable option, particularly since the material is also recyclable. This means we can recycle our manufacturing shavings and scraps, as well as the product at the end of its useful life. Using a material that is part of the circular economy was significantly important for us."
Your products utilize about 400 milk jugs per chair, could you tell us more about how do you research and experiment with sustainable solutions for your products, and what is the design process behind them?
Loll Designs: "We work in three different thicknesses of 4 x 8 feet HDPE sheets. When we are designing a chair, we want to optimize that space as much as possible so that we don't waste material. The parts are all nested into the sheet; picture the parts as cookies cutters laid out on a sheet of dough.
From there, adjustments will be made to ensure everything is tightly nested and fits as best it can. As far as research and development, we are always investigating new materials, and we would like to introduce some stiffer materials that will allow for greater span on some of our products.
We'll often test products with our harsh Minnesota winters, and we also use independent labs to conduct further testing for us. Of course, in sourcing new materials beyond high outdoor performance, the biggest concern will be the materials' recyclability."
Interested in sustainable furniture design? See Arper Environmental Department – Designing the world we live in
The recycled material you use can change again into another useful product which contributes to the circularity of your designs and your company, what do you think are the most difficult steps in establishing a circular economy in the furniture industry?
Loll Designs: "In the furniture industry and most industries, companies must start choosing materials that can be recycled, repurposed, or reused. It's also critical that they lay out a take-back program, where customers can return their products at end of life, so they don't end up in landfills.
Educating consumers on the harm of "fast furniture," similar to "fast fashion," so that they opt not for poorly made, low-quality furniture that needs to be constantly replaced is another important component.
If the architecture and design community, along with consumers, can come to understand this and instead put their dollars towards the companies who are sourcing the right materials and dealing with products at the end of their life, we could have a much more sustainable furniture industry."
Loll has been in the furniture design field for a long time, do you think it is possible to entirely minimize the hazardous impact of plastic on the environment? How big is the role of designers to accomplish this?
Loll Designs: "We are proud that we can turn single-use plastic, namely from recycled milk jugs, into a lifetime of use with durable outdoor furniture. However, the prolific use of plastic in our society is a grave concern of ours and even more problematic, in the United States only 8% of it gets recycled.
Designers can help by specifying products that are recycled or sustainable, but at the end of the day we need policy change to institute a stronger recycling infrastructure and to dissuade companies from the use of single-use plastic."
With sustainability and the desire to enhance people and the planet in mind, what can we expect next from Loll?
Loll Designs: "In 2018, we attained a Cradle to Cradle certification for our products. This certification is assessed by a third party who dives deep into your supply chain to ensure your materials aren't harmful to the environment or people. They also look closely at your human resource policies and community giveback.
This year we are up for re-certification and part of their program is to put you on a path of continuous improvement. We will be looking to see if we can bring part of our line up from a SILVER certification to a GOLD certification, and we are researching the possibility of increasing our renewable resources.
Recently, we also attainted an EN-581-2 Contract Use rating for some of our best-selling products, meaning these products endured many test methods that complied with the European Standards for mechanical safety requirements. With this proven product strength and durability, we look forward to bringing this to market in 2021 and pursuing the European public sector market.
Lastly, 2021 will be the year of the swing as we launch a collection of porch swings. These fun pieces encapsulate Loll's playfulness and encourage people, particularly in these challenging times, to get outside, get some fresh air, and appreciate the outdoors."
Discover other studios developing furniture out of recycled materials: Respect. Repair. Reuse. Recycle. Remember. The world will be thankful! – Interview with Wehlers