Furniture design
Amazon furniture: shopping spree on Amazon's special online store for Milan Design Week 2019
This year we have a newcomer at Milan Design Week: Amazon joined the game and it's hitting hard!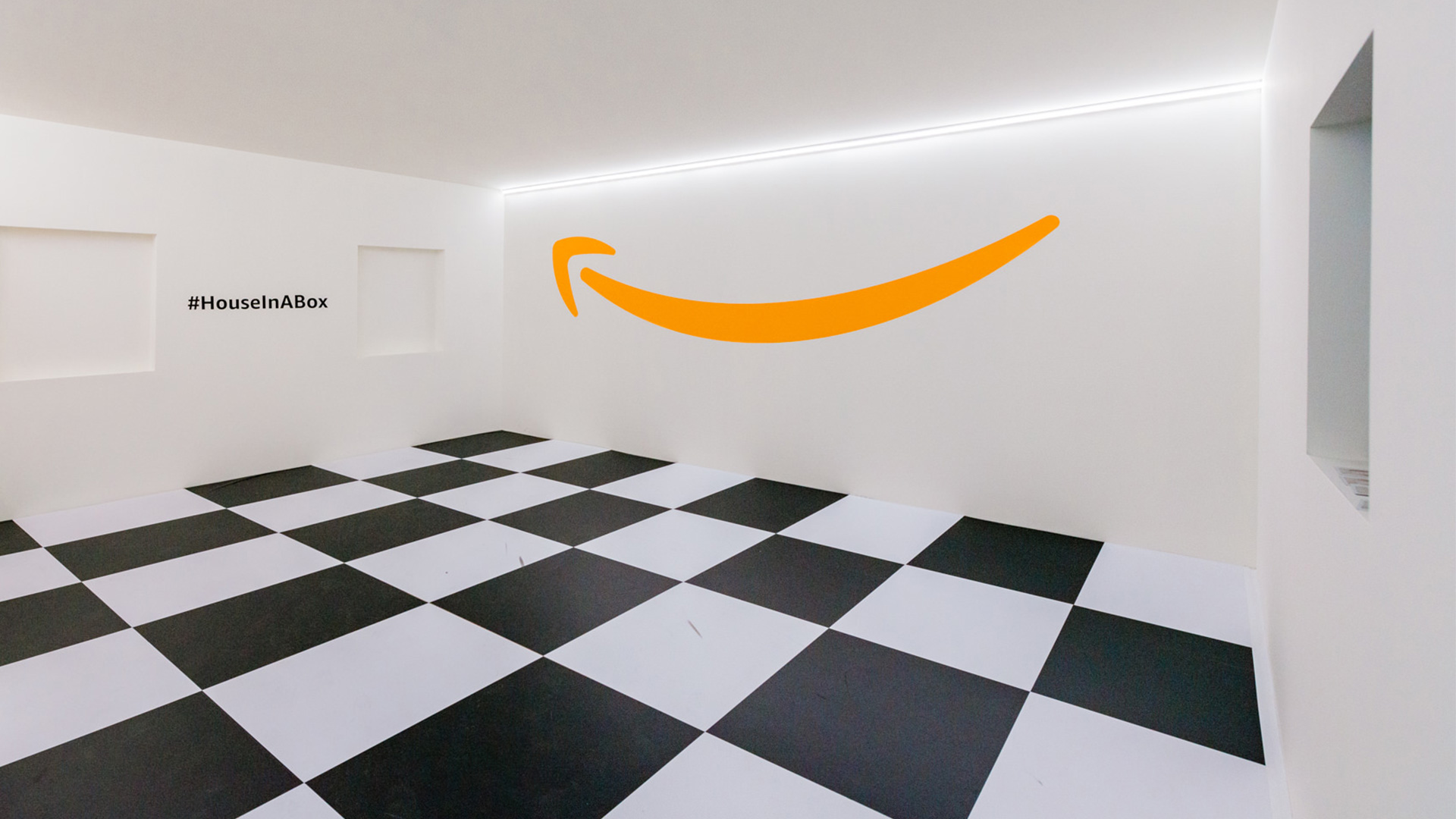 We visited the exhibition "Amazon House in a Box", taking place in their milanese headquarters, where two modern apartments were set up, featuring Amazon furniture and products' offering for home.
An exclusive online shop was launched for Fuorisalone 2019. We couldn't resist.
We had to make a DesignWanted wish list to dream-furnish our office.
Do we share the same taste?
Have a look to find out.
1. Rivet Office Desk
This steady and sturdy table is a great adding to a modern home office space.
The sleek minimalistic legs bring in the picture some clean nordic vibes, while the dark wood top adds a warm feeling to its surroundings.
The top surface of Rivet, features a retro-style incorporated shelf which helps organising stationery and papers, encouraging a personal interaction with the furniture piece.
2. Amazon Echo Show
The future of home is smart, literally.
Echo Show is the latest adding to the Alexa saga by Amazon, a voice-responsive device to watch all sort of video content such as movies, series, news and video tutorials or to simply enjoy music through its integrated Dolby audio system.
Featuring a 10 inches high-definition screen, the device can also be used to make calls and video calls (with a frontal 5 megapixel camera) towards other Echo Show.
The definitive hub to operate other smart home devices, such as controlled switches and lights, bringing one step forward our interaction with machines and their integration in our living space.
3. Cubist Shelf
Proportions, geometry, full & empty and green.
These are the ingredients for the ultra minimalistic piece, a simple solution to add a clean and contemporary touch to your walls.
If drilling is not your thing, the Cubist Shelf can be simply placed on a desk to make the workspace or study place a little more cozy and welcoming.
The little pot was designed to be used as a pen holder too.
4. Alessi Magazine Holder
This iconic piece by design legend Alessi brings a modern and dynamic twist to the usual magazine holders which never really get under the spotlight.
FC15 was designed by Brazilian brother duo, Humberto and Fernando Campana, who used simple metal rods to construct a combination of spaces and lines which generate contrasting reactions in the viewers, forcing them to take a stand on whether they like or dislike the piece.
A 100% effective conversation starter in the living room.
5. Amazon Echo Input
Alexa is now part of the family. She listens, she suggests, she makes us laugh, probably more than many real humans we know in person.
Jokes apart, the integration of Amazon's own voice assistant in our lives is growing and becoming more and more seamless and effortless from the users' side.
Amazon Echo Input is a tiny cute device which brings Alexa in and out of any speaker, stereo or hi-fi system already present in someone's home.
6. Tissue Box House
Before no tissue maker realises that their packaging totally awful and they don't fit in a modern home design but only at your old-trashy-aunt place, we got you covered.
A playful yet minimalistic piece by Umbra to transform those horrible carton boxes in a cute little house where the tissue takes the shape of smoke coming out of a chimney.
Clean, white, geometric. Fits well in a contemporary home setting or in the kids' room.

7. Philips Hue Smart Lighting
Our living space should be customized around our personal needs and desires.
When it comes to lighting, it's time to get back in control.
Philips Hue light bulbs plug into your common light socket base as any light bulb, enabling you to control everything about your light source directly through your phone, selecting which ones you want on and off, their intensity and colour to match the atmosphere.
Advanced automation is also available, with lights turning on when approaching home, or mimicking one's presence when out of home as a security measure.
8. Nordic Cabinet
This little cabinet brings the scent of scandinavian lands into the living room.
A solid essential shape juxtaposed with geometric metal legs lighten the whole design.
The black & white doors contribute to the minimalistic look of the Relaxdays: a piece that is proudly retro inspired while resulting very actual and contemporary overall.
9. Artemide Eclisse
Buying a timeless design product is hardly a bad idea. Designed in 1965 by Vico Magistretti, Eclisse by Artemide is an icon and reference for the lighting sector.
A piece that encourages interaction and asks the user to play with its inner shell to adjust the intensity of the light, mimicking the eclipse phenomenon between planets and stars.
Featured in worldwide renowned museums such as MoMa in New York and the Triennale Design Museum in Milan, Eclipse earned its spot in the history of design and will maintain it in the future.
10. Plant Hanger by Umbra
We call it SSSS: a smart, simple and stylish solution. We all love plants but not everyone has enough space at home to be occupied by green friends, or the only space available is not high enough to reach the right amount of light.
The Bolo Vase brings a sleek solution that besides saving space and ensuring that plants get the right light angle, also adds a modern touch to the interiors, decorating walls and corners of the house.