Home decor
Unique ceramic murals made by Anastasia Tumanova
Inspired by nature's patterns and textures, Anastasia Tumanova creates striking ceramic murals.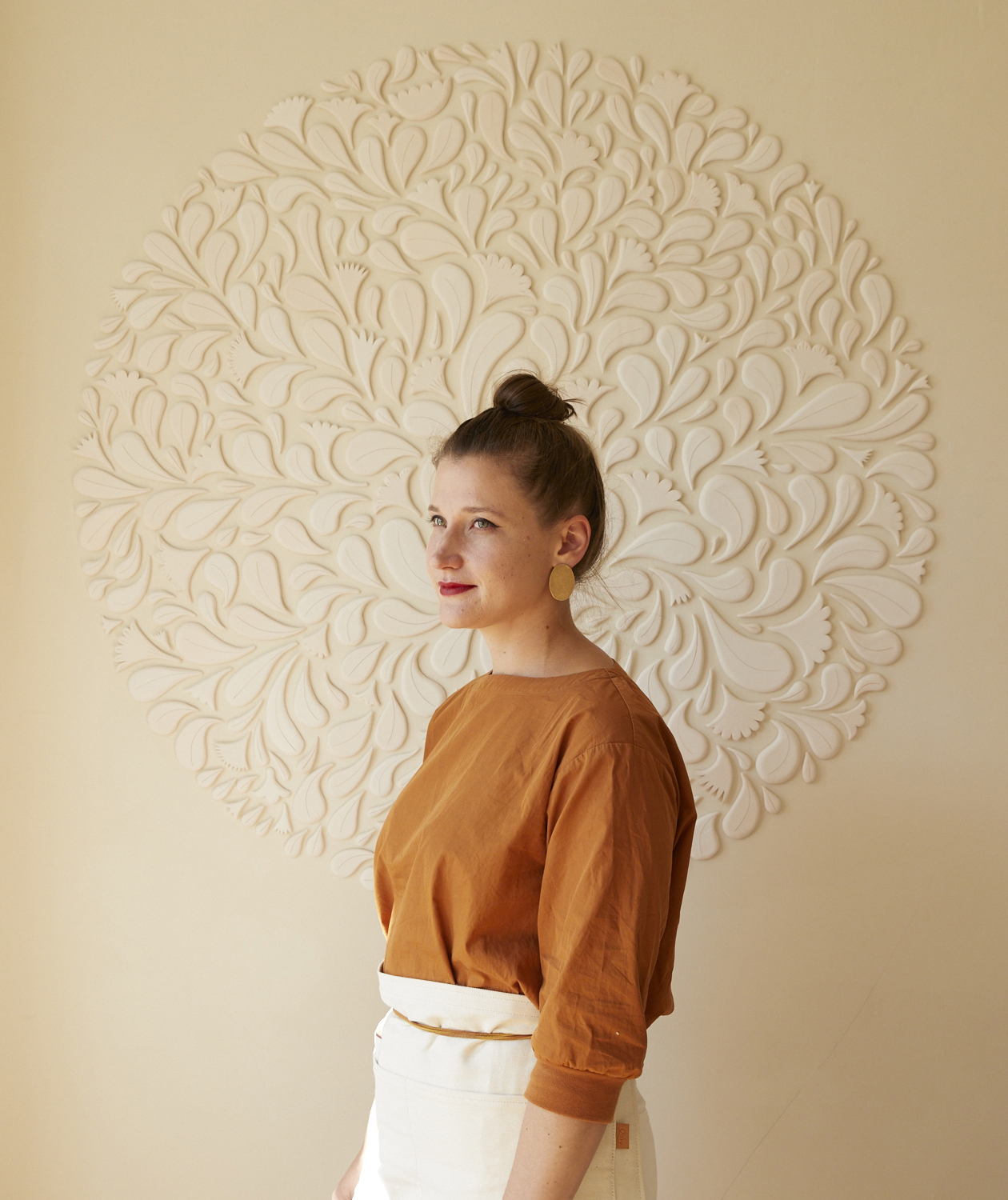 Based in San Francisco, Anastasia Tumanova is a Russian-American artist with a unique style of working with ceramics, creating ephemeral arrangements of leaves, flowers, seeds, buds, and berries inspired by her exploration on nature's colors, patterns and textures.
Anastasia's murals capture the spirit of nature and aim to bring the outdoors into the home.
With a characteristic style that comes from a place of joy and peace, Anastasia's artwork has been exhibited at the Eleanor Harwood Gallery at the Minnesota Street Project, West Coast Craft, and Oakland First Friday.
Who is Anastasia Tumanova? How did the journey for ceramic and painting begin?
Anastasia Tumanova: "I'm a Russian American artist working in San Francisco, California.
My journey began when I became immersed in my natural surroundings in the Bay Area; foraging, exploring nature's colors, patterns and textures through ephemeral arrangements of leaves, flowers, seeds, buds, and berries. You can see some of my early work here."
Why botanical ceramics and paintings, what inspired you to focus on this craft?
Anastasia Tumanova: "Nature has been a prevalent part of my life, from my early childhood in Russia to my life now on the West Coast. It's a source of joy and play, and a balm for my anxieties and fears.
I think many people share that same emotional connection with nature, and the role it plays in their sense of self. I feel that this pandemic has brought that silver lining to the surface more than anything: how grateful we are for the outdoors, to breathe fresh air, for healthy bodies and minds.
My practice is very much centered around celebrating and honoring nature and all the abundance it brings to our lives.
Connecting it with architecture and interiors was only natural — bringing it into our homes and spaces to further immerse ourselves in it."
What is the motto that, above all, will always represent the studio and yourself?
Anastasia Tumanova: "Find the joy within yourself.
I'm always assessing if the work I'm making is coming from a place of joy and peace within myself. That's when I know I'm making great artwork."
Are you curious about unique craft works? Read about Cristián Mohaded's hybrid practice: Between craft, tradition, and the industry.
Having a background as a graphic designer in the architecture and technology industries, are there any designers or architects that you are inspired by?
Anastasia Tumanova: "I'm drawn to artists that have an elegance to their work and a great sense of color. Artists like Frank Stella, Ellsworth Kelly, Henri Rousseau, Georgia O'Keeffe, and the Eames.
Contemporaries that inspire me today: James Turrell and Yayoi Kusama. I love architects with a simple style that places the focal point on the land: modernist architects like Mies Van Der Rohe or Al Boeke of Sea Ranch."
Having worked on art installations and with private collectors, gallerists, and interior designers in San Francisco, Los Angeles, New York City and internationally, if you had unlimited budget and resources: what is the project that you would develop?
Anastasia Tumanova: "I would LOVE to dive into colored ceramic installations.
Dying ceramics is a tricky process that takes a lot of experimentation and time, to get the color just right. I want to try all the colors!
I would absolutely love to create ceramic wallpaper installations, and ephemeral performance artworks where I assemble and destroy arrangements in front of a live audience."
With a unique approach to creating ceramic murals, what have been the biggest challenges of the design process?
Anastasia Tumanova: "I like to call my murals 'ceramic paintings' — they're extensions of my paint brush.
The biggest challenge is creating a mural that has graceful movement and style. It takes a lot of piecing together and disassembling to strike the right arrangement of pieces."
Interested in mural artworks? Have a look at Street art merges with Texan nature at Mural Art Park.
Constantly experimenting with colours, patterns and shapes, what is the next step for Anastasia Tumanova?
Anastasia Tumanova: "I'm currently working on a special collection of painted ceramics for the SFMOMA museum store for the Diego Rivera exhibition in 2021, inspired by his paintings and the colors of Mexico.
I have several large ceramic installations coming up as well for corporate interiors. If you follow my instagram @anastasiatumanova_ you'll get sneak peeks into my latest projects and process!"