Architecture
Bean Buro's humanistic design approach for workspaces
The Hong Kong based architecture practice Bean Buro integrates cross-cultural influences in interior design with a poetic aesthetic and value for art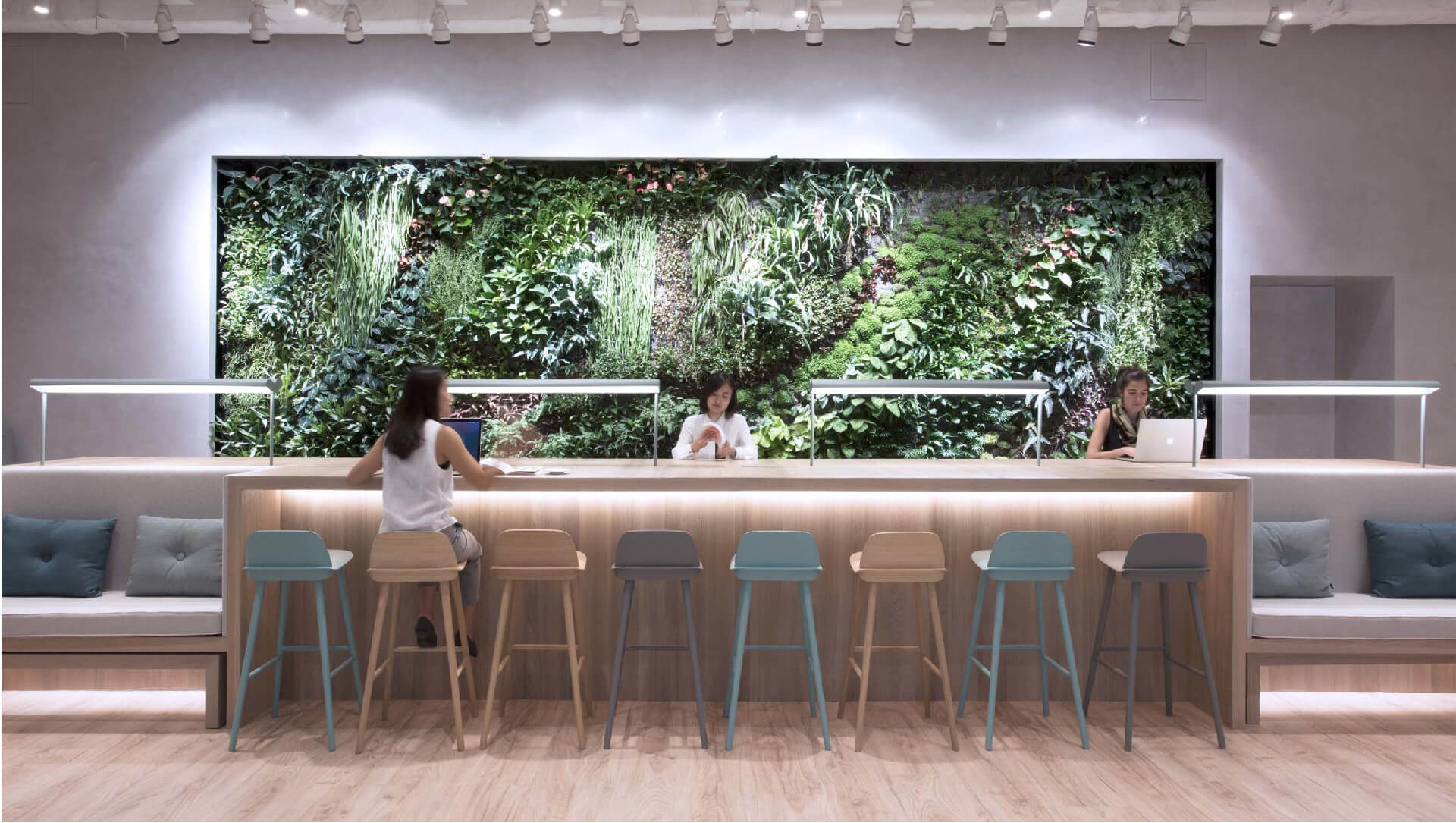 Architects Lorène Faure and Kenny Kinugasa-Tsui moved to Hong Kong to set up their practice in 2013. With knowledge from their previous experiences living around the globe, the pair founded the award-winning studio Bean Buro. Their team is composed of architects and interior designers with multiple nationalities and backgrounds.
At Bean Buro, the design philosophy is based on the emotional and spatial experience between user and creator. Their poetic interpretation of these results in new and original ideas for projects like their "Sculptural Canopies" for The Work Project and also designing for high-end commercial and retail clients.
Who are Lorène Faure & Kenny Kinugasa-Tsui? How did your journey for Bean Buro begin?
Lorène Faure:
"I am a French architect and am originally from Paris. Kenny is a UK architect and is half-HongKong-ese and half-Japanese. We both lived in London for half of our lives, and after some years of practicing for prestigious firms, we decided to move to Hong Kong to set up Bean Buro to further explore our passion for cross-cultural interests in design.
Hong Kong in itself is a cross-cultural city with East-West influences, and we felt we could greatly offer our fresh ideas in this environment as a base for the Asia-Pacific."
Why Bean Buro, why focusing on architectural interior design services?
Kenny Kinugasa-Tsui:
"Bean stands for Between Exchanges of Architectural Narratives, and Buro stands for office in French. We strive on creating humanistic designs that stem from poetic interpretations of contextual factors and mixing in inspirations from a wide range of disciplines such as art, photography and literature.
We have been focusing on architectural interiors because we find more creative freedom in this field, and it has been an excellent way for us to develop a body of work relatively quickly to define our aesthetics.
However, some of our projects are big and may involve exterior elements, such as facade designs, external art installations and revisiting existing buildings both inside and outside.
It is essential for us to see architecture as an emotional spatial experience; it doesn't matter whether it is inside or out, big or small. We are architects. Hence, ultimately, we would expand our portfolio to explore larger interiors or architectural new builds as we grow."
Could you tell us more about this methodology, the type of representations and models you use to explore 'out-of-the-box' ideas?
Lorène Faure:
"We are passionate about using artistic drawings and models to explore spatial ideas in the design process. It is a way for us to subvert a project brief, to think outside the box, and to reference other qualities into the design. It is also a way for us to engage our clients on a creative journey and embrace new ideas.
We love to explore different types of representations, such as mixing computer modelling with handmade sketches, paintings, collage, and handmade models. It is a way to break the generic feel of a fully digital process.
For example, in our project for Leo Burnett, we created a digitally designed form for the reception and boardrooms. It was then further explored in a handmade model that uses ship making construction techniques inspired by the local cultures of shipbuilders in the industrial site of Hong Kong.
The result was a very provocative experience for the workplace. This was also a way to create a dialogue with the "hipster" vibe of Williamsburg Brooklyn to relate to the client's company roots."
[ Read also SOM Architects are working on biophilic design for our offices ]
What is the key for a successful workplace design?
Kenny Kinugasa-Tsui:
"The key to a successful workplace design for us is about working with the right clients who value and believe in good design. And then it is about creating the proper engaging process with the client to understand their core values and needs for the project.
The creative process requires much of the client's input and making the right decisions. Luckily most of the clients who come to us are already believers of our works and abilities to a certain extent – this makes things much easier. It is about having the synergy between the client and designer for a successful result."
From your perspective, what are the main trends & future directions within co-working spaces and what do you think of them?
Kenny Kinugasa-Tsui:
"Coworking is now an established concept (and has been formulaic for a decade or so, rooting to the tech start-up cultures of casual working offering coffee and beers with flip-flops). Other types of coworking spaces have been popping up around the world in the past few years, such as luxurious, premium, or different lifestyle-driven concepts. Designers have been continually expanding the terminology of the 'co' in coworking.
However, its definition is still evolving rapidly, especially in this day and age of living with the Coronavirus where remote working drives companies to rethink their physical workplace to prioritise for essential activities.
Companies are exploring alternative and flexible work styles for reduced costs and more efficient productivity. This could be moving part of their workforce to coworking operators' spaces or adapting flexible coworking concepts into their workplaces. It is about to create a new balance.
Coworking space types will be popping up not only in the densest of city centres but also outside the cities in residential urban areas as a convenient alternative to work-from-home."
For companies with their own workspace, what would be your advice to get the advantages of agile working?
Lorène Faure:
"Agile working has been increasingly popular in the past few years, as it offers employees the freedom to move around the workplace and choose how and where they would like to work, from a wide variety of work settings that is the most suitable for particular activities.
Employees no longer get stuck at their fixed desks all day long, which has been associated with problems of productivity, engagement and well-being. Instead, one can choose to work on touch-down desks temporarily, huddle spaces for quick chit-chats, open collaboration areas for small group meetings, or large groups in open, flexible event spaces. For private works, one can use a phone booth or enclosed meeting spaces. 
This amount of fluidity also allows the companies to reorganize the proportion of fixed desks versus unassigned desks, and better manage space efficiencies and usage of the workplace. In today's coronavirus world, many companies would need to fluidly choreograph the movement of employees in the workplace, in order to carry out different work activities."
Could you tell us more about the specific features of 'Sculptural Canopies' for The Work Project and how it improves productivity and the overall work experience?
Lorène Faure:
"For The Work Project we created a multi-sensory experience to improve the well-being and productivity of the users.
We collaborated with Patrick Blanc, the pioneer of the hydroponic garden, to create a vertical green wall that serves as a powerful biophilic element in the space that is visually beautiful and provides an engaging phenomenological experience for the users.
In other parts of the workplace, we worked with a scent consultant and music consultant to create different zones for relaxation, focused working or sociable atmospheres."
Working across a range of luxury residential, commercial, hospitality, F&B, retail and mixed-use projects, what is the next step for Bean Buro?
Kenny Kinugasa-Tsui:
"We will continue to explore luxury residential and workplace hospitality projects as they become more challenging in their blurred boundaries between the living and working.
We have recently expanded our portfolio to work on F&B, retail and mixed-use projects. We are currently working on a hotel refurbishment project in the vibrant city centre where coworking concepts will be the theme of the lobby area. We are also planning a pipeline of research and development projects in sustainable timber construction and charity works.
We will be furthering our interactions on our social media channels to engage with a wider audience into the fascinating world of design!"
[ Read also Dropbox went into its biggest redesign in 12 years so we talked to their VP of Design ]