Architecture
A growing trend: a selection of 7 biophilic interior design studios
Natural light, raw materials, and indoor tropical gardens – here's our pick of the best examples of biophilic interior design and the studio's behind them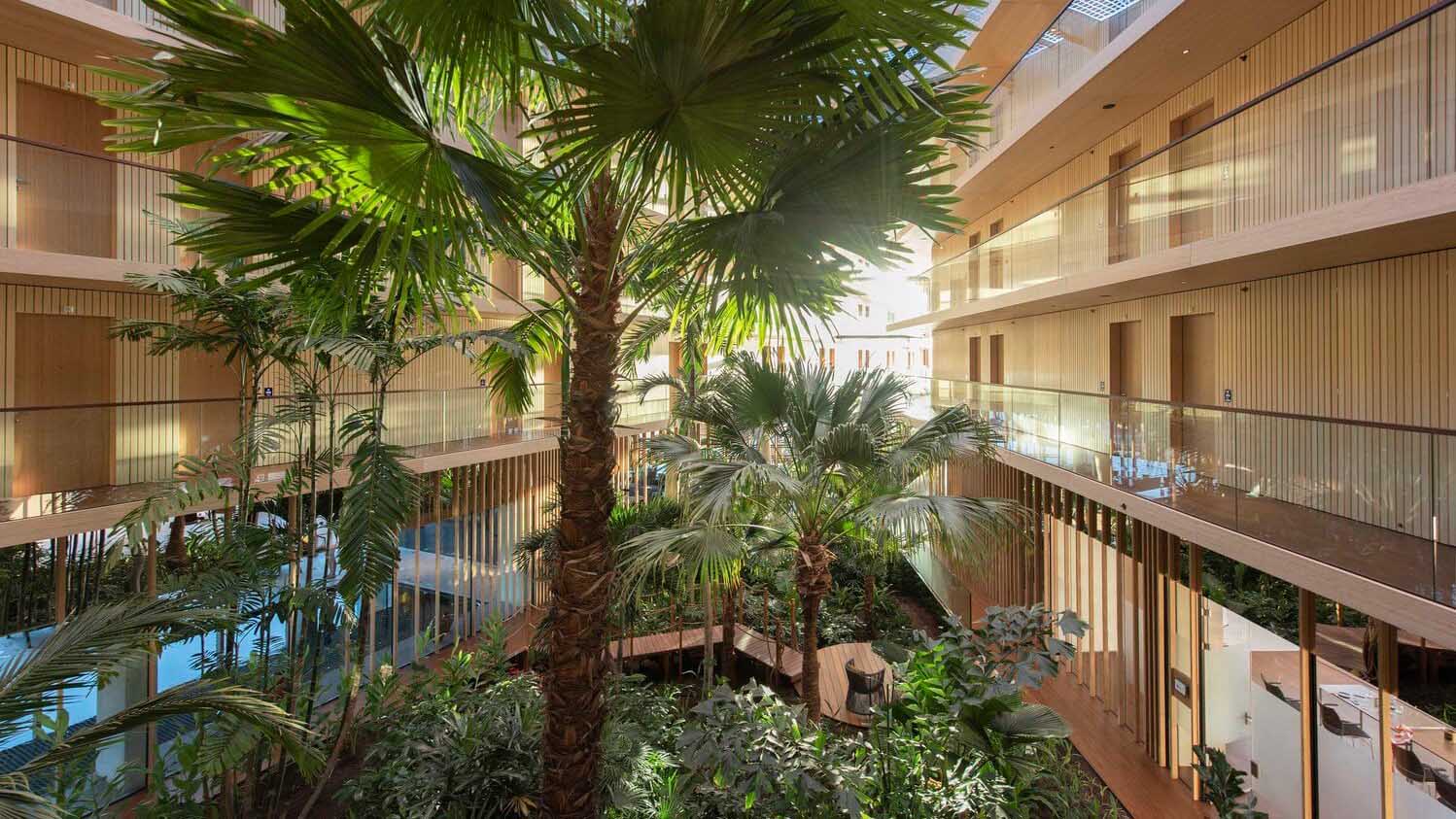 Biophilic interior design studios aim at creating a connection with nature in man-made environments and have proven benefits, including reducing anxiety and promoting productivity. It's more than just bringing the outside in though; it's about nature in all its guises, including natural light, views of nature, plants, natural materials, textures, and patterns. 
Central to the biophilic design is principles generally organized into two categories:
visual connections with nature
and non-visual connections with nature
Visual connections refer to obvious aspects like plants, natural materials or a view of outdoors, and non-visual connections refer to other features like lighting or ventilation. These principles can be implemented in countless ways to create interiors that enable us to live and work better.
The key is to integrate them in a way that feels natural, layering elements to create a multi-sensory experience.  Beyond filling a space with plants, it can be tricky to fully understand the imaginative ways biophilic decor can be realized.
To answer the question 'what is biophilic interior design?', we've chosen 7 biophilic interior design examples to inspire you, designed by architectural studios that focus on this topic.
VTN Architects – Vietnam
First up is Vo Trong Nghia Architects, an architectural practice based in Vietnam whose work is often infused with luscious greenery, weathered stone, and an abundance of light.
All of these efforts come together in Stepping Park House, a three-story residential project centered around a large void that cuts diagonally through the building. Plants and trees soaked in natural light decorate each floor, maximizing a connection with the neighboring park.
Biombo Architects – Indonesia
Based in Bali, a true treasure trove of natural beauty, it's not a surprise that Biombo Architects don't want to close the doors on it. The studio's strength is in creating beautiful interiors that borrow from the area's rich surroundings.
Just take a look at this family villa, built around an indoor tropical garden mirroring the project's jungle environment. Another way it incorporates biophilic design is through natural ventilation thanks to a mostly glass exterior with the option to fully open up the property and let the outdoors in. 
Charlotte Taylor · Nicholas Préaud – United Kingdom
Next up is design duo Charlotte Taylor and Nicholas Preaud, whose dreamy renderings of Casa Atibaia imagine a modernist "jungle home".
Inspired by 'Casa de Vidro', also known as 'Glass House', by architect Lina Bo Bardi, it comprises a concrete and glass volume supported by slim pilotis.
The imaginary house adapts nature into its design with protruding boulders used as accent walls as well as furnishing elements such as bookcases and headboards.
IBUKU – Canada
Raised in Bali, Canadian designer Eleanor Hardy founded IBUKU in 2010 with a vision to create spaces where people could share an authentic relationship with nature.
The studio's complex designs utilize natural materials, namely bamboo, which works to shape space in a way that feels like a nest or a cocoon like it hasn't been built at all.
It's best-known use of the material is to build a community of bamboo houses in harmony with their natural surroundings.
Design Unit – Indonesia
It's important for Design Unit, an architectural studio based in Bali, to create spaces that echo the palette of their natural surroundings. It works hard to incorporate greenery and natural finishes, like Bamboo house, which is clad in its namesake material.
Another impressive project is "Factory in the Forest", an exemplar of biophilic architecture. A green courtyard and canopy-style structure define the site, which has been conceived as a forest that penetrates, surrounds & steps over the building creating maximum contact with nature.
Makhno Architects – Ukraine
Makhno Architects works to blend Japanese and Ukrainian influences, combining wabi-sabi philosophy and the forces of nature. Wood, concrete, copper and clay are materials the studio returns to time and time again, often leaving them raw and unrefined in honor of their imperfection.
Mazanka Apartment, features an interior crafted using plaster to create a clay effect that looks organic and untouched. The studio took a similar approach in its design of the Japanese restaurant Fujiwara Yoshi which features natural stone walls and a traditional garden inside. 
SeARCH – The Netherlands
Last in our list of the best biophilic design is a project by the Dutch practice SeARCH. Hotel Jakarta in Amsterdam is flooded with natural light giving life to the subtropical indoor garden decorating its atrium.
The hotel features an array of qualities in tune with nature like the transparent and glass facades defining the unique thirty-meter high wooden main structure. Inside, the project's timber curtain wall is visible throughout thanks to subtle glass-on-glass connection, creating a space that feels expansive as a result.