Home decor
Discover the Black Marble look with Florim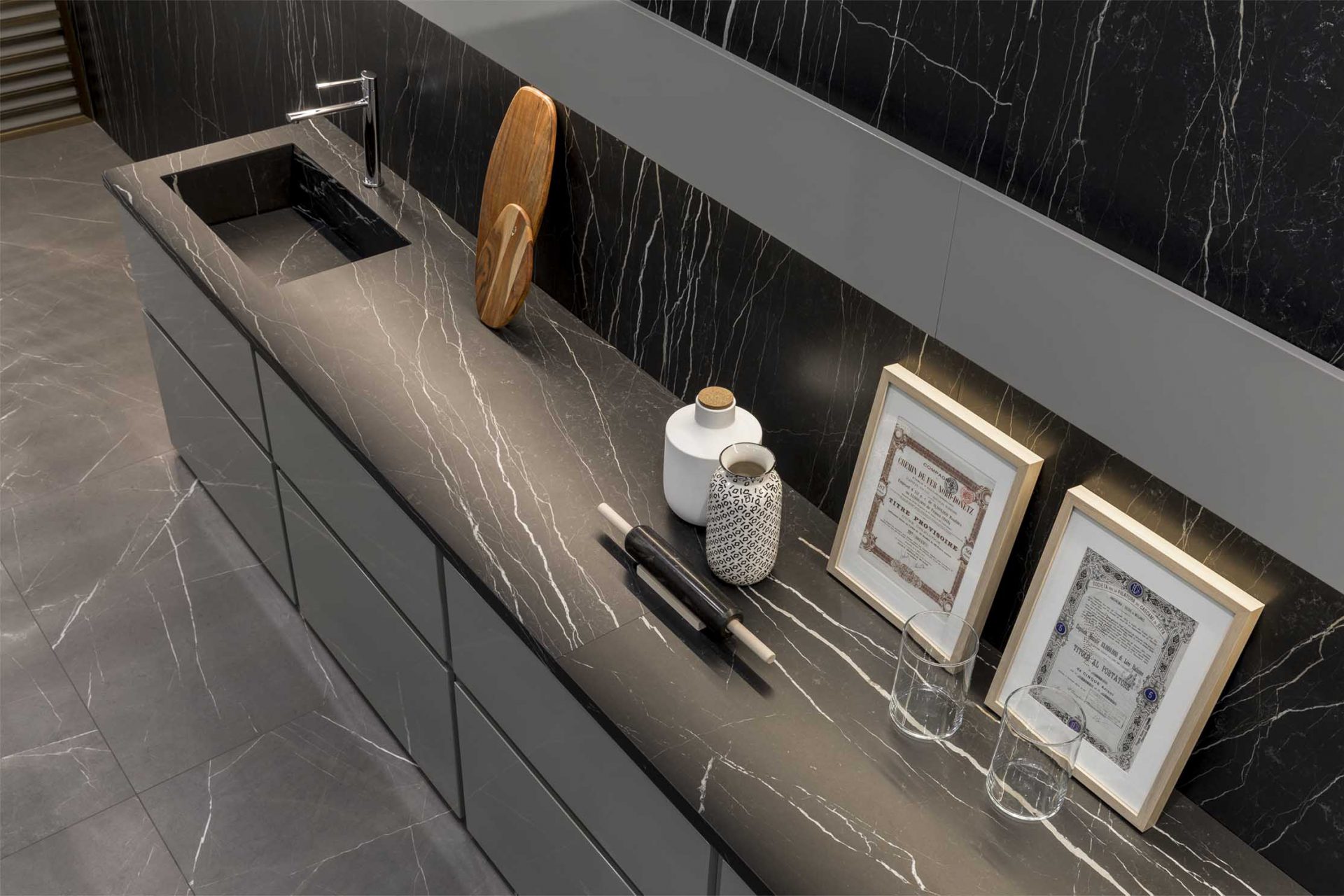 Inspired by marble, Florim creates porcelain surfaces that reflect the variety of color, vein and texture found in the natural material.
A beautiful material with timeless allure, marble's unique colour and texture has been highly sought after for centuries. More recently, an advent in marble-look porcelain tiles has captured the same aesthetic qualities with a respect for nature that makes them a desirable alternative.
What is Marble?
Marble is one of the oldest stones in the world, originating from a chemical reaction in limestone when exposed to high pressures and temperatures for thousands of years. In a process known as metamorphism, it transforms minerals into precious materials, forging elements such as metals, mud, clay and iron oxides together to create a magnificent final product.
Its extraction is a spectacle in itself, using dynamite to loosen the stone before being sliced into blocks that reveal its unique characteristics. The look inside depends on its purity, hence marble that can be bluish, grey, green, pink, yellow, or black in color. Once cut, turned and polished, its shiny surface is highly decorative, synonymous with luxury in both residential and commercial design.
Marble vs. Marble-Effect Surfaces with Florim Ceramiche
There are limitations when it comes to marble, mainly due to the material's origins. Marble can be an incredibly energy-intensive material to source and therefore expensive to buy. Quarrying requires relevant amounts of electric and thermal energy sources and the extraction of the marble blocks from mountainsides involves a noticeable quantity of explosives.
Marble is also difficult to maintain because it is such a porous surface. That means it is vulnerable to staining agents like wine, juice and oil that seep deep into the rock. This is why many people prefer to create the same luxurious look with marble-effect porcelain instead.
There are a few brands that are able to translate the magnificence of marble using other materials. A great reference point is Italian surfaces company Florim Ceramiche, which creates porcelain that combines the aesthetic and functional qualities of natural marble but uses other natural resources instead.
Florim marble-effect collections are presented through the different commercial brands of the Group: Floor Gres, Rex, Cerim, Casa dolce casa – Casamood, CEDIT – Ceramiche d'Italia and FLORIM stone.
Manufactured through the sintering of ceramic clays, feldspar, kaolin and sand, it creates thin sheets, characterized by big sizes and low thickness (Florim Magnum Oversize slabs), allowing the reduction of the necessary raw materials and the weight of the finished product. It aligns with Florim being B Corp certified, which basically means that the brand meets the highest standards of overall social and environmental performance.
Not only does this process make marble-look porcelain more affordable than the real thing, but it also makes it easier to maintain. Because porcelain is extremely strong and dense it is highly resistant to stains, scratches and moisture. Also, with age, porcelain doesn't fade and can be cleaned with virtually any cleaning product on the market.
Black Marble in Interiors
Porcelain surfaces inspired by marble have sparked a real trend in interior design in recent years, used in kitchens, bathrooms, and wellness areas, not to mention living rooms, home offices, and hospitality and retail spaces. Marble effect in its guises but especially black is loved by architects and designers throughout the world, used to add interest to surfaces and add character to a room.
After all, dark interior design can be extremely luxurious – as demonstrated by Florim's surface designs in-situ. Black marble-effect porcelain is used to highlight countertops and tabletops, innovatively becoming part of furniture design as well as integrated within the built environment.
An obvious place is of course the bathroom, where marbled patinas add a touch of elegance to a monochrome colour palette. A backsplash or even an entire wetroom is dramatic and glamorous. Porcelain is a great choice when it comes to bathroom decor because it's simply wiped clean, although you can apply wax for extra protection against watermarks.
Discover other sustainable solutions to create marble, head to ZPSTUDIO 3D prints marble.
For these same reasons, the black marble look lends itself to the kitchen, where an island decorated with marble's iconic streaks creates a fantastic centrepiece. Marble-look surfaces can be used in a combination with other materials too, like wood for example, which offers a beautiful contrast in natural textures.
Whether luxe, wellness-inspired bathrooms or mid century-modern kitchens, there really is no style restriction when it comes to marble. It offers a striking focal point which, with Florim's porcelain surfaces, is much easier to achieve, especially at a larger scale. Without the restrictions marble sourcing and quarrying imposes on interior design, its marble-effect tiles make it possible to cover entire surfaces, no matter what the shape or size.
Cutting-edge technological know-how transfers every unique detail of black marble to the ceramic surface: from the nuances of travertines to the intensity of the marble's dark tones. The result is a product perfect for contemporary interior design, especially that which is concerned with the environmental impact, making the aesthetics of marble available to any field of application.
Interested to know about the latest innovations in kitchen design? Head to: Swiss brand Franke has mastered the art of smart kitchens.