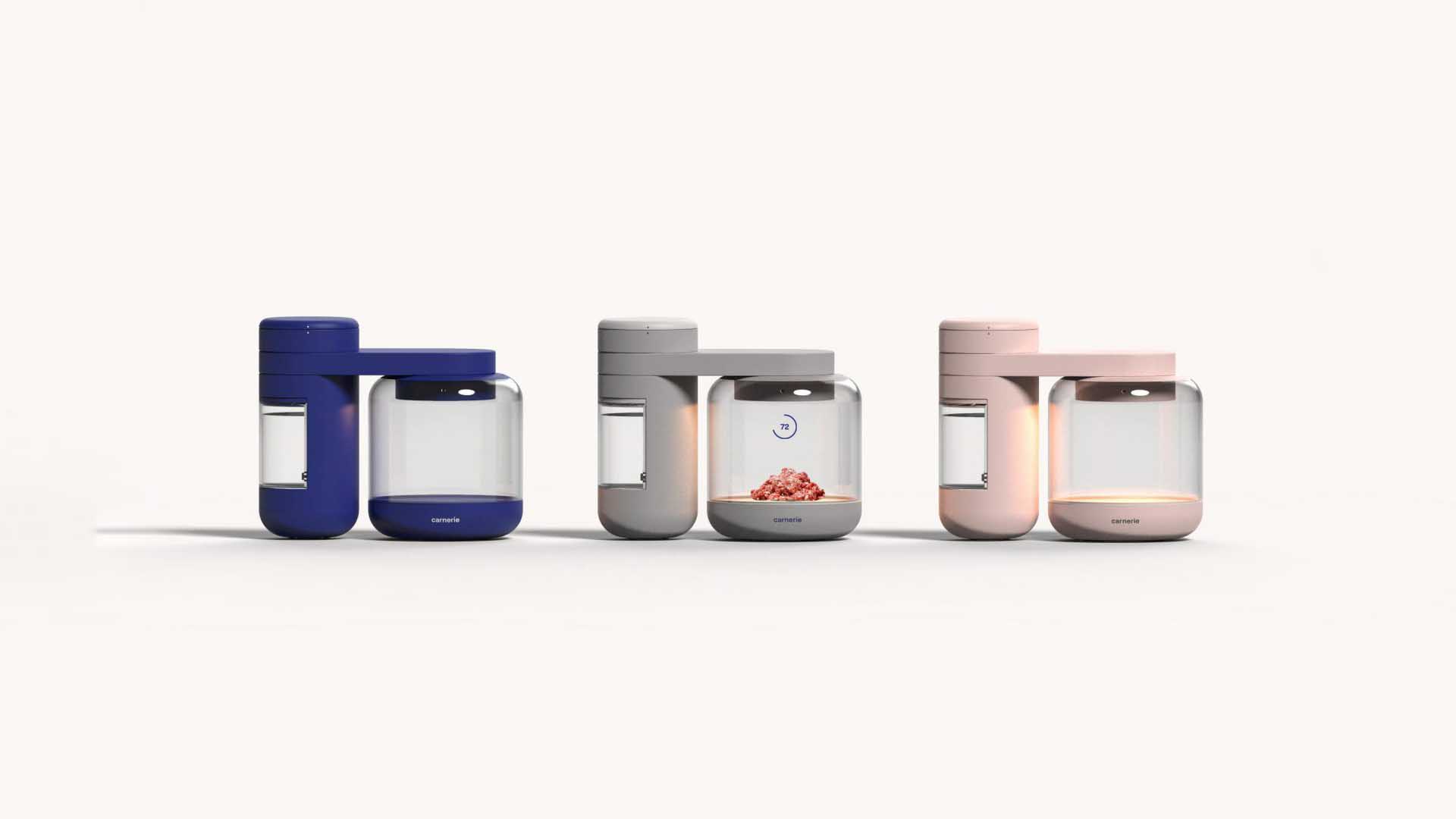 London-based designer Alice Turner has designed an app-controlled kitchen device that can culture meat.
Product design student Alice Turner has unveiled a concept design for a device that lets users grow their own meat. Called 'Carnerie', the countertop device imagines a future where it's possible to culture meat using small cell capsules.
"Basically, it is a kitchen device that allows you to culture meat directly from home using encapsulated animal proteins, water and electricity," explains Alice Turner who came up with the idea whilst studying product design at Central Saint Martins University in London. "It is controlled by an app, whereby the user is able to order cell capsules from local farms in order to grow a variety of different types of meat."
Cultured meat: meeting the needs of the future
Cultured meat is the process of growing meat from cells extracted from animals, an area of study many experts believe could reduce its environmental impact. There are three big environmental challenges with the production of meat – feed sourcing, manure processing, and climate change.
One of the major issues is livestock farming, which destroys vegetation, damages wildlife habitats and wreaks ecological havoc on natural processes. Alongside statistics provided by the World Wildlife Fund, 60% of global diversity loss and 15% of all greenhouse gas emissions are as a result of meat farming and its consumption.
"I watched one of the David Attenborough documentaries just before moving into my final year, which inspired me to start designing for social change," explains Turner. "I understood that in 10 years time we're gonna have very serious environmental issues."
"I am someone who is actively reducing my meat intake as much as possible due to environmental issues, but it isn't always easy! The whole project arrived from thinking about if there were any possibilities for people to still eat meat but with a reduced ethical and environmental impact."
How did you design it?
Envisioned for use some twenty years in the future, Carnerie encourages people to talk about a potential alternative to proteins that are currently possible. Rather than thinking within the confines of what is possible today, Turner's objective was to excite, shock, and even repulse the viewer to provoke questions over our current meat consumption habits.
"I realised that I wasn't going to be able to design a meat machine that worked today and solved the problem. But I can take some technology and think about it from a designer's perspective, bringing it into today's conversations."
Turner found inspiration from various sources including home brewing technology and Bistro in Vitro, a virtual restaurant designed by dutch artist Koert Mensvoort. "Not only is the process of fermentation very similar to that of growing meat, but the localised, experimental nature of beer brewing is very similar."
"'Carn' is the Latin root word for meat and so whilst beer is brewed in a brewery, it has been suggested that meat may be grown in a carnerie." Meanwhile, Bistro in Vitro which launched in 2015 and featured conceptual dishes made possibly by lab-grown meat, served as a precursor for the entire concept.
When thinking about the design, Turner wanted to create something futuristic that still looked home in a domestic environment.
"Obviously, it's a brand new type of kitchen product so I didn't want it to look like a coffee machine and I didn't want it to look like a kettle. There was an opportunity to create a whole new visual language for a new type of product that didn't exist."
How does the culture meat process work?
The Carnerie device grows meat in a way that's similar to meat alternatives like quorn, which uses a fungal protein called mycoprotein. To produce the amount of mycoprotein needed to feed millions of people, this protein undergoes a fermentation process that enables it to grow, much like the way beer and yoghurt are made. The difference here is that the Carnerie device uses a capsule containing cells derived from a real animal rather than a fungus.
"The cells are taken in a biopsy, and then grown exactly how they would inside the animal's body, but outside the body," explains Turner. "So by just adding warmth, water and nutrients to the cells that are taken, it grows. So it's not genetically modified in any way."
The process of cultural meat is the same as growing muscle tissue from cells, which according to Turner is common practice in the medical industry. In essence, Carnerie creates the optimum conditions for users to do the same thing at home, with animal tissue that is edible in the form of meat. Slowly but surely, and using the correct biological scaffold, these animal cells grow into the right shape and structure in a bioreactor that turbocharges cell growth from a speck to a serving.
"The user decides that they want to grow some meat a week in advance, so they log onto the app and follow the simple step by step instructions that enable them to order cell and nutrients capsules."
"The capsules are then delivered that same day and once they arrive, the user logs back into the app to start the culture. The user prepares the device by removing the lid and placing the capsules in the designated spaces. Then the water tank is removed and filled. The settings are edited on the app and the culture is started."
"A week later the meat will have grown and the user can remove it, cook it and then clean the device."
Interested to know about other sustainable designs combining food and technology? Check out Upprinting Food transforms scraps into snacks.
What is the final product?
The final product is akin to a coffee-machine yet at the same time feels completely unique. Combining a bioplastic for the main body and recycled glass for the incubator, Turner's material choices mirror the concept's objective of solving some of the sustainability issues currently facing our planet.
It's not an entirely new concept. In fact, lab-grown meats, or cultured meat, have been written about as a promising solution for some time now. The first cultured meat hamburger was unveiled in 2013. By now, the basic technology for growing cultured meat is relatively clear. The problem is how much energy required at scale is less so.
"Companies such as 'eatJust' are confident that within a few years (if not sooner) they will have commercially-available cultured meat," adds Turner. "Singapore is the first country to have approved the regulations for cultured meat to be sold in restaurants in the very near future."
Still, whilst it aligns with some of the developments currently taking place within the meat industry, Turner admits that Carnerie is a long way off from being market-ready. "We don't know how much energy it's going to take to grow meat in a kitchen and we don't know how much water it's going to take yet to grow the meat. Carnerie would only ever be introduced if it's more environmentally friendly than the alternative."
"The main technical hurdles include scaling, energy efficiency and water consumption as they are big question marks at the moment. [Having said that] hopefully a product like Carnerie could be on our shelves sooner than we think."
Discover alternative solutions to the impact of the meat production industry, don't miss Edible insects are the future according to BeoBia.