Architecture
Be attracted by imperfection at Cheese Bakery cafe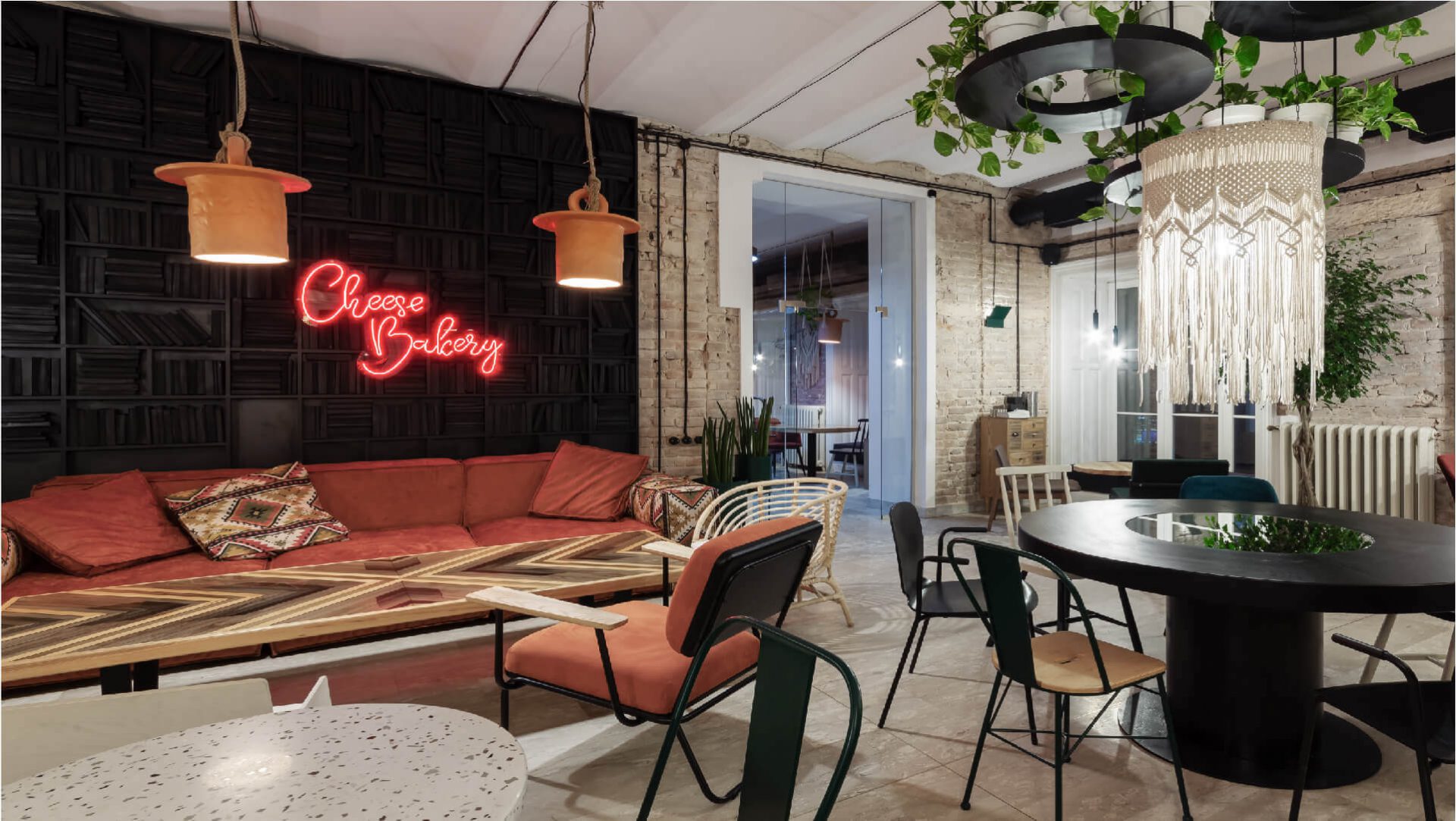 A relaxed and welcoming cafe in the heart of Lviv, Ukraine feels more like visiting a friend than public dining.
The discovery of a perfect relaxed and cozy atmosphere to enjoy your favorite caffeinated beverage and cuisine feels particularly rewarding. Located in the beautiful historic city of Lviv, Ukraine, Cheese Bakery will easily find itself on people's lists of favorite haunts.
Why Cheese Bakery? To introduce new life to a historic building by creating a modern and relaxing cafe
Cheese Bakery cafe is situated in the old town center, inside a building built in 1893, with views out onto the market square.
The minds behind Cheese Bakery – Ira Lysiuk
Ira Lysiuk is a Ukrainian architect and interior designer based in Lutsk. For 13 years she has been creating through her design business "The Interiors Project by Ira Lysiuk".
Ira considers simplicity to be the hardest to design. She describes her projects as "stylish, thoughtful and modern". Her projects have strong personalities but are refined and elegant rather than loud. Projects which stand out include 'Antique Pink' – a home with a Star Wars themed bathroom and a striking blue and coral pink kitchen. For i-Cube, a tiny phone retail space, a black cube appears to float inside a glass enclosure. Ira's Behance profile showcases many other thoughtful and unique interior visualizations.
Materials and techniques – Historic details and open kitchen
To lend a strong sense of time and place, many historic details of the building have been kept. Marble floors, the vaulted ceiling, old cast iron radiators, and the windows are features which add to the atmosphere of the cafe. The original rough brickwork is left exposed.
The kitchen sits behind a glass wall, and cooking activities can be freely seen by guests. Located in the central space between the coffee bar counter and the large rear seating room, it is the busy hub of the cafe. The total project area is 145m2. It has seating for 50 diners.
Wallpapers are a stylish feature for cafès and restaurants, look at the projects of Italian wallpaper company Tecnografica.
Style & aesthetics – Eclectic textures, contrast and greenery
The cafe has a fun and fresh feel. It is eclectic and plays up the contrasts between old and new, modern and historical. The chairs, tables and lamps are deliberately of various styles and anything but uniform.
Details repeat and turn up in unexpected places. Traditional tile patterns on the counter repeat on the restroom floor. Chevron woodwork on the tabletops appears again as a mirror frame on the ceiling of the restroom. To see this, first you need to find the restroom. Its entry is camouflaged by a large wall mural of a record store scene.
A floor to ceiling bookshelf filled with books painted black adds texture and depth behind a large terracotta-coloured couch. Attached is a red cursive neon sign which declares the location as The Cheese Bakery. Adjacent the kitchen, and on the ceiling is another sign. In huge ultra-modern illuminated block letters, it reads "Cheese Bakery 2.0".
Green plants placed throughout the cafe stand out against the pale red brickwork, and the warm hues with black accents. Plants unify the space and are at all levels. On the floor, the window sills, climbing a wall trellis and dangling above in macramé hangers or on a central feature of bold black rings. Macramé details continue in wall hangings and light fittings.
Dining at a safe social distance
The cafe has a spacious feel. Before the idea of social distancing, lockdown and quarantine became key words of 2020, Ira was designing a dining setting where people don't need to be packed in tightly to each other. Instead, diners can enjoy the company of friends at a relaxed and safe distance.
Design memento – Imperfection and non-design is more personal
Over time it is inevitable that personal spaces become filled with many items collected from assorted places. Although heavily designed and curated, the Cheese Bakery echoes this accumulated feel and seems as if it has received a light touch. By letting moments from history shine through, and adding a range of new pieces, it avoids feeling forced.
To achieve this sense of imperfection – of non-design – Ira has called upon the talents of numerous young Ukrainian creatives, and local businesses. Cheese Bakery features tables by GC Wood, handmade clay lamps from Yaglyna, and a wall mural by Kyiv based street artist Artem Prut. Furniture and fittings are from Ukrainian designers, including a basin by OdudLab, hand made ceramic tiles by Lviv based Leoti, and chairs by propro.
Bringing all these elements together, Ira describes her vision for the space: "Appreciate what we have inherited from the past, but look to the future and enjoy the present. Relax your mind and body, look at the beautiful historical landscape outside the window, enjoy a delicious dinner, and get inspired to create something new"!
The writer's comment – A centred view
True to Ira's vision, the cafe offers a place to centre oneself. It pulls you into enjoying the present moment. The mix and balance of the decor keep both the eyes and mind satisfied. The dining experience is relaxed, yet not totally disconnected from the buzz of food preparations nearby.
Looking out from this position, one can feel the presence of what came before and contemplate the future with rejuvenated demeanour.
Merging new and old is an exciting challenge for architects, we talk about this in our article on the Carner Barcelona Perfumery by Jofre Roca Architects.