Furniture design
Copenhagen Contemporary Café: 25 designers reimagine wood offcuts for seating
Take a seat on a one-of-a-kind sustainable work of art conceptualized by Tableau in collaboration with Ari Prasetya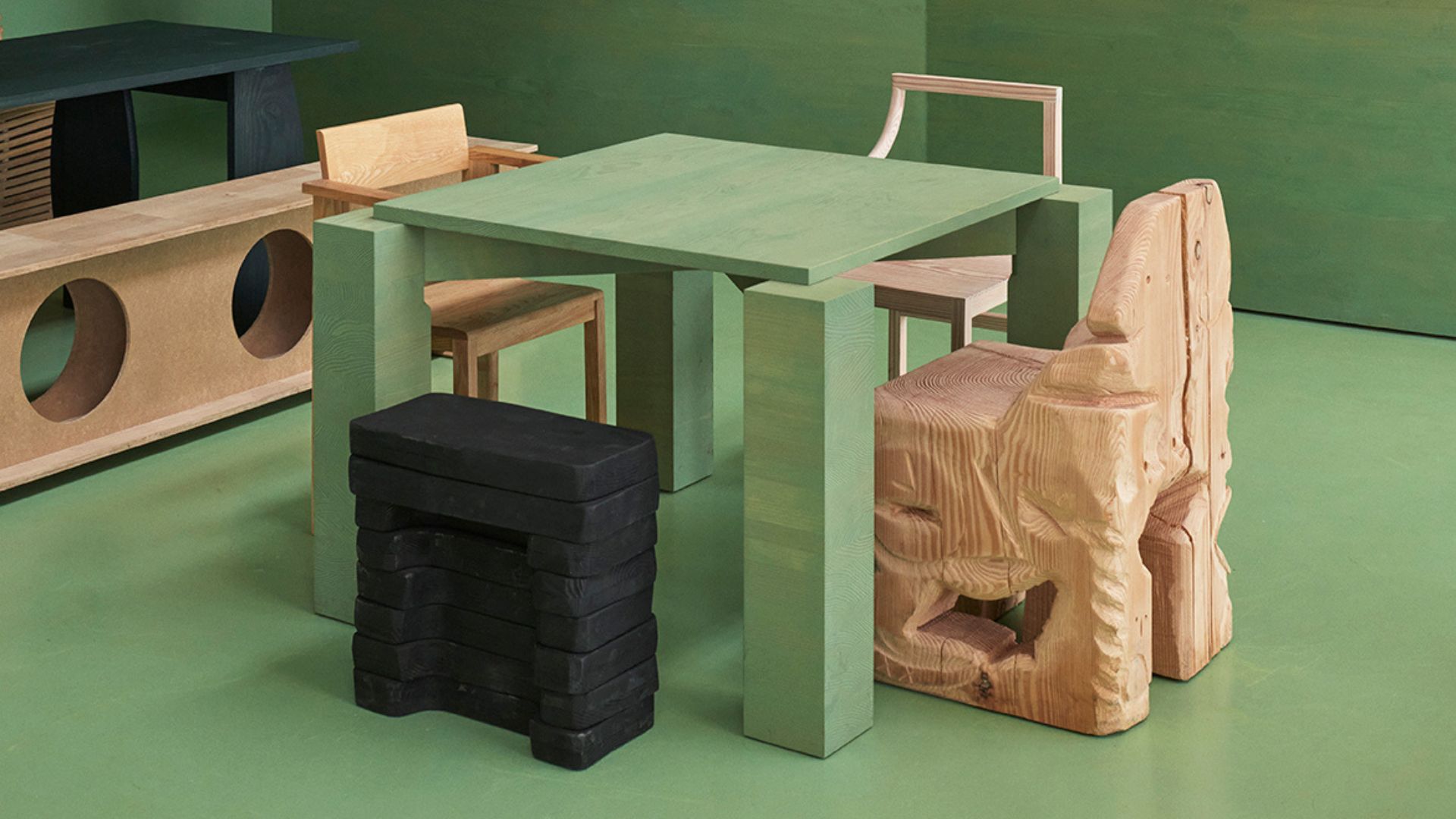 Located in a repurposed welding workshop occupying an area of 7,000-square-meters with the perfect blend of an industrial and immersive space – Copenhagen Contemporary is one of Scandinavia's largest international art centers and cultural districts exhibiting designers.
Founded in 2016, this magnificent space regularly hosts creatives and a range of avant-garde installations, screenings and performances.
Staying true to showcasing and promoting design by both – renowned and upcoming artists  – Copenhagen Contemporary unveiled café Connie Connie in their premises that exudes a stylish modernism.
Instead of populating this area with solely utilitarian furniture items, the gallery took the opportunity to make its own splashy artistic statement. 
Born out of the brilliant collaboration between the art center, Danish multidisciplinary studio Tableau and Australian designer Ari Prasetya – this 150-square-meter eatery house an eclectic array of sustainable seating designed by 25 promising Danish and international artists, designers and architects. 
The other emerging and established creatives alongside Tableau and Prasetya are – Among Other Things, Anna Clarisse Holck Wæhrens, Anne Brandhøj, Arnaud Eubelen, Bram Vanderbeke, Carsten In Der Elst, Davide Ronco, Frederik Gustav, Jacob Egeberg, Janis Karasevskis, Kevin Josias, Kim Lenschow, Kristine Mandsberg, Laurids Gallée, Mads Hilbert, Pablo Dorigo Sempere, Paul Cournet, Pettersen & Hein, Pil Whitta, Natalie P. Koerner and Thomas Gayet.
Featuring dynamic and forward-thinking design, the overall concept of the gallery was envisioned and implemented by Tableau along with Prasetya.
Together they worked on the spatial design of the café along with creating several pieces.
"We wanted to explore how furniture can become functional pieces of art. How design can be dictated by a material and a direction involving multiple designers. That was our vision" says Julius Værnes Iversen and Katrine Morel, Tableau creative director and designer. 
Set in all-encompassing swathes of vivid sage green and plaster white – beautiful vibrant shades paint this area dressed in pendant lights and extra-long curtains that highlight the double-height space's dramatic verticality.
Accentuating the two-tone green and white walls and verdant flooring this bright hue dominates the room's palette setting the stage for the café's real centerpiece and main attraction – its wild assortment of unique and distinctly designed seating.
Dotted throughout the café that serves as a canvas for these diversely bold settees – it's hard to not notice the resulting collection of stools, benches, and chairs.
Each piece infuses a breath of fresh air into the space giving it a soul and personality while also serving as subtle showcases and conversation starters.
Encircling bespoke green tables designed in-house by Tableau, this eclectic parade of stylish seating additionally complements the minimalist bar, long desk by the window, wide dining table and three iconic chairs created by Prasetya.
Tying all the pieces together, this creatively curated bespoke seating that adorns the café were made by the designers using the same Douglas fir off-cuts provided by Danish wood flooring company Dinesen – the group that inspired the spaces distinctive green color palette.
"The offcuts are leftover material from their plank production so the idea was to make use of a material which normally has little usage. To further make a coherent design with a collection of furniture we chose to paint all floors and walls in monotone green – a color we found from the packaging of the Dinesen wood planks when visiting the production in the south of Denmark together with the artists" they add. 
Even though each designer was tasked with articulating their own distinct approach towards the seating carrying their unique essence – a cohesive identity weaves the group's diverse thought processes together.
Seamlessly harmonizing in the green-and-white interior and creating a synergy between different ideas, this rich family of signature seating united by a shared material comprises natural warm wooden furniture pieces. 
Utilizing sustainable practices to craft new incarnations of leftover wood, special laser techniques were used to create patterns in the innovative and whimsical wood off-cuts leading to a wide range of styles, textures and finishes where no two pieces are alike.
From chunky and block-like industrial seating to delicate wooden wonders and shapely seats – the furniture is a collective artwork highlighting its creative capabilities to go beyond the essential functionality and enter the sphere of artistic possibility.
Made available by the gallery for purchase and transforming the space into an art collector's haven – all the furniture pieces in the café can be bought, adding an extra element of engagement between the visitors and the interior fittings as they take a piece of Connie-Connie home with them.