Architecture
Experiencing Berlin in a kaleidoscopic reflection thanks to 3XN
Architecture practice 3XN designed cube berlin as a sculpture with a fully glazed façade on all four sides to reflect Berlin's creative culture, while providing the next generation of smart office buildings.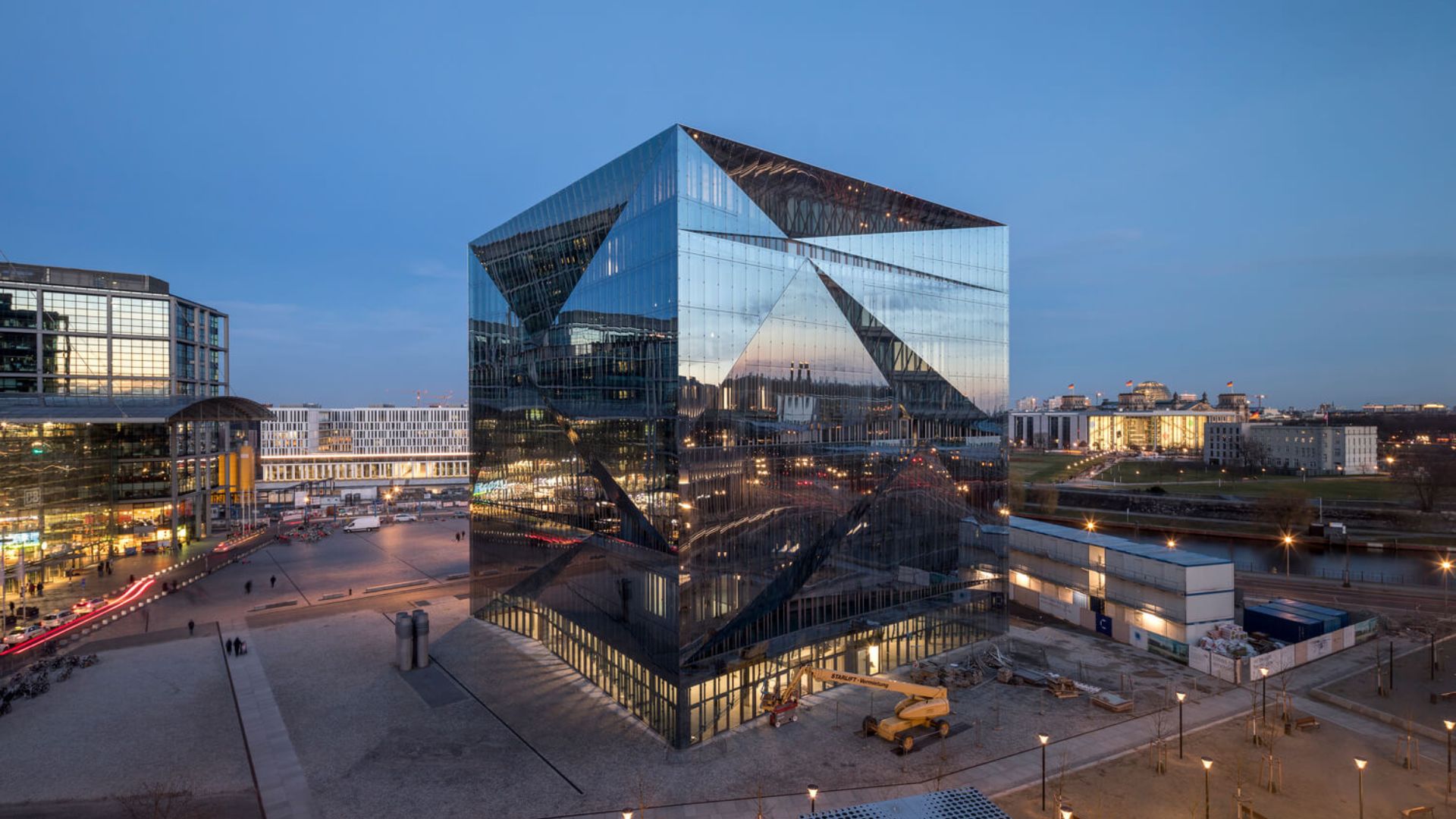 Characterised by an inwardly folded glass façade, cube berlin is a striking 10-storey office building on Washingtonplatz, Berlin, that looks like an art installation. Measuring a height and depth of 42.5 metres, it dominates this new square that was recently expanded to the South of Berlin's Central Station. 
Washingtonplatz, part of the Europacity masterplan, is one of Berlin's new emerging public spaces and the ideal location for this sculptural office building. cube berlin encompasses pioneering office technologies with sustainability, design, and comfort – some of the fundamental elements seen in Berlin's creative culture.
The minds behind cube berlin – 3XN
Danish architecture practice 3XN utilizes Scandinavian traditions of clarity and generosity to create innovative solutions to contemporary challenges. Their beautiful architectural designs enhance the sense of community and the relationship to others through elegant functional spaces (read our interview). 
3XN puts people at the center of their architectural designs by creating buildings that are open and filled with natural light to improve the well-being of the building's occupants.
Materials & Techniques – Glass and osmotic skin
It's usually believed that a fully glazed façade will cause overheating and won't be energy efficient, however, modern glazing technology defeats this common belief. The glass façade on cube berlin is highly energy-efficient thanks to the carefully considered design and osmotic skin.
Solar control coatings were applied to the glass which helps to reflect radiant heat back out into the atmosphere and simultaneously bounce internal heat back inside, resulting in a highly energy-efficient fully glazed building.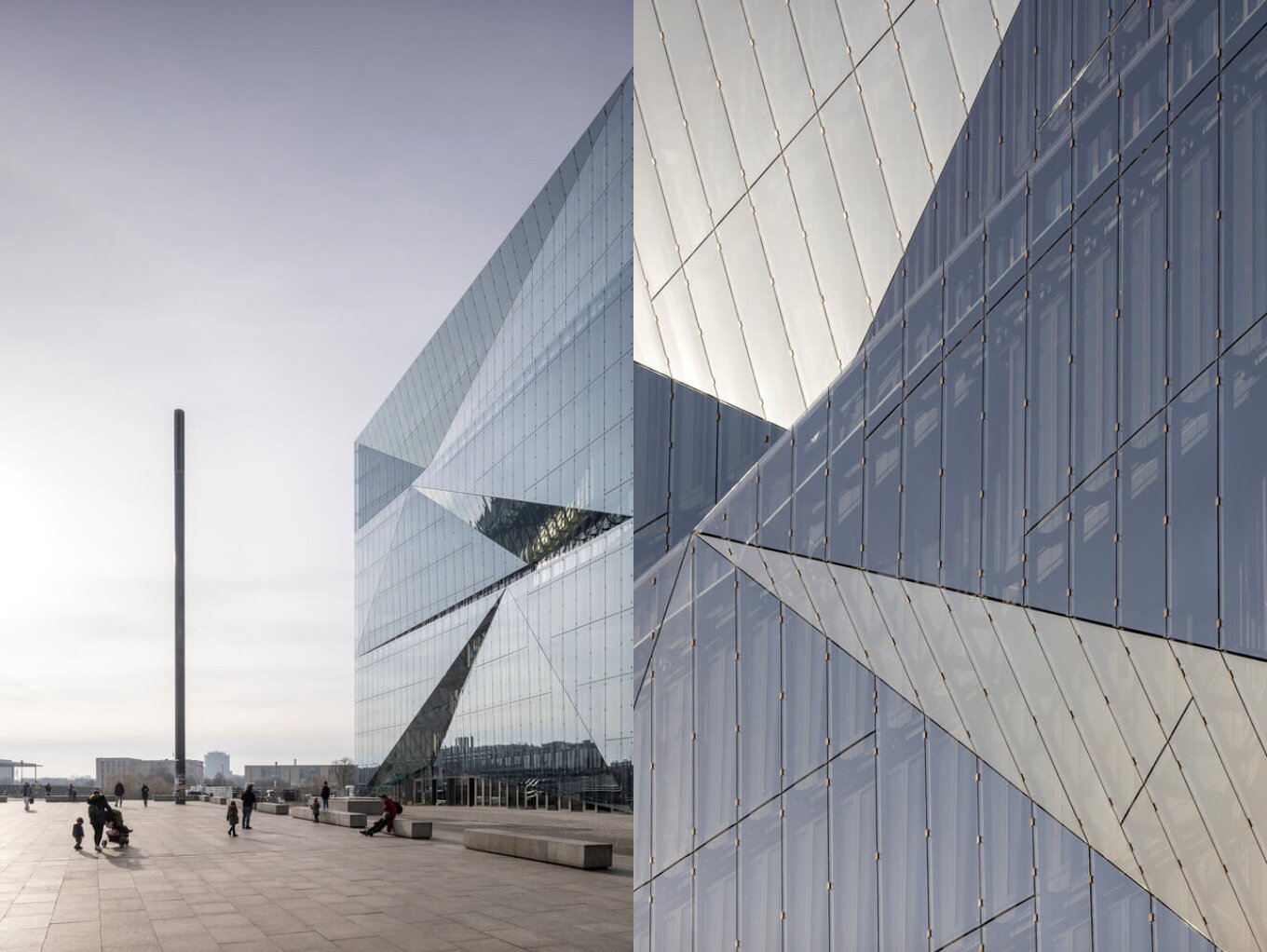 Style & Aesthetics – Experiencing Berlin in a kaleidoscopic reflection
cube berlin has total exposure on all four facades, so an important part of the design brief was to create a building that will be a standalone structure. Although the brief was to achieve a sculptural quality, it was important that it didn't outshine Berlin's new Main Station that was opened in 2006 at the start of the Europacity development.
To achieve this, 3XN designed this contemporary office building to have a reflective glass façade with a relief effect that creates a kaleidoscopic reading of the surrounding Berlin skyline.
Hidden within the façade design are various outdoor terraces located within the reliefs that can only be accessed by the office tenants. Access to outdoor spaces and natural light was a vital part of cube berlin which can be seen in many aspects of 3XN's design including natural ventilation, plant rooms, and a rooftop terrace.
cube berlin takes a ground-breaking step for next-generation buildings by integrating intelligent digital user interfaces
Smart technology features have been integrated within the design of cube berlin which allows the tenants to control and customize indoor heating, maintenance, security, energy supply, parking reservations and much more.
These aspects are controlled through an app that allows users to interact with their workspaces in unprecedented ways.
Design memento – Catering for future demands
A key design factor of cube berlin is the amount of consideration that has gone into designing flexible office layouts that can accommodate shifting needs. Designed surrounding a central core, the offices on each floor can be adapted to meet the requirements of the tenants.
The offices can be connected or divided to create an open plan or a broken plan office.
The writer's comment
It's clear to see that 3XN's ideas stemmed from communication and social activity in workspaces while combining animation and sculptural design. What struck me the most about this design was not only the impressive technology integration but also the way the building is designed for people both inside and outside the building.
Externally the use of reflective glazing celebrates the surrounding Berlin cityscape, but it also captures the movement of people passing by on Washingtonplatz. Internally the abundant natural light, outdoor spaces and the flow of the offices benefit the occupant's well-being immensely.